So, I'm not sure if I should be proud or ashamed of today's post. Proud of this amazing gift wrapping station that I upcycled from an old armoire. Or, ashamed of what's hiding behind it…my wrapping paper addiction. Hi, my name's Robin, and I am a wrapping paper hoarder.
In my defense, I don't just use my wrapping paper for gifts. You've seen me use it as drawer liner or to decorate a tissue box cover. I've got uses for it all over my home, and I just can't resist picking up another pretty roll whenever I'm walking through the check out line at Home Goods.
This post contains some affiliate links for your convenience. Click here to read my full disclosure policy.
My friends from No Place Like Home and I are back for the second week of our organizational series, and this week we've got all kinds of craft room and office inspiration for you! I know that this is going to be a big topic for all you craft lovers out there, so make sure to check everyone out. There's going to be some great stuff! You also want to make sure you enter in the raffle for a $150 gift card to The Container Store. Don't have a store near you? Don't worry, neither do I, but I love to shop their store online! And, because we know that so many of you are getting organized for the new year, we've got a place for you to link up your photos or blog posts of any type of areas that you've decluttered or organized around your own home! You do not have to be a blogger to enter this challenge! I've got all the instructions you need at the bottom of this page.
Hey Fitzy | Nourish and Nestle | Sweet Parrish Place
Paint Yourself A Smile | The Red Painted Cottage | Savvy Apron | The Aspiring Home
The idea behind my gift wrapping station started with a computer armoire that I was no longer using. My dad made the armoire for me back when I was single and living in a townhome. It was perfect at the time, and it gave me a way to have a small office area where I could stow everything away when I needed to. Fast forward about 15 years or so, and I am now in a home with a desk area, and I was no longer using this armoire.
Since my dad custom built it for me (he is absolutely amazing), there was no way I was getting rid of it! It's really a special piece of furniture, but it was taking up a lot of space. During a visit from my mom, she came up with the great idea of turning it into a gift wrapping station.
The first part of this transformation was to paint it. It was originally a dark mahogany stain, and it made it very difficult to see inside of it.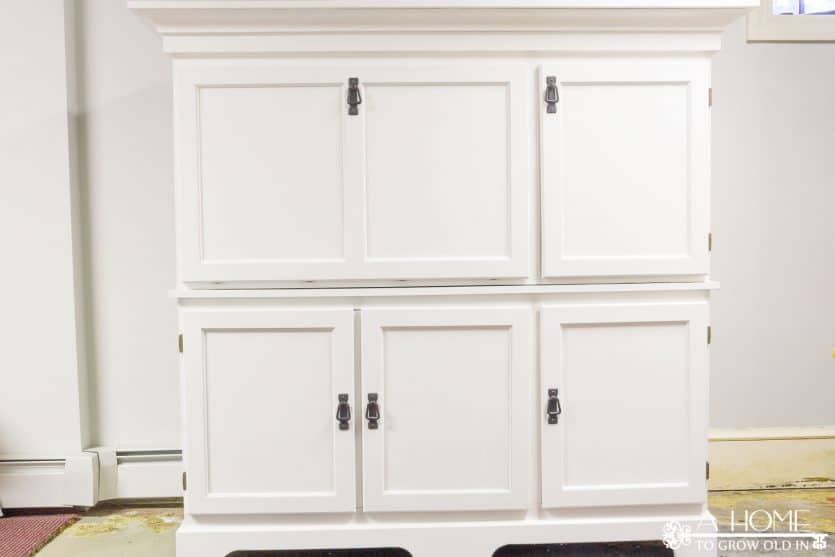 The top and bottom sections each have 9 dowel rods that can hold wrapping paper or ribbon.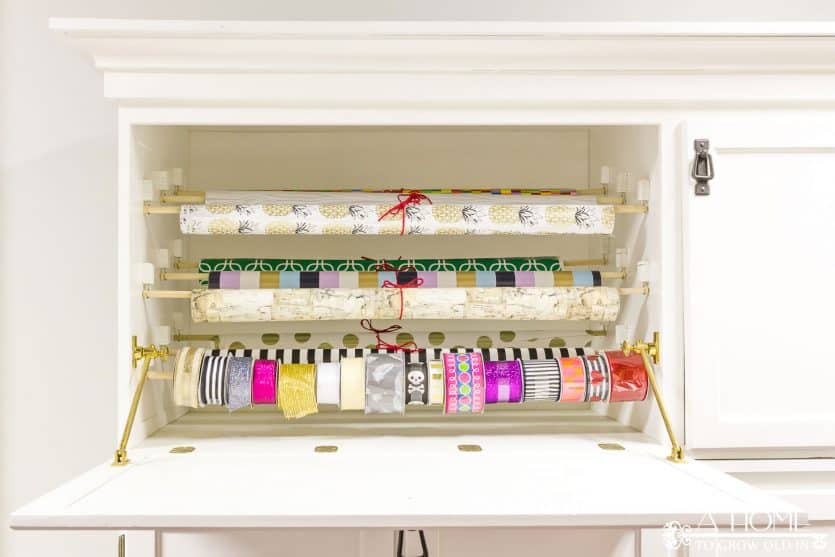 To attach the rods, we cut small blocks of molding and screwed 1″ brass cup hooks into the bottom of each block. I painted the blocks to match the armoire and then glued the blocks onto the inner sides of the armoire with wood glue. It's been over a year now, and the blocks are still holding strong to the sides.
The dowels sit inside the cup hooks, and I just remove a rod as I need a roll of paper. They are really easy to put in or take out.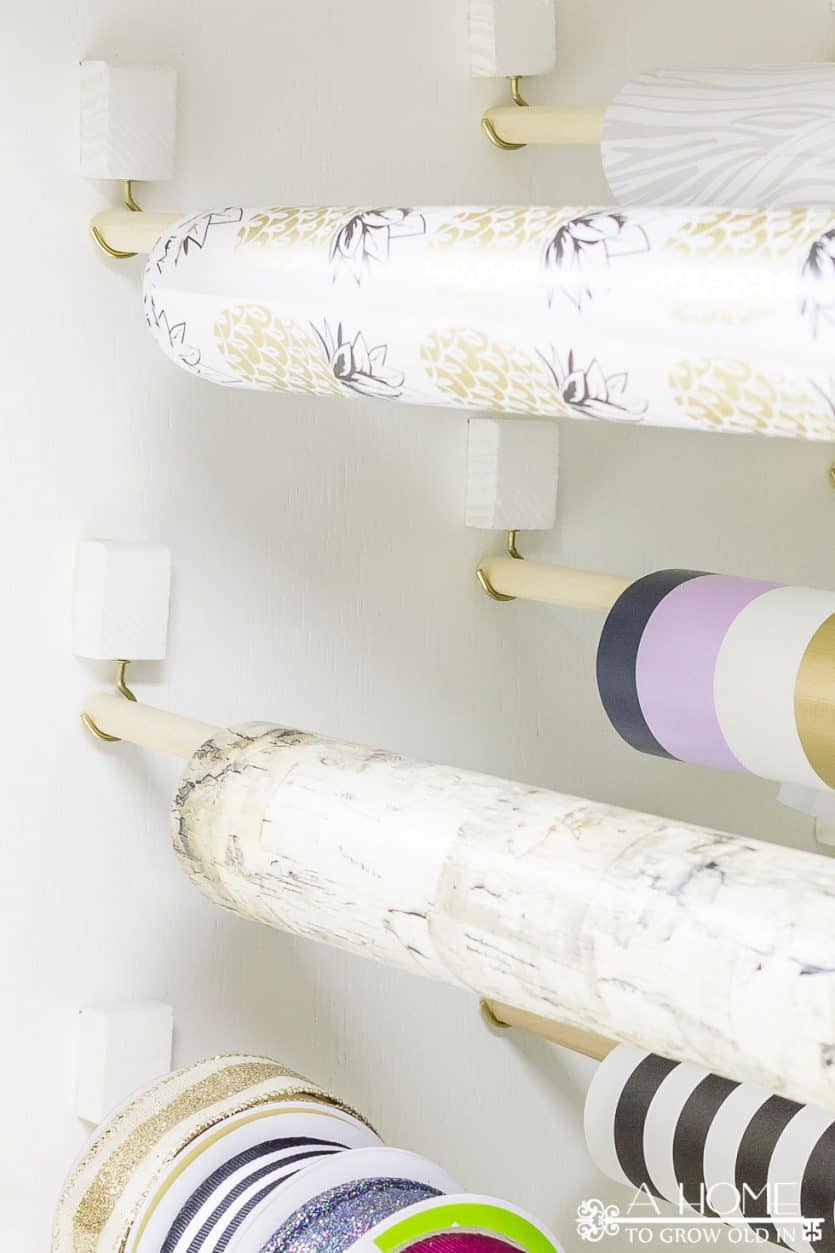 I find it helpful to tie some ribbon around each of the rolls of paper to keep things neat and so that it's easier to see the rolls in the back.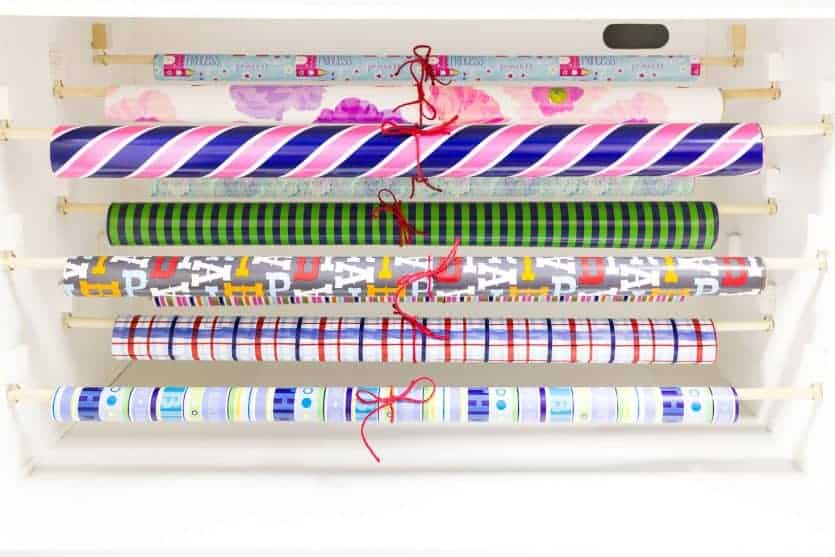 On the side cabinet, I keep a magazine file holder that holds some gift bags. A letter organizer that I found in the Target dollar section works great to hold tissue paper.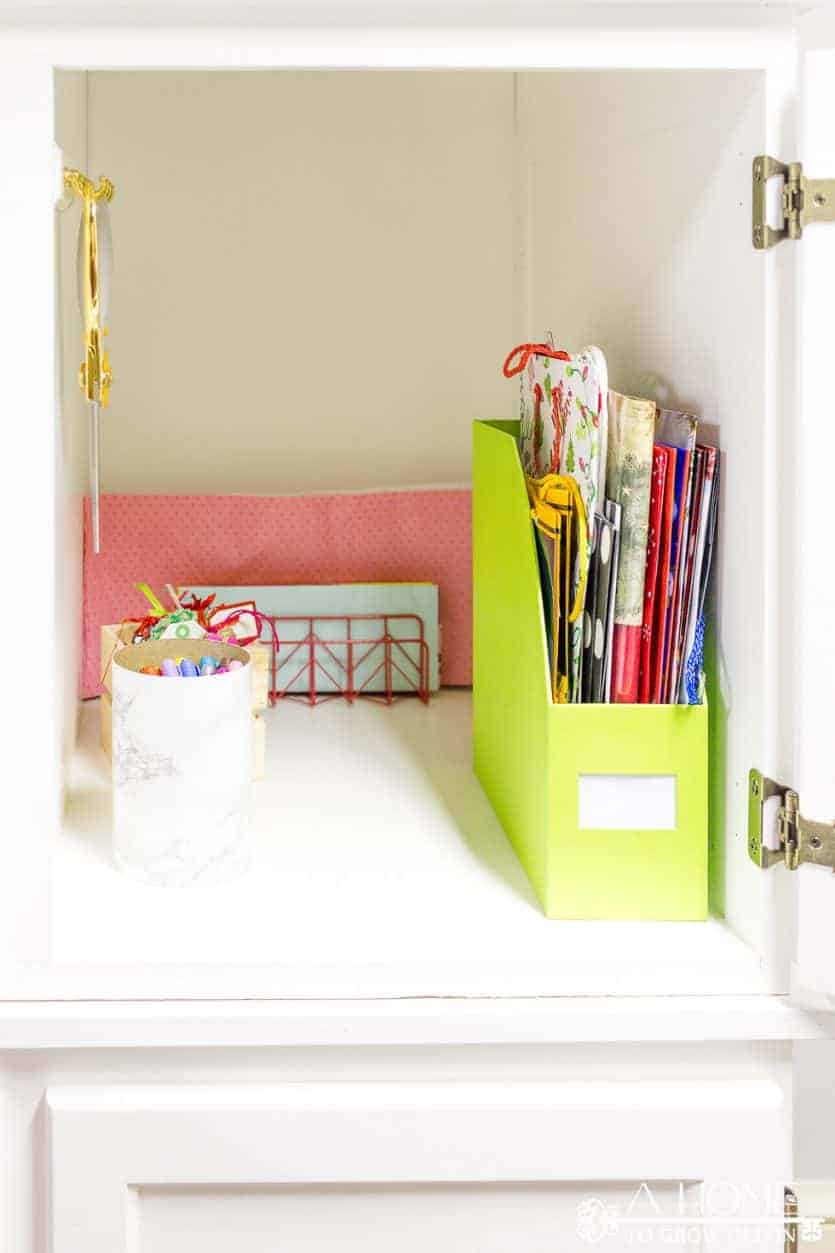 [clickToTweet tweet="Check out this gift wrapping station made from an old armoire!" quote="A wrapping station would be easy to convert from an old tv armoire that is easy to find at thrift stores or Craigslist!"]
An old key holder hangs on a side wall of the wrapping station with some Command strips to hold my scissors and rotary cutter.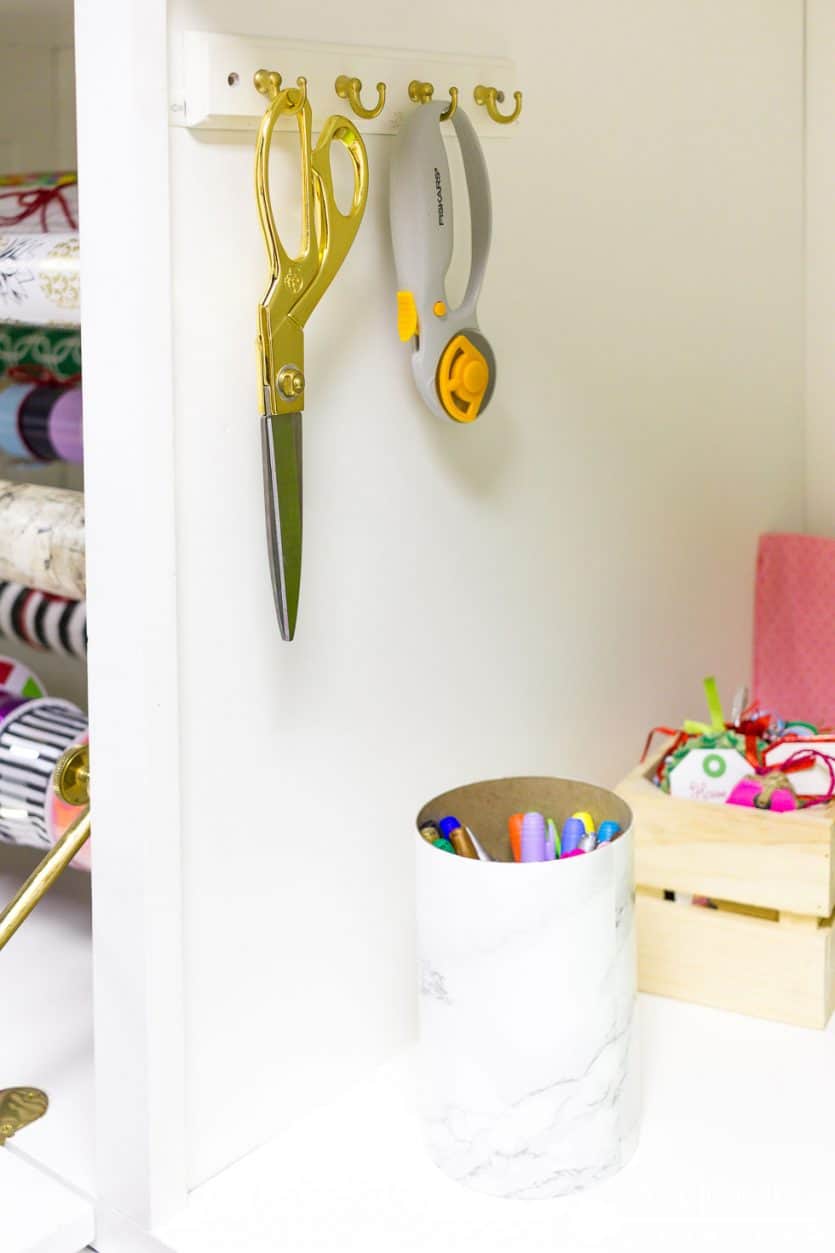 I love colored Sharpies for writing notes on cards or gift tags, so I repurposed an empty grits canister (you can take the girl out of the south, but…) with a little scrap of marble contact paper to corral them in.
The smaller drawer in the wrapping station holds my tape and some smaller items that I use on wrapped gifts or cards.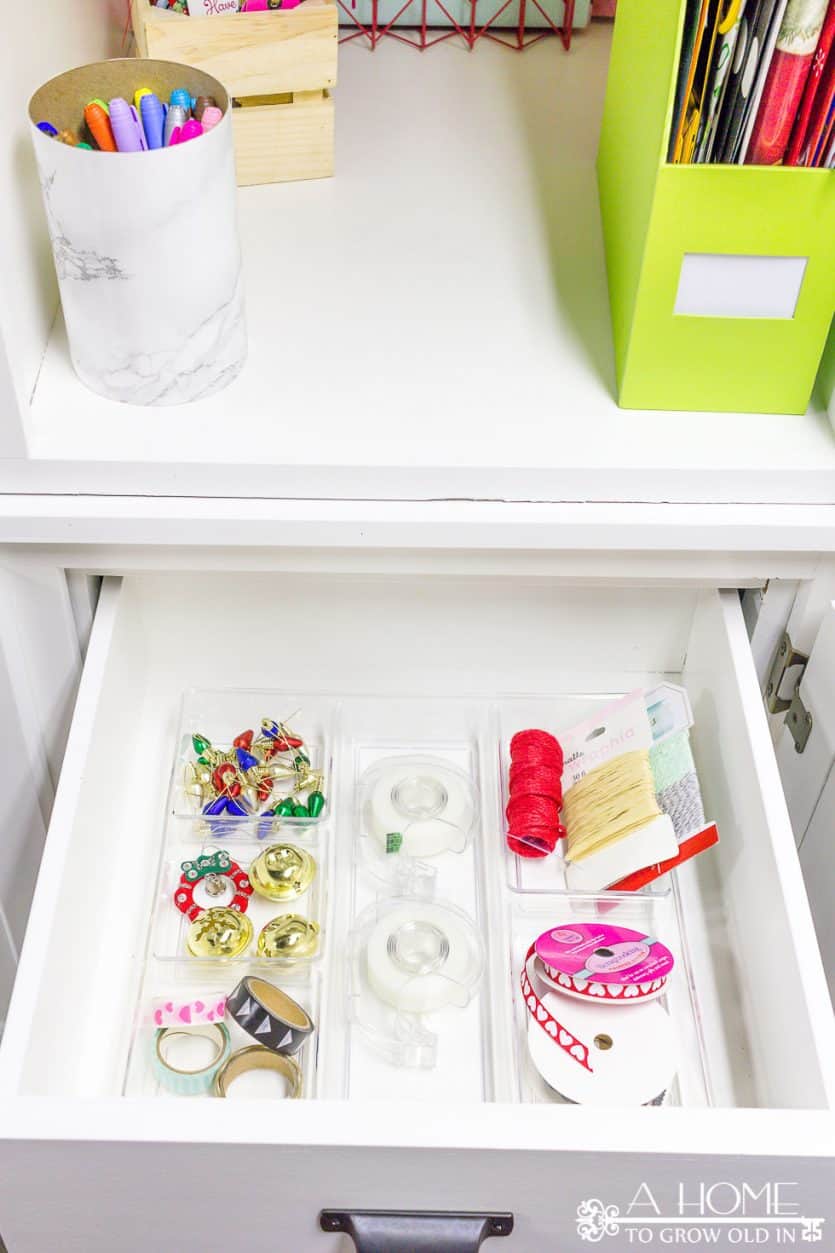 There's a deeper bottom drawer that contains bows and different sized boxes.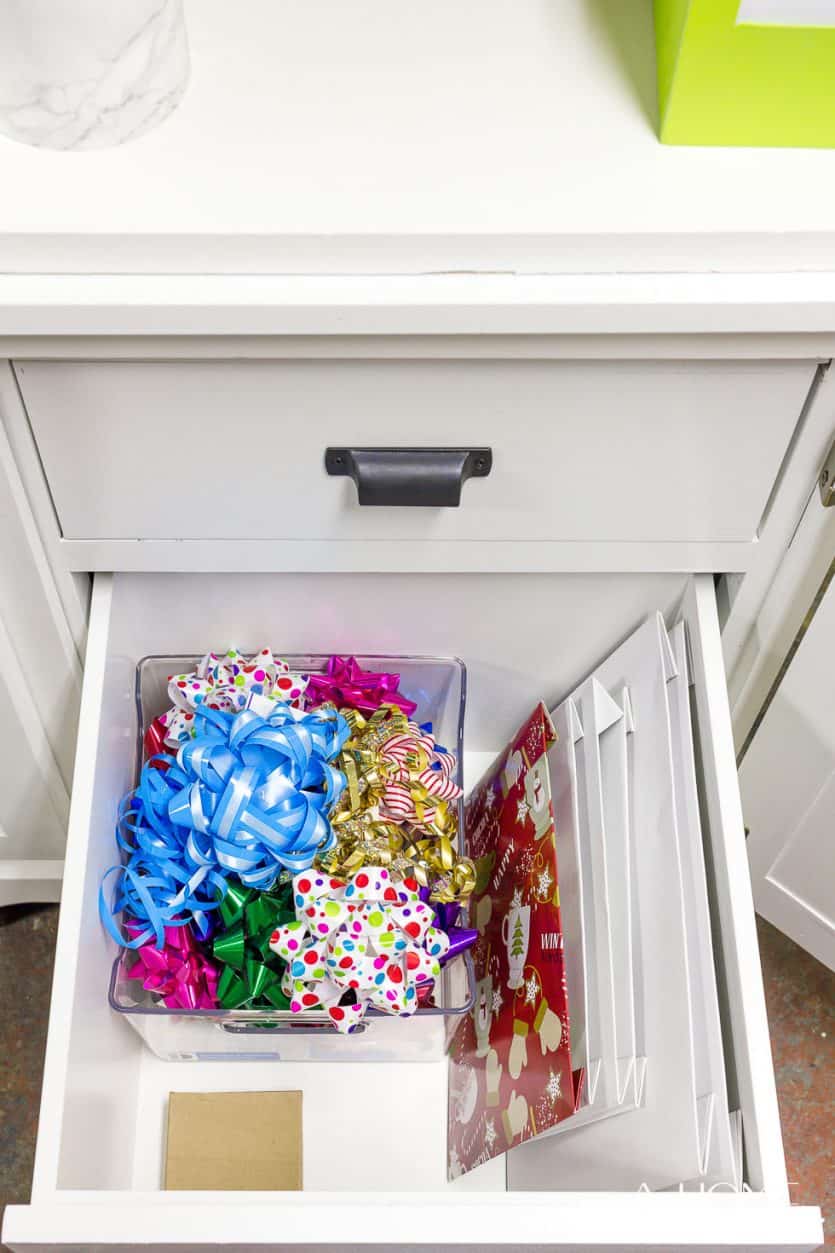 Now, I've got everything I need for using my paper for gifts or crafts in one place. A wrapping station would be easy to convert from an old tv armoire, and I see those all the time at thrift stores and on Craigslist.
So, did you notice that there was no Christmas paper in my wrapping station? I keep those in a plastic container in the closet and switch out the rolls at the holidays. Like I said, I have a problem!

So, as previously mentioned, the gals from No Place Like Home are hoping to motivate you to declutter your home with the opportunity to win a $150 gift card from The Container Store. You have multiple opportunities to enter the giveaway:
1) Each week submit a photo or link up a blog post of a declutter challenge or success to the InLinkz below. (If you are not linking from a web page and are just uploading an image from your computer, click on option 3 in the InLinkz box that says 'Image URL' and add your image from your computer. This link (http://blog.inlinkz.com/2010/07/adding-images-to-linkup/ ) helps explain that further.)
2) Follow the rest of the Rafflecopter prompts below. Make sure to come back next week for more chances to win!
Link Party Guidelines:
1. Please only link up posts that are kitchen decluttering/organizing related.
2. Please only link up your original work.
3. Please only post something that you have not posted before during this 4 week challenge.
4. Please go to the original post before you pin something.
5. By linking up to this party, you are giving all 8 of us permission to share your pictures on social media or our blogs at any time in the future. Of course, there will be a link back to your original post.
6. Please follow all hosts.