Hi friends! I am sharing one of my family's favorite recipes today, but first I'll give you a fun tidbit on how I was introduced to it. My husband and I had only been dating for a couple of months when we celebrated his first birthday as a couple. Things were going really well, and he flew me up to meet his parents for the first time. His mom put together a really great family dinner to celebrate, and I very quickly learned what his "go to" meal is for Every. Single. Special. Occasion! His mom's lasagna with rhubarb crisp (another amazing recipe!) for dessert. Her lasagna is hands down the best I've ever had, and there are two things that set it apart. Pepperoni and cottage cheese.
The cottage cheese may sound a little weird to have in lasagna, but I promise it is amazing! It's so creamy, instead of being dry like ricotta. You're gonna love it and wonder why you ever used anything else!
One of the fun things I like to do with this recipe is to serve it as "rolls"! It makes a nice presentation if you are serving it to guests, and I like that it's already portioned out for you. I'm sharing the instructions on how to make it as a roll, but you could very easily adapt it to make it traditional style.

Start by browning the ground beef just until it's broken up. Add the pepperoni and continue until cooked through.
Drain 1/2 the fat (or if I use a lean ground beef I don't drain any). The fat has so much flavor from the pepperoni that if you drain any more you will be losing so much of the good stuff. Plus, we're not exactly talking a low-fat meal with or without the drained fat, so what's a little more fat going to do when it will taste so much better! Trust me on this!
After the meat is cooked I add it to my food processor and give it a few pulses until the meat is finely minced. I find this makes it a little easier to roll and not as much stuffing falls out.
Return the meat to the pot. Add the tomatoes and the rest of the sauce ingredients and simmer for 30 minutes.
Next, mix all your cheese mixture ingredients together in a bowl.
Lay the cooked lasagna noodles in a lightly oiled cookie sheet to start assembling. Spread 1/4 cup of the cheese mixture over the noodles, and divide any remaining cheese mixture evenly amongst the noodles.
Pour 1 cup of the meat mixture into the bottom of your baking dish. Then, spread 1/4 cup of the meat mixture on the noodles. Top each with mozzarella.
When you roll up the noodles, be careful to roll loosely and try not to push down, or you'll lose some of your filling.
Transfer the rolls seam down onto your baking dish. Top with the remaining meat sauce and mozzarella, and bake at 375 degrees F/190 degrees C for 30 minutes.
Serve warm with a nice green salad and garlic bread!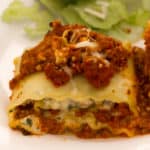 Pepperoni Lasagna Rolls
Ingredients
12

lasagna noodles

cooked al dente according to package instructions

3

cups

mozzarella

shredded, with one cup reserved for topping
For the sauce
1

lb.

ground beef

1/2

lb.

sliced pepperoni

3

cloves

garlic

minced

1

Tablespoon

dried basil

1/2

teaspoon

salt

5

cups

tomatoes

chopped (about 4 lbs.)

12

oz

can of tomato paste
For the cheese mixture
3

cups

cottage cheese

1/2

cup

shredded parmesan cheese

2

Tablespoons

dried parsley

2

eggs

beaten

1/2

teaspoon

salt

1/2

teaspoon

pepper
Instructions
For the sauce
Brown the ground beef until broken up, then add the pepperoni. Continue until meats are cooked through. Drain about half of the fat.

Pour the meat into a food processor and pulse until it becomes finely minced.

Add garlic, basil, salt, tomatoes, and tomato paste and simmer for 30 minutes, stirring occasionally.
For the cheese mixture
Combine cottage cheese, parmesan, parsley, eggs, salt, and pepper in a bowl and stir until well mixed.
To make the rolls
Preheat the oven to 375 degrees F/190 degrees C.

Lay the lasagna noodles out in 1-2 oiled cookie sheets.

Spread about 1/4 cup of the cheese mixture on each of the noodles. If there is any cheese mixture left over, divide it evenly between the noodles.

Pour about 1 cup of the meat sauce into the bottom of a 9 x 13 or larger baking dish.

Spread about 1/4 cup of meat sauce on each of the noodles and top off all the noodles with 3 cups of the mozzarella cheese.

Loosely roll up the noodles being careful not to push down while rolling.

Transfer the rolls with the seam side down to the baking dish and spoon the remaining meat sauce mixture on top of the rolls.

Sprinkle the rest of the mozzarella over the tops.

Cover with foil and bake for 30 minutes.

Serve warm!
Recipe Notes
These rolls freeze great before baking!