Happy Turkey Week! I'm back with my friends from No Place Like Home to share some holiday shopping gift ideas just in time for all the Black Friday and Cyber Monday sales! I don't know if you're like me, but I tend to struggle with ideas when my family asks if there is anything I want for Christmas. This year, I've put quite a bit of thought into it, and I thought I'd share my list in case it helps you with ideas for yourself on someone on your list. And, if you need even more ideas, my friends have their own great lists you can check out at the bottom of this post.
This post contains some affiliate links for your convenience. Click here to read my full disclosure policy.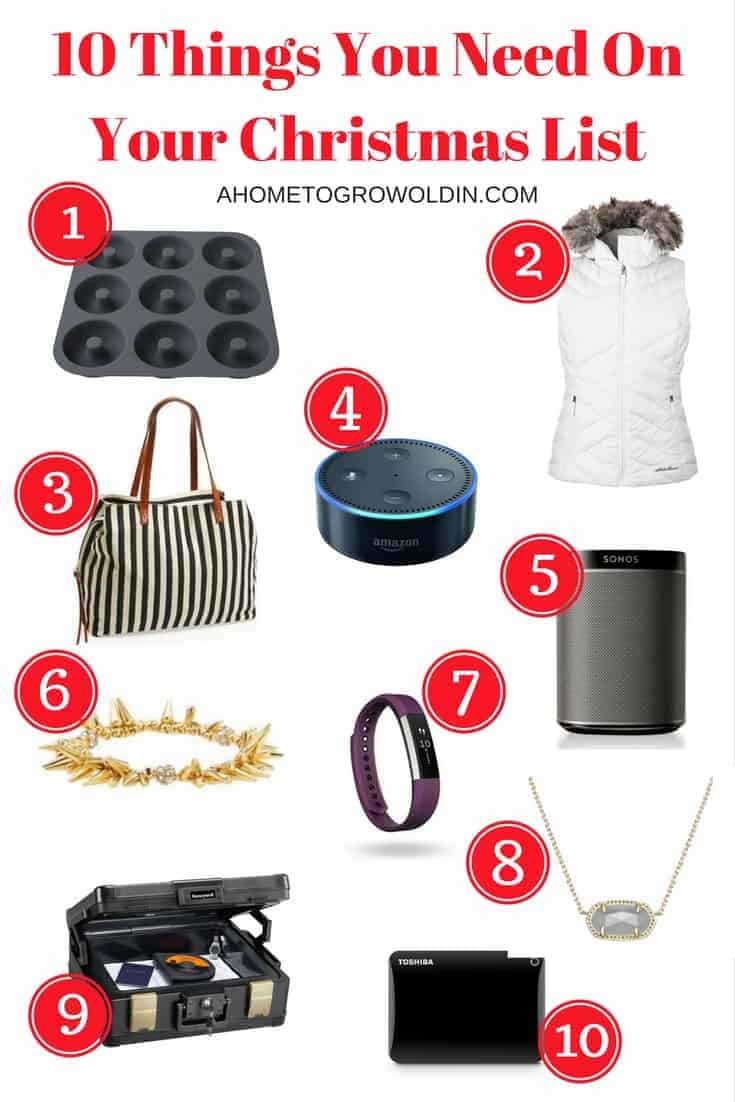 1. Donut Pan
My friend Tammy recently shared her white chocolate donut recipe, and I realized that I do not have a donut pan! I've seen so many great looking donut recipes floating around Pinterest lately that it would be fun to try a few of them out.
2. Eddie Bauer Down Vest
I've slowly been adding to my winter wardrobe since we moved to the northeast early last year after living in a warm climate my whole life. One of the things that has been on my list to get is a down vest, but most of the ones I've found have been too boxy. This Eddie Bauer down vest comes in several colors and definitely looks more flattering than others I've found!
3. Striped Tote
Although my boys are out of the diaper stage, I still find myself needing an oversized bag to carry all of our stuff. I love the bold print on this striped tote, and it is without a doubt large enough to carry everything I need and then some!
4. Amazon Echo Dot
I got to play around my parent's Echo this summer when we were visiting, and I've been wanting one ever since. The Echo Dot is a smaller version that connects to your music system and allows you to control what you listen to just by talking to it. With it, there's no need to stumble around looking for music on your phone. You just tell it what you'd like to listen to from across the room. The thing that made Echo even more interesting to me is that Sonos announced that you will be able to use Echo with your Sonos speakers (check out #5 below if you don't know what this is) sometime in 2017.
5. Sonos Play:1
We have a Sonos stereo system for our living room, and I love it so much that I'd like to get another for the kitchen. One of the things that's great about it is that it runs on your home's wifi to play music from your phone or computer, and it's expandable. What that means is that if we add a Sonos Play:1 in the kitchen to our current system in the living room, I can listen to the same (or different) music throughout each room.

6. Spiked Stretchy Bracelet
This little spiked bracelet caught my eye quite some time ago. It's from Accessory Concierge, and if you haven't checked them out before, you really, really need to! They got so much fun jewelry and accessories that would make someone very happy this holiday season.
7. Fitbit Alta
I have an older version of Fitbit to track my physical activity, but I really like some of the features of this newer Fitbit Alta. It also works as a watch, and it connects to your phone through bluetooth, so you can even see who's calling you without having to reach for your phone.
[clickToTweet tweet="10 Things You Should Add To Your Christmas List" quote="10 Things For Your Christmas List"]
8. Kendra Scott Elisa gold pendant in slate
I actually gave this pendant to my mom last year, and I love it so much that I'm asking for one myself this year. It's a great "everyday" necklace, and I absolutely love how the gray stone looks with gold.
9. & 10. Portable Hard Drive and Fire Safe
This may not be a very glamorous gift, but it's one that I need badly! As a mom and a blogger, I have so many photos saved digitally, and it scares me to death that I may lose them. The hard drive will back up my photos, and the fire safe is a little added protection if anything should happen to our home.
So, do you brave the crowds on Black Friday, or do you do your shopping from the comfort of your home? I tend to do my shopping from the computer, but I do like to get out a little later in the day once the crowds have thinned out some. Whatever way you do your shopping, I hope you get some great deals!
Need more ideas for your holiday shopping? Here are a few more lists for you!
Gift ideas for the Star Wars Fan, Hey Fitzy
Gift ideas for hostesses and other favorite things, Nourish and Nestle
Gift ideas for everyone on your list, The Red Painted Cottage
Gift ideas for the whole family, Sweet Parrish Place
Gift ideas for gadget lover, The Aspiring Home
Gift ideas for the kitchen, Savvy Apron