An easy Ikea malm makeover with tips on painting laminate furniture and how to apply a faux marble top. Check out the before and after pictures!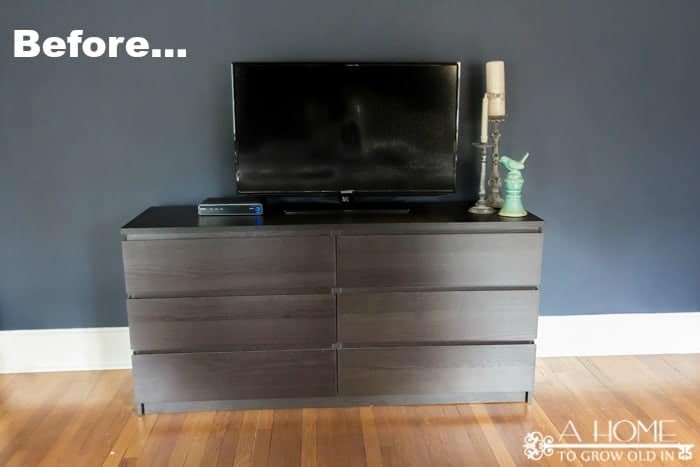 If you've been keeping up with our master bedroom makeover you know that I've been trying to lighten up the furniture to help balance the new dark walls.  We have an old dresser that was still in good condition but was a dark espresso color that looked lost against the walls.  You could barely see it, so I decided to do an Ikea Malm makeover with some paint and a new marble look for the top.
Can you paint laminate furniture?
There's a common misconception out there that you can't paint laminate furniture because the paint won't stick and will just peel off, but that just isn't true. I have an old mid-century modern desk that I painted, and it has a laminate top. It gets used and abused on a daily basis, and it has absolutely no wear on it whatsoever. If you do it right, you can update a laminate piece of furniture and have it for years to come.
How do you paint laminate furniture?
The key to painting laminate is making sure the surface is very clean and that you use a primer with excellent adhesion. Before I paint any furniture, regardless of what it's made of, I clean it really well with a TSP substitute. Some time ago, I was painting a piece of furniture that started to bubble up for no apparent reason, and ever since then, I make sure to use a TSP substitute beforehand so there isn't anything on the surface to keep the paint from sticking. The next thing I do is use at least two coats of a really good adhesion primer. My favorite primer is B-I-N from Zinsser. Not only do I love how well it makes the paint stick to the furniture, it dries AND cures in almost no time at all. That makes a project go super fast. It also lays really smooth, so you see almost no roller or brush marks, leaving you very little sanding in between coats, and also speeding up the process.
I typically use two coats of paint, and if the furniture gets a lot of use, I give it a couple of coats of polycrylic.
How to paint Ikea furniture
As far as painting goes, I have to say that the Ikea Malm dresser is one of the easiest pieces of furniture I've ever painted. Like with most Ikea furniture, the straight lines make it so that you could almost get away without using a brush and just use a roller on the entire thing. An Ikea Malm makeover is the perfect beginner painter piece to get started with if you're new to painting furniture.
You may have noticed that I did not mention sanding the furniture before you start painting. One of the nice things about laminate is that you do not have to sand other than in between coats of primer or paint. Sanding the laminate can damage it, and the adhesion on with B-I-N primer is strong enough that you don't need to do it anyway.
How to add a faux marble top to your Ikea dresser
When I was working on the inspiration behind our master bedroom makeover I came across a picture of a gorgeous navy blue and gray kitchen with white Carrera marble countertops. I loved the combination of the three so much that it became the inspiration behind this dresser makeover. This was a simple update! I found this marble contact paper that is made for countertops. It is wider and thicker than most contact paper and worked perfectly for the top of the Ikea Malm dresser.
Here's what you need for the marble top:
straight edge (I used something like a credit card)
scissors
hair dryer
To apply, I initially turned the paper upside down and folded back a few inches of the backing. The fold made it easier to get started so the backing paper was not trying to curl back up and get in the way.
Once you've confirmed your email address, you will receive our weekly newsletter full of our latest posts, as well as content that is exclusive for A Home To Grow Old In subscribers. Plus, you'll have access to our Resource Library that is full of FREE printables and SVG cut files.
Then, I turned the paper back over so that the marble side was facing up. I let the sticky side make contact with the dresser, leaving a couple of inches overhanging at the end. I pulled the backing paper back about 9″ from underneath.
I pushed out any air bubbles using a thick card and repeated the process of pulling back the backing until I got to the end.
I cut off any excess once I got to the end. I did not trim it to length before I started because I used the weight of the excess roll to keep the paper from rolling back up while I worked.
To get nice square corners, I made a cut in the paper as close to the dresser as I could get. Then I folded one end in and placed the other flap on top of it, similar to wrapping a package.
I warmed the contact paper up with my hair dryer to help get nice, sharp edges. This contact paper is really thick, and warming it up made it more pliable and helped it crease a little easier.
I was expecting to have a lot of trouble with air bubbles, but it really wasn't much of a problem. The bubbles that did form were along the sides, and I think I could have avoided them if I had gone back over the top of the dresser, near the edge, with a credit card before I folded the contact paper over the edge. Even then, the bubbles were still fairly easy to push out.
Lastly, I trimmed off any excess from the edges, and I was done.


I am so happy with how this piece of furniture turned out! This makeover was surprisingly fast and easy. I painted it over the course of 2 days, and the top took maybe 45 minutes at the most. It looks like a completely different piece of furniture. I love how it looks against the navy walls and doesn't feel as big and heavy as it did before.
What do you think of the makeover? I'm still considering adding some drawer pulls. Do you think that would be too much?
If you like my Ikea Malm makeover, I'd love to stay in touch! Sign up to receive my emails below. Email subscribers have exclusive access to my printables library that I'm adding to all the time. Check out a few of the printables available below. Or, if you'd prefer, I'd love to also connect on social media. Those buttons are on the top right-hand side of the page! You may also want to check out a few of my most popular posts while you're here…my oversized checkerboard (which is great for outdoor fun!), my bedroom vanity makeover, or this fun recipe binder that has made my meal planning so much easier! Hope to see you again!!!
Updated March 2020.