Guys, I am beyond excited to share today's room reveal with you! Just a couple of weeks ago I was fortunate enough to help decorate a 10-year-old girl's bedroom for a Habitat For Humanity of Eastern Connecticut home. I have to say that this was one of the coolest and fun things that I have done in a long time!
This was a part of the Bloggers Heart Habitat program that was organized by Charlotte at Ciburbanity. A total of 9 bloggers got together to decorate 2 rooms in 2 different homes that were moved into right before Christmas. In fact, we were installing everything the Saturday before Christmas, so there wasn't a whole lot of play in our timeline. And, you know what happens when you're trying to get something done on a certain day…you get a crazy snowstorm!
Here's what my street looked like as I was leaving my home on the day of the install! Yikes!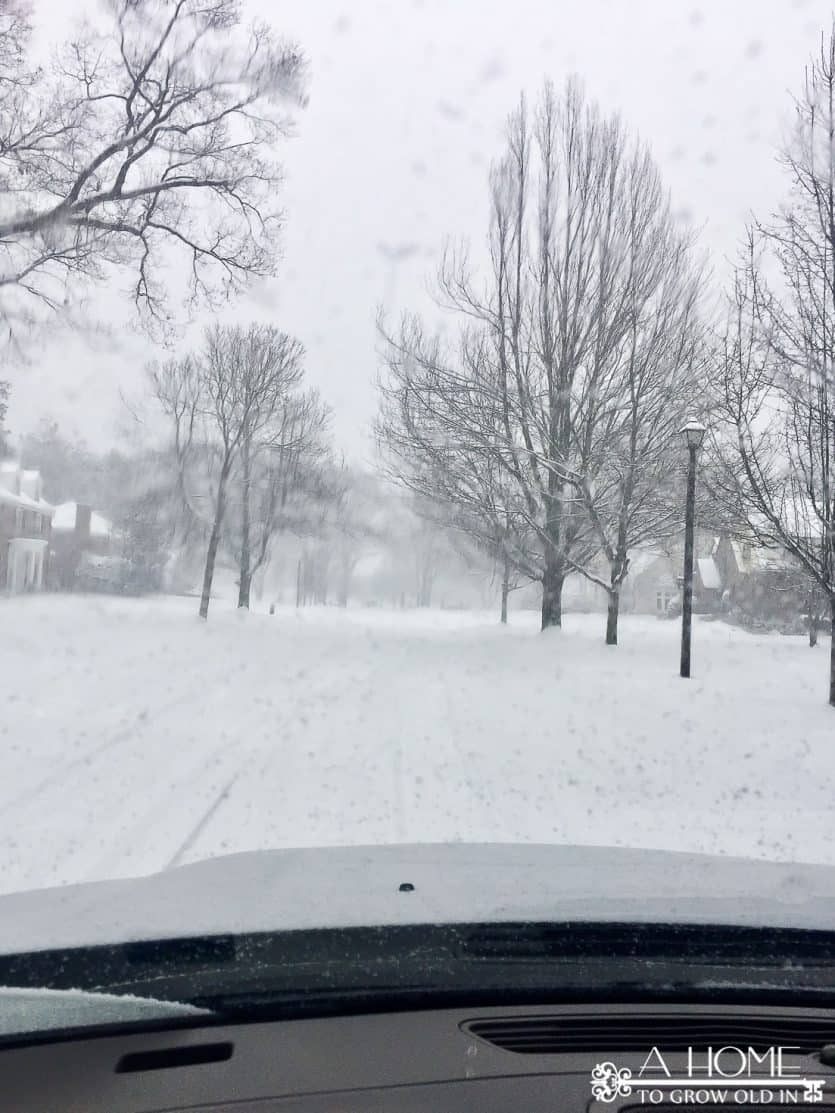 The drive to eastern Connecticut should have taken me just over an hour. Unfortunately for me, none of the highways were plowed until I was about an hour and 45 minutes into my drive, and then they were only plowed for a short while. I saw at least 4 cars stuck in a bank of snow on the exit ramps trying to get off the highways. I finally arrived at the Habitat house 3 hours after I left my home and had to pry my fingers off my steering wheel!
But, wow, was it worth it! I am truly amazed by the amount of talent from the other bloggers I worked with. Carli from Fearfully & Wonderfully Made and Kristen from A Thrifter in Disguise were two of the nicest people, and I think we did an incredible job blending our styles and decorating this little girl's bedroom from 3 different locations.
This post contains some affiliate links for your convenience. Click here to read my full disclosure policy.
Before we got started, the homeowners shared room ideas that they loved via Pinterest. We could tell that she wanted a black and white and teal room with as much zebra stripe as we could give her. She's also a basketball fan!
Because of the storm, we all arrived at the house much later than we planned. The homeowner was stopping by the house later in the afternoon for a "reveal", so we only had a few hours to work. This room went from empty and blank to completely decked out in just a matter of hours!
Carli got to work right away painting the interior sides of both the closet and bedroom doors in this gorgeous teal color!
Isn't this basketball print cute? The color was perfect for the room! Kristen found it on Etsy and had it printed out for us.
Carli found these darling polka dot wall decals, and Kristen got to work putting them up on two opposite walls as soon as we got started on the room. Kristen also found a family to donate a trundle bed (which was another request for sleepovers in her new home) and painted it white. The mattress was donated by Tuft & Needle.
These modern black and white art prints were a free printable! How cool is that? Carli had them printed and framed them.
The zebra print name banner was a simple DIY that I cut out of scrapbook paper using the template from my holiday banner.
I fell in love with these damask paper lanterns! Did you know that there are removable ceiling hooks? They made the lanterns so easy to hang up!
The damask duvet cover was on sale for over 50% off, so I scooped it up! It has a teal border that goes perfectly with the rest of the room.
Isn't this the most incredible girl's bedroom? I'm still amazed that the 3 of us were able to pull everything together remotely, and then get this room completely ready in a matter of hours!
None of this would have been possible without Hometalk who donated the money to decorate both of these homes! We would not have been able to get these rooms done without them!
I'd like to also mention a few other companies that made donations:
Make sure to check out some of the other amazing rooms done in these 2 homes:
If you're interested in Bloggers Heart Habitat, take a look at their page and feel free to email Charlotte at [email protected].