Well, hello there! Did I peak your interest when you saw "salted" in the same title as "chocolate chip cookie", or was it the combination of "pie" and 'chocolate chip cookie" that got you? I am a huge fan of anything salty/sweet…chocolate covered pretzels, salted caramels, even as a kid I remember putting salt on my watermelon…mmm! So, when my now 4 year old said that he did not want a cake for his birthday a few weeks ago and wanted a giant chocolate chip cookie instead, I was determined to make it a salty/sweet combination.
When we were living overseas, I used to sell cookies at a local market with a friend. My best seller was a chocolate chip cookie with a sprinkling of sea salt flakes. The flavor is not really salty, just enough to help balance the sweetness of the cookie. I thought I would try to do the same thing with this chocolate chip cookie pie recipe.
If you don't have sea salt flakes on hand, you can always use any coarse salt, but you should think about getting some. I used to keep a cellar of kosher salt next to my stove for topping off dishes before I served it until I was introduced to sea salt flakes. Now, the kosher salt has gotten the boot. They're awesome on steaks, potatoes…anything you would normally sprinkle salt on.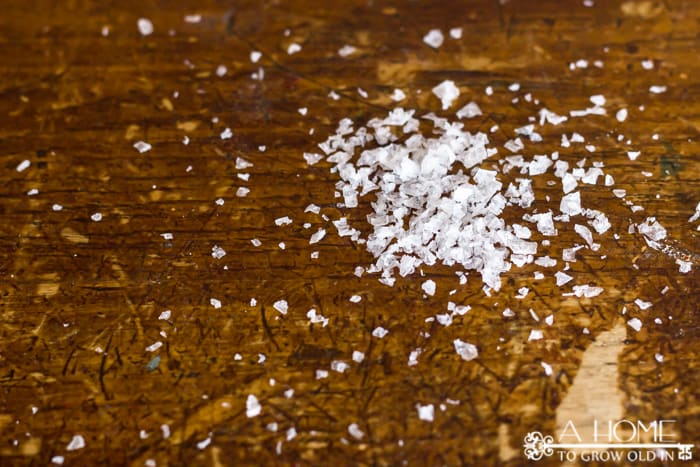 This salted chocolate chip cookie pie is the perfect dessert because it's great for any occasion. It's sure to impress for a holiday get-together, but works just as well for a low-key family movie night treat. Or a 4 year old's birthday! Just make sure you have your stretchy leggings on because you'll want room for seconds!
Speaking of my little guy's birthday…the poor guy woke up early on the morning of his big day with a bad stomach bug, then later that day his big bro got it. He was such a trooper about us postponing his festivities for a couple of days while they both got better. He was feeling better much sooner than his brother, so I was a little nervous of his reaction when I asked him if we could hold off on celebrating for another day. His response was just "sure," like it was no big thing at all. He's such an awesome kid!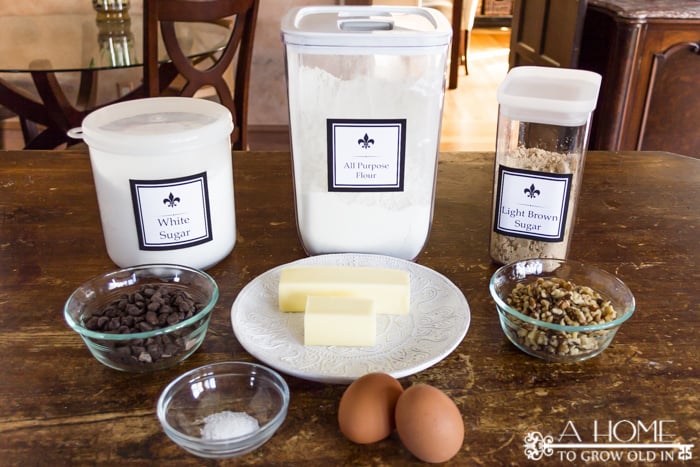 This is a super simple recipe that is even great for beginner bakers. There are not too many ingredients to measure out, and the steps are really easy.
To start, beat your eggs and vanilla on high speed (you can use a hand held mixer as well as a stand mixer). Beat until the eggs are foamy and a much lighter color than when you started. Add the flour, sugars, and salt and mix well. Then, add the butter and mix until combined. Feel free to use whatever mixer speed gets the job done on the last two steps. It's a very forgiving recipe! Lastly, add the nuts and chocolate chips and mix by hand. That's it for the filling. Easy enough?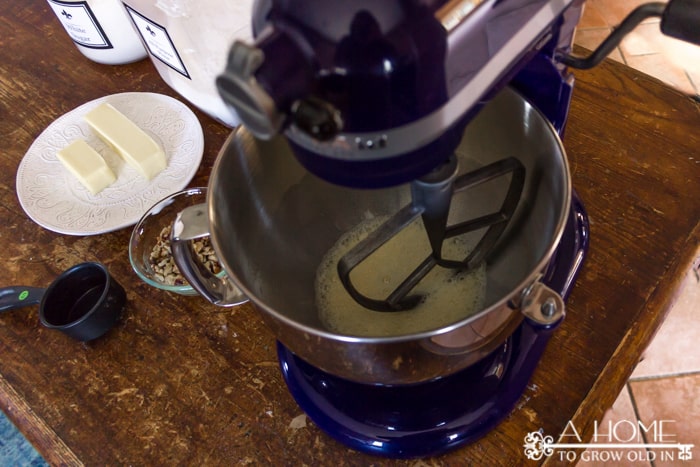 This is where I take a rest because the mixing really wore me out. Nah, not really. It definitely didn't wear me out, but I do like to chill the filling for 24-48 hours in the fridge. I do the same thing with my chocolate chip cookie recipe, and it takes the recipe from good to A-M-A-Z-I-N-G! A chef from my culinary school days told me that it helps the dough to caramelize a bit (which pairs awesomely with the salt) while it's baking. This is not a completely necessary step if you're short on time, but if you can, DO IT! It makes the filling nice and crisp on the top while still keeping the inside soft and gooey when cooked. You'll even be able to see little spots that look just like caramel on top.
This salted chocolate chip cookie pie is the perfect dessert because it's great for any occasion. It's sure to impress for a family get-together, but works just as well for a low-key family movie night treat.
Click To Tweet
If you chilled the filling, take it out of the fridge for a while to let it get back to room temperature. This makes it much easier to work with. Once it's warmed up a bit, spread the filling into a prepared, unbaked pie crust. This is a recipe that store bought pie crust works just as well as homemade. You really don't taste the crust much, so if you want to save yourself some time, use store bought.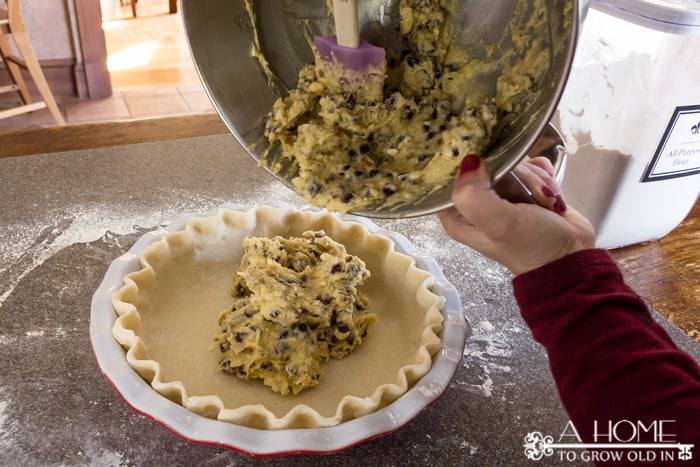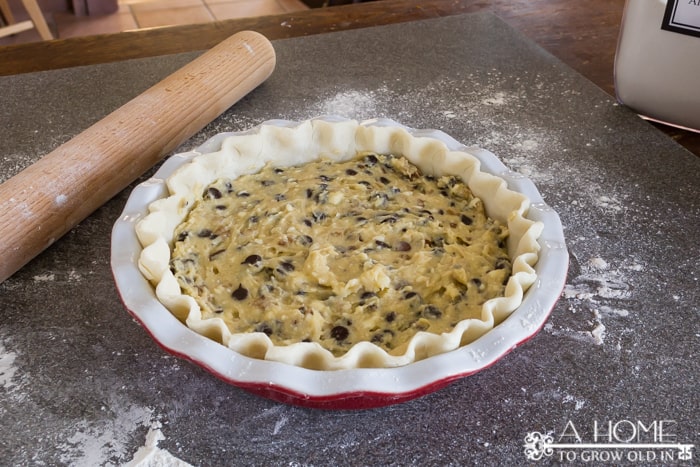 Sprinkle the pie with the sea salt flakes, and bake for 55-60 minutes at 325 degrees F/160 degrees C.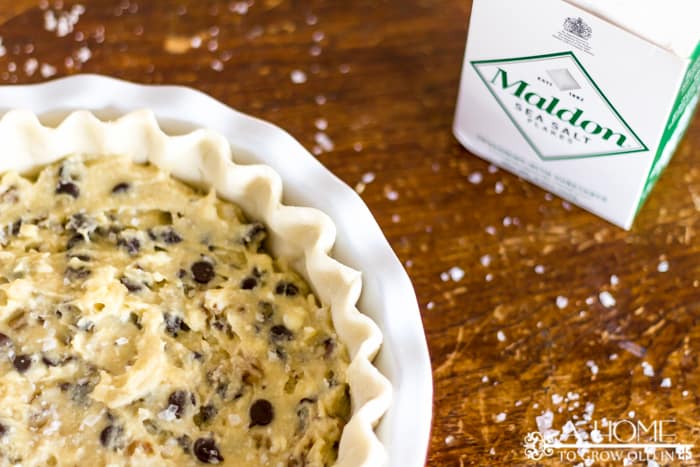 Ideally, the pie should still be somewhat gooey, so checking for doneness is a little tough. I insert a toothpick between the center of the pie and the crust. Expect to see some melted chocolate on your toothpick, but you shouldn't see any dough. If you're not sure, and the pie isn't jiggling when you move it, I would err more on the less done side.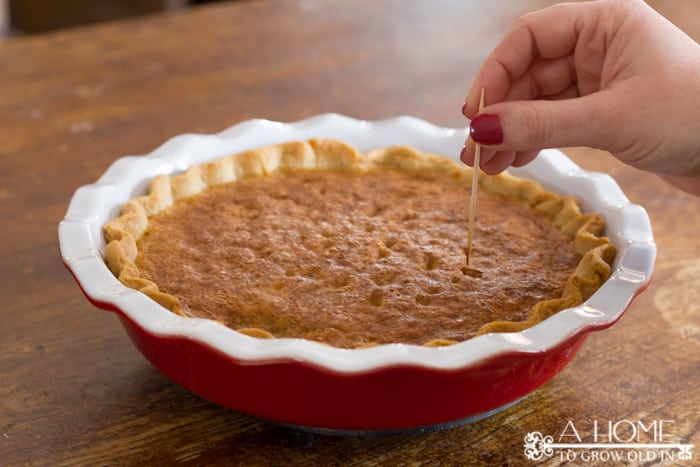 My favorite time to serve this pie is about 30-45 minutes after it's been taken out of the oven. You can top it with ice cream and a little caramel or hot fudge sauce or eat it just as it is. This probably goes down as one of my family's all-time favorite desserts!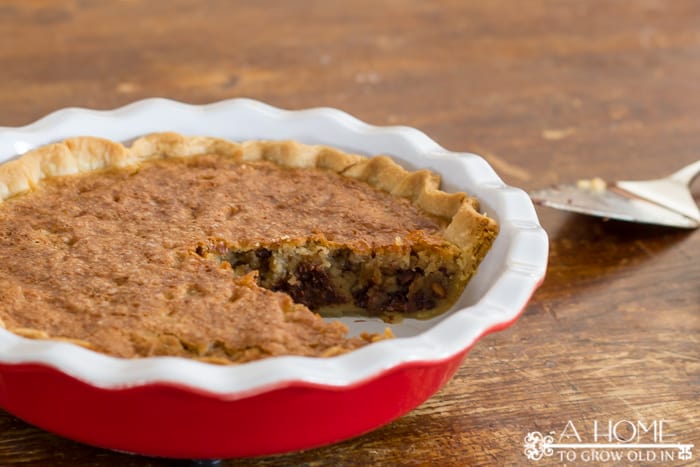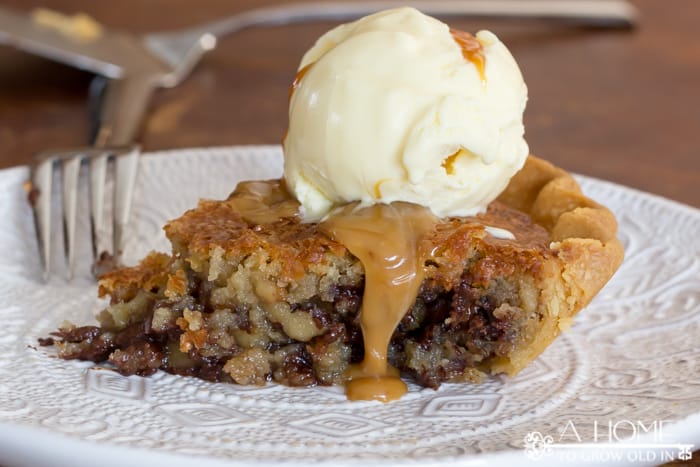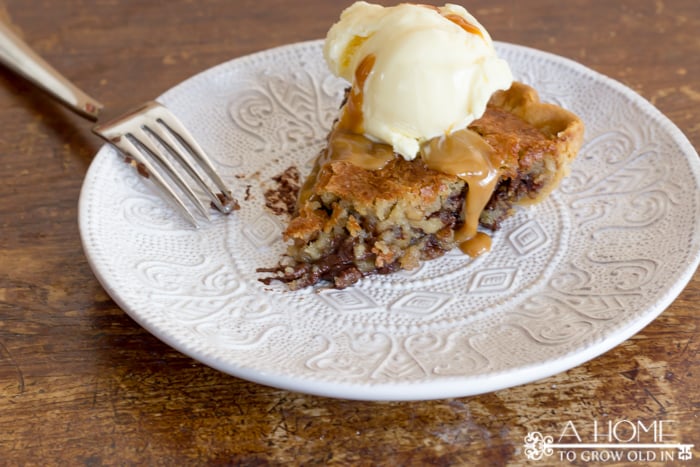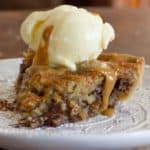 Salted Chocolate Chip Cookie Pie
This salted chocolate chip cookie pie is the perfect dessert because it's great for any occasion. It's sure to impress for a holiday get-together, but works just as well for a low key family movie night treat. The sea salt helps balance the sweetness of the pie to make an absolutely decadent dessert!
Ingredients
1

unbaked 9-inch deep dish pie crust

homemade or store bought

2

large eggs

1

teaspoon

vanilla

1/2

cup

all-purpose flour

1/2

cup

white sugar

1/2

brown sugar

packed

1/4

teaspoon

kosher salt or 1/8 teaspoon sea salt

3/4

cup

unsalted butter

1

cup

semi-sweet chocolate chips

1

cup

chopped walnuts or pecans

Sea salt flakes or coarse sea salt to taste
Instructions
Preheat oven to 325 degrees F/160 degrees C

Beat eggs and vanilla on high speed until light and foamy.

Add flour, sugars, salt and butter and continue to beat on high speed until combined.

Hand mix in chocolate chips and nuts.

Refrigerate dough for 24-48 hours. Allow dough to come to room temperature after chilling.

Spoon the mixture into a prepared, unbaked pie shell.

Sprinkle dough with sea salt flakes.

Bake for 55 to 60 minutes until a toothpick comes out clean.
Recipe Notes
If you're in a hurry, skip #5.
This recipe is best if the center is still slightly gooey when served. Check for doneness with a toothpick somewhere in between the center and crust.
If you notice the crust is starting to get too brown, place strips of aluminum foil over the crust and continue to bake until done.
Are you looking for a place to store all these recipes you find on the internet? Check out my recipe binder post to see how I set it up my recipe binder, and how I lost one of my most beloved recipes when the blog I found it on went down. My recipe binder is part of my exclusive printables library that is only available to email subscribers. It has so many great printables for all over your home, including gift tags, pantry and spice labels, and so much more. Plus, you'll stay up to date with everything going on at A Home to Grow Old In. You can sign up here!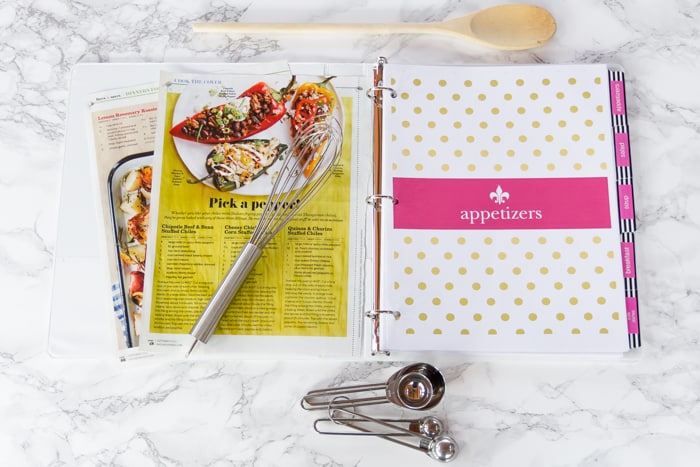 Like this recipe? Pin it to save it for later…