This tranquil guest bedroom with shades of blue, blush pink, and white was decorated for a Habitat for Humanity home and features lots of home decor ideas.
Raymour and Flanigan was gracious enough to donate all of the furniture in the home. All opinions are my own.
Wow! I can't believe it's been over 2 years since the last Bloggers Heart Habitat house I helped decorate but another Habitat for Humanity home has recently been completed.
Bloggers Heart Habitat is a wonderful program that Charlotte from At Charlotte's House puts together to coordinate home decor bloggers to decorate a home for Habitat for Humanity. This time around we had a group of 9 bloggers and were decorating almost the entire home. It's not every day that you get to take a completely empty home and have it decorated from top to bottom within just a few hours. I was fortunate enough to play a small part and decorate the guest bedroom.
The family we worked with couldn't have been any sweeter. The husband is a Marine Corp vet that served in Afghanistan, and his wife moved to the US from China many years ago. In addition to working on her Masters, she chases after their one and a half year old daughter and has a second child on the way.
With a second child arriving soon, her mother will be coming over from China for about 6 months to help out. So, since she will be visiting for quite some time, a guest bedroom is a must!
Once you've confirmed your email address, you will receive our weekly newsletter full of our latest posts, as well as content that is exclusive for A Home To Grow Old In subscribers. Plus, you'll have access to our Resource Library that is full of FREE printables and SVG cut files.
The guest bedroom was a little bit tricky in that it was a very tight space. It took a little bit of work, but Carli from Fearfully and Wonderfully Made by Carli and Michelle from Weekend Craft, and I were able to move things around so that we could fit everything in.The furniture from Raymour and Flanigan was very solid, so there's is no way that I could have done it without their help.
We went with a beautiful white upholstered bed that worked perfectly in the room. The headboard's height is adjustable which was a huge plus. The mattress was very deep, and adjusting the headboard to the highest position allowed us to accommodate it so that the headboard wasn't hidden behind the tall mattress.
There is no closet in the bedroom, so our hope was to provide a much storage as possible with the furniture. We were able to find a really nice sized nightstand with several drawers that could be used to hold clothes or other items that you would normally put in a closet.
One of the tough aspects of a project like this is that we do not get to see the home beforehand, so we didn't really know what the walls or floors would look like. We went with a nightstand and dresser that has gorgeous grey and brown wood tones that should go with anything and crossed our fingers and hoped that it would work. Luckily, they could not have looked any better with the floors in the room.
The coordinating dresser also has a tons of drawers to help out with the lack of a closet in the bedroom.
I am in love with the finish on both the nightstand and the dresser. The various shades of gray and brown could go with any color in your home decor, and the style could go with anything from farmhouse to something a little more modern. They are the perfect pieces for any room!
I was going for a tranquil feel for this guest bedroom, so many of the accessories are in white, blush pink, and various shades of blue.
Here is a look at the Bloggers Heart Habitat crew with the family. It was such an amazing feeling to be apart of their first look around their newly decorated home. The family could not have been anymore gracious and appreciative, and they truly were a lot of fun to be around.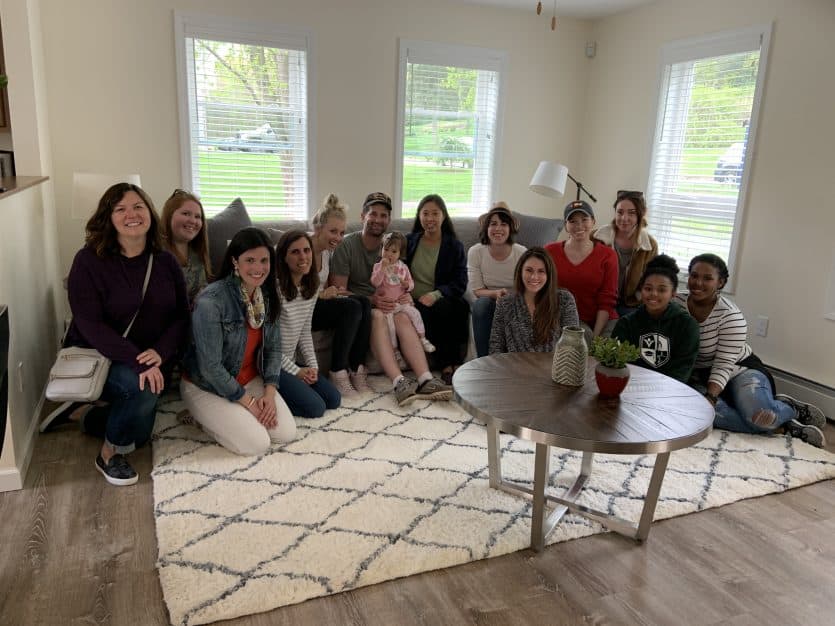 It was so much fun to work with these amazingly talented ladies, so please don't forget to check out the rest of the rooms in the house! It truly was transformed into the most stunning home you could imagine in just a few hours.
Master Bedroom: The Rath Project, Jessica Brigham, Street Flea Style
Girl's Bedroom: At Charlotte's House, The Seasoned Home, Kate Smith Interiors
Family Room: Fearfully and Wonderfully Made by Carli
Dining Room/Kitchen: Weekend Craft
Some photos were taken my Michelle from Weekend Craft and Carli at Fearfully and Wonderfully Made by Carli.