This caramel popcorn recipe with free printable gift tags will make the yummiest gift you've ever given! Perfect for neighbor or teacher gifts!
Welcome to our Blog Hop, Happy Holidays, and Merry Christmas to you! We have some great ideas, inspiration, tips, resources and how-to for you during this holiday season as you move along through the blog hop.
You may just be starting the blog hop or may have come from Pam at The Birch Cottage on our Living with Style Blog Hop. If you get off track at any time, the full line up below will help you move along from blog to blog so you make sure to see and learn from all of the articles featured here today.
This post contains some affiliate links for your convenience (which means if you make a purchase after clicking a link I will earn a small commission but it won't cost you a penny more)! Click here to read our full disclosure policy.
One of my favorite Christmas memories from when I was a kid was getting a huge container of popcorn every year from someone my parents knew. My memory could be a little off, but I swear it was about the size of a 5 gallon bucket, and it had buttered, cheese, and caramel popcorn separated by dividers. I really couldn't have cared less about the buttered or cheese popcorn, but I would go to town on the caramel. I remember disappointingly eating the buttered popcorn when the caramel was all gone and completely shunning the cheese popcorn. It was all about the caramel!
I know there are some great popcorn companies out there, and boy oh boy was I excited when Garrett Popcorn opened up a shop while we were living in Bangkok. But, you know what? I was pretty disappointed when they opened. You see, I had already come up with an amazing caramel corn recipe that pretty much ruined all other caramel popcorn for me. It's that good!
I love to make this when we have home movie nights, game nights, or anytime we have company over, but my favorite time to make it is for Christmas gifts. It reminds me of the popcorn tins we used to get as gifts when I was little.
A while back I received a Whirley-Pop Popcorn Popper as a Christmas gift, and we use it all the time. My kids have a blast with it. It's so easy to use, and I love that our popcorn doesn't have all the artificial ingredients that you get with microwave popcorn. I usually pop ours with a little bit of coconut oil.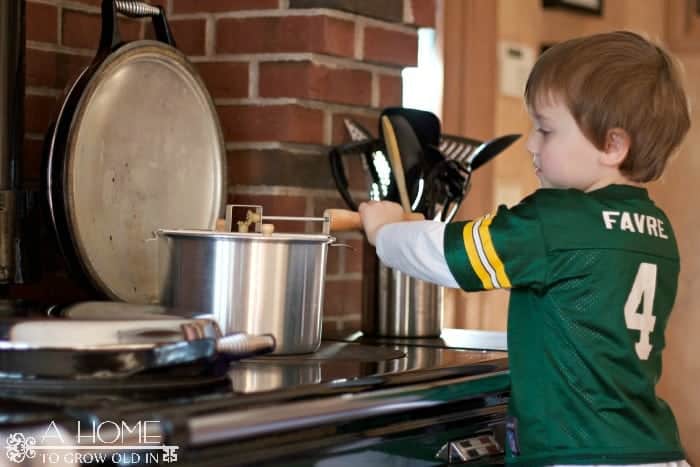 Can you tell we made this on game day? Go Pack Go!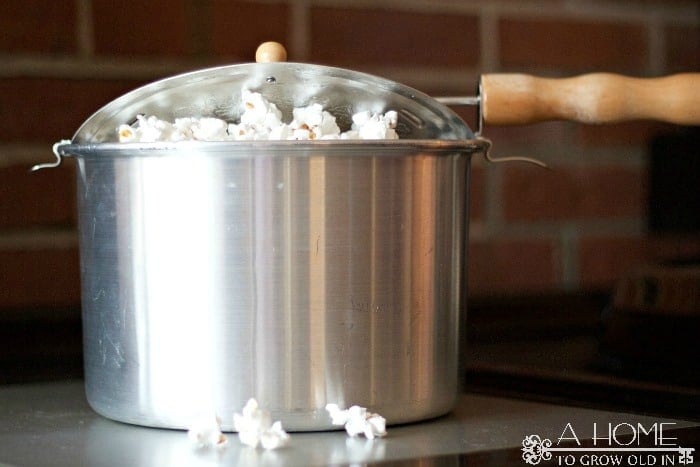 Once the popcorn is made, I separate it into two large dutch ovens. The high sides don't let as much fall out while you are stirring it, but the disposable roasting pans work great, too.
Next, I make up the caramel mixture and pour half of it into each of the dutch ovens. I then stir it until the mixture starts to thicken. It's no big deal if all of the popcorn isn't covered in caramel because it will coat more with each stir. The popcorn goes into the oven for one hour, stirring every 15 minutes.
When the popcorn is done baking, I pour it onto parchment paper that I've spread out on the counter and use two forks to separate any pieces that are stuck together.
This year I found some really cute gift boxes on sale, and I decided to package the popcorn up for gifts. I lined each of the boxes with parchment paper, filled them with popcorn, and then wrapped them in shrink wrap. To finish it off, I tied on a bright bow and one of these cute gift tags.
So, I'm including this easy little recipe for caramel popcorn and the printable gift tags I used on the gift boxes. These make great neighbor and teacher gifts. Plus, who doesn't want to have yummy treats around for surprise guests that may popover during the holidays.
You can download the printable gift tags in the Printables Library along with lots of other great downloads, like a complete recipe binder, pantry labels and more.
Once you've confirmed your email address, you will receive our weekly newsletter full of our latest posts, as well as content that is exclusive for A Home To Grow Old In subscribers. Plus, you'll have access to our Resource Library that is full of FREE printables and SVG cut files.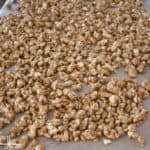 Caramel Popcorn
Cook Time:
1 hour
15 minutes
Total Time:
1 hour
20 minutes
Delicious caramel popcorn that you can't stop eating! Beware: it is seriously addictive!
Ingredients
6 quarts of plain popped corn
2 cups dark brown sugar
1/2 cup light corn syrup
1 teaspoon salt
1 cup butter
1/2 teaspoon baking soda
1 teaspoon vanilla extract
Instructions
Preheat the oven to 250 degrees F (120 degrees C).
Place the popcorn in a deep roasting pan or dutch oven.
Heat the brown sugar, corn syrup, salt, and butter at medium-low heat. Stir constantly.
Once the mixture comes to a boil continue to cook for 5 minutes while stirring contantly.
Take the brown sugar mixture off the heat and stir in the baking soda and vanilla extract.
Pour the mixture over the popcorn and stir to coat. Once the mixture becomes difficult to stir put the popcorn in the oven for one hour stirring every 15 minutes.
Turn the popcorn onto parchment paper and separate the pieces with a fork.
Allow the popcorn to cool. Enjoy!
Notes
I pop about 1/2 cup of kernels, and it makes about 6 quarts of popcorn. It really varies depending on the brand you use, so you may need more or less.
You'll notice the brown sugar mixture start to foam up when you add the baking soda. That just means your baking soda is good.
Each time you stir the popcorn and caramel mixture it becomes more coated with caramel, so it's important not to miss a stir.
Make sure to get the bottom of the pan when you stir the popcorn. Lots of good stuff is down there!

Nutrition Information
Yield

8
Serving Size

1 Servings
Amount Per Serving
Calories

510
Total Fat

24g
Saturated Fat

15g
Trans Fat

1g
Unsaturated Fat

8g
Cholesterol

61mg
Sodium

552mg
Carbohydrates

77g
Fiber

2g
Sugar

64g
Protein

3g
Blog Hop Lineup:
Beth McCullough at Stamping Mom
Pam Bennett at The Birch Cottage
Robin L at A Home to Grow Old In << that's me