Guys, I'm kind of sad to say this is the last week of the No Place Like Home organizational series. You may have seen me mention before that I am by far not the most organized person out there, so this has really pushed me to tackle several areas around my home. It feels really good to have everything in its place! So, on this final week, I decided to try a little medicine organization. Our medicine has been a mess ever since we moved into our house. When we moved from Bangkok two years ago this month, all of our stuff came in two shipments. Our first shipment came right away, and that was everything that had been in a storage unit in Texas for the previous few years, like our furniture. The second shipment, which was everything we had in Bangkok, arrived 2 months after we moved in. It contained the things we use on more of a day to day basis, and in this case, all of my storage containers that I use to organize our medicine. By the time our second shipment arrived, I was so burned out on unpacking and trying to fit everything from two homes into one that the last thing I felt like doing was organizing the medicine we had begun to accumulate.
This post contains some affiliate links for your convenience. Click here to read my full disclosure policy.
Here's what it looked like before I got it organized…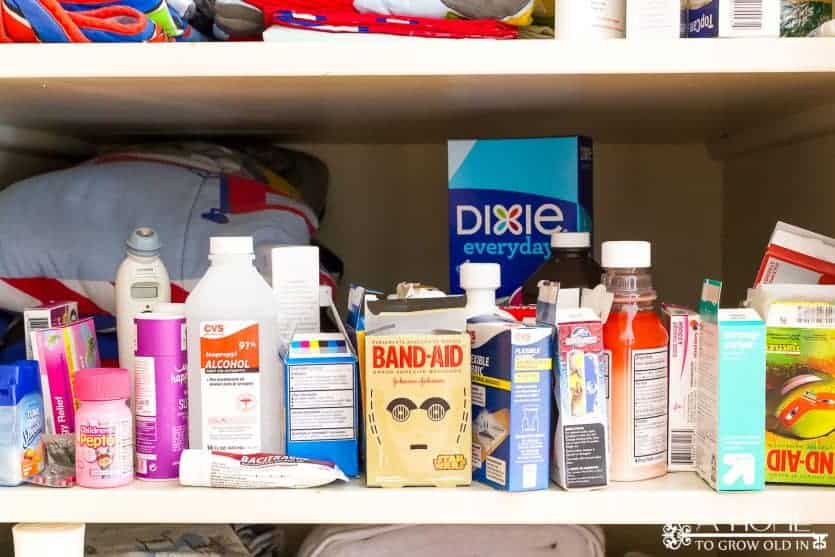 To start, I got rid of all my expired medicines.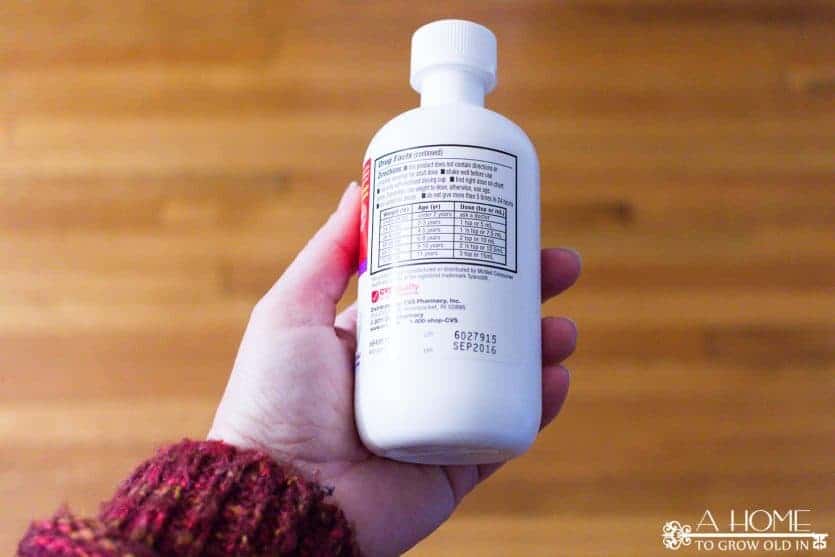 Then, I separated it into categories, cold & allergies, first aid, pain relief, and stomach relief.
Having 2 little ones, we accumulated a lot adhesive bandages over the years. I tossed out the ones with characters my kids weren't interested in anymore. I couldn't believe how many boxes we had!
I used a plastic shoe box and a small divided tray to organize the cold and allergy and first aid medicines. To help condense everything, I took all of the adhesive bandages out of the boxes.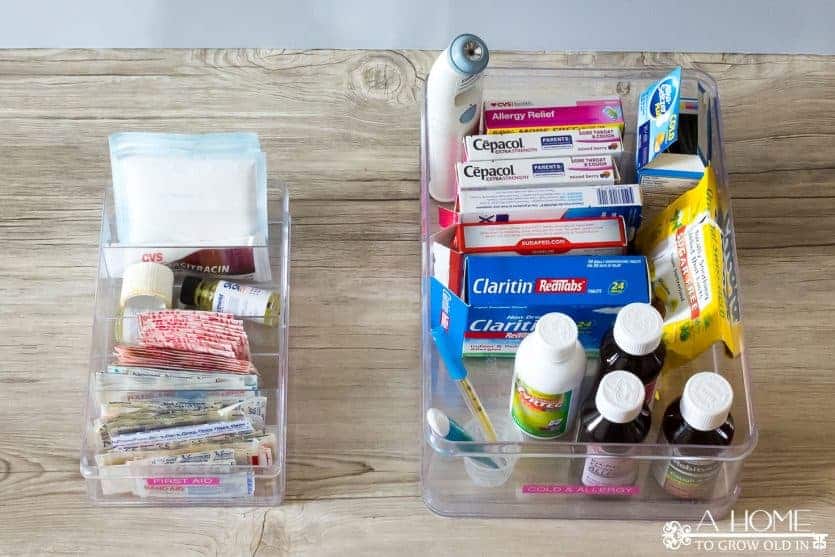 These cute little bird boxes came with a set of coffee cups that I received as a gift years ago, and I've been using them for storage ever since. Now, they hold my pain and stomach relief medicines.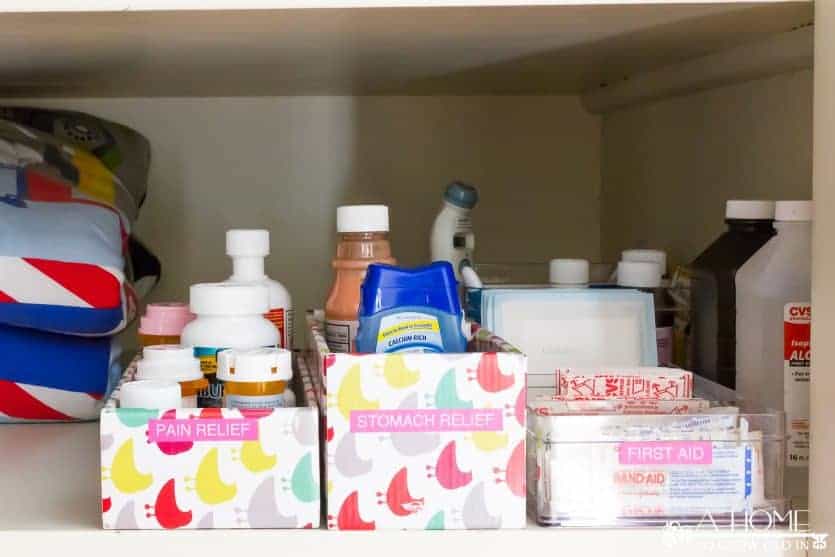 I used my label maker with my favorite pink tape to label everything before I put it back in the closet. I actually have some extra room on the shelf now!
It's so nice to have everything where it's easy to find again. I've said this every week of the organizational series, but I don't know why I didn't get this done sooner. What have you organized recently?
Don't forget to check out all the other great closet and storage organization tips from my friends, as well as the raffle below. We would love to see your organizational successes and challenges, so please share your pics or links!
Hey Fitzy | Nourish and Nestle | Sweet Parrish Place
Paint Yourself A Smile | The Red Painted Cottage | Savvy Apron | The Aspiring Home
So, as previously mentioned, the gals from No Place Like Home are hoping to motivate you to declutter your home with the opportunity to win a $150 gift card from The Container Store. You have multiple opportunities to enter the giveaway: 1) Each week submit a photo or link up a blog post of a declutter challenge or success to the InLinkz below. (If you are not linking from a web page and are just uploading an image from your computer, click on option 3 in the InLinkz box that says 'Image URL' and add your image from your computer. This link (http://blog.inlinkz.com/2010/07/adding-images-to-linkup/ ) helps explain that further.)
2) Follow the rest of the Rafflecopter prompts below.
Link Party Guidelines:
1. Please only link up posts that are decluttering/organizing related.
2. Please only link up your original work.
3. Please only post something that you have not posted before during this 4 week challenge.
4. Please go to the original post before you pin something.
5. By linking up to this party, you are giving all 8 of us permission to share your pictures on social media or our blogs at any time in the future. Of course, there will be a link back to your original post. 6. Please follow all hosts.