Hey there, friends! How's your organizing going? Know what I love most about doing this organization challenge with my pals from No Place Like Home? It pushes me to get things organized, like my bathroom drawers, that I've been putting off since we moved into our home 2 years ago. I hope that our giveaway challenge for the $150 gift card to The Container Store is doing the same thing for you! If you haven't already, don't forget to link up your organized spaces or challenges below for an extra chance to win.
This week I decided to tackle my bathroom drawers organization. It's been something I've been putting off because it's a bit of a challenge. Our master bathroom was renovated by the previous owners sometime in the last 10 years, and they put in a gorgeous antique chest of drawers turned into a vanity.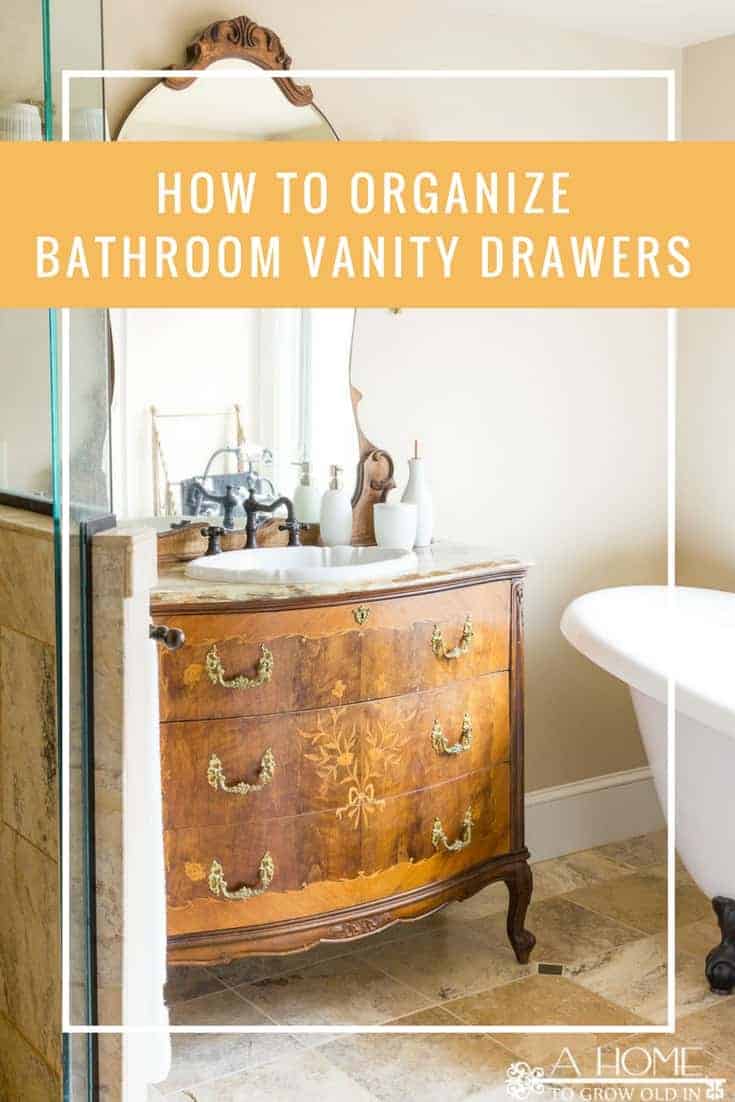 I've seen dressers and chest of drawers repurposed into bathroom vanities all over Pinterest, but what they don't tell you is how impractical they are. Unless you have an abundance of bathroom storage elsewhere in your bathroom (which we don't), they are really difficult to store your things in. The drawers are not tall enough to store cleaning supplies or other bottles upright, and anything that is short enough to keep standing up falls over when you open the drawer. That means everything has to be kept laying up its side, which takes up a lot of space.
This post contains some affiliate links for your convenience. Click here to read my full disclosure policy.
Prior to working on my bathroom drawers, this is what our vanity looked like.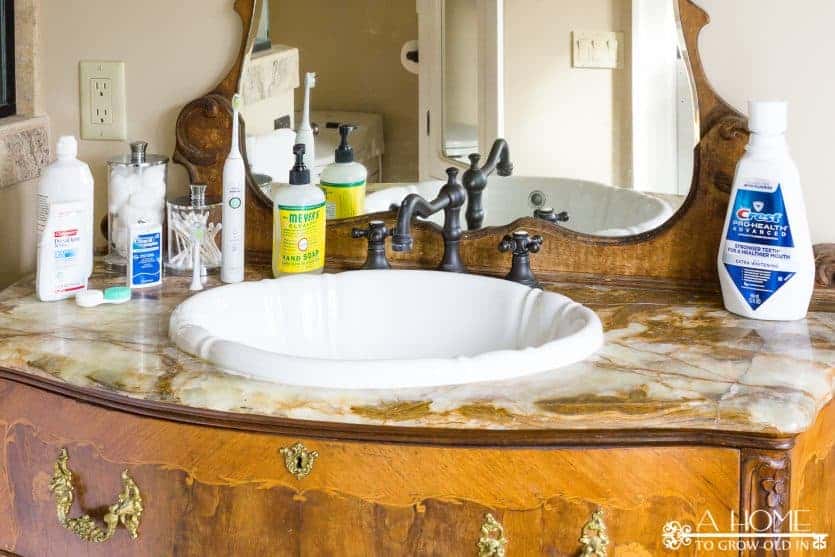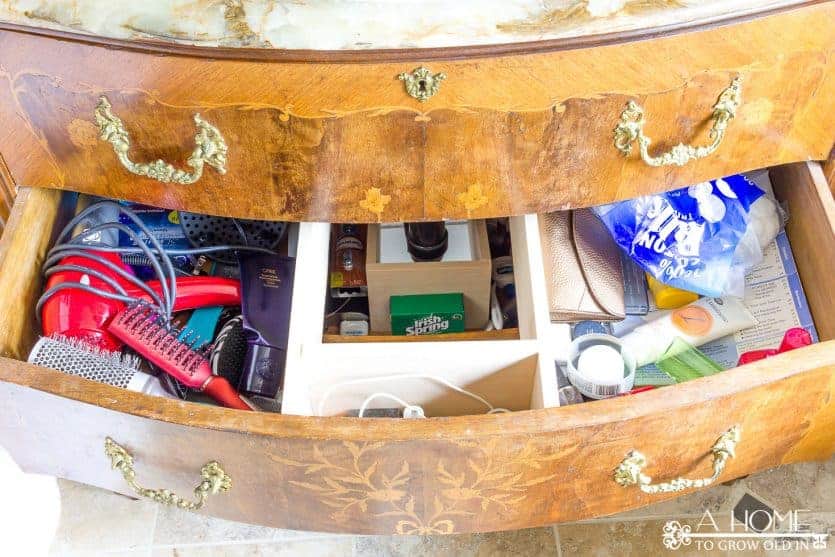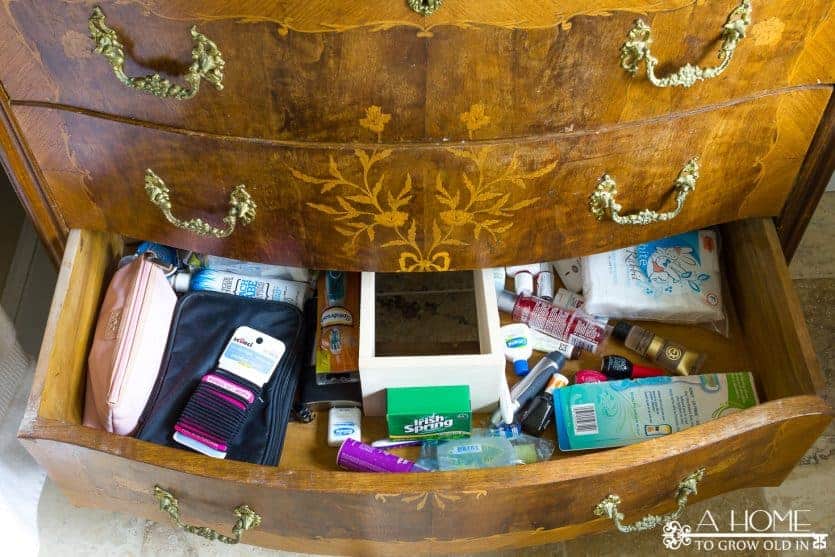 I kept my most used items on top of the vanity because they would just get lost in the mess that was in the bathroom drawers below.
Here's how it looks now…
I moved the large bottle of mouthwash to a linen closet that's not in the bathroom, and I'll refill this olive oil bottle as needed. I found this small canister to hold some cups, along with the matching soap dispenser.
A couple of adjustable drawer dividers worked perfectly to keep items from rolling around.
I organized the drawers in zones, similar to what I did in the pantry. The top drawer holds the things we go for the most, like contact solution, toothbrushes and paste, and my hairbrushes.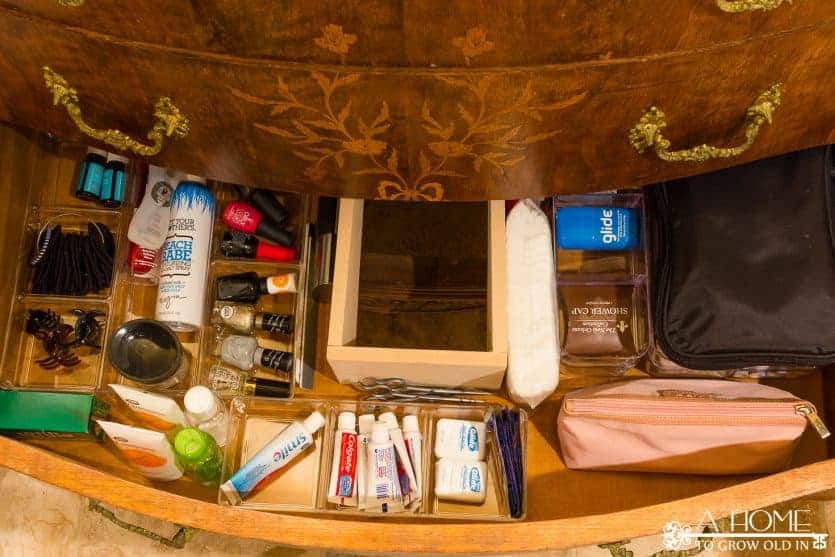 The bottom drawer holds everything else.
Underneath my black makeup bag on the right side are a couple of stackable drawer organizers that hold makeup and skin care.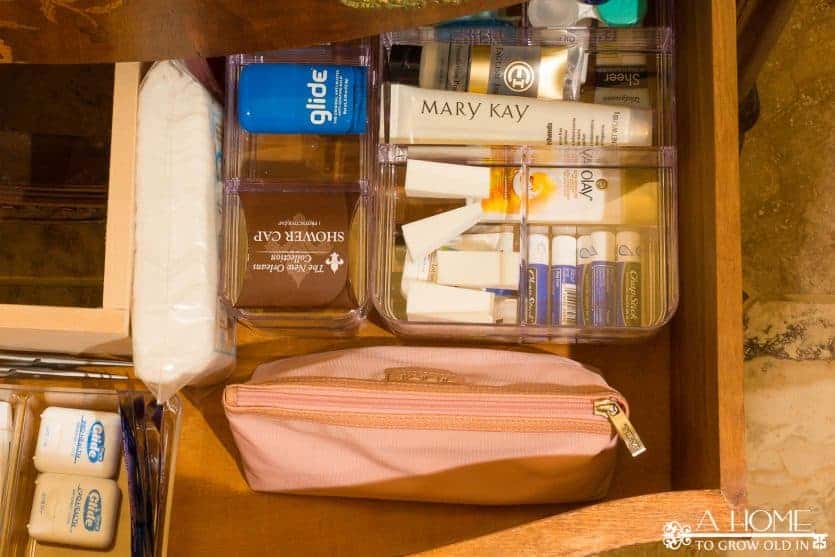 The left side holds hair products and nail polish in a divided organizer tray. My husband travels quite a bit, and we've even managed to leave a little room for some of his travel toiletries.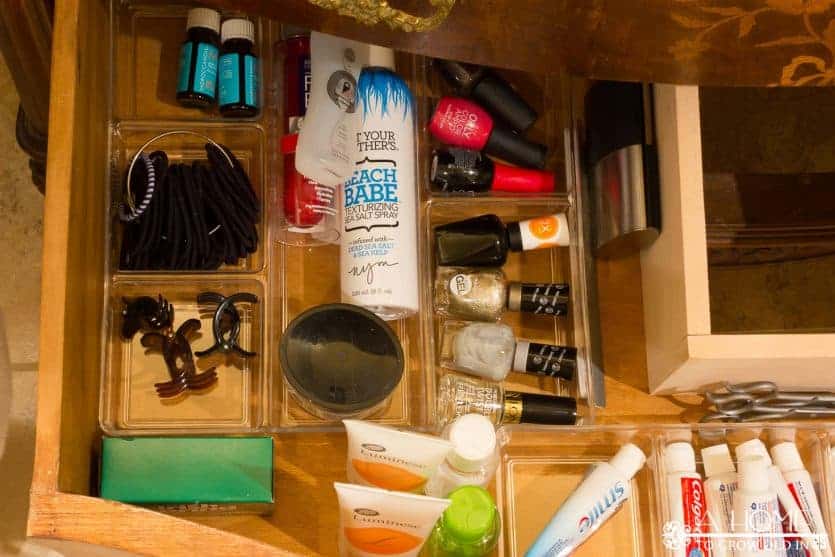 I love how uncluttered the top of the vanity is now!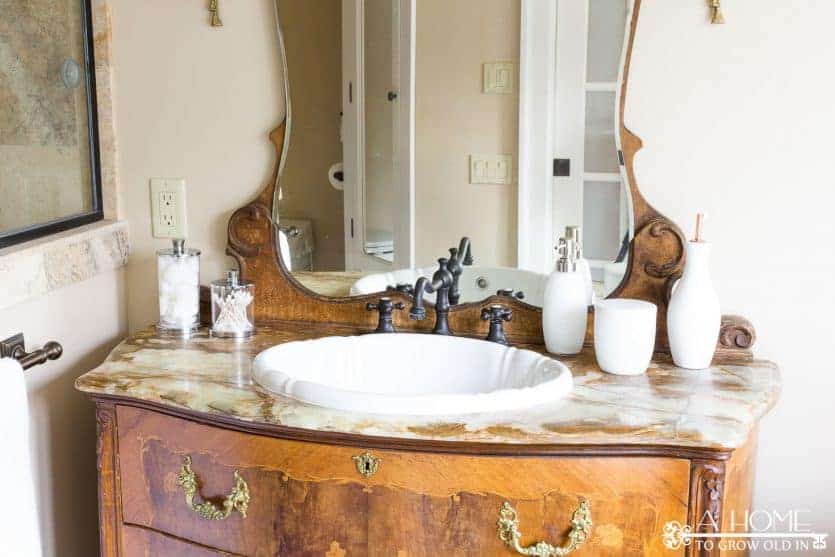 Now instead of being frustrated with how my bathroom vanity doesn't hold all my stuff, I can focus on how beautiful it is!
Don't forget to check out my friends' great bathroom organizational posts! They've always got so many amazing ideas!
Hey Fitzy | Nourish and Nestle | Sweet Parrish Place
Paint Yourself A Smile | The Red Painted Cottage | Savvy Apron | The Aspiring Home
So, as previously mentioned, the gals from No Place Like Home are hoping to motivate you to declutter your home with the opportunity to win a $150 gift card from The Container Store. You have multiple opportunities to enter the giveaway:
1) Each week submit a photo or link up a blog post of a declutter challenge or success to the InLinkz below. (If you are not linking from a web page and are just uploading an image from your computer, click on option 3 in the InLinkz box that says 'Image URL' and add your image from your computer. This link (http://blog.inlinkz.com/2010/07/adding-images-to-linkup/ ) helps explain that further.)
2) Follow the rest of the Rafflecopter prompts below. Make sure to come back next week for more chances to win!
Link Party Guidelines:
1. Please only link up posts that are decluttering/organizing related.
2. Please only link up your original work.
3. Please only post something that you have not posted before during this 4 week challenge.
4. Please go to the original post before you pin something.
5. By linking up to this party, you are giving all 8 of us permission to share your pictures on social media or our blogs at any time in the future. Of course, there will be a link back to your original post.
6. Please follow all hosts.