Using a crate is a super easy way to make a wooden dog toy box for your pampered pet! You'll be ready to start organizing your dog toys in just a few hours!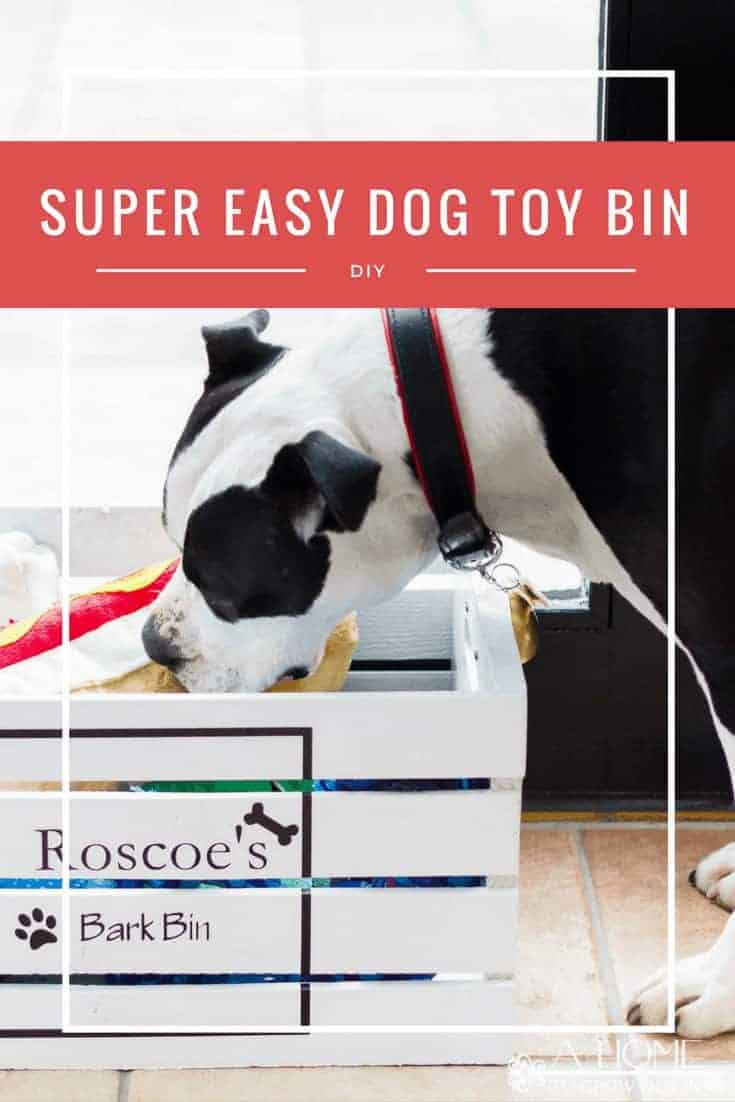 I've got some big news, my friends! We recently adopted a dog and are absolutely in love with him! He has completely taken over our life. Roscoe was turned into a shelter as a stray and spent 6 weeks there and then a little more time with a foster before he came to our home. We don't know much about his history other than he's about 2 years old, but we have made it our mission to give this guy the life he should have had all along. Just like with kids, it's crazy how quickly we accumulated toys for him. They were piling up in his bed, but the pile was getting too big! I needed to find a new place to keep them, so I came up with a cute dog toy box to store them in.
This post contains some affiliate links for your convenience (which means if you make a purchase after clicking a link I will earn a small commission but it won't cost you a penny more)! Click here to read our full disclosure policy.
How to Make a Personalized DIY Pet Toy Box
This wooden dog toy box is an incredibly easy DIY project that you can finish in less than a couple of hours!
1. Gather Your Supplies and Tools
mouse sander (optional)
drawer pulls (similar)
vinyl letters or decals (if you don't have a cutting machine)
Cricut or other vinyl cutting machine (You can download the SVG file using the signup link below.)
2. Sand All Sides of your Wooden Crate
The outside of the crate is fairly well sanded, but the inside is a little rough, so I went over it with my mouse sander so that toys won't get caught on it. I also filled in the staple holes with a little wood filler and sanded them smooth once the filler dried.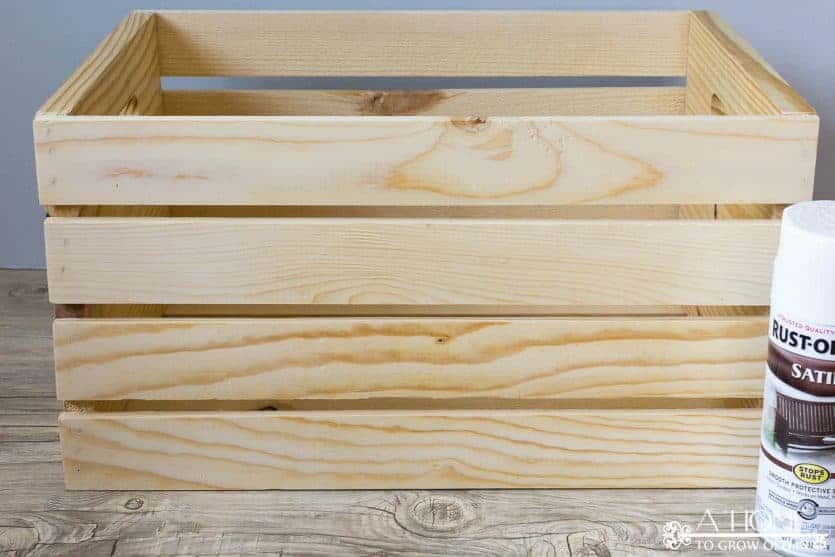 3. Paint the Wooden Crate
I vacuumed off all of the dust and gave the crate a couple of coats of white spray paint.
4. Cut Your Design Out Using Adhesive Vinyl
While the paint is drying, download using the signup below and cut out your design with your Silhouette Cameo or Cricut.
These Printables and/or SVG designs are exclusive for A Home To Grow Old In subscribers to download for FREE. Just sign-up below and you'll receive an email with the information to access the resource library that contains the SVG.
Once you've confirmed your email address, you'll be enrolled in our weekly newsletter full of our latest posts as well as content that is exclusive for A Home To Grow Old In subscribers. Plus, you'll have access to our Resource Library that is full of free printables and SVG cut files.
Free printables and SVG files from A Home To Grow Old In are for your own PERSONAL USE ONLY.
In case you haven't heard of Cricut before, it's an electronic cutting machine. It looks and works a lot like a printer, except instead of using ink to draw lines or letters it has a tiny knife that cuts them out in various mediums like vinyl or fabric.
Cut the design out of permanent adhesive vinyl and apply it to the crate once the paint dries. I used scissors to snip the lines that overlapped the crate boards and folded the excess over the slats.
I planned to be done once I applied the vinyl, but when I stepped back to take a look at it, I felt like it needed a little something more. Then, I remembered some cup pulls I had leftover from another project and decided to add them to the sides after I sprayed them with my favorite gold spray paint. The crate already had openings on the sides of the crate to help you carry it, so the handles I added are purely ornamental, but they really help give it a more polished look.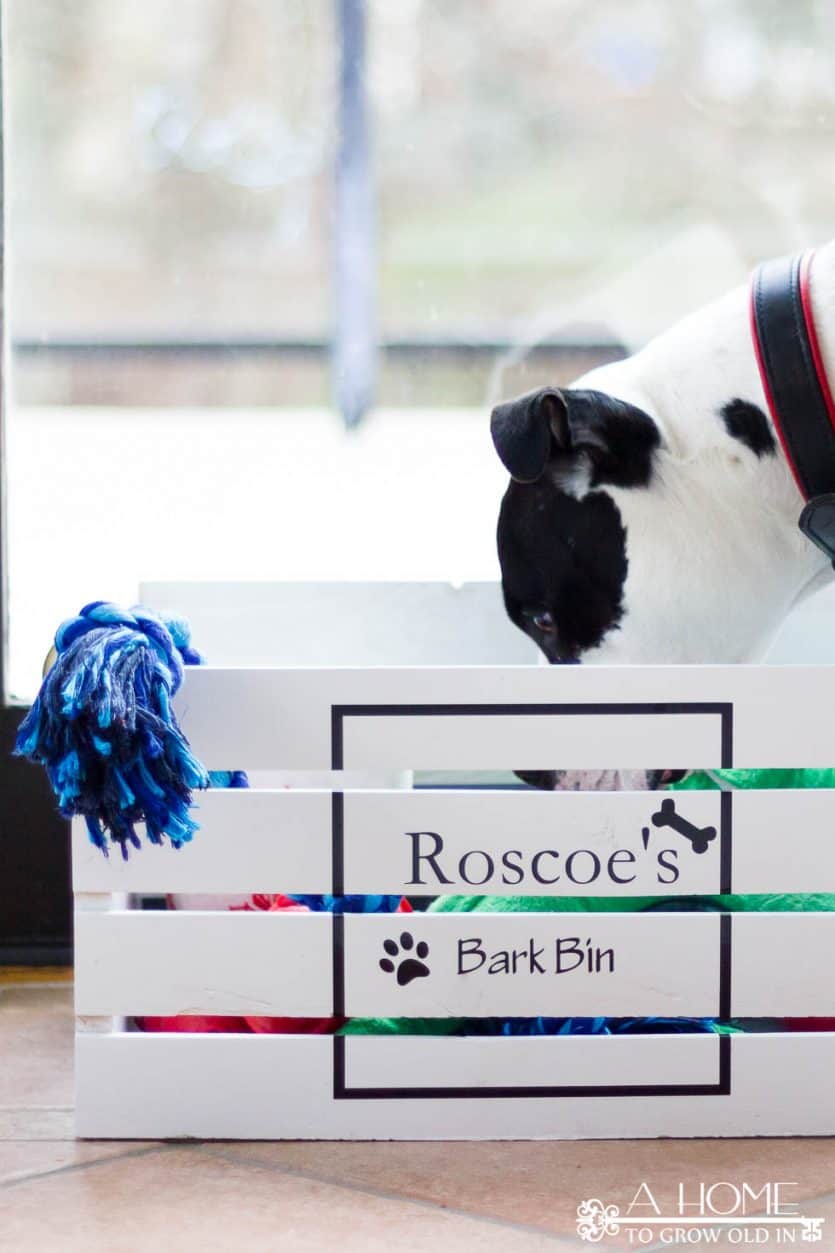 I'm almost ashamed at how easy this toy box was to make! I love that the crate is pre-made! All you have to do is give it a little paint and personalize it. It's one of those projects that only took a little while to make but has already got a ton of use!
Use Your Wooden Dog Toy Box To Organization All Your Pet Clutter
I'd love to hear about your pampered pooches. How do you contain all of their toys? If you're looking for more pet organizational ideas, check out these great dog storage ideas to contain all their clutter.
Tackle DIY Pet Beds, Food Bowl Stands, Leashes, and More
I gathered up 15 of my favorite DIY pet projects for both dogs and cats to share with you. There are so many great things that you can make for your furry friend! The great thing about DIYing your pet stuff is that you can make them exactly to your taste.
UPDATE: Unfortunately, less than 2 years after we adopted Roscoe he passed away from a mass on his spleen. He made a huge impact on our family in the relatively short time we had him, and he is missed very much.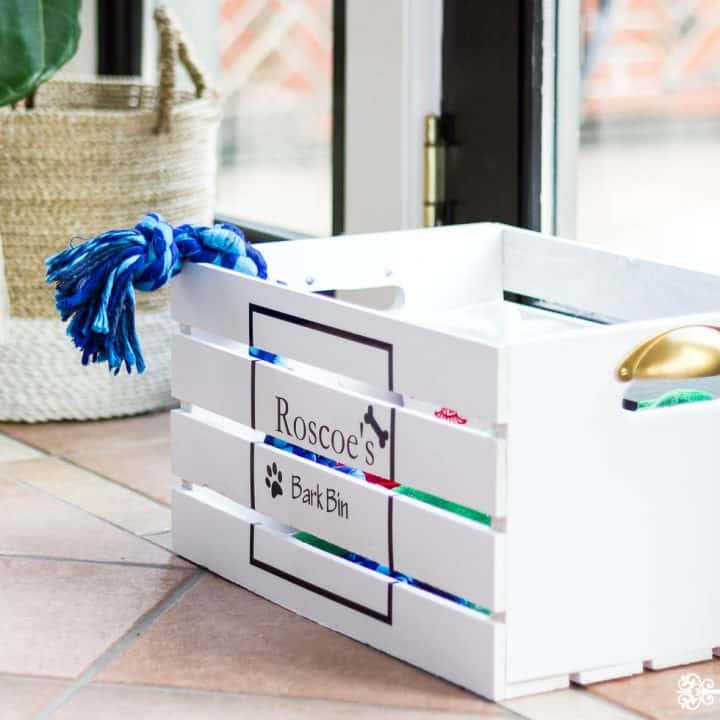 Easy DIY Dog Toy Box
Total Time:
1 hour
30 minutes
Using a wooden crate is a super easy way to make a dog toy box for your pampered pet! You'll be ready to start organizing your dog toys in just a few of hours!
Materials
wood crate
sandpaper
wood filler
spray paint
drawer pulls
vinyl letters or decals (if you don't have a cutting machine)
adhesive vinyl
Tools
mouse sander
Cricut or other cutting machine
Instructions
Gather your supplies and tools.
Sand all sides of your wood crate.
Paint the wooden crate.
Cut your design out using adhesive vinyl.
Apply your adhesive design to the wooden crate once the paint dries.
Start storing your pet's toys in your new toy box!
Originally posted March 2017. Updated September 2019.