Learn how to Create the Perfect Cheese Board with simple ingredients that will definitely be a hit at your next gathering.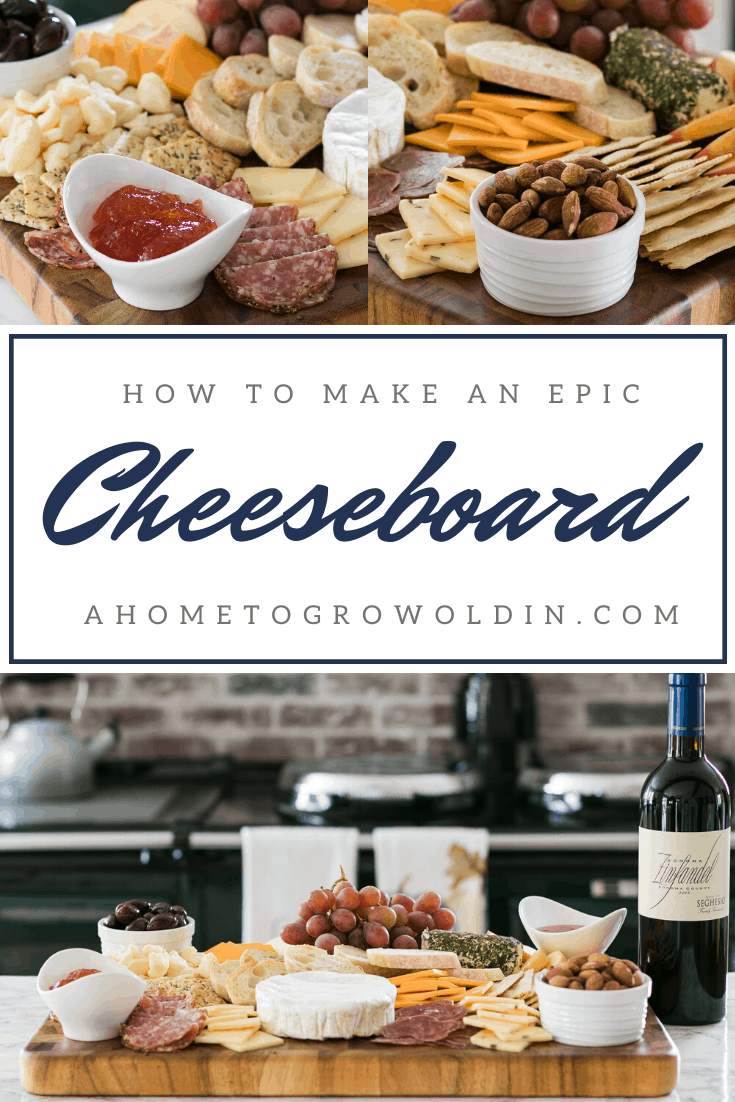 My family and I love all things cheese and I find cheese somehow incorporated into the majority of the dishes I make. Especially on a lazy Sunday, I love spreading out a few different appetizers for all of us to munch on. And cheese and crackers are always included. However, when I have a little more motivation, I opt for a full on cheese board. My husband loves it, I love it, and the variety of food on it fills us up; an added bonus is that our boys enjoy eating it too.
With Thanksgiving and Christmas right around the corner, a yummy cheese board would make the perfect appetizer to serve at your holiday party. A cheese board consists of a variety of simple ingredients that you can tailor to fit your guests. They are so versatile that you could throw one together for a girls' night in or go all out and serve one at a large holiday party. Another great appetizer is this delicious walnut and blue cheese pinwheel recipe that is so simple to make and add to the party.
WHAT GOES ON A CHEESE BOARD?
Cheese, cheese, and more cheese – Select 3-4 (or more!) cheeses to include on your cheese board. Offer a mix of soft and hard cheeses.
Crackers or bread – You need something to put all that delicious cheese on. Include a couple varieties of crackers and a baguette. Certain crackers pair better with certain cheeses, so experiment.
Meat – My second favorite part of a cheese board. Add a couple of cured meats, such as prosciutto, salami, soppressata, or capicola.
Something savory – Add some roasted peppers, pickles, or olives. As well as a selection of nuts, such as cashews, almonds, or pistachios.
Something sweet – Enter chocolate! Or fruit (think grapes!), dried fruit, candied nuts… anything to add a little sweetness to this tasty appetizer.
Garnish – The finishing touches of your amazing cheese board. This is where you can add some additional flavors, like jams and mustards. Strawberry Rhubarb Chipotle Jam is my go-to because I like things with a little heat. Aside from the condiments, you can also place some pretty fresh herbs, like rosemary, as a decorative garnish.
WHAT ARE THE BEST CHEESES FOR A CHEESE BOARD?
I think we can all agree that having quality cheese makes a difference, so aim for that and see what is available. More goes into making a high-quality cheese than you may think, starting with the cows and time of year. Each type of cheese offers a unique taste, smell, and texture, so consider the other ingredients you are pairing with as well. For instance, I would recommend combining a slice of apple, sharp cheddar cheese, and some honey. You will be pleasantly surprised by that tasty combination. With the variety of cheeses out there, you will be able to try all sorts of delicious pairings.
Aged – One of my favorites is a nice sharp cheddar cheese sliced thinly. Gruyere and gouda also work well.
Soft – The best kind of cheese for spreading. An excellent soft cheese is Brie with its creamy, buttery taste and it pairs well with fruits. Also, try chevre (goat cheese) or camembert (similar to Brie).
Firm – Parmigiano reggiano (I'm Italian, so I'm partial to this variety), manchego, or colby.
Blue – Gorgonzola, stilton, or roquefort. Personally, I am not the biggest fan of blue cheeses due to their distinct taste, but a lot of people love them.
Once you've confirmed your email address, you will receive our weekly newsletter full of our latest posts, as well as content that is exclusive for A Home To Grow Old In subscribers. Plus, you'll have access to our Resource Library that is full of FREE printables and SVG cut files.
HOW TO MAKE THE PERFECT CHEESE BOARD
Maybe you are overwhelmed by all your options, from the many varieties of cheese to what else to pair with them. Don't be! You know what you like, so start there. Pick a couple of your favorite cheeses, crackers, and fruit, then experiment from there.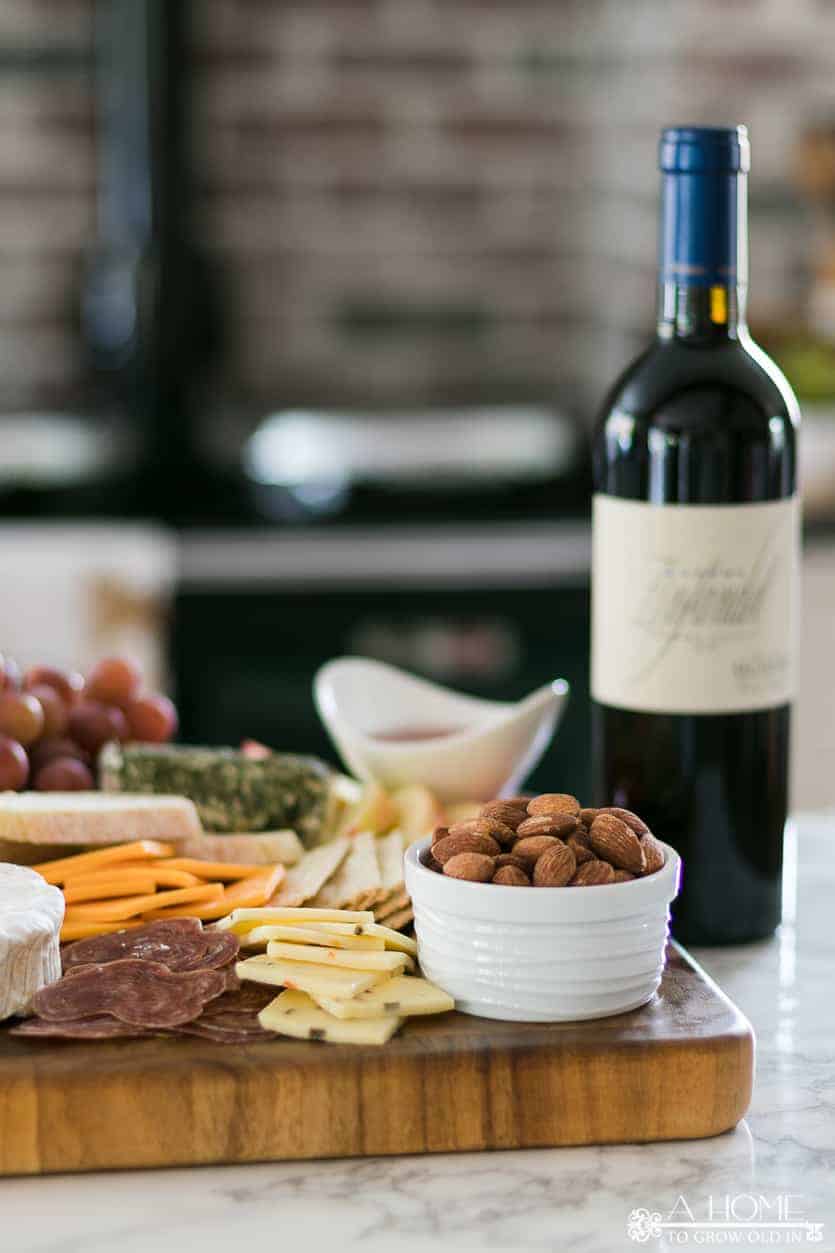 WHAT YOU NEED:
This post contains some affiliate links for your convenience (which means if you make a purchase after clicking a link I will earn a small commission but it won't cost you a penny more)! Click here to read our full disclosure policy.
KITCHEN TOOLS NEEDED:
INGREDIENTS NEEDED:
Sharp cheddar cheese
Camembert cheese
Herb goat cheese
Salami
Baguette
Olives
Grapes
Apples
Honey (we found this spicy version especially yummy)
INSTRUCTIONS:
1. The actual board for the cheese board.
Start with the board. Depending on how big of a cheese spread you plan to make, it will determine the size board. I love wooden boards for their charm. If you are in a pinch last minute, use a wooden cutting board you have laying around.
Next, place the ramekins around the board to help get a feel for how things will be laid out.
2. Prepare your cheese.
Take your cheeses out of the refrigerator and allow them to come up to room temperature, at least 30 minutes before serving. Soft cheeses, like the camembert, will be much easier to spread this way, but also the texture and taste will be better.
You will probably want the whole circle of the camembert on there for esthetics, so place that cheese first.
Next, slice up the cheddar cheese and lay those on another area of the board. For the goat cheese, I purchased a nice roll of a herbed variety and I placed the whole thing on the board as well. Be sure each soft cheese has its own serving knife (you want the full flavor of each cheese, not mixed).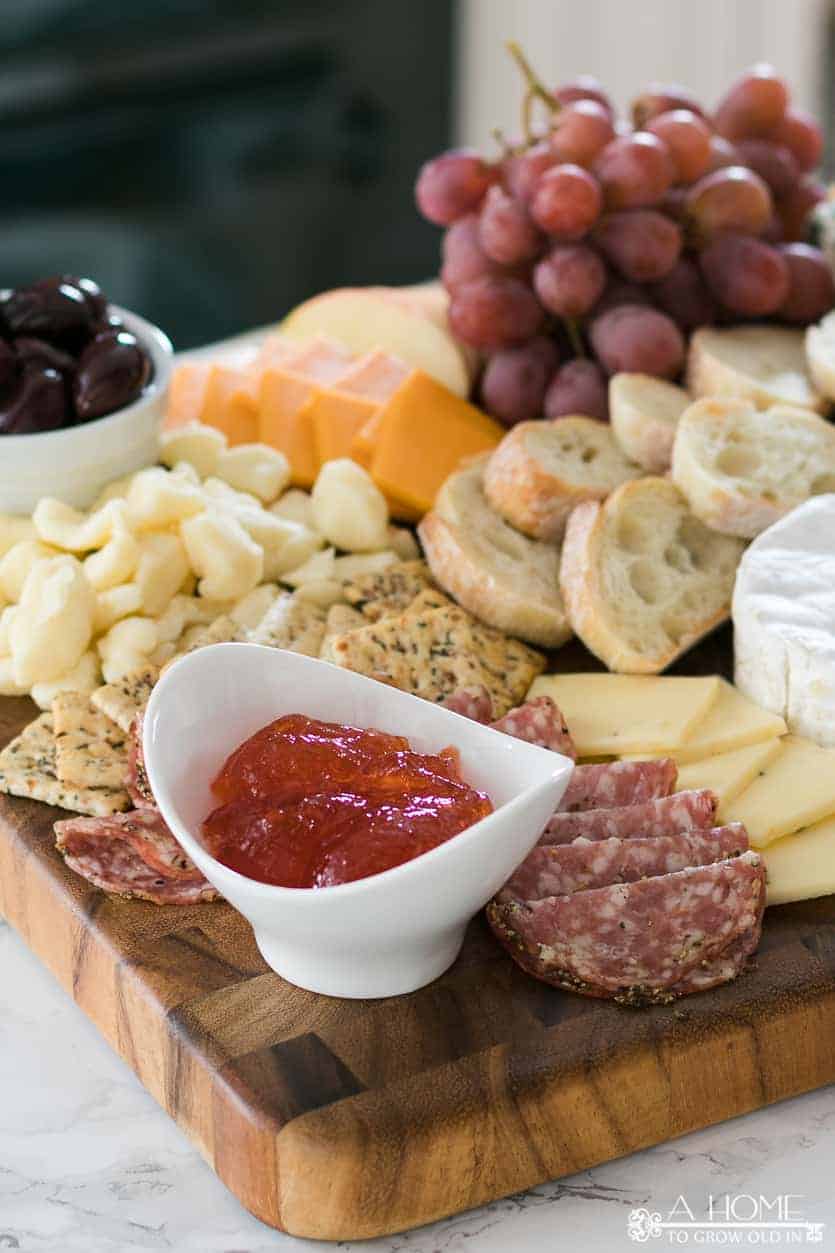 3. Lay out your cured meats.
I prefer to purchase the presliced salami and got a couple of varieties this time. I placed those in a couple of locations on the cheeseboard.
4. Crackers and bread.
Slice the baguette. Spread out those pieces and the crackers around the board.
5. Add the savory and sweet.
Place your olives and almonds in separate ramekins. Leaving your grapes on the stems, wash and dry them, then place them accordingly as well. Slice and place your apples.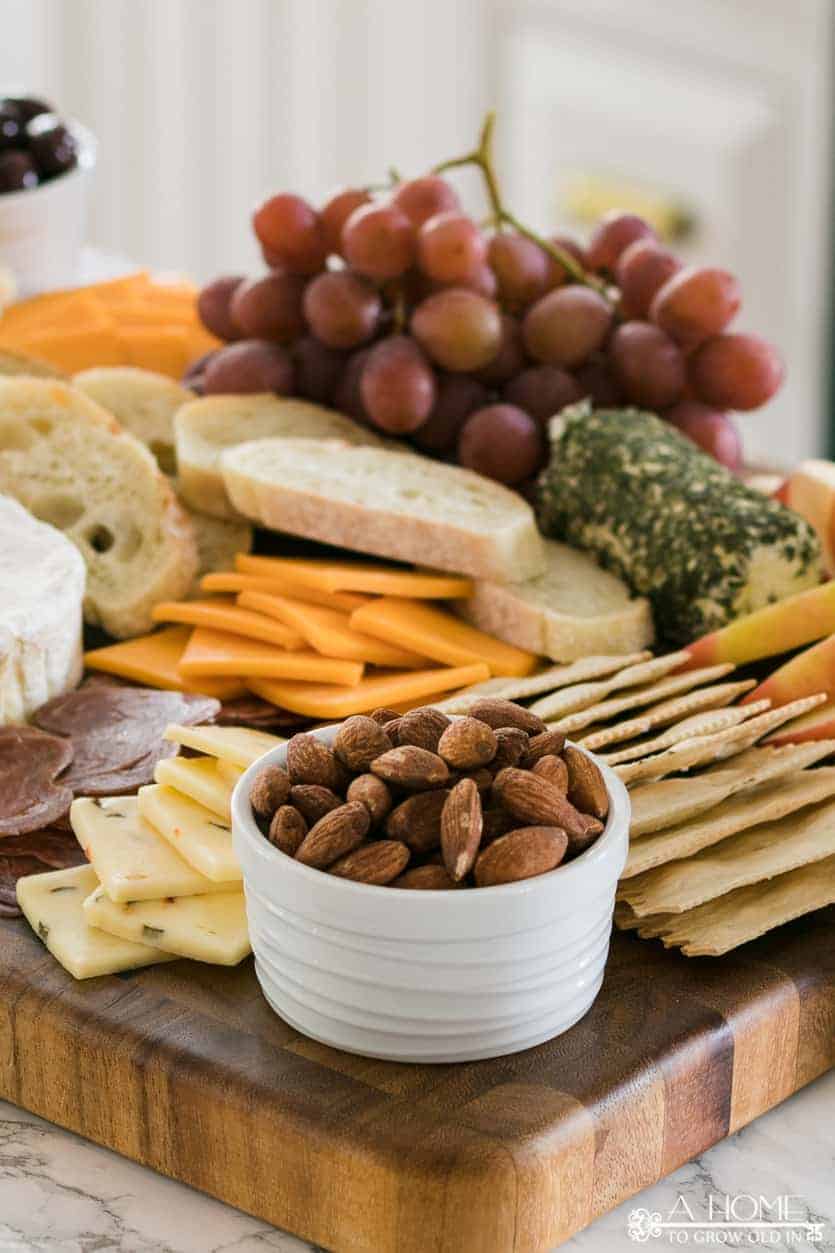 6. Finishing touches.
Add jam and honey to the remaining ramekins. Make any necessary adjustments on the cheese board, making it look perfectly delicious.
Now your cheese board is ready to be eaten!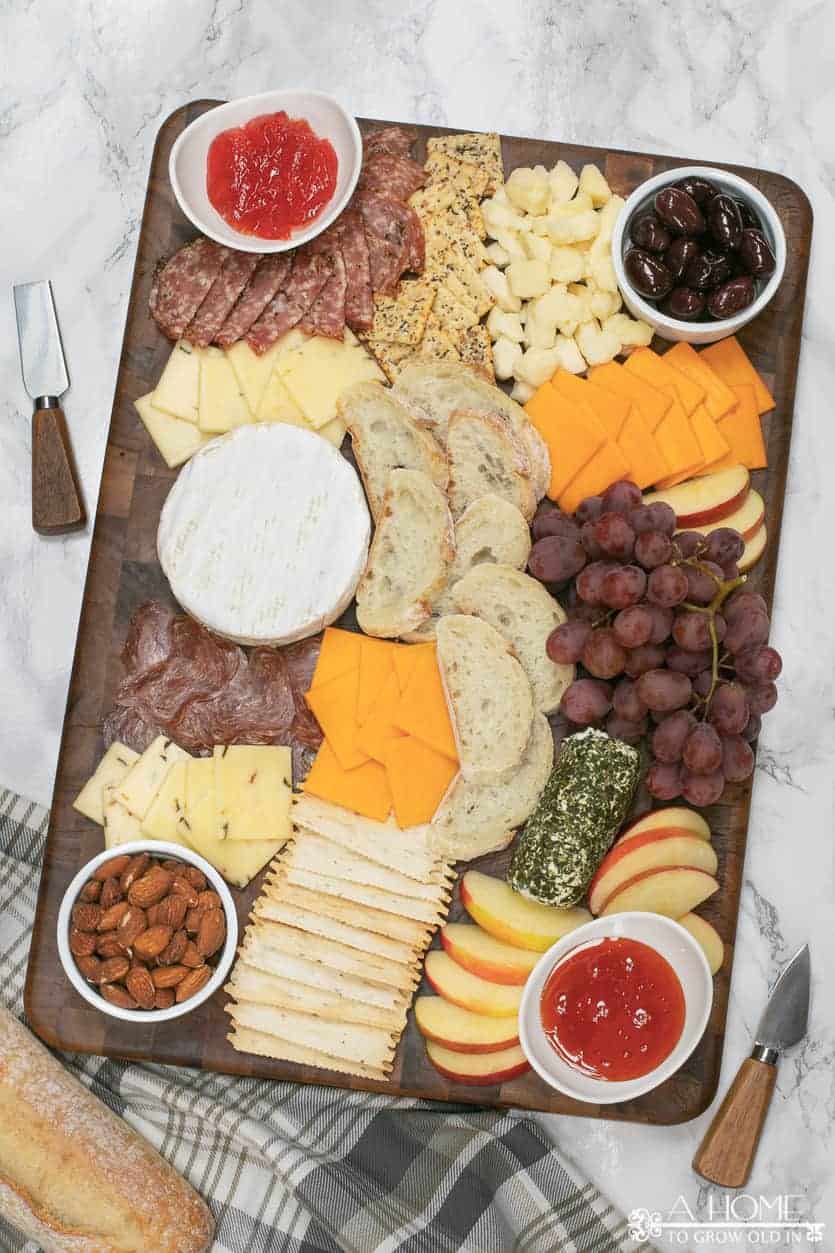 How to Make the Perfect Cheese Board
Learn how to create the perfect cheese board with simple ingredients that will be a huge hit at your next gathering.
Ingredients
Sharp cheddar cheese
Camembert cheese
Herb goat cheese
Salami
Crackers
Baguette
Olives
Grapes
Apples
Almonds
Red pepper jam
Honey
Instructions
1. Select the board for serving and lay out the ramekins on it.
2. Allow the cheeses to come up to room temperature, at least 30 minutes prior to serving. Place the Camembert cheese first on the board. Slice and place the Cheddar Cheese. On another area, place the Goat Cheese roll.
3. Lay out the cured meats on the board.
4. Slice the baguette. Spread out the crackers and baguette pieces.
5. Put olives and almonds in a couple of the ramekins. Wash and dry the grapes to be placed. Slice and place the apples.
6. Pour jam and honey into the remaining ramekins.
7. Enjoy!
Nutrition Information
Yield

12
Serving Size

1
Amount Per Serving
Calories

126
Total Fat

3g
Saturated Fat

1g
Trans Fat

0g
Unsaturated Fat

1g
Cholesterol

6mg
Sodium

229mg
Carbohydrates

21g
Fiber

1g
Sugar

6g
Protein

5g
WHAT ELSE CAN YOU SERVE WITH A CHEESE BOARD?
Wine?! Just saying, that's my usual go-to. Especially if the cheeseboard is for a holiday party or a girls' night, then there are most likely a few different wines to choose from. The wine and cheese pairing possibilities seem endless.
As I mentioned above, I have been known to make a smaller cheeseboard for my family on a lazy Sunday. What I also include with it though, is a veggie platter. My kids love it when I make a homemade veggie platter (win, win for me!). However, I think the two are a nice and healthy pairing and work well for my family when I don't want to cook a big meal.
Now you can pour yourself a nice glass of Sauvignon Blanc and enjoy your deliciously successful cheese board.
What's Next?
You may also enjoy these delicious appetizers on A Home To Grow Old In: