Looking for the ultimate snack recipe for your football watching party? This spicy Sriracha Chex mix recipe has just the right amount of heat! It is sure to be a game-day favorite.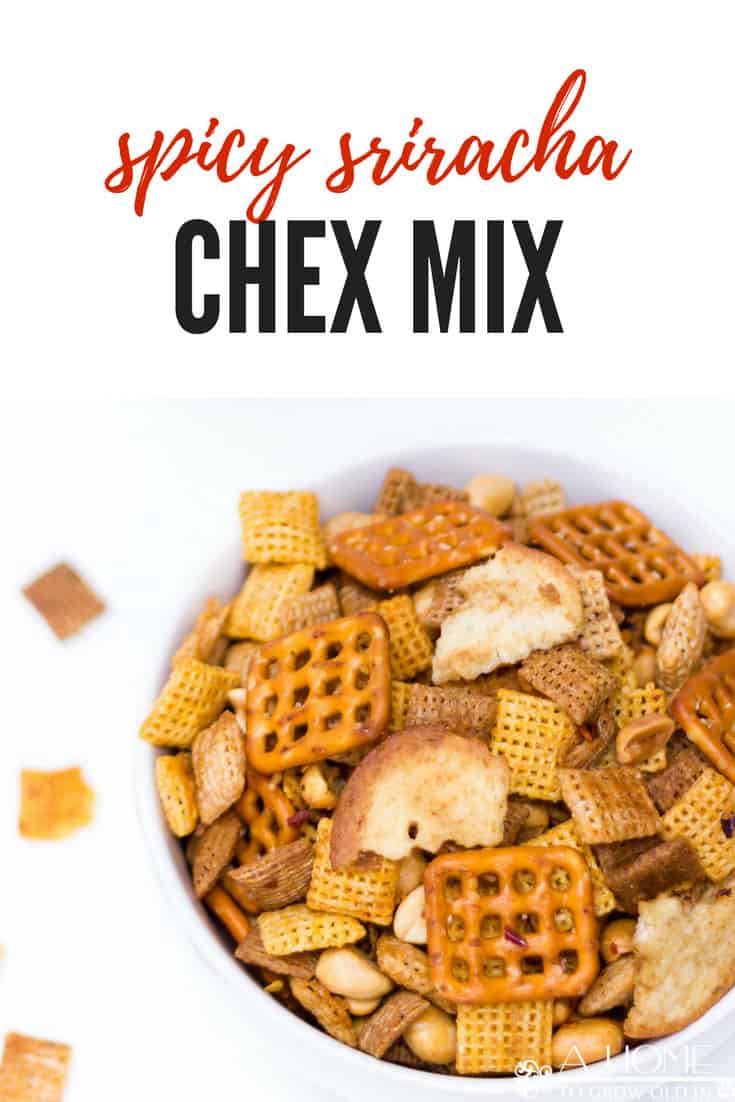 Wow! It's hard to believe, but the first month of the year is already over, and the Superbowl is coming up this weekend!  I absolutely love to munch on Chex mix while watching a big game, and I typically make two recipes, a traditional version and this kicked up a notch spicy Sriracha Chex mix version.  The spicy version is always the first to go!
We live in Massachusetts, and the New England Patriots are playing in the Superbowl again this year, so you can bet there will be lots of football parties in our area.  Even though our family's two favorite teams, the New Orleans Saints and the Greenbay Packers, aren't playing this year, we still love to get together with friends to cheer on the game and watch some awesome commercials.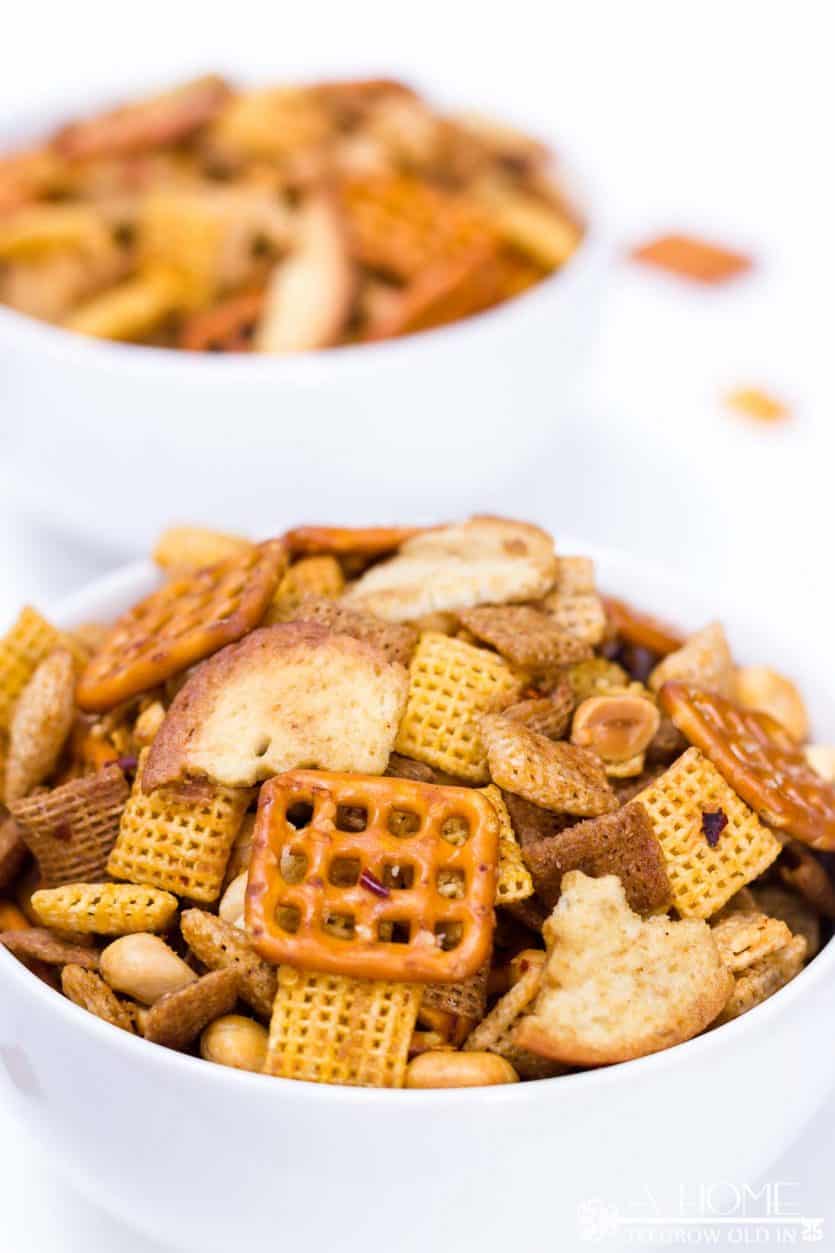 Have you made Chex mix before?  It's easy to do and tastes so much better than the stuff you can buy in the stores.  The key is baking it in the oven.  I've tried the microwave versions, and they just don't come out the same.
This spicy version has just the right amount of heat.  It's not too overpowering, and the Cajun seasoning gives it just an amazing flavor.  I promise if you whip up a batch of this spicy Sriracha Chex mix it will be a game day favorite!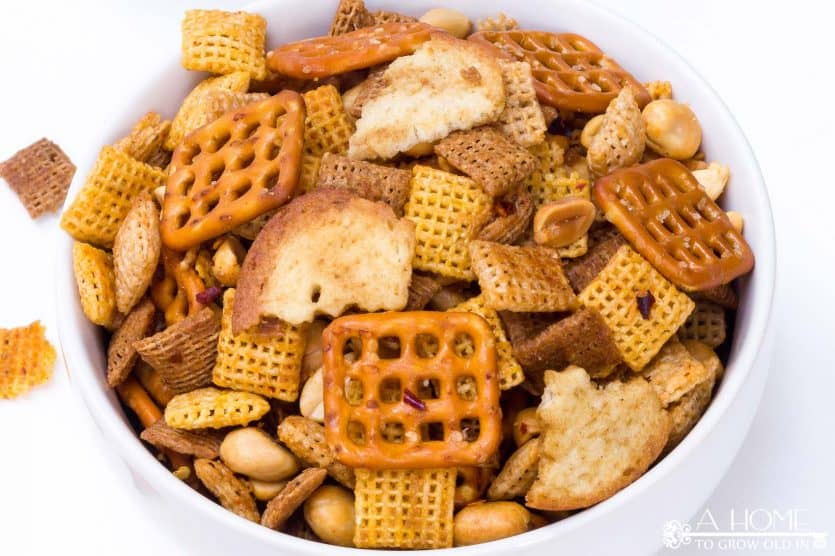 What's your favorite part of the Superbowl?  Is it the game itself, the commercials, or the party food?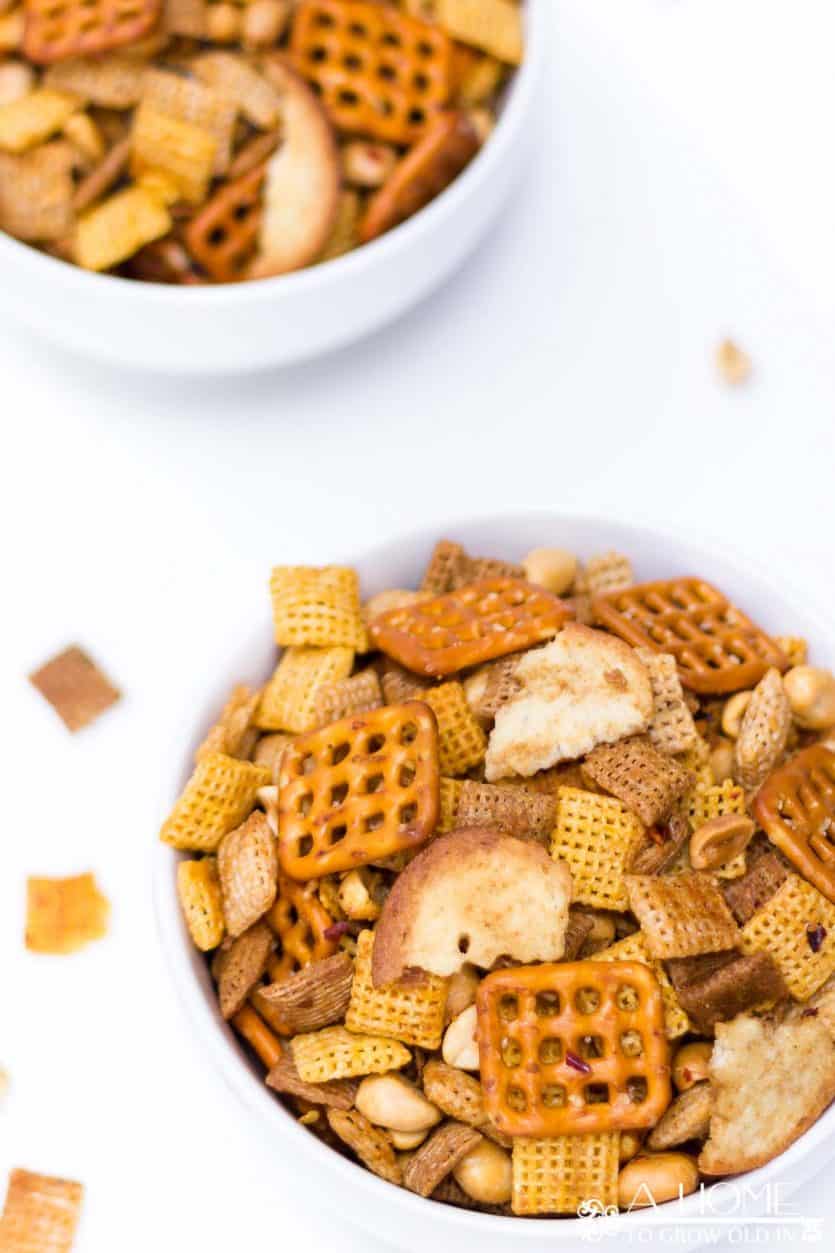 Looking for more party food recipes?
Tired of having to search for your internet recipes all over the place?  Check out how to make a beautiful recipe binder with my free printables!
Tools for making this Apple Cider Donut Bread Recipe:
baking sheet: These large baking sheets get used on an almost daily basis in our house.
large stainless steel mixing bowl: A recipe this large needs a really big bowl or you will have cereal flying all over as you mix.
silicone spoonula: This spoon/spatula hybrid is perfect for mixing and scraping all the seasonings all the bowl.  Check out all the pretty colors it comes in!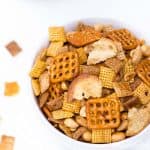 Spicy Sriracha Chex Mix- The Ultimate Party Snack
Ingredients
3

cups

corn Chex cereal

3

cups

rice Chex cereal

3

cups

wheat Chex cereal

1

cup

peanuts

2

cups

bite-sized pretzels

2

cups

garlic or regular bagel chips broken into pieces

2

sticks

butter, melted

1

tablespoon

Worcestershire sauce

3

tablespoons

Sriracha sauce

1

tablespoon

cajun seasoning

3/4

teaspoon

garlic powder

1/2

teaspoon

onion powder

1/2

teaspoon

red pepper flakes
Instructions
Preheat oven to 250 degrees F/120 degrees C

Combine the melted butter, Worcestershire sauce, Sriracha, seasoned salt, Cajun seasoning, garlic powder, onion powder, and red pepper flakes in a bowl.

Pour the butter seasoning mixture over the dry ingredients and stir well until it is evenly coated.

Spread the Chex mix onto a large baking sheet. Bake for 1 hour, but stirring every 15 minutes. Allow the mix to cool on parchment paper on a countertop for 30 minutes before eating.