This post contains some affiliate links for your convenience (which means if you make a purchase after clicking a link I will earn a small commission but it won't cost you a penny more)! Click here to read our full disclosure policy.
Since moving into our home earlier this year I am up to my ears in home decorating!  That's not a bad thing, but for someone who wants everything done now it can really wear on you.  To top it all off, we are hosting both Thanksgiving and Christmas at our home this year.  That's right…we will have 16 people (4 families) staying under one roof for two holidays one month apart!  I so want my whole house done by the time everyone gets here.
That's not going to happen though. If I rush into decorating every room I am going to have a hodge podge of stuff that doesn't ultimately fit with the overall theme of the house. It also means that I would spend a lot more money because I wouldn't be doing things myself or repurposing, and I would end up buying things that may not be what I want in the end result.
So, since I don't have a beautifully put together home to show you yet, I thought I would go room by room with "before" pictures as we start to work on them. Then, I'll let you in on my design board that shows the vision for the room and a list of tasks that I need to do in order to complete the room. Once I scratch an item off the list I'll give an update on what and how it was done.
Given the upcoming holidays, I thought I'd start with our living room. It's a room that I think will get a lot of use as we gather together, either around a Christmas tree or as we sit and talk with an after dinner drink. I'd really like to get the majority of this room done before our guests arrive, so we can take advantage having a space we can all fit in at the same time. This room really is a blank slate in that we've never had a formal living room in any of our houses before, so we didn't have any furniture. It's also a challenge because it is very long and narrow with a fireplace in the middle of one of the long walls. A seating area will obviously be centered around the fireplace, but I still need to figure out what to do with the space on either end of the room.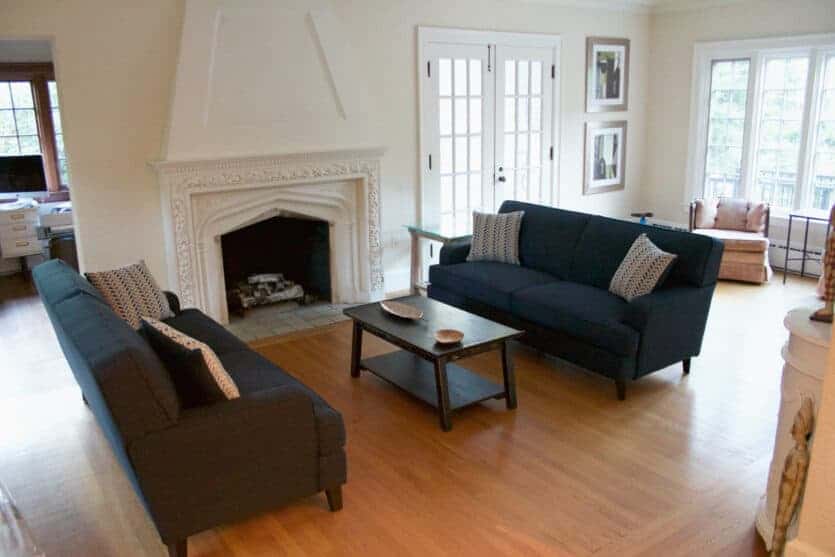 I just love this fireplace! It previously had a glass screen covering the opening, and I took that down. Once the screen was down, I was amazed at how much bigger it made the fireplace look. It's currently painted white, and I'm trying to decide if I should keep it or use another color.
Here are some of the elements I'm hoping to incorporate in the room…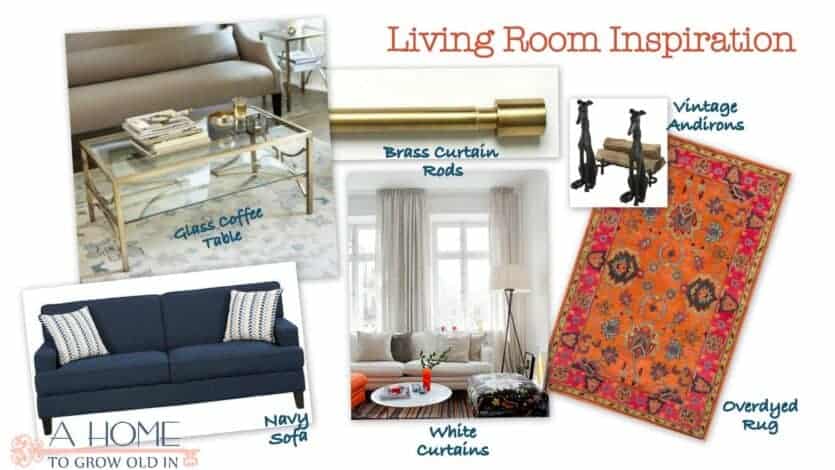 As you can see from the living room photos I have recently purchased two sofas for the room. I needed to find a shorter sofa in order to have enough walking space for the narrow room and was hoping for a little color. These fit the bill, and they've worked out great! They are definitely not your super comfy sofas, but they don't get a lot of use. I like that they have clean lines and that the back cushions are not removable. It saves me from having to reposition the cushions all the time. I was very nervous about purchasing without trying it out first, but after visiting millions of stores in person I still hadn't found something that I liked in a size that would work with the room. These sofas exceeded my expectations, and I'm so glad I took a chance.
I swore up and down that I would not have another glass top table until my children are grown because I'm so tired of cleaning little fingerprints. (How do they manage to get their little fingers AND toes over every square inch of the top and bottom of a glass table?) However, I feel like a solid top table will make the room feel smaller, and if I am going to get such a vibrant rug as my inspiration rug, I want to be able to see it. I guess it's a small price to pay.
Speaking of rugs, I'm absolutely in love with this one. Once again I need to get over my nervousness about making a purchase without seeing it in person. I haven't found anything else I love as much as this one, and the reviews are really great.
Lastly, my plan is to paint the walls white and use white curtains. The trim is painted Benjamin Moore's White Dove, so I was thinking of doing the same on the walls. I'm hoping to have enough color and personality with things like the rug, brass accents, and quirky accessories like the andirons to pull it off.
Here are a few homes that I think did white right…
What do you think?  Can I pull off the white walls without it feeling too rental apartment-ish?  Should I pull the trigger on this rug?  I think it could look really fabulous!
Here is my To Do List for the living room…Not everything is going to get done by the holidays, but I plan to cross several big items off between now and then.  Make sure to check back on the progress!
Find a Coffee Table
Buy a Vibrant Rug
New Sofa Pillows
Overhead Lighting
Curtains & Rods
Paint the Walls
Paint the Fireplace
Figure Out What to do with the Space on Either Side of the Room
DIY Oversized Art for the Corner Wall
Refinish and Reupholster the Quatrefoil Chairs