This creamy tomato soup recipe with grilled cheese croutons is so easy and amazing! It's better than anything you'll order at a restaurant, and the whole family will love it.
This post contains some affiliate links for your convenience (which means if you make a purchase after clicking a link I will earn a small commission but it won't cost you a penny more)! Click here to read our full disclosure policy.
Whenever temperatures start to drop I start craving foods that will keep my belly warm…chili, stew, and soup!!! Yum! In fact, a couple of weeks ago when we had our first cold snap, I made a big pot of chili and put on some Christmas music. Nevermind that it was only early October. I'm used to the cooler weather starting much closer to the holidays, so it just seemed right. #dontjudge This creamy tomato soup with grilled cheese croutons that I'm sharing today is perfect for my cool weather food cravings!
Fall is definitely in full swing in New England! The air is cool and crisp, and the leaves are all shades of orange, gold, red and even purple. There's something about fall that makes me excited. Maybe it's just the cooler air, but more than likely it's the anticipation of family time and making memories at Thanksgiving and Christmas that will be here before we know it.
This is our first fall in New England, and we've already started making some memories with new traditions such as taking the kids apple picking and to a real pumpkin patch! This is all new to me coming from the south and having always lived in a big city. I think I'm probably having more fun with it than the kiddos.
Here is one of my favorite soup recipes that is so easy to make. The only prep that you need is to chop up an onion and some garlic and make a couple of grilled cheese sandwiches. Speaking of making easy grilled cheese sandwiches…this is probably one of my all-time favorite kitchen gadgets. It keeps the butter at room temperature at all times, and it looks really cute on your kitchen counter. No more trying to shave off cold butter for toast or bread!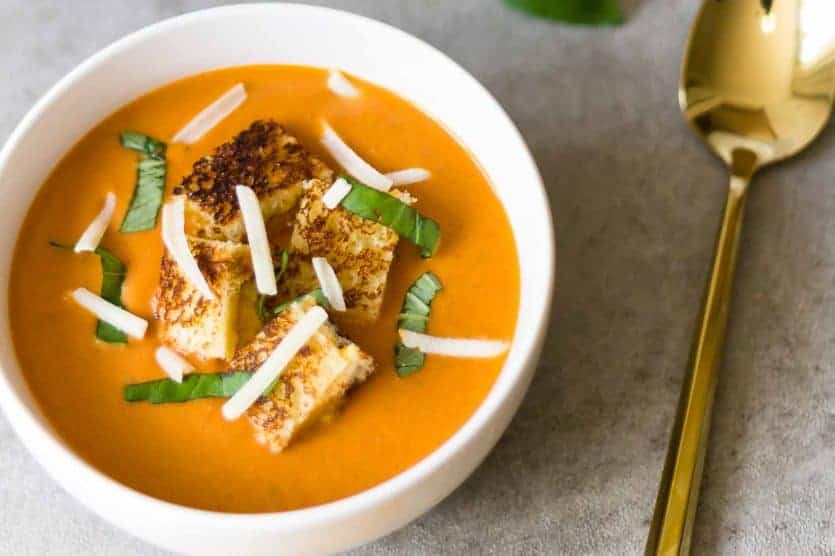 Once you've confirmed your email address, you will receive our weekly newsletter full of our latest posts, as well as content that is exclusive for A Home To Grow Old In subscribers. Plus, you'll have access to our Resource Library that is full of FREE printables and SVG cut files.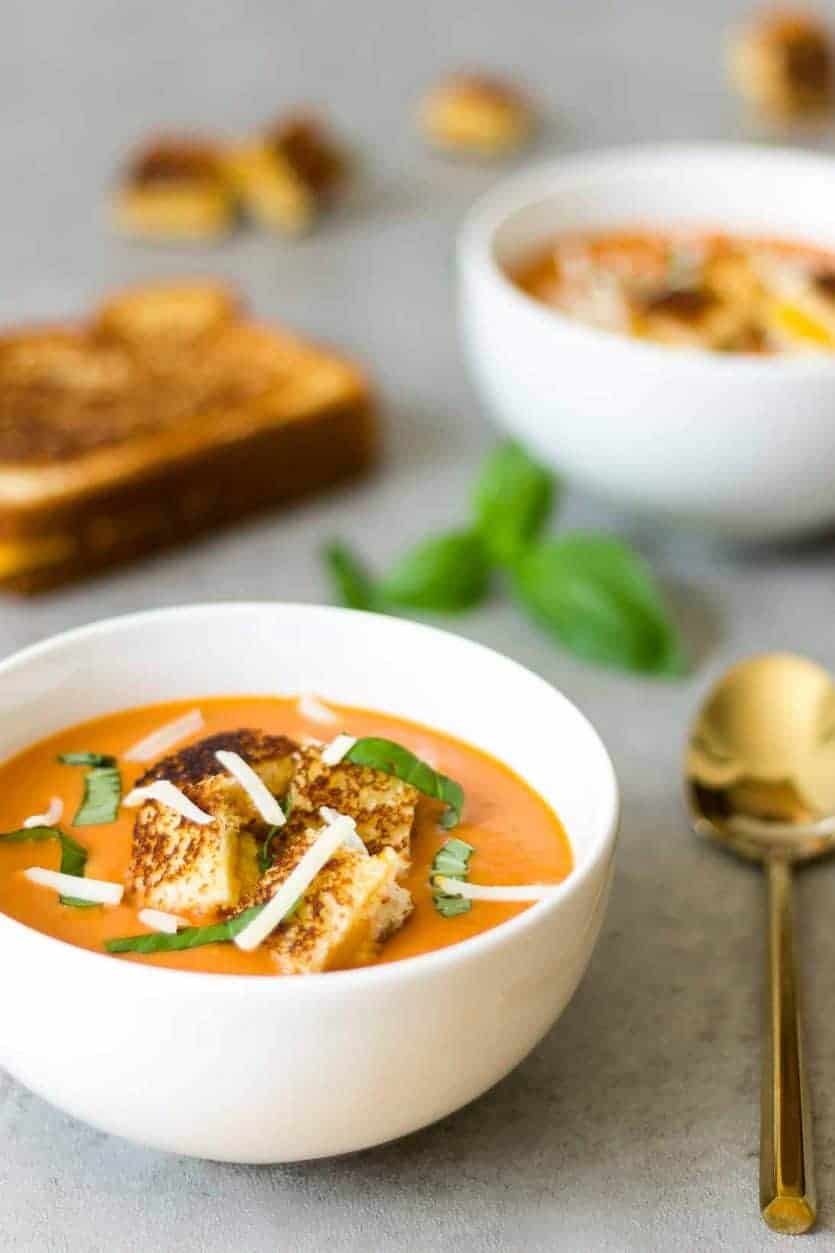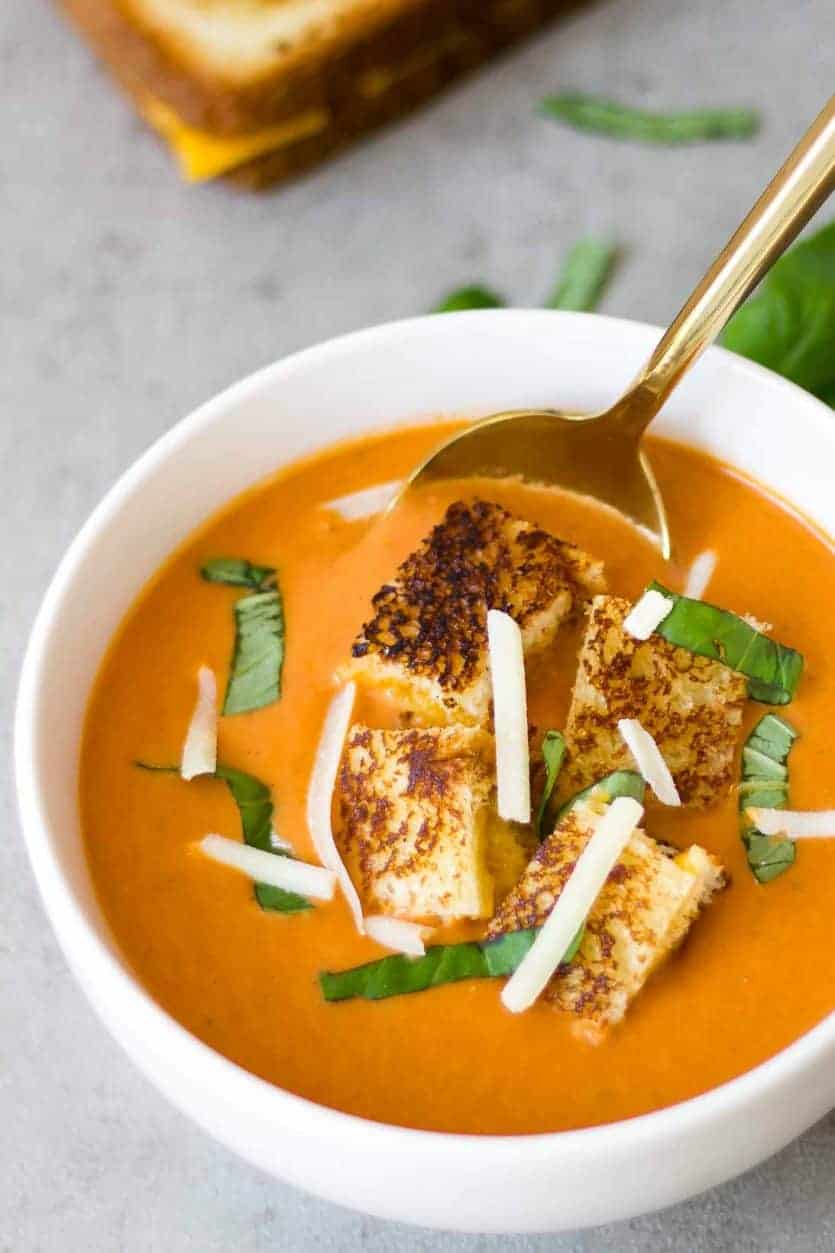 My whole family loves this creamy tomato soup recipe, including my picky children. My oldest loves to eat his with a cheese quesadilla and my youngest loves to dip his grilled cheese sandwich in it. It's hard for me to find something that we all like, so this recipe is in regular rotation this time of year.
Do you have any seasonal foods that you crave? What recipes are in regular rotation around your house? I'd love to hear about your favorite cold weather recipes in the comment section!
Looking for more dinner ideas?
Tired of having to search for your internet recipes all over the place? Check out how to make a beautiful recipe binder with my free printables!
Some favorite tools used to make this creamy tomato soup recipe:
Butter Bell– This is truly one of my favorite kitchen gadgets. It keeps butter at room temperature fresh for weeks!
Staub 4 Qt. Round Cocotte– I love cooking with cast iron, and this smaller sized Dutch oven gets used almost daily.
Creamy Tomato Soup with Grilled Cheese Croutons
Total Time:
1 hour
10 minutes
This creamy tomato soup recipe with grilled cheese croutons is so easy and amazing! It's better than anything you'll order at a restaurant, and the whole family will love it.
Ingredients
For croutons
4 slices bread
2 tablespoons butter, softened
4 ounces cheddar or Gruyere cheese, sliced
For soup
1 tablespoon olive oil
1 large onion, chopped
2 large cloves of garlic, minced
1 28-ounce can crushed tomatoes, undrained
4 cups chicken stock
1 teaspoon freshly ground black pepper
1/3 cup loosely packed basil, cut or torn into thin strips
3/4 cup heavy cream
Kosher salt
Parmesan cheese, grated (optional for topping)
Instructions
To make the soup
Heat the olive oil over medium heat in a dutch oven or large pot. Add onions, and cook until soft and translucent, about 10 minutes. Add garlic and cook just until fragrant, about 1 minute, stirring continuously.
Add in tomatoes, chicken stock, and ground pepper, and simmer about 20 minutes.
Use an immersion blender or traditional blender to puree the tomato mixture.
Stir in cream and basil. Add salt to taste, and continue to simmer until slightly reduced, approximately 20-30 minutes.
To make croutons
Heat skillet or grill pan on medium. Lightly spread butter over 1 side of each piece of bread, and add 2 slices of the bread, buttered side down, to the pan. Divide the cheese between these slices and place the other 2 slices of bread on top to make a sandwich. Grill each side of the sandwich until nicely browned.
Remove sandwiches and place on cutting board. After the sandwiches have had a minute to cool, cut into 1 inch cubes. Top each bowl of soup with croutons and parmesan cheese.
Notes
I don't like to list an amount for salt, because it can vary greatly depending on the tomatoes and stock used. I usually start with 1/2 teaspoon and add more as needed. There are times when I haven't needed any salt at all, so always taste first!
Sometimes I throw the basil in before I puree the tomato mixture. My kids like it better that way because they don't see green stuff floating around in their soup.
Nutrition Information
Yield

6
Serving Size

1
Amount Per Serving
Calories

477
Total Fat

32g
Saturated Fat

17g
Trans Fat

1g
Unsaturated Fat

12g
Cholesterol

88mg
Sodium

981mg
Carbohydrates

30g
Fiber

4g
Sugar

12g
Protein

19g
SaveSave