Hello there, my fellow holiday decorators! Now that Thanksgiving is over, I have officially started decking out the house in all it's Christmas decor glory! This is my favorite time of year, and for one month my home is filled with glitter and beautiful shiny things. It's my favorite time of year!
My friends from No Place Like Home are back, and we are each sharing our Christmas decor today, so please be sure to check out their links at the bottom of this post. They always come up with some amazing ideas, so you won't want to miss them!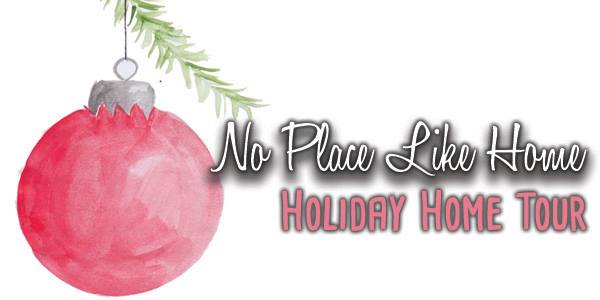 This post contains some affiliate links for your convenience. Click here to read my full disclosure policy.
Come on in, and let's get started in the room that I spend the majority of my time…the kitchen!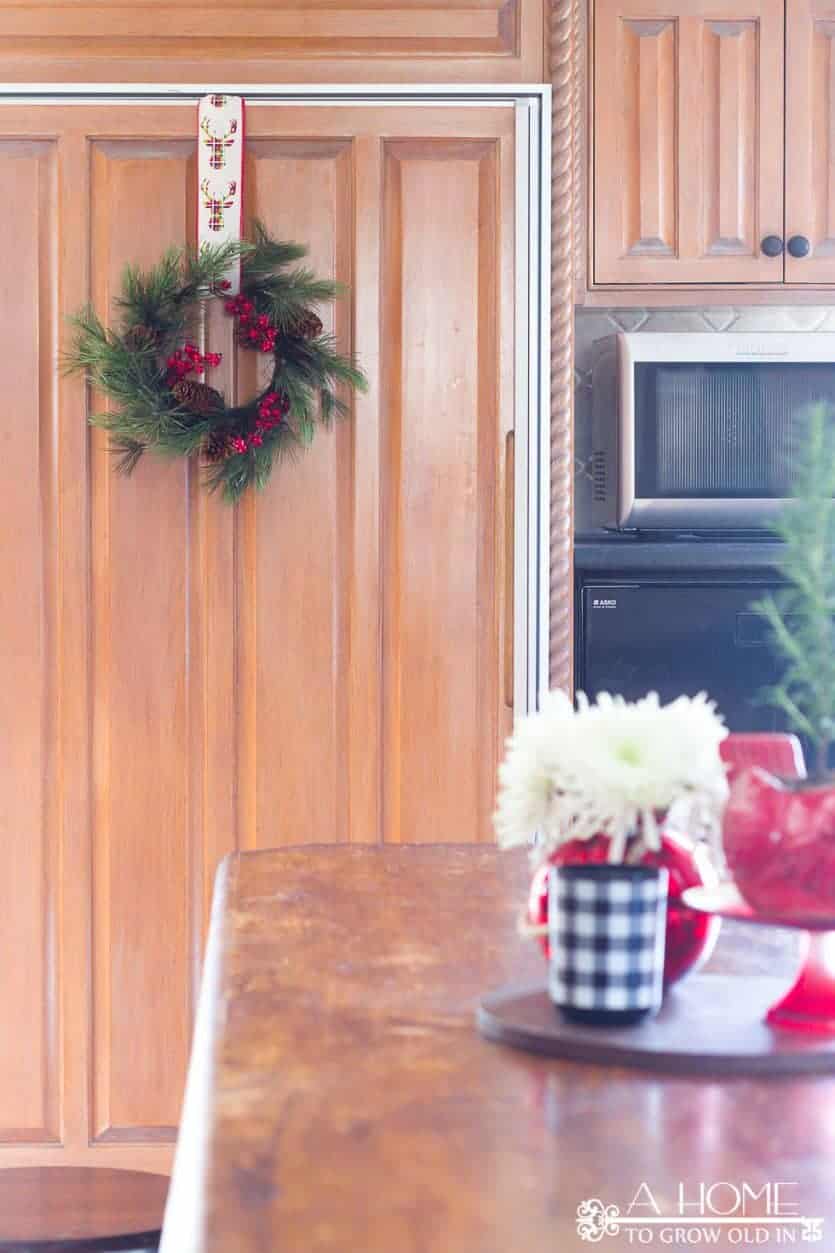 This kitchen Christmas tree is one of my all-time favorite gifts. My mom gave it to me last year as a housewarming gift. She loaded it up with the most beautiful foodie ornaments that you could ever imagine…cookie cutters, baguettes, copper pots, and glittery rolling pins! I'm in my happy place every time I look at it! Even though she bought it last year, you can still find many of the ornaments. If you have someone in your life who loves to cook, you would make their Christmas with a kitchen tree!
Right off of the kitchen is the powder room that we just finished making over. I'm still so excited about how it turned out, so I had to bring a little Christmas decor to these shelves.
Our fireplace is one of my favorite things to decorate! The mantel is very narrow, which makes hanging stockings a little tricky, but I'm able to keep them up as long as they are not filled. I made my oldest son's train stocking from a kit that I started while I was still pregnant with him. The rest also came from kits, but chasing after a then toddler didn't leave me with a lot of time, so I had someone else make them.
This plaid banner is a fun new addition to my Christmas decor this year. I've been trying to add pops of plaid, and I love that it gives the banner more of a vintage feel.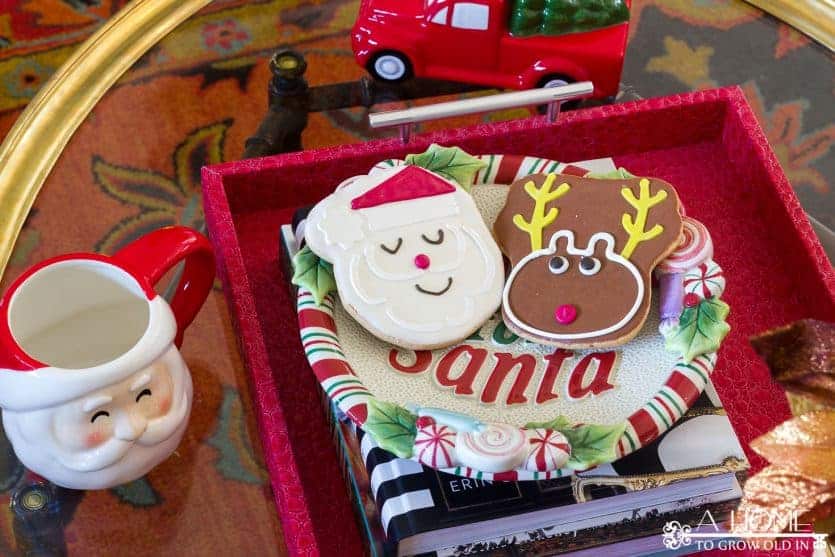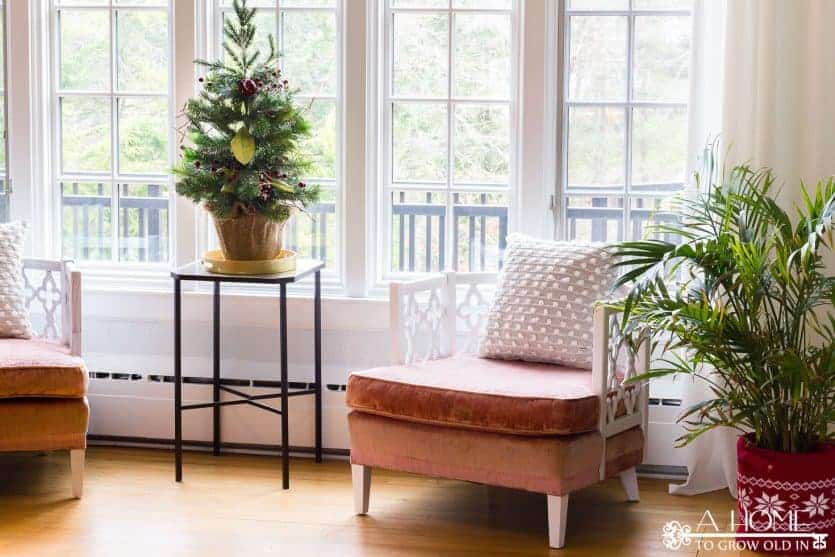 Let's head on up the stairs.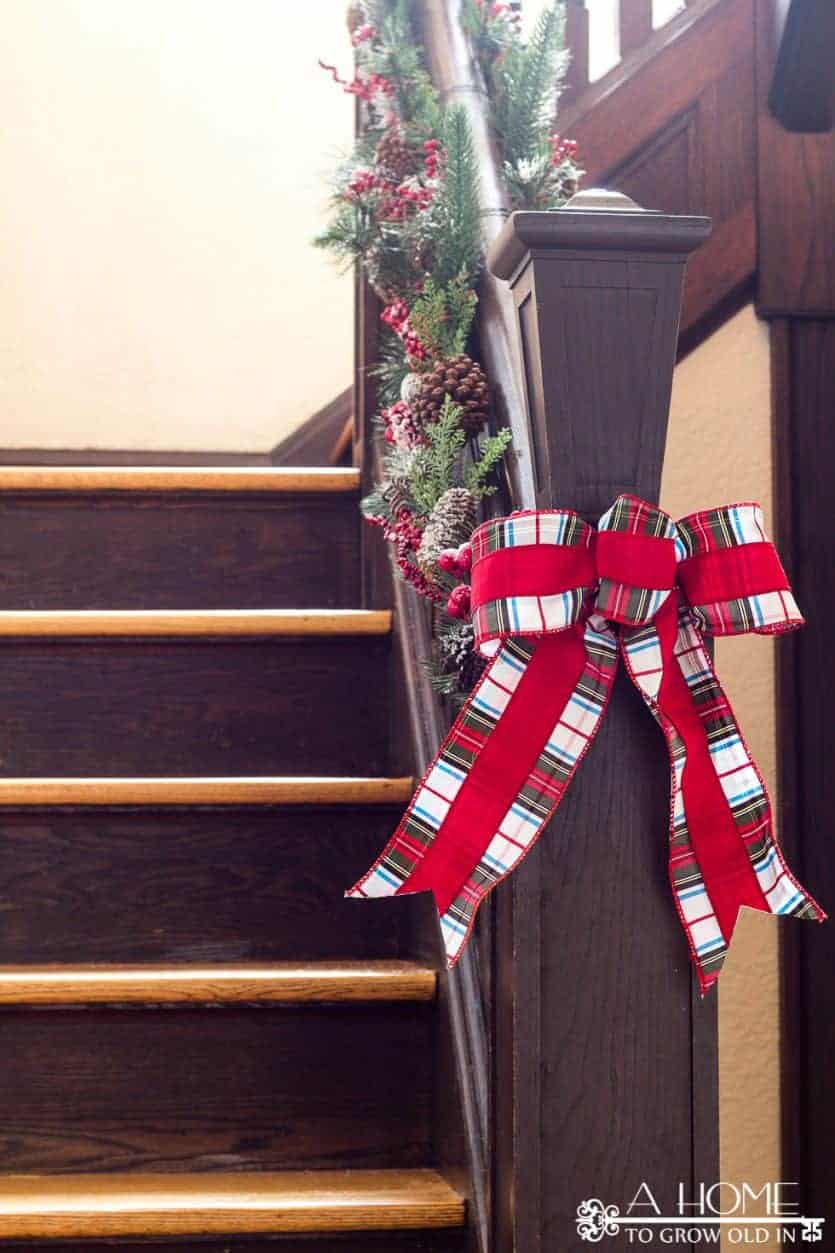 I thought this old chandelier could use a little greenery to spruce it up. I don't think the chandelier is original to our home that was built in the 1920s, but I still adore it's charm. I love mixing modern with vintage, so I added these bold black and white striped bows to it as well.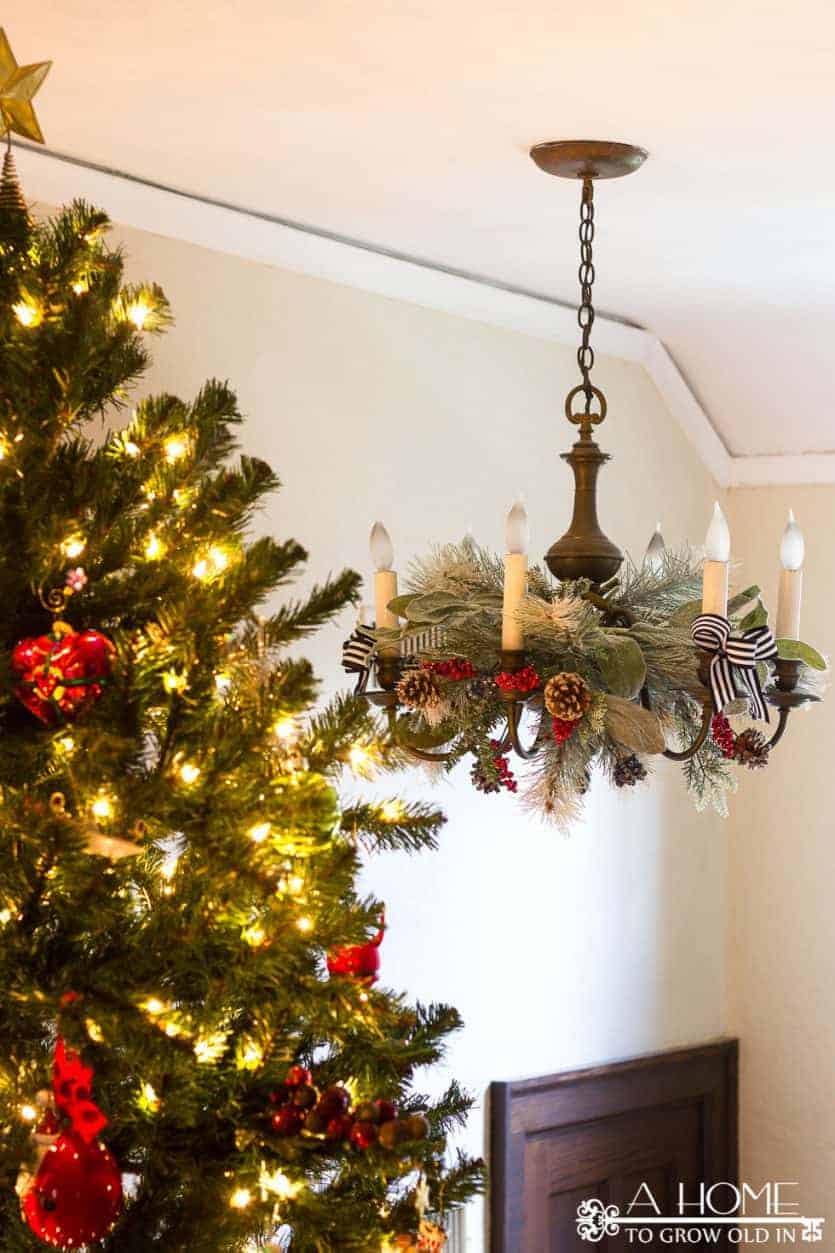 We are going to look for our Christmas tree this weekend that will go in our living room, but I always put up an artificial tree in the upstairs landing with all the kids' ornaments. It's filled things they've made over the years as well as their favorite Ninja Turtles or Star Wars ornaments. I've had these old Radio Flyer toys for years now, and they fit perfectly under the tree.
We are off to a Christmas tree farm this weekend in a quaint little New England town, and there is the cutest Christmas shop along the way that I can't wait to go to. Between our tree and dining table and a few other areas, I still have a little more decorating to do, so I'll keep you posted as to how it goes. What about you? Have you finished your holiday decorating, yet?
Don't forget to check out the 6 other homes on tour today! You're going to love what these amazing women have come up with!
A Home To Grow Old In | Hey Fitzy | Nourish and Nestle | Sweet Parrish Place