Whether you're hosting a holiday dinner for the first time or the 1,000th time, these 5 must-have items make hosting so much easier!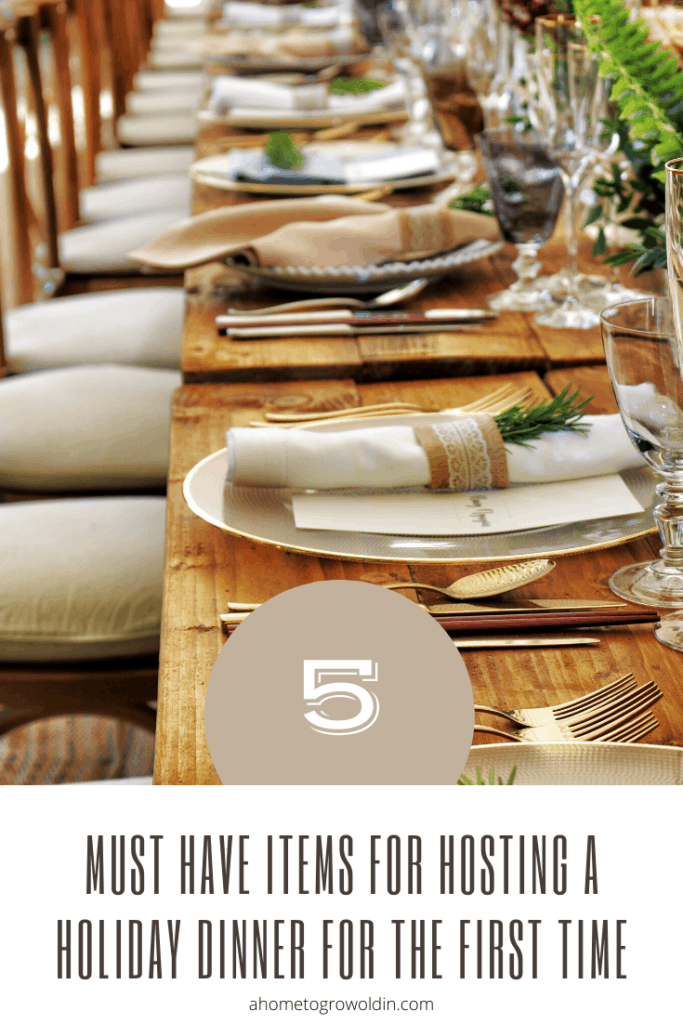 Not that I want to be Captain Obvious here, but the countdown to Christmas is well underway! I say this every year, but I really can't believe how fast this month is flying, and I've already started thinking ahead to our holiday dinner. Whether it's a low-key barbecue or a huge family gathering, we love hosting, so I'm thrilled that Christmas dinner will be at our home again this year!
I realize this may be the first time many of you are hosting a big family gathering, so I thought I'd share a few things that I love when I'm hosting any kind of get-together. I'm hoping there might be something new here, even if you've hosted a 1000 dinners.
This post contains some affiliate links for your convenience (which means if you make a purchase after clicking a link I will earn a small commission but it won't cost you a penny more)! Click here to read our full disclosure policy.
Place Cards
Place cards aren't just for handing out seat assignments! We have these fleur de lis place cards, and I love how easy and elegant they make labeling the different dishes we are serving. Aren't they a great way to let your guests know about food allergy ingredients? I also found a beautiful budget friendly version as an alternative option.
Extra Serving Flatware
When we got married we received a set of serving flatware, but after hosting our first big dinner party, we realized that just wasn't enough. This bigger set should more than have you covered between the numerous spoons for side dishes and serving ware for desserts.
Oven Rack
Are you short on oven space when cooking all your holiday dishes? Check out this 3-tier oven rack!
Once you've confirmed your email address, you will receive our weekly newsletter full of our latest posts, as well as content that is exclusive for A Home To Grow Old In subscribers. Plus, you'll have access to our Resource Library that is full of FREE printables and SVG cut files.
White Bakers or Casserole Dishes
I bought 5 white casserole dishes (2 large, 2 medium, and 1 small) at a closeout sale years ago, and I use them every time we host a dinner or get-together. The great thing about getting casserole dishes in white is that if you add different styles and sizes over the years they will all coordinate. This baker set is a great everyday style, but I also love the more contemporary look of this dish.
We're more than a little carb heavy at our holiday meals, so in addition to my dirty rice and a couple other starchy dishes, we always have macaroni and cheese. Well, let me let you in on a little secret in case you ever join us for one of our dinners…Costco makes THE.BEST.MACARONI.AND.CHEESE.EVER! Once I tried it, I decided it was not worth my time to ever make my own again. I just spoon theirs into one of my casserole dishes, bake it, and pawn it off as my own. Done!
Trivets or Hot Pads
No matter how many I buy, I swear I never have enough trivets to put under all of our hot dishes at the holidays. I love this festive red set, and they're a nice big size!
So, are you hosting your first holiday dinner? If you're a seasoned pro, what's the largest group you've ever hosted? Last year, we had 16 all staying at our home for Thanksgiving and 12 at Christmas. I'm sure that's nothing for some you experienced hosts!
Originally posted December 2016. Updated November 2019.