To get your home into the spirit and aroma of fall, try diffusing our list of the Best Smelling Fall Essential Oil Blends for Home Fragrance.
Fall is my favorite time of year and there are so many amazing smells that go with it. For a while now, I have stopped using candles and have switched over to essential oils. Blending different essential oils to create a variety of home fragrances is so much fun and allows me to try a larger selection of aromas then I did with candles. During this time of year, the fall essential oil blends are the perfect choice to diffuse.
Why Use Essential Oils?
As I mentioned, I haven't burned candles in my home for quite some time and diffuse essential oils instead. Prior to learning about and using essential oils, I made the decision to stop using candles because I was nervous using them around my children. Having my children around the open flame, smoke, and black soot that candles release made me uneasy because I was never completely sure what they were really inhaling or that they might knock it over.
Essential oils are an all-natural and safe way to fill your home with a favorable aroma. I have found them to be relaxing, helpful in calming me down, a good sleep aid, as well as helpful with pumping my energy up. What makes essential oils so great is the large variety of them; different oils offer different benefits.
This post contains some affiliate links for your convenience (which means if you make a purchase after clicking a link I will earn a small commission but it won't cost you a penny more)! Click here to read our full disclosure policy.
What Are The Best Essential Oils?
If you are new to essential oils, it can be overwhelming. With so many brands to choose from, how do you know which is the right one? A reputable company uses a third party to test and evaluate the quality of their oils. The test that is done is called GC/MS, which stands for Gas Chromatograph Mass Spectrometry. It ensures the essential oils are within the proper guidelines and you can learn more about it here. I would recommend you conduct your own research and if a company is not having this test performed, then you should reconsider purchasing any essential oils from them. You want to ensure you are receiving the purest and safest essential oils for your family.
Currently, we use Edens Garden and are very happy with their quality and price point. Prior to Edens Garden, I was a doTerra essential oil user and was also very happy with them. For me, the most important thing is that the essential oils I use are tested properly and safe, and I found that with both companies. What made me look outside of doTerra was that I was no longer happy paying an annual fee and other markups due to it being an MLM. Since there are other quality alternatives available, I felt comfortable switching. After a lot of research, I decided on Edens Garden and am glad I did. Their high-quality, non-toxic essential oils are at an excellent price point. Plus, Edens Garden is easier for me to purchase because I receive them in 2 days, with my Prime membership, through Amazon.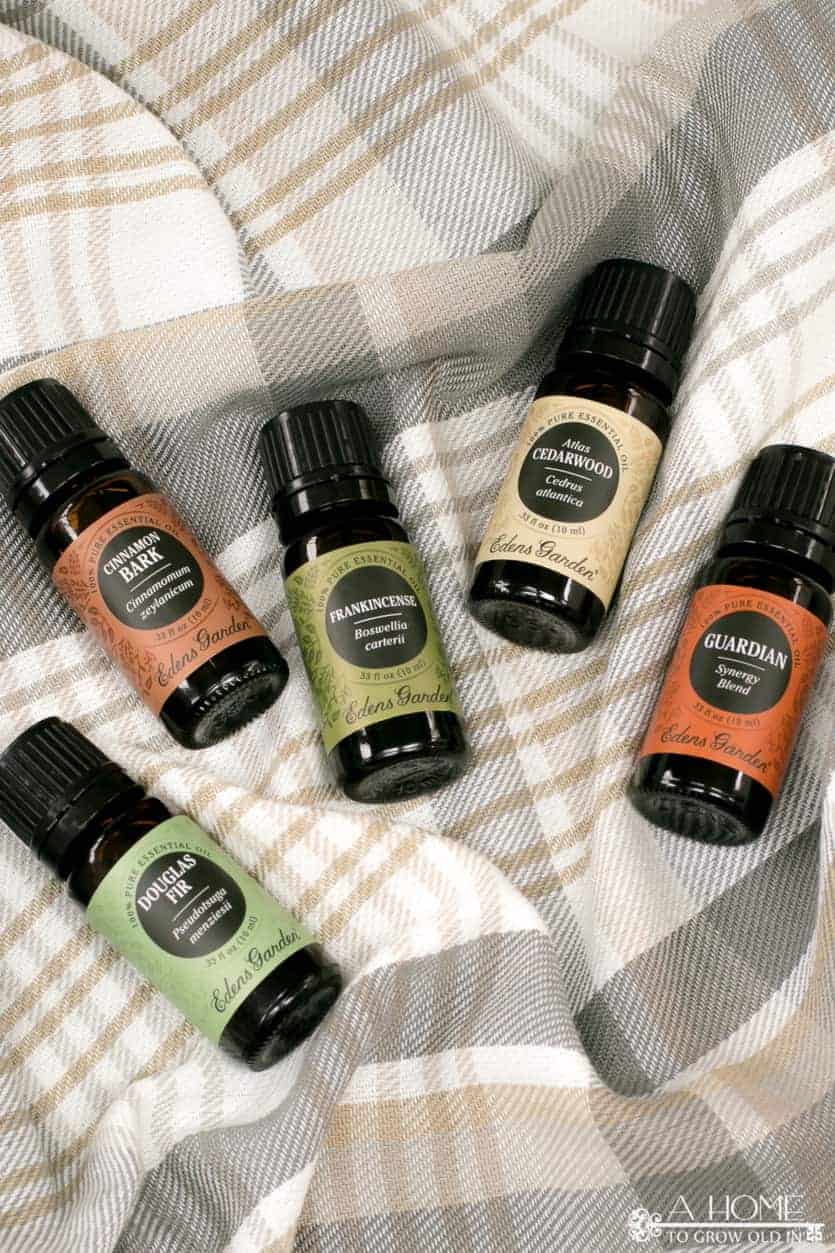 How Do You Use Essential Oils?
What Are Good Fall Essential Oils?
Essential oils invoke different memories with their scents. Therefore, you will find yourself using certain ones during specific times of the year to help get you in the mood for that season. The aromas of the fall essential oil blends are my favorite, I find the most soothing, and can be created using the single essential oils below.
What Are Blended Essential Oils?
Purchasing single essential oils, like the ones above, you can combine them to create fall essential oil blends that are their own unique fragrances. When you blend essential oils, that is when the fun begins. Depending on what essential oils you mix together, you could create a smell similar to pumpkin pie, a walk through the woods on an autumn day, or a spiced latte. The possibilities are endless for fall essential oil blends.
8 Wonderfully Simple Fall Essential Oil Blends
So, essential oils are a great way to get natural fragrance in your home, but which oils blend well together? We have recipes for some of our favorite essential oil blends that are perfect for fall.
We have even created a free printable recipe card for these 8 wonderfully simple fall essential oil blends for your convenience!
These Printables and/or SVG designs are exclusive for A Home To Grow Old In subscribers to download for FREE. Just sign-up below and you'll receive an email with the information to access the resource library that contains the SVG.
Once you've confirmed your email address, you'll be enrolled in our weekly newsletter full of our latest posts as well as content that is exclusive for A Home To Grow Old In subscribers. Plus, you'll have access to our Resource Library that is full of free printables and SVG cut files.
Free printables and SVG files from A Home To Grow Old In are for your own PERSONAL USE ONLY.
Sweet Fall
The sweet fall essential oil blend is a quintessential fall scent. Start the season off right by diffusing it in your home.
Trick or Treat
Diffuse the trick or treat essential oil blend on Halloween to help purify the air.
Flannel Blanket
The flannel blanket essential oil blend invokes feelings of warmth and coziness. Add this blend to a diffuser, turn on a movie, and cuddle up with your family. Enjoy a relaxing afternoon at home.
Spiced Chai
The spiced chai essential oil blend will remind you of a delicious chai latte.
Crisp Autumn Air
When diffused, the crisp autumn air essential oil blend fills your home with the calming scents of the outdoors in fall.
Woodland Walk
Diffusing woodland walk essential oil blend will fill your home with the fresh scents of a cool fall hike.
How Do I Know If These Fall Essential Oil Blends Will Work For My Size Diffuser?
The number of essential oil drops you use depends on the number of milliliters your diffuser can hold. A good standard is 5 drops per 100ml. My diffusers range from 150ml to 200ml, so these recipes work great for me.
Tips for adding essential oil drops to your diffuser:
Use the timer – If you feel the scent is too strong, set the timer on your diffuser. This will allow it to run for a shorter period of time.
Intermittent setting – Set your diffuser to run for a couple of minutes, stop for a bit, then run again. That way it's not continuously emitting the fragrance.
Adjust the number of drops – Using and blending essential oils is about experimenting with what you like and don't like. Add more or less essential oil drops based on what you prefer.
Larger Quantity Size Fall Essential Oil Blends
If you have a larger size diffuser, such 500ml or bigger, then you add these drops right to it. However, if you are like me and have a 150ml to 200ml diffuser, then blend these larger quantity essential oil recipes into a new bottle. Once combined, add 5 drops of this essential oil blend to your diffuser and start enjoying the smell.
Cozy Candle
When diffused, this cozy candle essential oil blend gives off such a fresh, familiar, and an inviting fragrance. It will quickly become one of your favorite fall essential oil blends.
Start fall off right with the wonderful scent of welcome autumn essential oil blend. This blend is also a good one to diffuse around Thanksgiving.
Safe Usage of Essential Oils
Do not use essential oils internally.
Keep essential oils out of the reach of children.
Do not use essential oils in your eyes or ears.
Store essential oils away from sunlight.
Do not use or store essential oils near open flames.
WHAT'S NEXT?
You may also enjoy these other fall ideas on A Home To Grow Old In: