Whether you practice yoga or need a reminder to take in the moment, this Just Breathe free SVG design is perfect for you.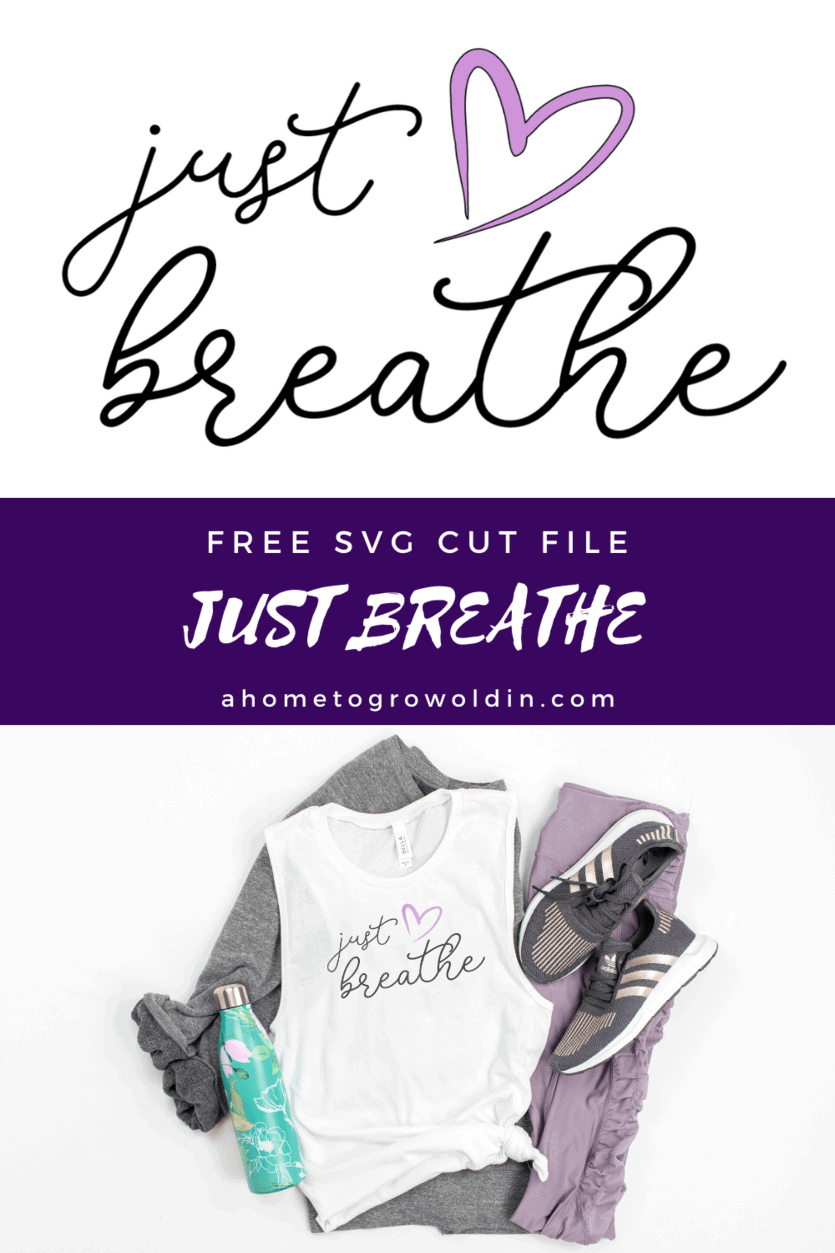 Especially with everything going on in the world right now, sometimes we need a reminder to take a moment to ourselves. That's why we created this free SVG file. I love this Just Breathe design to remind you to do just that. Whether you practice yoga or not, making time for yourself, especially now, is important.
I actually practiced yoga for years. It really helped restore my sense of self and take time for me, especially when I had two very young boys. When I moved, I no longer had my great community of fellow yogis that I went to every week. I missed them and struggled to find a new place to practice. Sadly, for the past three years, I haven't practiced yoga and I miss it. With our current situation, I have tried practicing at home with some videos. It has been a little hard to get back into and I prefer the class setting. I will have to make a goal for myself to find a dedicated place to practice yoga again, once this social distancing is over!
What is yoga?
Yoga is the practice of bringing harmony between the mind and body. It is an ancient Indian philosophy and discipline. You combine physical poses with breathing techniques and practice relaxation and mediation. There are several styles and types. Whether you are a beginner or advanced, there is something for everyone.
What are the benefits of yoga?
Yoga has so many great benefits for your mind and body. You don't have to be physically fit to take up the practice. It is not a grueling workout, but instead a gentle flow through poses to help you be in touch with your body. Many people find it very beneficial and relaxing, from improving your health to your happiness. Some amazing benefits are:
Increases flexibility
Helps cardio and circulatory health
Increases muscle tone and strength
Improves energy level
Helps with weight loss
Improves respiration
Calms your body
Helps you focus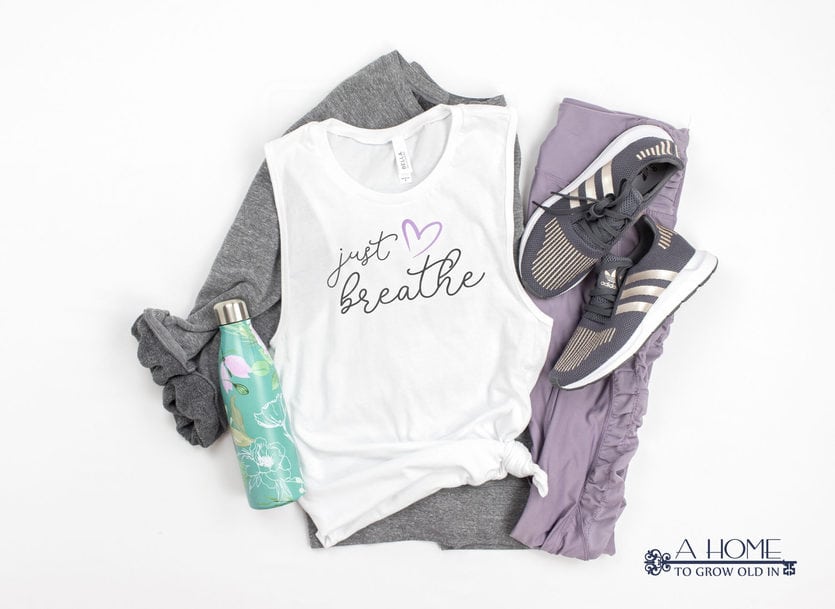 How do I obtain the 'Just Breathe' free SVG file?
This beautifully designed Just Breathe can be found in our Resources Library. If you aren't already a subscriber, sign up below for free and gain access to this file, among many others.
These Printables and/or SVG designs are exclusive for A Home To Grow Old In subscribers to download for FREE. Just sign-up below and you'll receive an email with the information to access the resource library that contains the SVG.
Once you've confirmed your email address, you'll be enrolled in our weekly newsletter full of our latest posts as well as content that is exclusive for A Home To Grow Old In subscribers. Plus, you'll have access to our Resource Library that is full of free printables and SVG cut files.
Free printables and SVG files from A Home To Grow Old In are for your own PERSONAL USE ONLY.
This post contains some affiliate links for your convenience (which means if you make a purchase after clicking a link I will earn a small commission but it won't cost you a penny more)! Click here to read our full disclosure policy.
What do I do with this SVG file?
What is great about this type of file, is that you can print it on cardstock or cut it out on vinyl. I personally love this design on a tank top that I can wear while practicing yoga. However, you can use your Cricut or Silhouette to put it on any type of item. Using your cutting machine, you can cut it out on adhesive vinyl or heat transfer vinyl. The particular vinyl I used was the Cricut SportsFlex iron-on vinyl because it is specifically designed for activewear. In addition, you can iron the design on a tote bag or stick it on a mug or notebook. Another option is to just print it out on cardstock, frame it, and place it on your desk as a reminder while working. There are so many possibilities, please send us a picture of how you use our fun design!
Namaste.
What's Next?
You may also enjoy these Cricut and Silhouette projects on A Home To Grow Old In: