This easy Lemon Blueberry Bread Pudding recipe is absolutely delicious, but also versatile enough to be served at anything from an Easter or Mother's Day brunch to a backyard barbecue.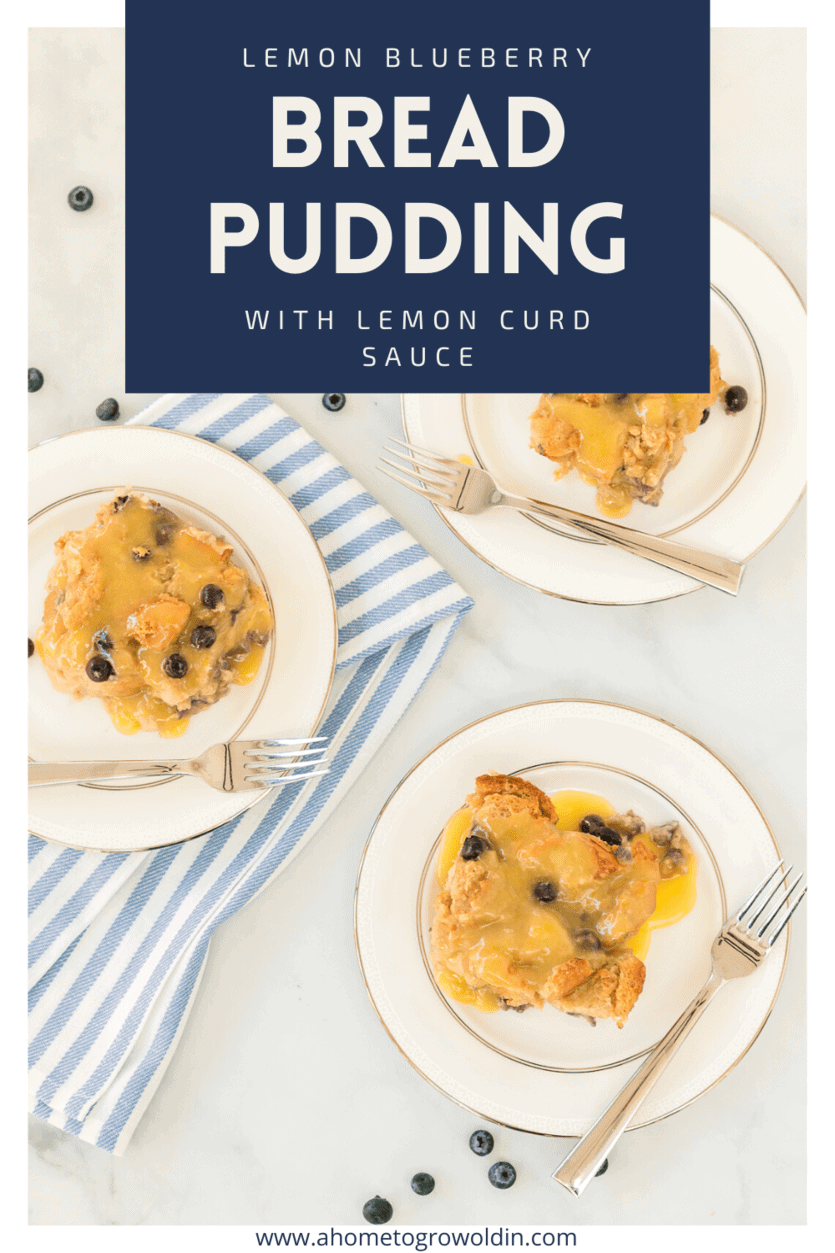 Guys, I always love sharing recipes with you, but I am downright giddy about this recipe! I had a leftover loaf of French bread from our Easter brunch, and I knew I wanted to make a bread pudding with it. I usually make the recipe from one of my favorite places in New Orleans called the Bon Ton Cafe, but decided to try something a little bit different this time.
If you love lemon desserts, this lemon blueberry bread pudding with a lemon curd sauce is going to blow your mind! I could eat the lemon curd sauce out of a bowl with a spoon it's so good. I'm not keeping track, but I may have eaten it for breakfast, lunch, and dinner in a single day after making it. This staying at home all day while social distancing will definitely have me looking for a larger size of pants once it is over!
What is bread pudding?
Being from the south, I didn't realize there were people out there that hadn't heard of bread pudding until I met my husband. He's from the midwest, and hadn't heard of it, let alone, tasted it until he met me. Once, he tried it though, it became a favorite dessert, and he made it his mission to try every restaurant's version that had it on their menu.
Bread pudding started out as a frugal way to use up stale bread, but it is an amazing dessert that has found its way into even high-end restaurants. The bread is soaked in a sugary milk and egg mixture and baked until it has more of a custard or pudding texture. It's then usually topped with some sort of sauce and served for dessert, or sometimes even a decadent brunch.
Is bread pudding from New Orleans?
If you've been to New Orleans or eaten at a Cajun restaurant, you'd be hard pressed to find a restaurant that does not serve bread pudding. Surprisingly, bread pudding is not from New Orleans, it didn't even originate in the southern United States. It originated in Europe during the middle ages, but that hasn't stopped us from making it our own. This lemon blueberry bread pudding recipe is adapted from the recipe of a New Orleans restaurant called the Bon Ton Cafe, and it's one of my favorites. New Orleans truly has some of the best bread pudding that you will ever taste!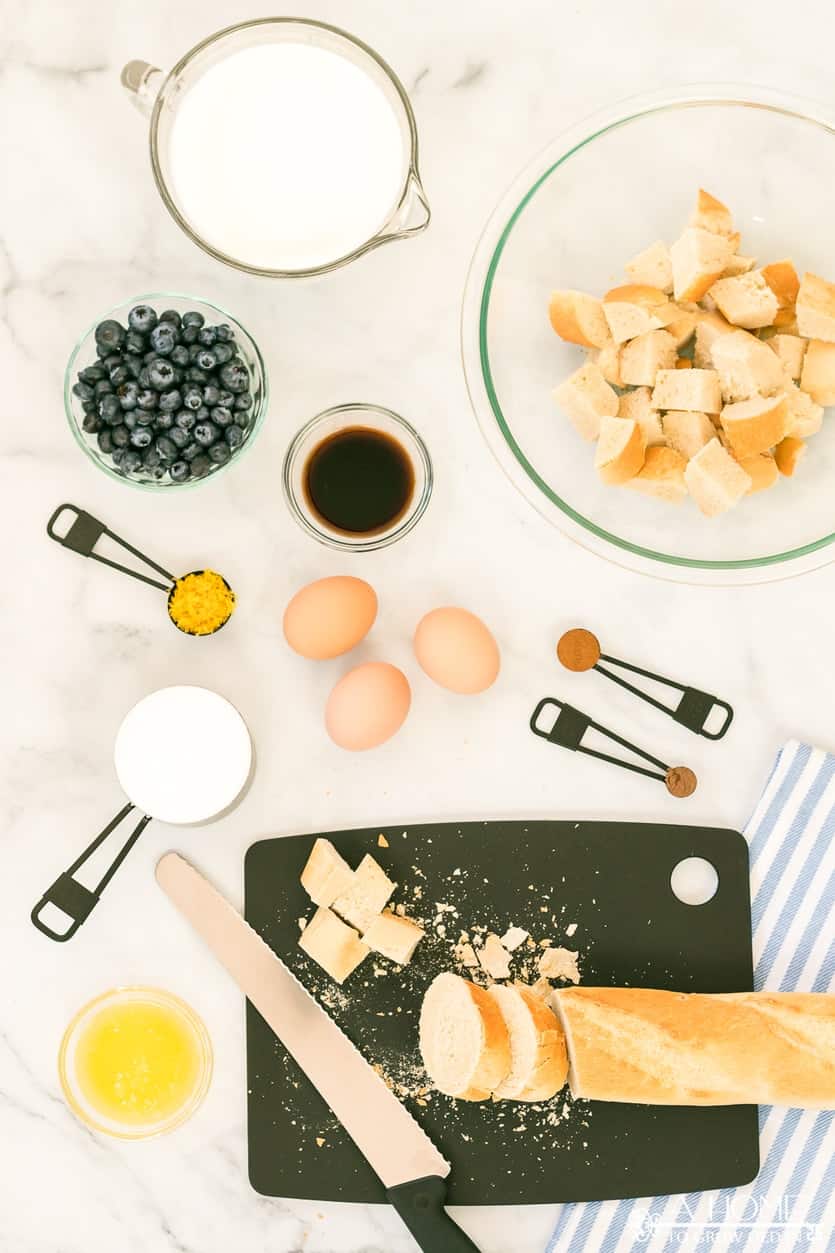 What you need to make lemon blueberry bread pudding:
This post contains some affiliate links for your convenience (which means if you make a purchase after clicking a link I will earn a small commission but it won't cost you a penny more)! Click here to read our full disclosure policy.
Kitchen Tools Needed:
Ingredients Needed:
Tips for making lemon blueberry bread pudding with a lemon curd sauce?
Bread pudding in general is a super easy dessert to make, but you'd never know it by tasting it. It's something that you can whip up in no time at all, or even make it ahead of time the day before you plan to bake and serve it.
The full recipe is in the recipe card down below, but here are a few tips to help you the first time you make it.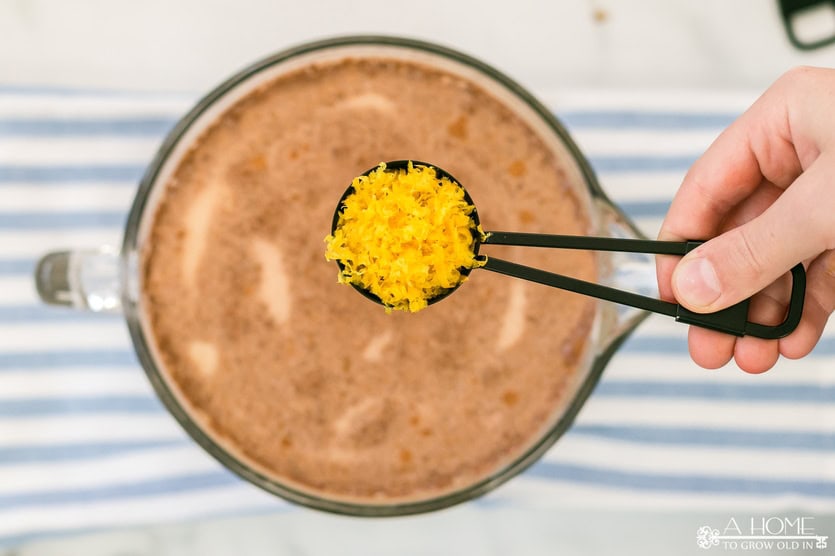 Why don't you add lemon juice to the bread pudding?
Lemon juice and milk don't mix well. In fact, lemon juice will make the milk curdle. Adding a small amount of lemon zest gives the bread pudding a light citrus flavor that isn't overpowering. You can always add more lemon zest if you'd like, but the amount used in the recipe is perfect if you have guests that aren't huge lemon lovers, and it really allows the lemon curd sauce to take center stage.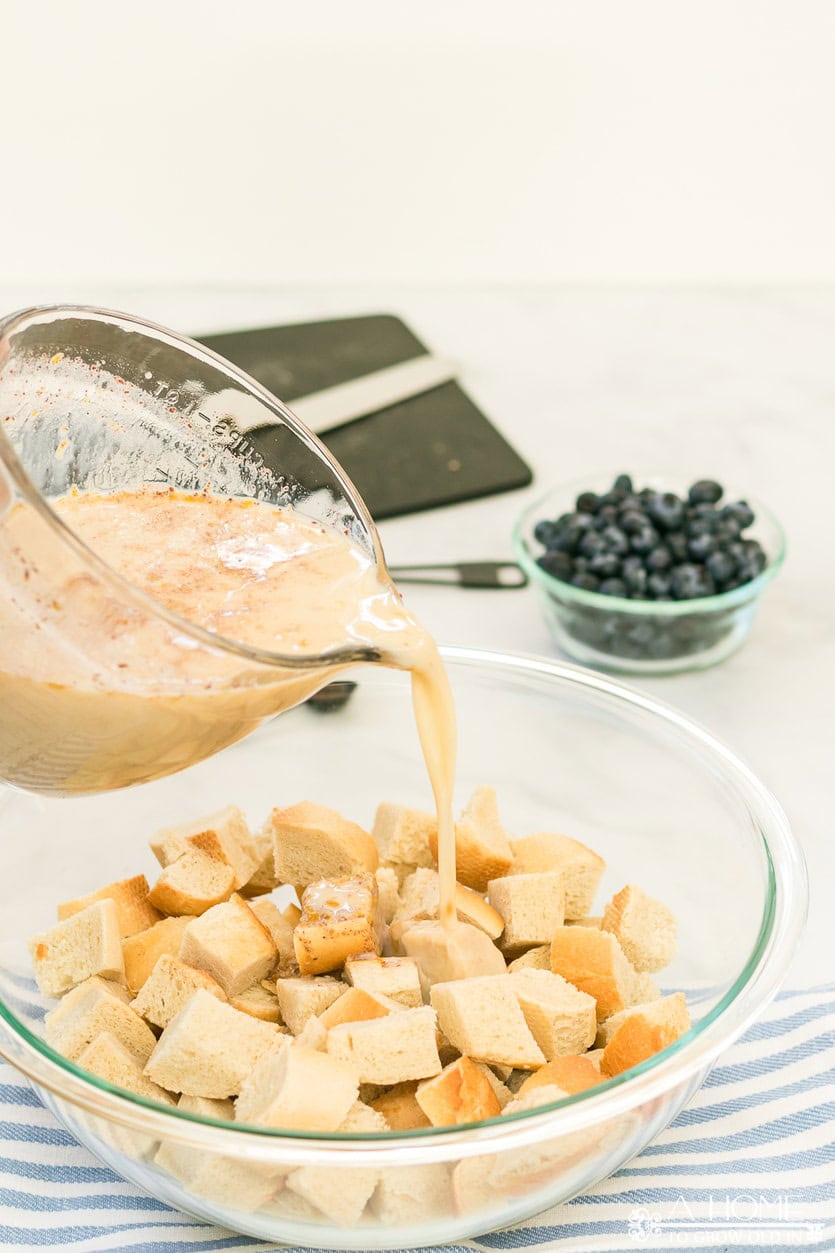 What if the bread doesn't absorb all of the milk mixture?
That really depends of how much milk wasn't absorbed. If it's a lot, you may want to add a little more bread. My loaf produced about 7-8 cups of cubed bread. If it's a small amount of liquid, don't worry about it. Just remember to lightly push all of the bread into the milk mixture. You may need to increase the baking time slightly if there is a little liquid that isn't absorbed. If the top of the bread pudding is starting to get a little too brown before the center is set, simply use some aluminum foil to top the baking dish.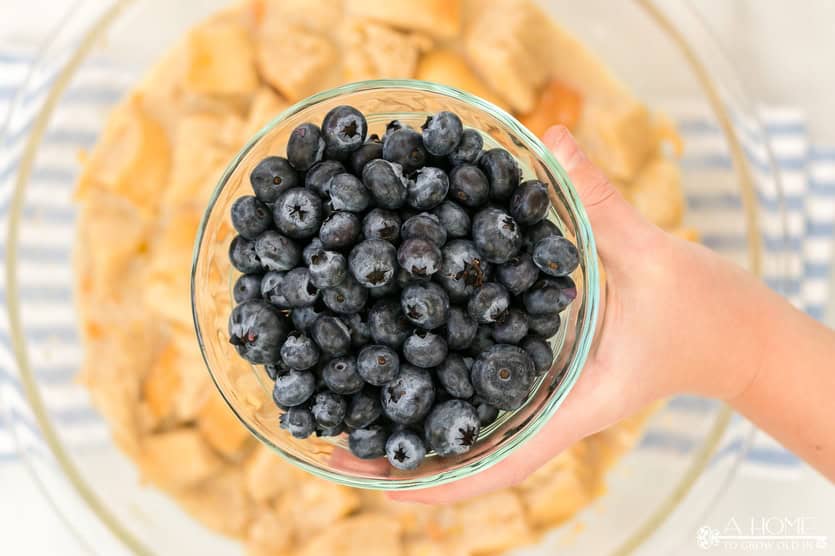 What if I don't have stale bread?
If you don't have stale bread, you have a couple of options. You can cut up your bread into cubes and leave it out on a cookie sheet overnight or you can place that cookie sheet in the oven at 350 degrees F for 5 minutes. You're just looking to take some of the moisture out of the bread so that it will absorb the milk more easily.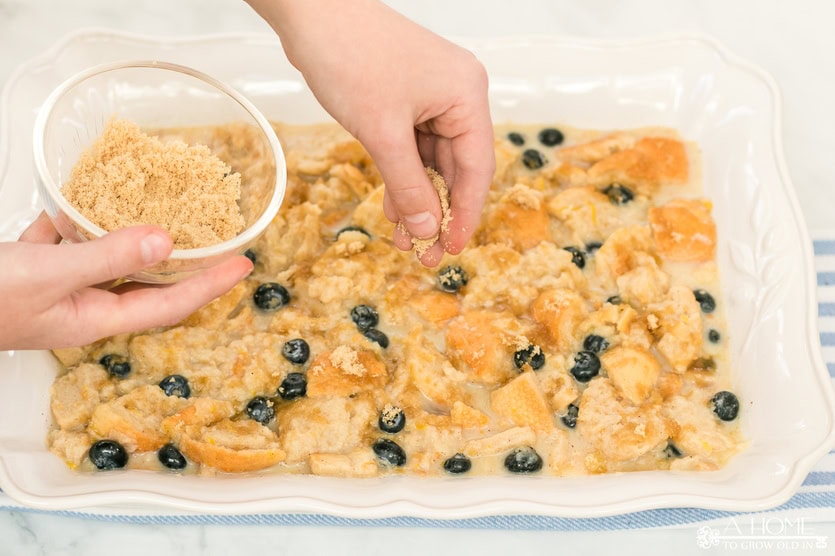 What is the best type of bread to use in bread pudding?
I prefer a crusty bread like French bread or a baguette. You can use sandwich bread in a pinch, but it will have a slightly different texture. French bread helps give the bread pudding a chewier texture, and sandwich bread will be a little softer. No matter which bread you choose, make sure it's slightly dried out or stale and that it has enough time to absorb the milk before you bake it.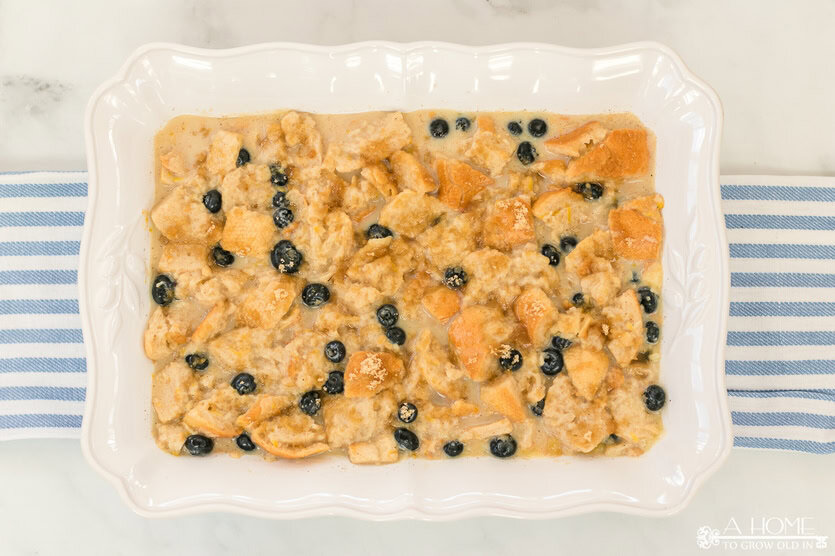 Once you've confirmed your email address, you will receive our weekly newsletter full of our latest posts, as well as content that is exclusive for A Home To Grow Old In subscribers. Plus, you'll have access to our Resource Library that is full of FREE printables and SVG cut files.
Like I said, this is a really easy recipe, so don't be intimidated by it. It's the perfect recipe for all your spring and summer events. It's simple enough to make a day ahead of time and so versatile that you can serve it at anything from an Easter or Mother's Day brunch to a backyard barbecue.
What else can I mix into the Lemon Blueberry Bread Pudding?
I love the recipe as it is, but if you're not a fan of lemon and blueberry (gasp!), here are a few ideas of ingredients that you can either add in or substitute.
How long can I keep bread pudding?
Bread pudding is definitely best warm after it's had just a little while to cool out of the oven. If you have leftovers, you can keep them in the refrigerator for 2-3 days. Just warm it in the microwave when you are ready to eat it.
How do I know if the bread pudding is done cooking?
One of the most common issues I see when we have bread pudding at restaurants is that it is overcooked and dry. Bread pudding is different than other baked goods, so it can be a little challenging to tell when it is done. It has a pudding or custard texture, and it shouldn't be dry like a cake or brownies. The bread pudding should be cooked until the center has only just set. If the top is getting a little too brown and the center is still jiggly, you can cover the bread pudding until it is cooked through.
Make Individual Portions of Bread Pudding
Lemon blueberry bread pudding muffins are a great way to serve this recipe to your guests. To make bread pudding muffins, combine the bread cubes and milk mixture, but instead of adding it to a baking pan, add it to a large muffin tin. Preheat the oven to 325 degrees F and bake 20-25 minutes. Top with the lemon curd sauce when you serve to your guests.
Lemon Blueberry Bread Pudding with Lemon Curd Sauce
Total Time:
1 hour
30 minutes
Ingredients
For the Bread Pudding:
1 loaf of day old French bread or baguette, cut into 1 inch cubes
4 cups milk
3 large eggs, beaten
2 cups sugar
1/2 teaspoon cinnamon
1/4 teaspoon nutmeg or allspice (allspice is my favorite)
1 tablespoon lemon zest
2 tablespoons vanilla extract
1 cup blueberries
3 tablespoons butter, melted
brown sugar for topping
For the Lemon Curd Sauce
1/2 cup butter, melted
1 cup sugar
1 large egg, beaten
2 tablespoons lemon zest
3-4 tablespoons lemon juice
Instructions
For the Bread Pudding:
Preheat oven to 350 degrees F/177 degrees C.
Add bread cubes to a large mixing bowl.
In a medium mixing bowl, combine milk, eggs, sugar, cinnamon, nutmeg or allspice, lemon zest, and vanilla extract.
Pour the milk mixture over the bread cubes and gently mix. Allow the bread cubes to sit for at least 30 minutes until all of the milk mixture is absorbed. You may need to lightly press the bread cubes into the milk mixture so that all of the cubes are saturated.
Once the milk mixture has been absorbed, gently toss the bread cubes with the blueberries.
Pour the melted butter into a 9x13 baking dish and make sure that all the sides are coated.
Add the bread cube mixture to the buttered baking dish and sprinkle with brown sugar. Bake for 55-60 minutes or until the center is set.

For the Lemon Curd Sauce:
Melt butter in a saucepan over low heat.
Add the sugar and egg to the melted butter.
Stir constantly over low heat, not allowing the mixture to ever simmering.
Once the sugar is completely dissolved and the sauce is thick enough to coat the back of a spoon, remove from the heat.
Add lemon zest and juice to the sauce and stir until well combined.

Notes
The ingredients to the bread pudding can be combined the night before it is baked. Take the bread pudding out of the refrigerator about an hour before you bake it.
The bread pudding is done baking once the center is no longer jiggly.
The sauce will thicken as it cools, so don't worry if it doesn't seem thick enough.
Nutrition Information
Yield

16
Serving Size

1
Amount Per Serving
Calories

411
Total Fat

12g
Saturated Fat

6g
Trans Fat

0g
Unsaturated Fat

4g
Cholesterol

72mg
Sodium

413mg
Carbohydrates

68g
Net Carbohydrates

89g
Fiber

2g
Sugar

41g
Protein

9g
WHAT'S NEXT?
You may also enjoy these other dessert ideas on A Home To Grow Old In: