OK, I have to apologize for something. I started this One Room Challenge 6 weeks ago, and I have been seriously lacking in the updates department. The good news is that I have been working on our master bathroom makeover over the timeframe, and I am so excited to show you how it turned out today!
I don't blame you if you don't remember what it looked like before. You can check it out here. It wasn't bad…just a little blah with floor to ceiling beige. We kept most of the major elements of the room like the vanity, tub, tile, shower, etc. This bathroom makeover was more of a refresh, and what a refresh it turned out to be! It's so much more modern and bright. I just love looking at it! Sometimes I'll be walking past my bedroom, and I just have to peek my head in to look through to the bathroom. It's my newest happy place!
Since I know you guys really just want to see how it turned out, I'll keep this short and sweet. I'll be back soon with more details on some of the projects we did.
The showstopper of this whole makeover is this gorgeous wallpaper. I was so scared to put it up because I was afraid I was going to make a mess of it, and I only had one roll. It was surprisingly easy to hang, though.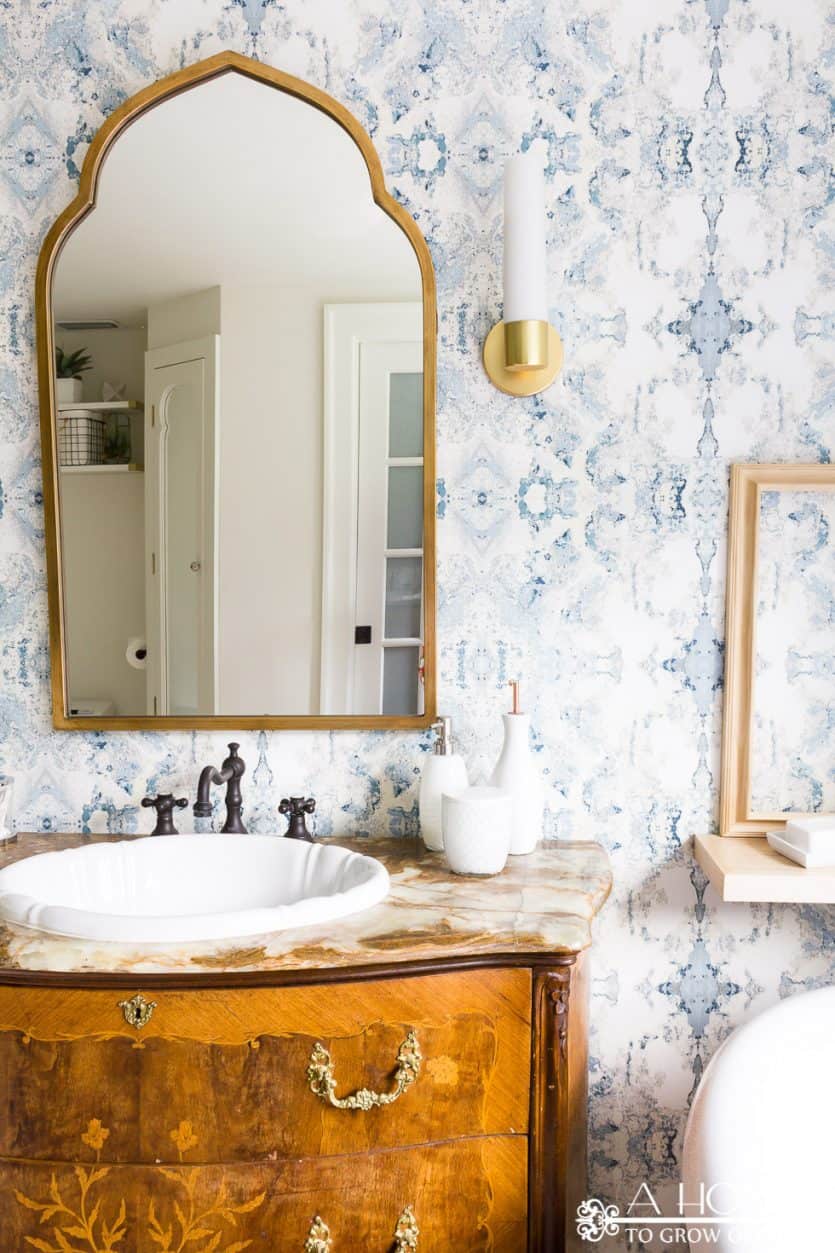 I did not originally plan to get a new mirror for this room, but once the wallpaper was up, the old mirror looked out of place. I lost track of how many mirrors I bought and returned because I just didn't love them once I got them home. Luckily, I found this one just in time. It arrived at 5 pm the evening before this makeover reveal. We had it hung in 30 minutes, and there was just enough light left for me to take these pictures to get this out in time. Whew!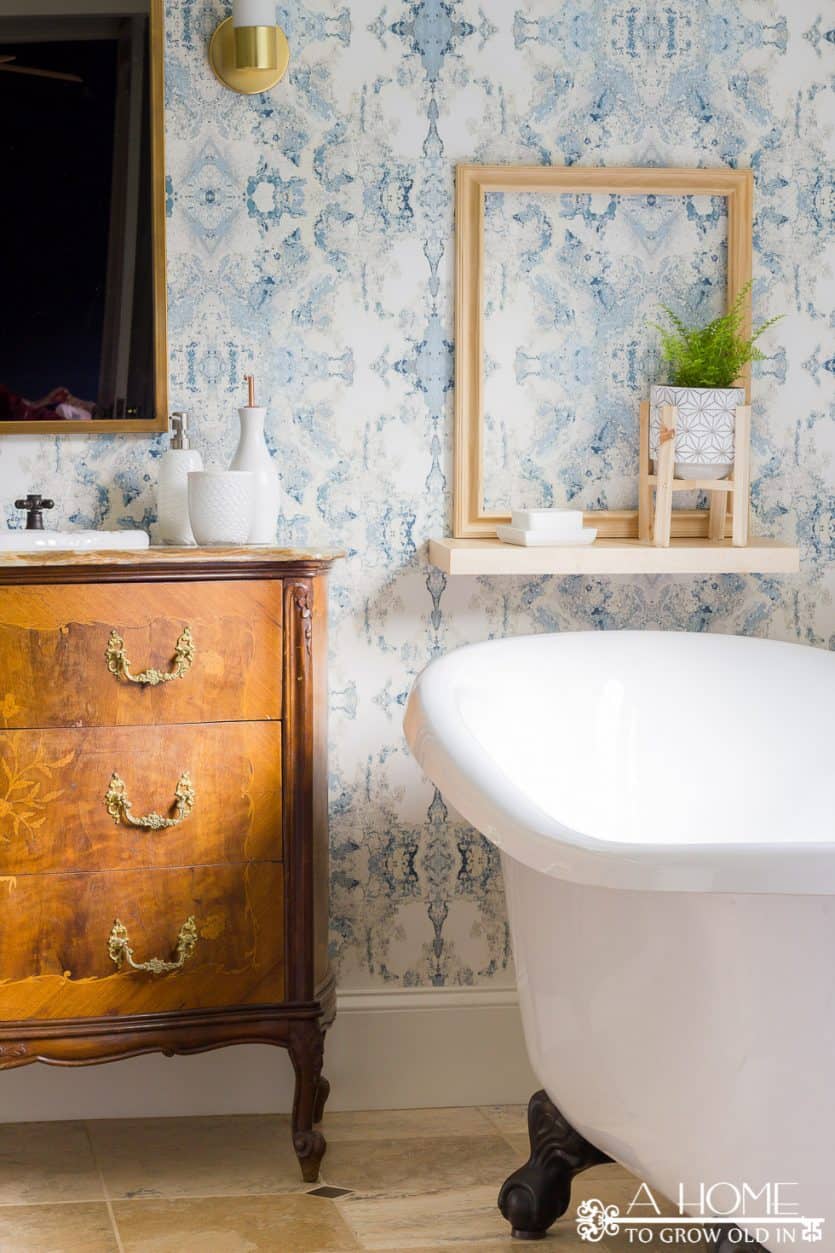 I couldn't bring myself to hang anything else on the walls that would cover up this beautiful wallpaper, so I used a simple art frame to help highlight it.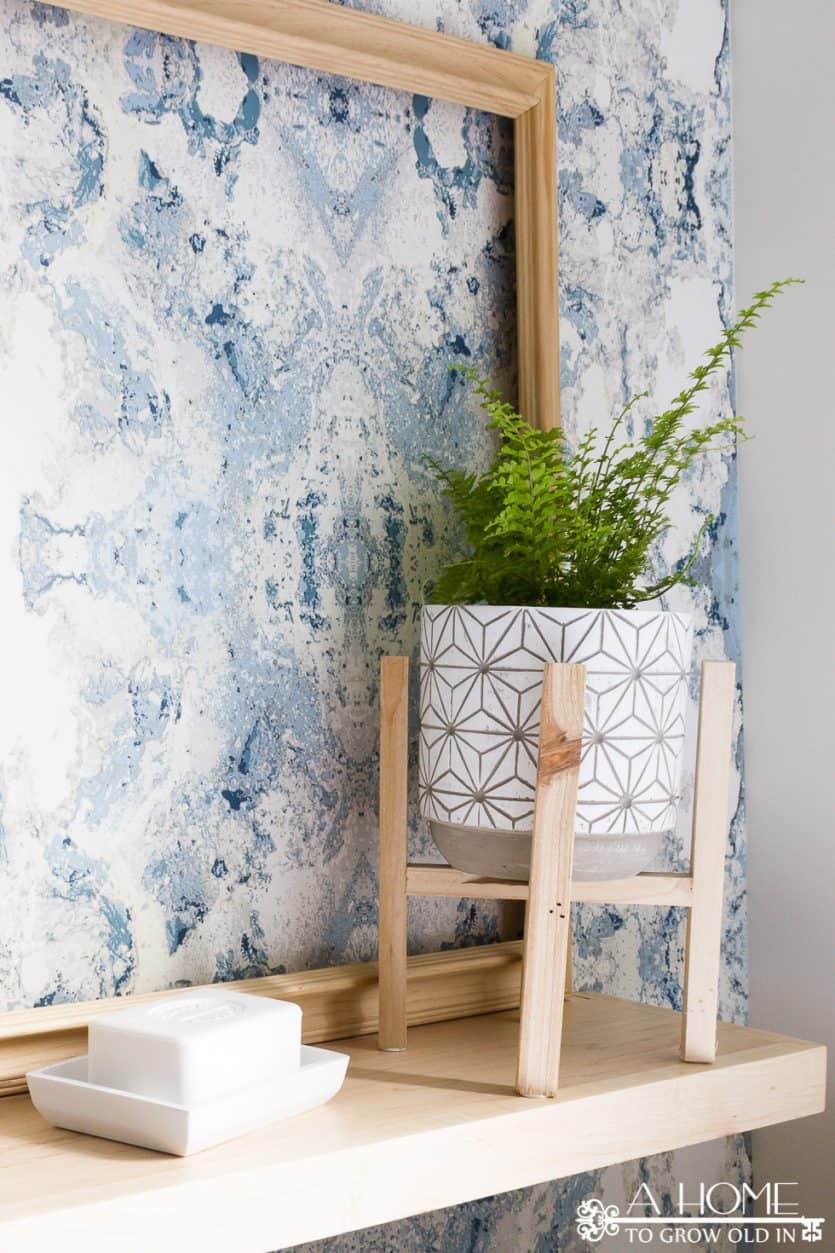 This towel ladder was an incredibly easy DIY that I'll share the details on soon. Our bathroom is short on storage, and I love having a place to hang extra towels now.
These Ikea Ekby shelves and brackets (with a little gold spray paint) also help give us some much-needed storage in this bathroom.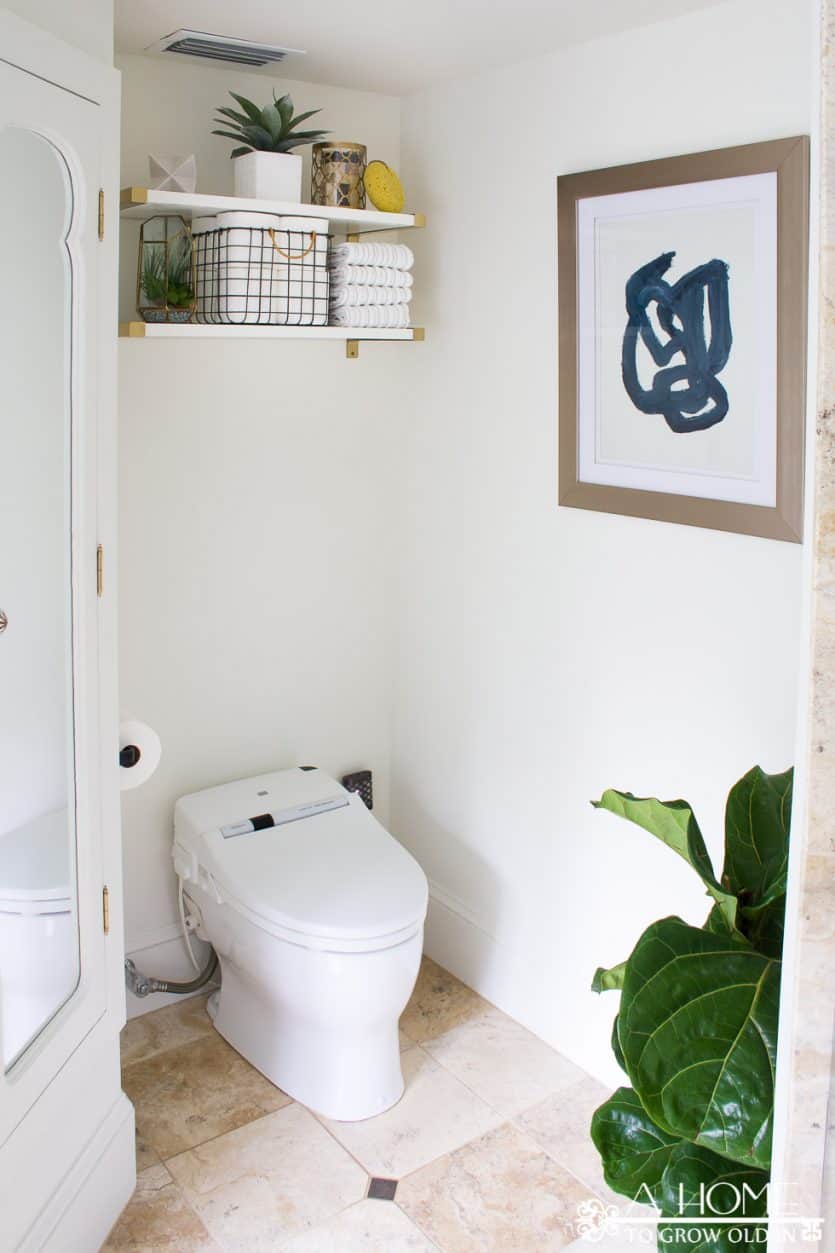 We still have one project that we weren't able to get to over the last 6 weeks with our bathroom makeover, and that is to add some sort of cabinet where we took out the shaving sink. It's a small area, and it's been more of a challenge than I was expecting to find the right piece. I'll find something eventually, and I'll give you an update when I do.
I'd like to give a huge thanks to Linda at Calling It Home for organizing this design challenge! It makes it so motivating to get an entire room done in our home. Please take some time to check out some of the other bloggers participating in the One Room Challenge. You are sure to find inspiration for whatever room you are decorating in your home.
If you like this post, I'd love to stay in touch! You can sign up to receive my emails here. Email subscribers have exclusive access to my printables library that I'm adding to all the time. Check it out a few of the printables available below. Or, if you'd prefer, I'd love to also connect on social media. Those buttons are on the top right-hand side of the page! Hope to see you again!!!