This easy to make Motorcycle Diaper Cake is a cute and unique baby shower gift that the mom-to-be will love and it can be used as a fun centerpiece.
I recently attended a baby shower and was trying to find a unique way to gift the mom-to-be items from her registry. After assessing what she had requested, I created a fun version of a motorcycle diaper cake.
The mom-to-be requested that presents not be wrapped. Instead, she wanted to have them put on display, so she would have more time to mingle. I thought this was a great idea. Personally, I love opening gifts, but not everyone enjoys spending a couple of hours watching you open them.
Therefore, I wanted a unique way to display my baby shower gifts, so they weren't just items sitting on a table. Creating the motorcycle diaper cake, allowed me to utilize not just diapers from her registry, but also baby bibs, receiving blankets, and more.
WHAT IS THE PURPOSE OF A DIAPER CAKE?
A diaper cake is a fun arrangement of diapers to bring as a baby shower gift or to put on display as a decorative baby shower centerpiece. Diapers and the other various "ingredients" are boring gifts to give by themselves. However, gifting the mom-to-be a diaper cake allows for a prettier looking and fun present. Yet, still a totally practical gift for parents that will be caring for a newborn.
A traditional diaper cake is made to look similar to a tiered real cake. I have attended baby showers in the past, where each table had a small diaper cake displayed as a centerpiece. At one shower, diaper cupcakes were made for each table and they were adorable. There are several easy and creative versions of diaper cakes that can be made.
CAN YOU USE THE DIAPERS FROM A MOTORCYCLE DIAPER CAKE?
Yes! That is the whole purpose of making them, so the mom-to-be has a good supply of diapers to get her started. Just be careful of any glue that was used in the creative process. If you are using a glue gun to hold any parts of the diaper cake together, it's important not to get glue on the diapers.
WHAT HAPPENS AT A BABY SHOWER?
Baby showers are typically for first-time parents, particularly for the mom-to-be. These parties are to "shower" the mama with all the items she will need to take care of her new baby. Usually, family and friends will organize the party and it might be a surprise for the mom. Aside from opening these gifts, there is most likely food, including an adorable cake. As well as, some sort of baby shower games. Examples of games that can be played are guessing the gender, due date, or baby weight. Also, there could be a trivia game about the parents-to-be. In either case, a winner is determined and prizes are awarded. There are many different fun baby shower games to choose from. If you're the one throwing the baby shower, check out this guide that will help you every step of the planning process.
HOW TO MAKE A MOTORCYCLE DIAPER CAKE
Making a motorcycle diaper cake is an easy and fun way to gift items that the mom-to-be really needs. I made a three-wheel trike motorcycle cake for stability, but you can create a two-wheel traditional motorcycle with this tutorial as well.
WHAT DO YOU NEED FOR A MOTORCYCLE DIAPER CAKE:
This post contains some affiliate links for your convenience (which means if you make a purchase after clicking a link I will earn a small commission but it won't cost you a penny more)! Click here to read our full disclosure policy.
SUPPLIES:
INSTRUCTIONS:
1. Make the wheels for the motorcycle diaper cake
Place 20 diapers into the 9″ cake pan and fan them out against the edge of the cake pan. Put the empty paper towel tube in the center of the cake pan and adjust the diapers around it, to evenly space them into a spiral. Once the diapers are in a spiral (like a tire), use a rubber band to secure them. Remove the empty paper towel tube. Repeat this process two more times, to create all three wheels. As I mentioned, I made a trike motorcycle diaper cake, as opposed to a standard two-wheel motorcycle. I decided to do that so that my stuffed animal bear could easily sit atop the diaper cake and it wouldn't tip over.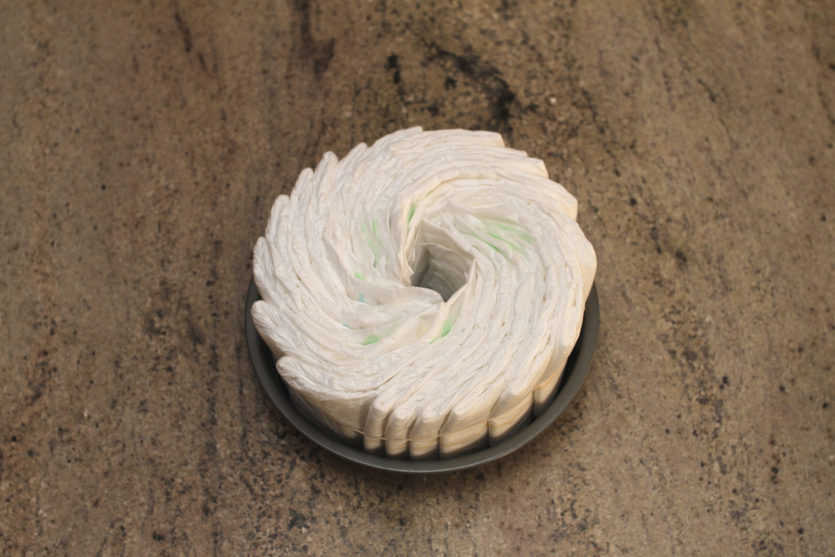 Once you've confirmed your email address, you will receive our weekly newsletter full of our latest posts, as well as content that is exclusive for A Home To Grow Old In subscribers. Plus, you'll have access to our Resource Library that is full of FREE printables and SVG cut files.
2. Decorate and attach the motorcycle wheels
Now use the ribbon to cover up the elastics around each motorcycle wheel. Wrap the 1.5″ wide ribbon around one of the wheels and secure the ends of the ribbon with a hot glue gun. Try not to get the hot glue on the diapers, only the ribbon. Then, wrap the 0.5″ wide ribbon over the 1.5″ wide ribbon and around the wheel. This second ribbon is optional, but I thought it added a nice decorative touch. Repeat this process on the other two motorcycle diaper wheels.
Now, insert the empty paper towel tube into the center of one of the motorcycle wheels. Then, thread the other end of the paper towel tube through a second motorcycle wheel connecting the back two wheels.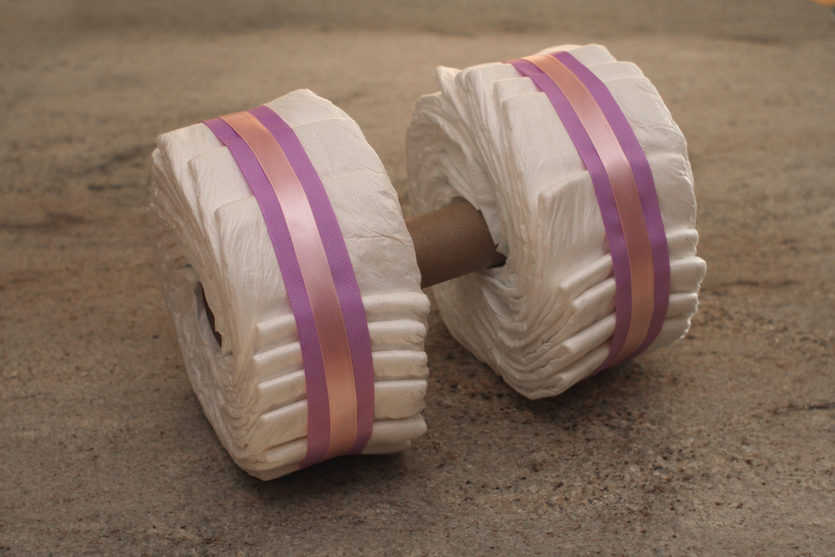 3. Tie the three motorcycle diaper wheels together
Place the third front motorcycle diaper wheel in the space between the back wheels. Fold one of the receiving blankets in half diagonally, then roll it into a tube shape. Thread the rolled-up receiving blanket through the paper towel tube. Then bring it around and through the front wheel; thereby, connecting all motorcycle diaper cake wheels. Using a rubber band, tie the receiving blanket ends together and slide that end back into the paper towel tube. That way the knotted end of the blanket is hidden.
4. Make the motorcycle seat, fenders, and headlight
Using some of the 1.5″ wide ribbon, wrap it around the exposed paper towel tube. Then, add one of the bibs here, by wrapping it around as well. The bib acts as a back fender and provides extra coverage.
To make the motorcycle seat, take a single diaper and roll it up. Next, wrap four more diapers around it. Secure them with a rubber band and decorate with the ribbons, as you did with the motorcycle wheels. Place the motorcycle seat between the two back wheels. Place one of the bibs over the seat.
Place the third bib over the top of the front motorcycle wheel, making the front fender. To create the headlight, put the sippy cup, or bottle, on top of the motorcycle wheel and bib. Make sure the bottom of the bottle is facing out so that it looks like a headlight.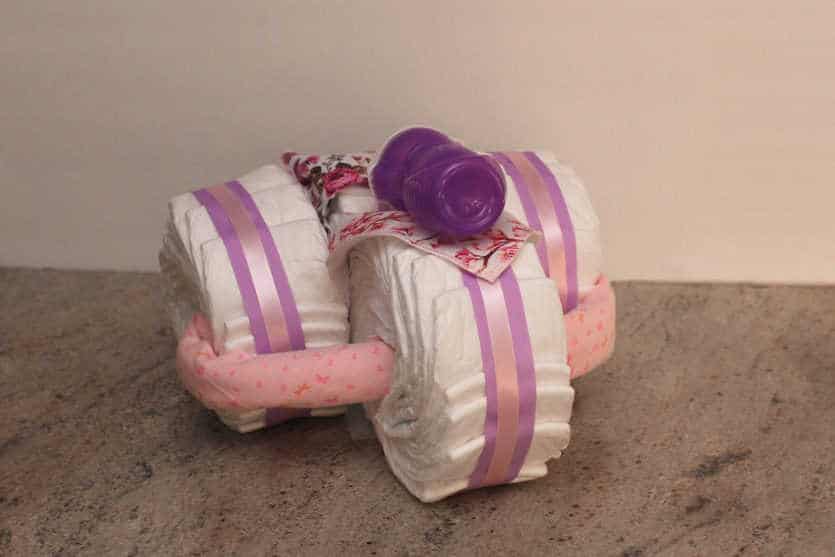 5. Create the motorcycle handlebars
Fold the second receiving blanket in half diagonally and roll into a tube, the same as the first one. Secure the receiving blanket tube, by placing a rubber band in the middle and one on each end. Thread the receiving blanket through the front motorcycle wheel. Once, the blanket is even on both sides, pull it up and over the bottle (headlight), and secure with another rubber band. Cover the ends of the receiving blanket with the mittens, or socks, making the handgrips for the motorcycle diaper cake. Position the ends of the receiving blanket to resemble handlebars.
6. Complete the finishing touches of your motorcycle diaper cake
Your motorcycle diaper cake is complete! All you need is your motorcycle driver. Place your stuffed animal on top and you are good to go. I used Violet from Leapfrog. I love Leapfrog's Scout and Violet because you can customize what they say with your phone. They sing songs and say your child's name, favorite color, favorite food, etc. I just think they make an excellent additional baby shower gift. Also, having Violet on the motorcycle diaper cake will hopefully provide you with a scale of the size of the stuffed animal that will fit on top.
Add any additional bows or items you want and a cute tag, so your mama-to-be will know who it's from. As you can see, I made this for a baby girl, but it's so easy to change the colors to customize it however you like. I hope you have as much fun as I did making it. I love giving gifts and watching the recipient's reaction, especially if it's for an adorable baby!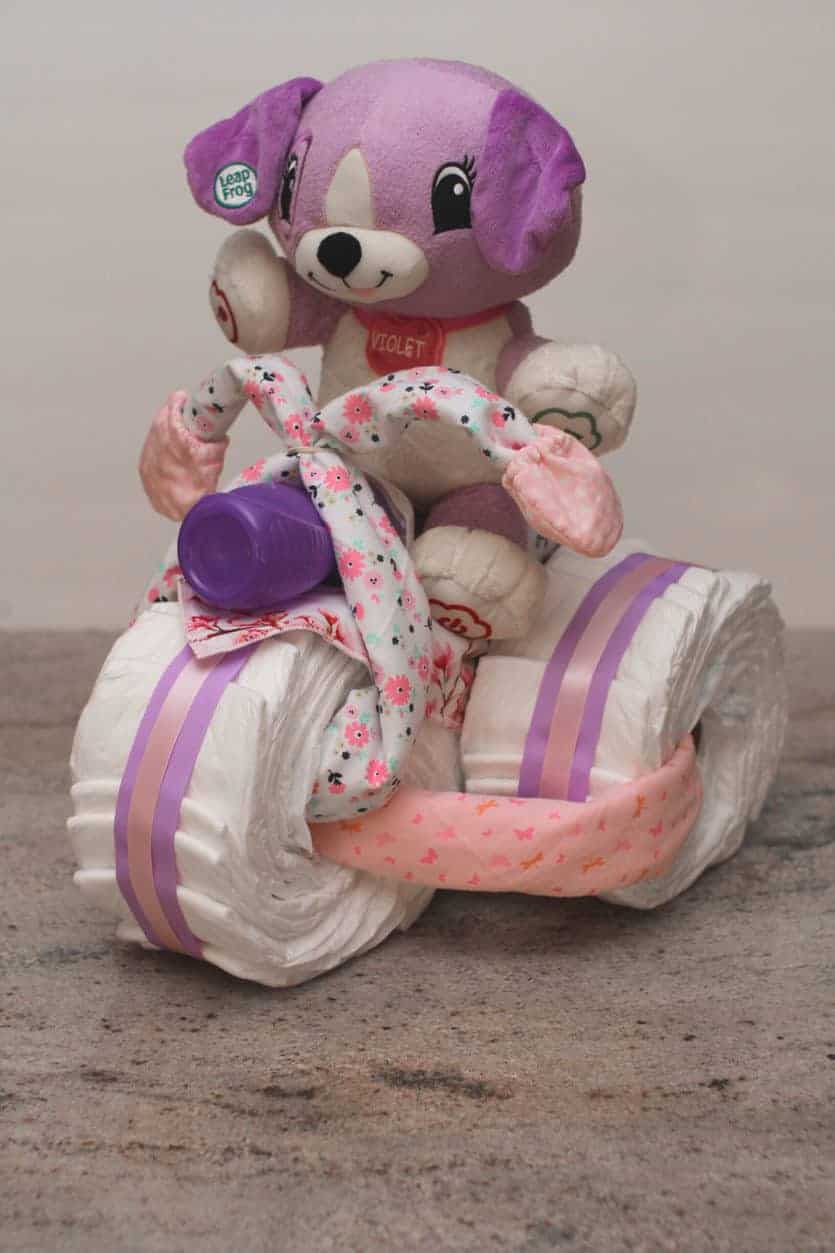 WHAT OTHER DIAPER CAKES CAN YOU MAKE?
There are some really creative diaper cakes out there! I picked the motorcycle diaper cake to be a little different from your traditional diaper cake. Also, as I said above, I have seen cupcake diaper cakes, which were really cute. There are so many different ways that you can shape the diapers making it easy to create a gift based on the baby shower's theme or something the mom really likes.
How To Make a Motorcycle Diaper Cake
This easy to make Motorcycle Diaper Cake is a cute and unique baby shower gift that the mom-to-be will love and it can be used as a fun centerpiece.
Materials
65 diapers (I used size 2)
1 empty paper towel tube
2 receiving blankets
3 bibs
1 sippy cup or baby bottle
1 pair of baby mittens or socks
2 yards of 1.5" wide ribbon
2 yards of 0.5" wide ribbon
rubber bands
stuffed animal (the driver of the motorcycle)
Tools
9" cake pan
hot glue gun and glue sticks
Instructions
Make the wheels for the motorcycle diaper cake.
Decorate and attach the wheels.
Tie the three motorcycle wheels together.
Make the motorcycle seat, fenders, and headlight.
Create the motorcycle handlebars.
Complete the finishing touches.
What's Next?
You may also enjoy these fun how-to projects on A Home To Grow Old In: