Hi there, friends! I am beyond excited to be back with the ladies of No Place Like Home for an organizational series over the next 4 weeks! I'll be completely honest here and say that organization is not my strong suite. It's not even close! I really struggle with organization, so I am very happy to have this series to hold me accountable to get some areas tackled around my home. And, so that my blogger friends and I aren't the only ones following along here, we have a ton of chances for you to win a $150 gift card to The Container Store, and even more chances to win if you show us your organized successes or challenges! Show us anything…your closets, cabinets, pantry, whatever you're working on.
For our first week, we are each working on some aspect of kitchen organization, so I thought I'd finally show you my pantry makeover. I say "finally" because this pantry makeover has been in the works for a while now, but this series gave me that push to get the last little bit done.
Our kitchen is set up a little differently than most, and because of that, our pantry operates a little differently. We have a really nice sized pantry, but we need it because there are almost no cabinets in our kitchen. The pantry is where we keep all of our small appliances, serving dishes, and much of our cookware. It's a little weird, but the pantry also houses our only freezer. It's one of those things that I'm sure the previous owners had a really great reason to set it up this way, I'm just not sure what that is.
This post contains some affiliate links for your convenience (which means if you make a purchase after clicking a link I will earn a small commission but it won't cost you a penny more)! Click here to read our full disclosure policy.
Here's what it looked like before I started.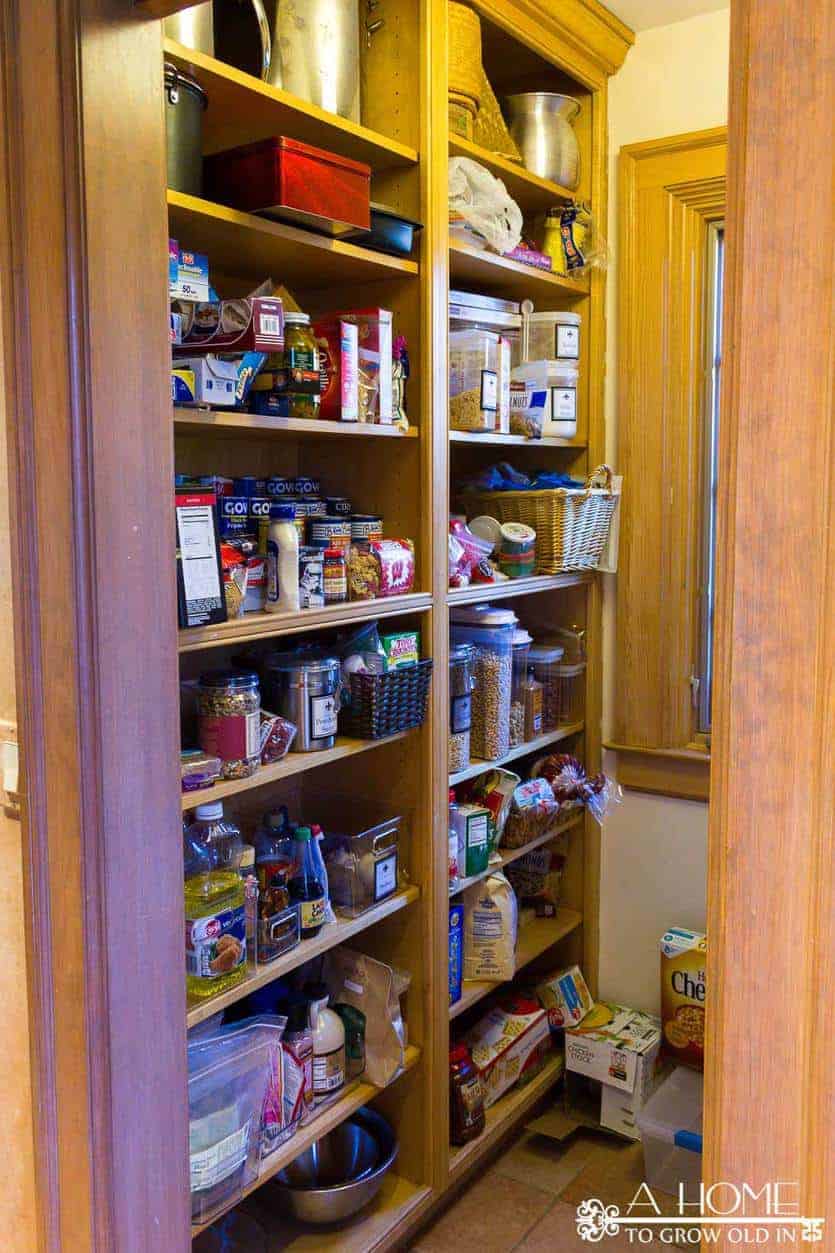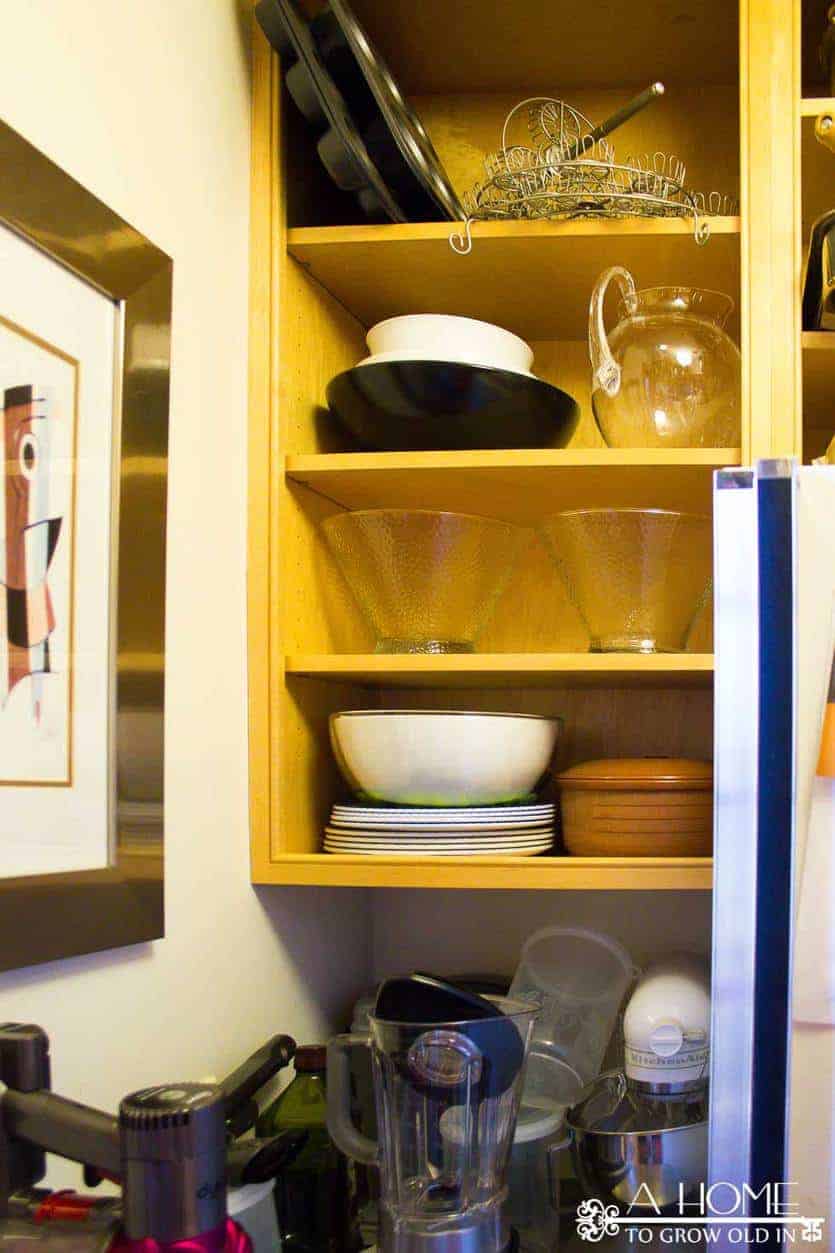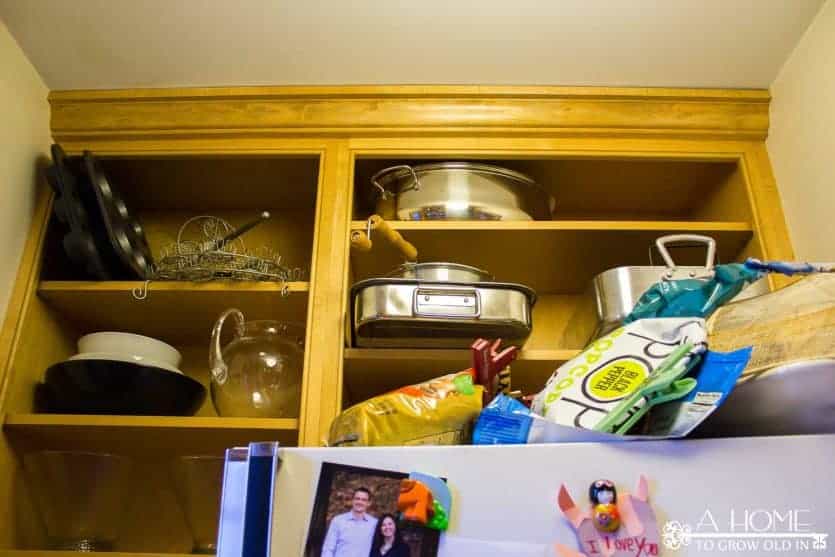 Stuff was shoved everywhere, including on the floor and on top of the freezer. I'm not proud, but I wanted to show you the real deal!
The first step was to get everything out of the pantry and start getting rid of any expired food and small appliances or cookware that hadn't been used for a long time. I was kind of surprised by how much I was willing to get rid of. Our last kitchen had more space, and the more space you have, the more you accumulate. I decided that if I didn't use it regularly, it had to go!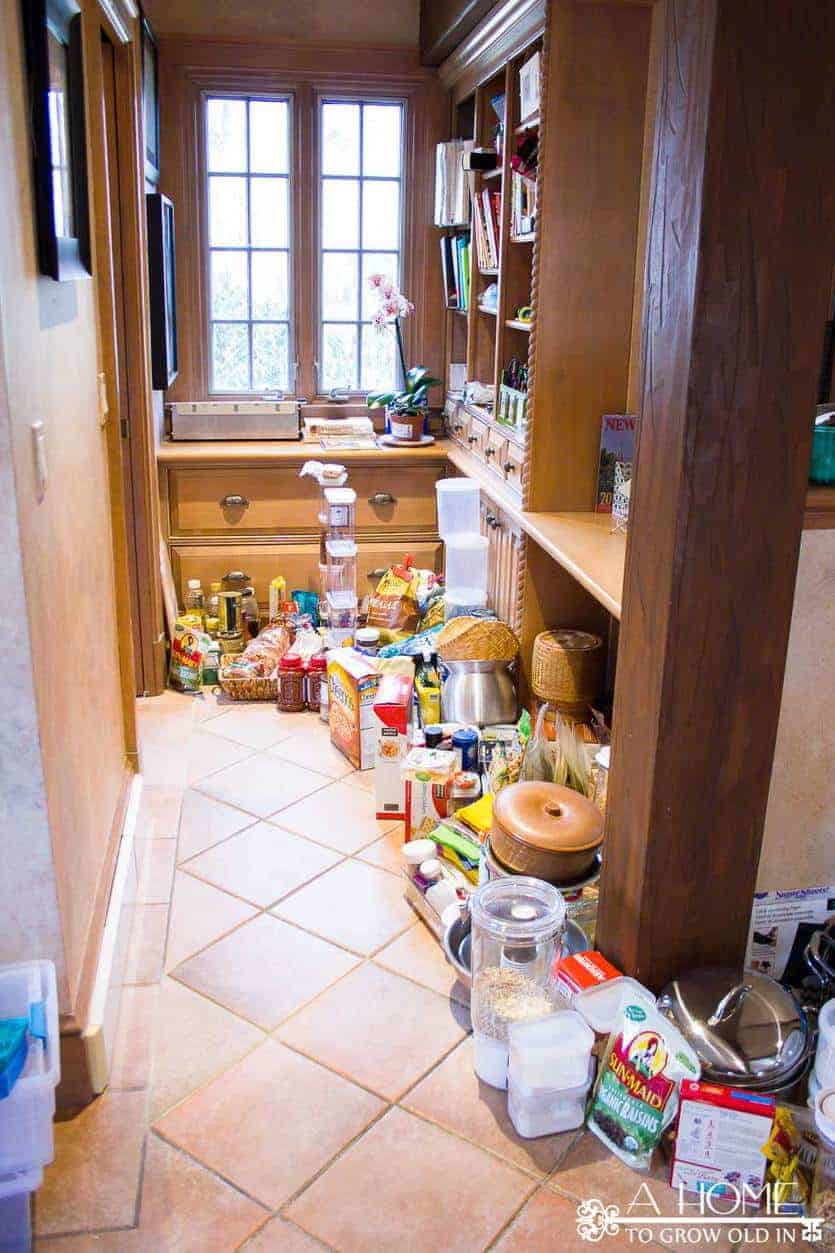 The kitchen and pantry were remodeled over 15 years ago, so it was also about time for a little refresh. The shelves had seen better days and had some water damage and stains.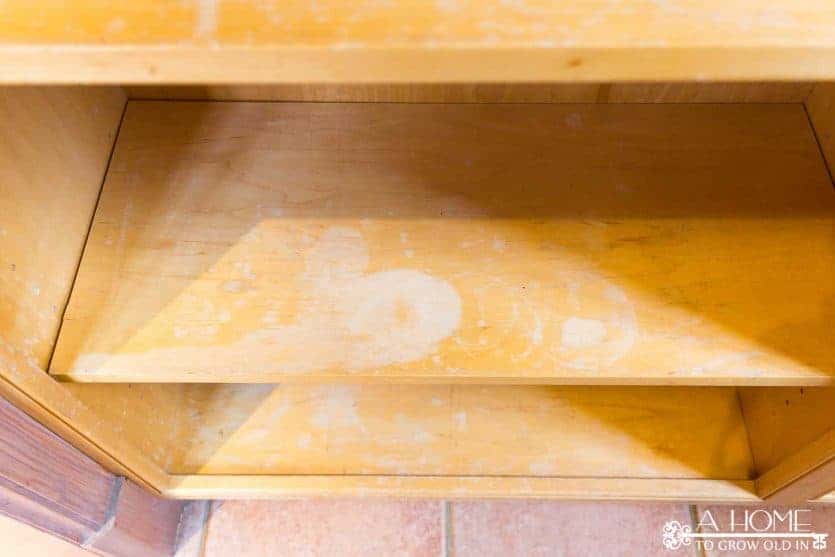 Even the soapstone countertops hadn't been oiled in quite some time.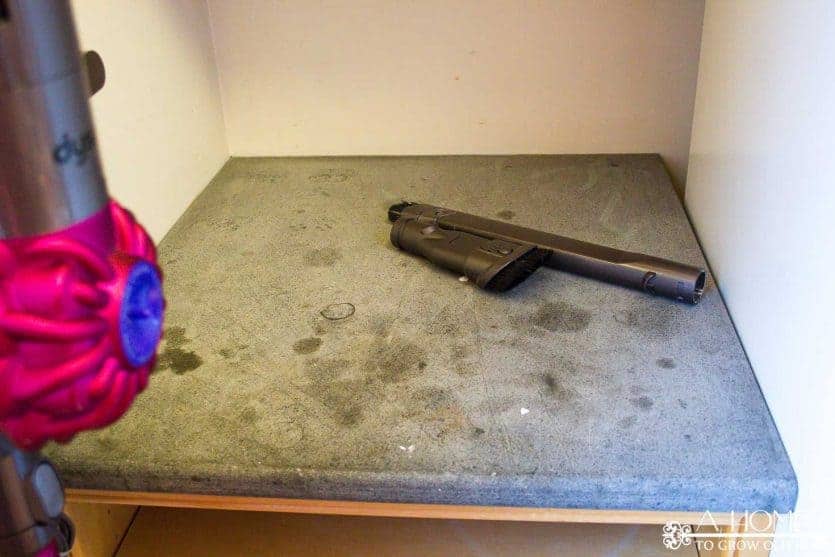 I took all the shelves out and painted them, along with the cases, in Sherwin William's Light French Gray. The walls were painted in Sherwin William's Snowbound. Once the shelves had time to dry, I applied this contact paper to protect the tops, which is a very similar color match to the paint.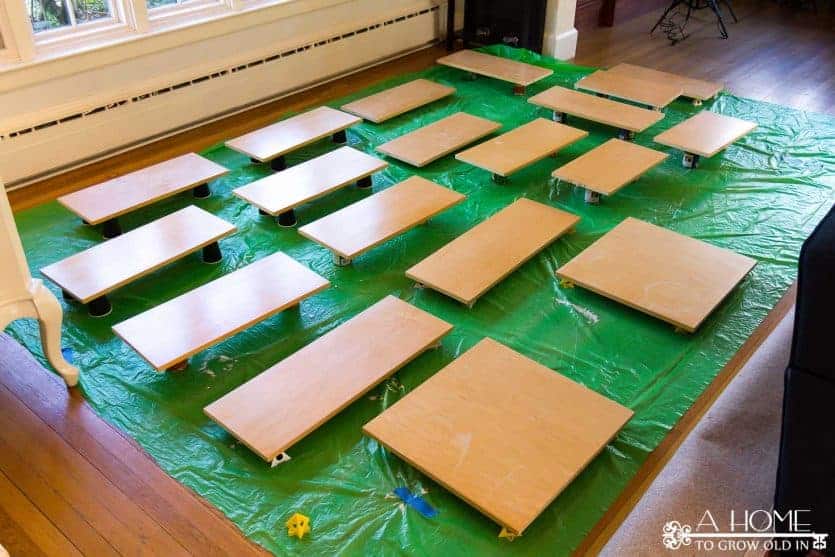 Now that the pantry had some fresh paint, it was time to figure out how to organize it all. I put things back into the pantry in zones so that things were easy to find.
There's an area for canned goods…
A baking zone…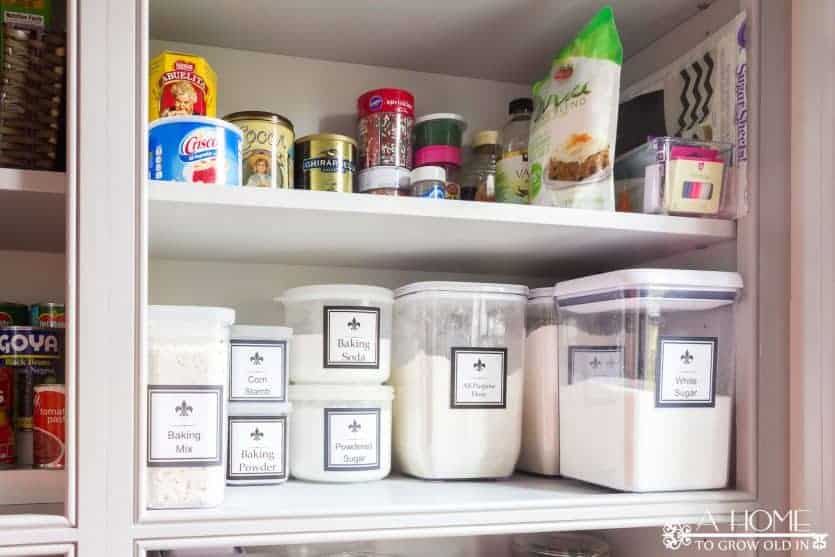 A spot for our breakfast foods…
A zone for our lunch supplies…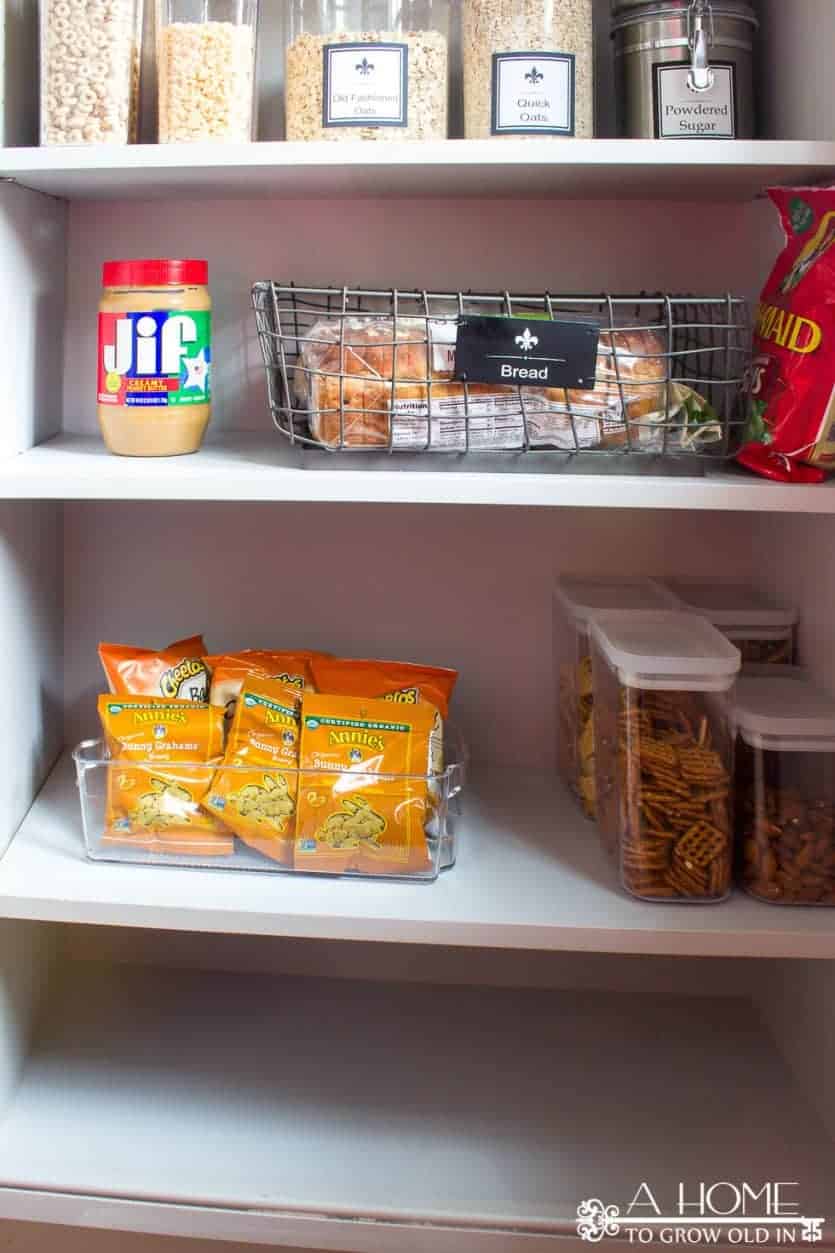 I'm a big fan of using airtight containers that are easily stackable so that it's easy to find what I'm looking for, and the ingredients stay fresher longer.
A set of these fleur de lis printable labels for some of the more common ingredients is available in the Printables Library.
These Printables and/or SVG designs are exclusive for A Home To Grow Old In subscribers to download for FREE. Just sign-up below and you'll receive an email with the information to access the resource library that contains the SVG.
Once you've confirmed your email address, you'll be enrolled in our weekly newsletter full of our latest posts as well as content that is exclusive for A Home To Grow Old In subscribers. Plus, you'll have access to our Resource Library that is full of free printables and SVG cut files.
Free printables and SVG files from A Home To Grow Old In are for your own PERSONAL USE ONLY.
These pantry labels can be printed on inkjet printable vinyl and cut out with scissors. I've tried lots of different sticker papers, and this vinyl is by far my favorite. A lot of sticker paper is not water-resistant, so the labels are ruined as soon as you wash the container. I've successfully hand washed the containers with the printable vinyl labels, and they hold up great!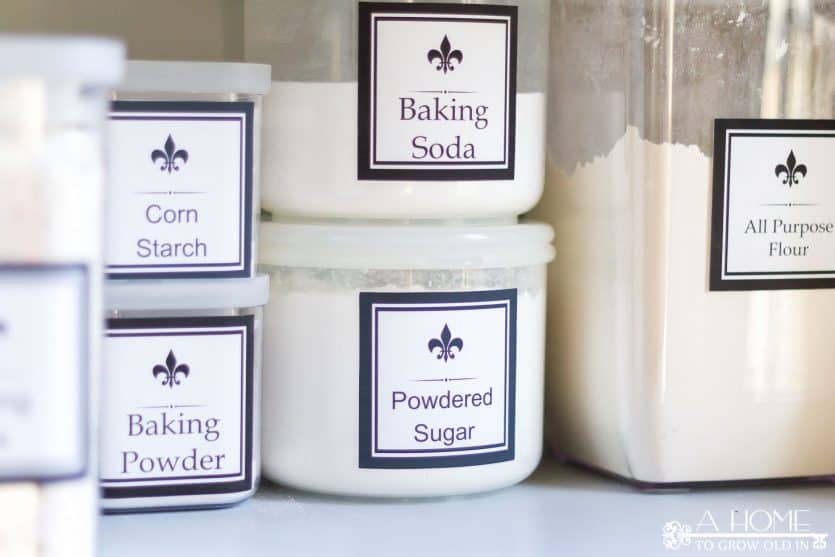 I'm amazed at how much more space I have now. I've cleared out a lot of our junk food, but I'm sure as we get a little further into the year some of my resolutions will loosen up a bit, and it will creep back in. The nice thing is that I still have room on the shelves.
One of our big challenges before was that we didn't have an area for surplus stuff or extras. Now, I have a top shelf for an overflow area. It holds everything that didn't fit into the canisters or things that I've bought because I'm about to run out.
I donated a lot of small appliances that I don't use, so now everything fits neatly on the bottom shelves next to the freezer.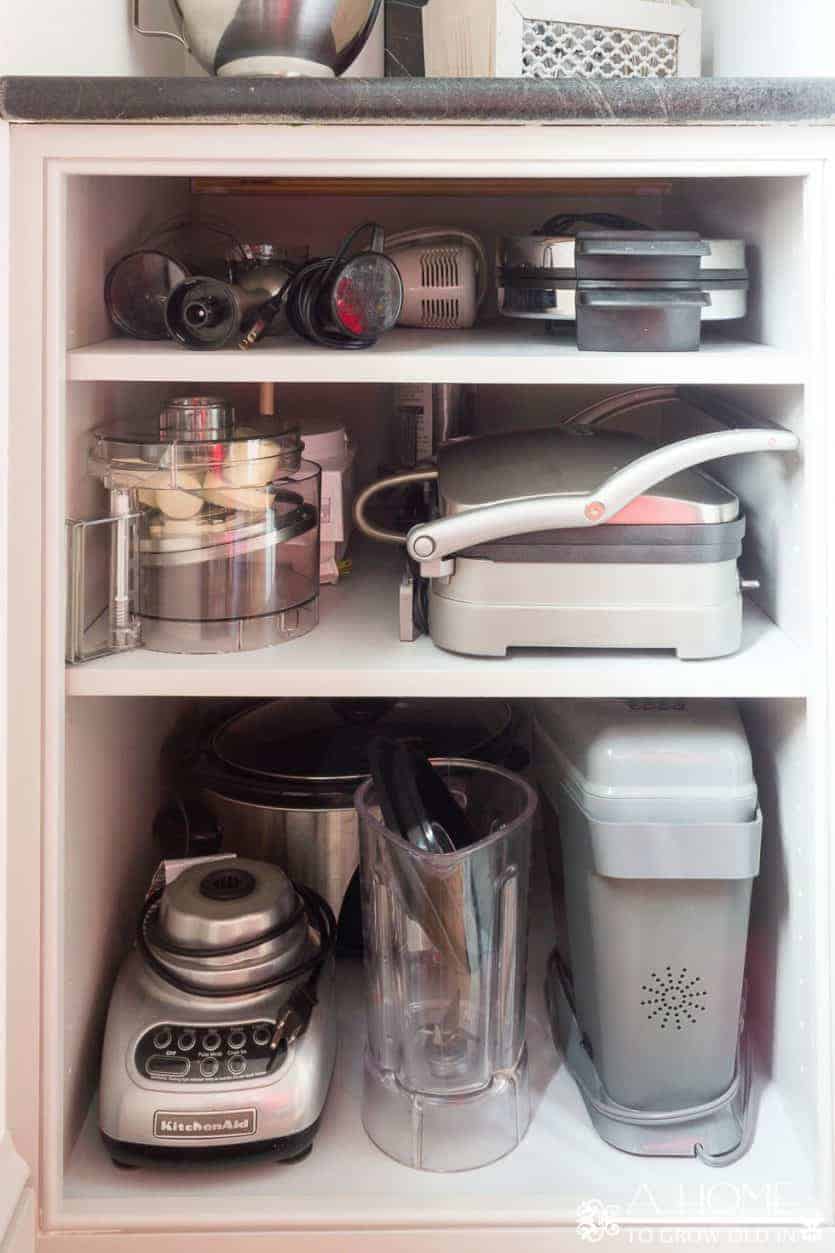 I also downsized a lot of the serving dishes, so now they all fit on the shelves.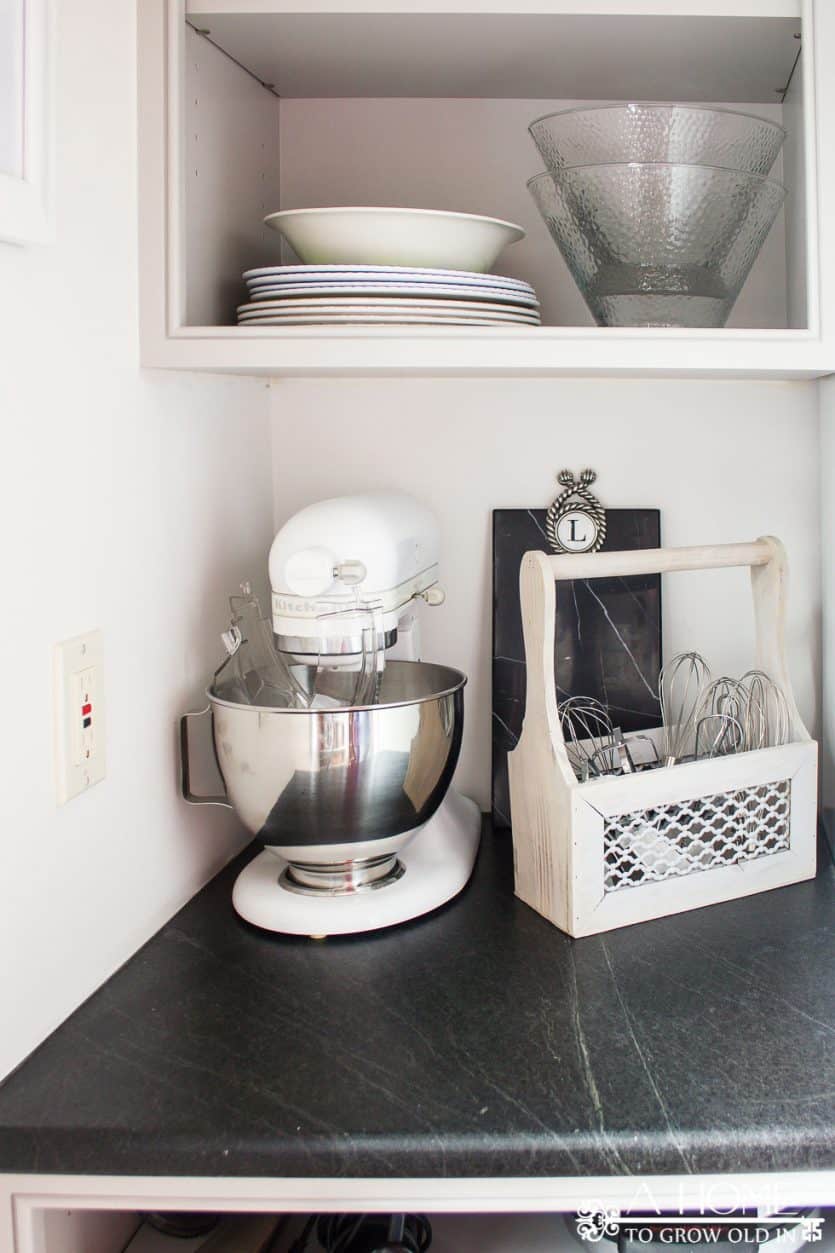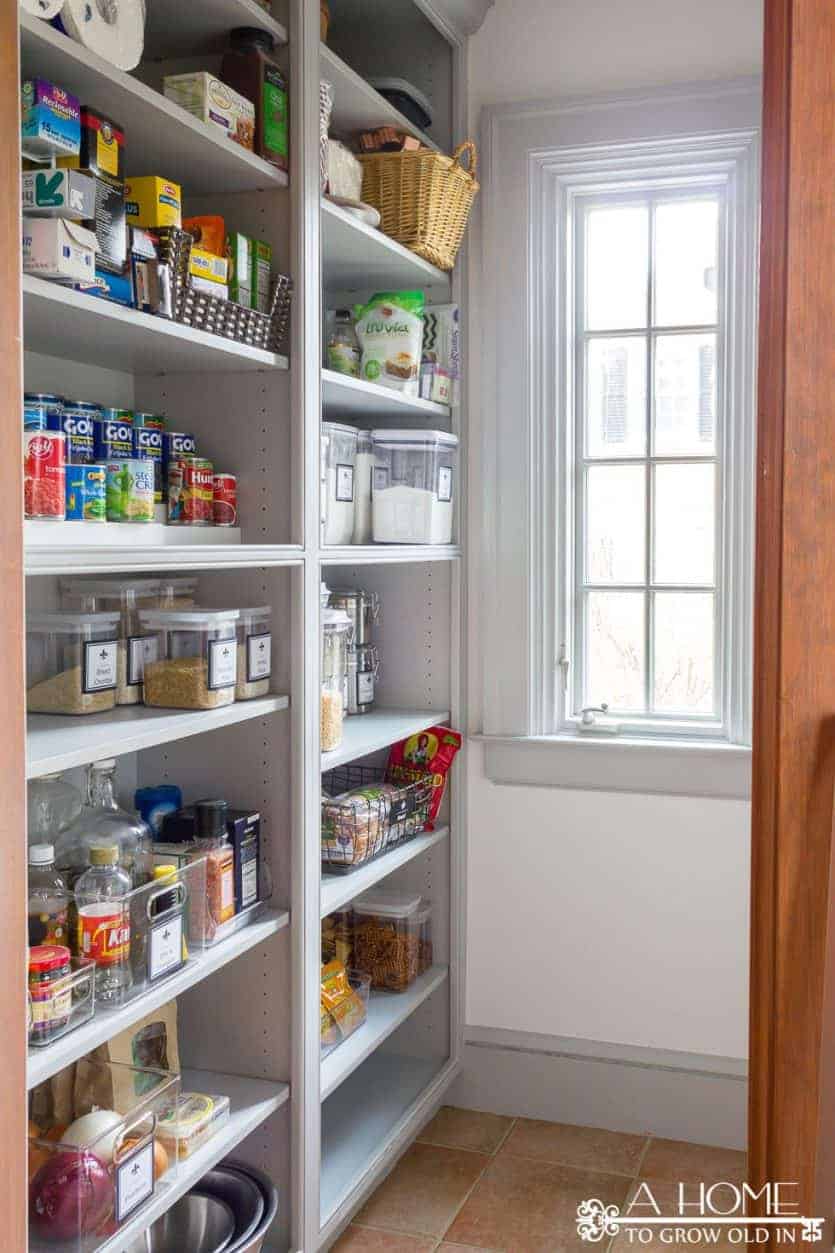 I feel like our new pantry set up is something that will be easy to keep up and maintain. I have several bins, in addition to the zones, that are labeled so that everyone knows where things go if they are helping put the groceries away.
You won't want to miss the other kitchen organization posts that my friends are sharing today. Head on over to the links below to check them out!
The Aspiring Home | Hey Fitzy | Nourish and Nestle | Sweet Parrish Place
Paint Yourself A Smile | The Red Painted Cottage | Savvy Apron
2) Follow the rest of the Rafflecopter prompts below. Make sure to come back next week for more chances to win!