Fresh peach cobbler muffins are so sweet and delicious with their crumble topping, making this recipe an easy treat for breakfast or a snack.
My family loves it when I make muffins! I enjoy making them ahead of time and having them as an easy go-to breakfast or snack. In the fall I make batches of cinnamon apple oatmeal muffins with all the fresh apples we pick from the orchards. Now with peaches in season, I figured I'd bake up these delicious peach cobbler muffins.
I think what really makes these muffins is the crumbly cobbler topping baked right into the muffin. Nothing beats that extra sweetness on top. My family was eating them before I could even give them time to cool. Peaches are a hit in my house and summertime is the perfect time for them.
What is the best way to store peaches?
The best way to store your fresh peaches is on the counter at room temperature. Once they have ripened, then you can put them in the refrigerator. This actually helps them last about another week. Have you ever gone to an orchard and picked fresh peaches? Did it seem like they barely lasted a couple of days? Putting them in the refrigerator will actually help you get a little more life out of them. Before you eat them from the refrigerator, allow them to sit on the counter for 30 minutes, so they will get to room temperature.
What can you do with leftover peaches?
First, if you have leftover sliced peaches, ensure they don't brown too much by adding some drops of lemon juice to them. Then store them in an airtight container in the refrigerator. Next, if your peaches have ripened beyond the point that you want to eat them, don't worry. There are many tasty recipes for overripe peaches. From sangria to jams, use those leftover peaches, don't throw them away.
Can you use another fruit in these peach cobbler muffins?
Of course! In the fall, you could totally substitute the peaches for apples. Another family favorite is a blueberry version of these peach cobbler muffins. Maybe you like strawberries. No matter what, you can definitely use your favorite fruit in this recipe, or change it out depending on what's in season.
HOW TO MAKE peach cobbler muffins
These fresh and delicious peach cobbler muffins are so easy to make, you won't mind that your family is constantly begging for them.
WHAT YOU NEED:
This post contains some affiliate links for your convenience (which means if you make a purchase after clicking a link I will earn a small commission but it won't cost you a penny more)! Click here to read our full disclosure policy.
KITCHEN TOOLS NEEDED:
INGREDIENTS NEEDED:
Flour
Egg
Buttermilk
Peaches, fresh or canned
Butter
INSTRUCTIONS:
1. Gather ingredients and preheat the oven.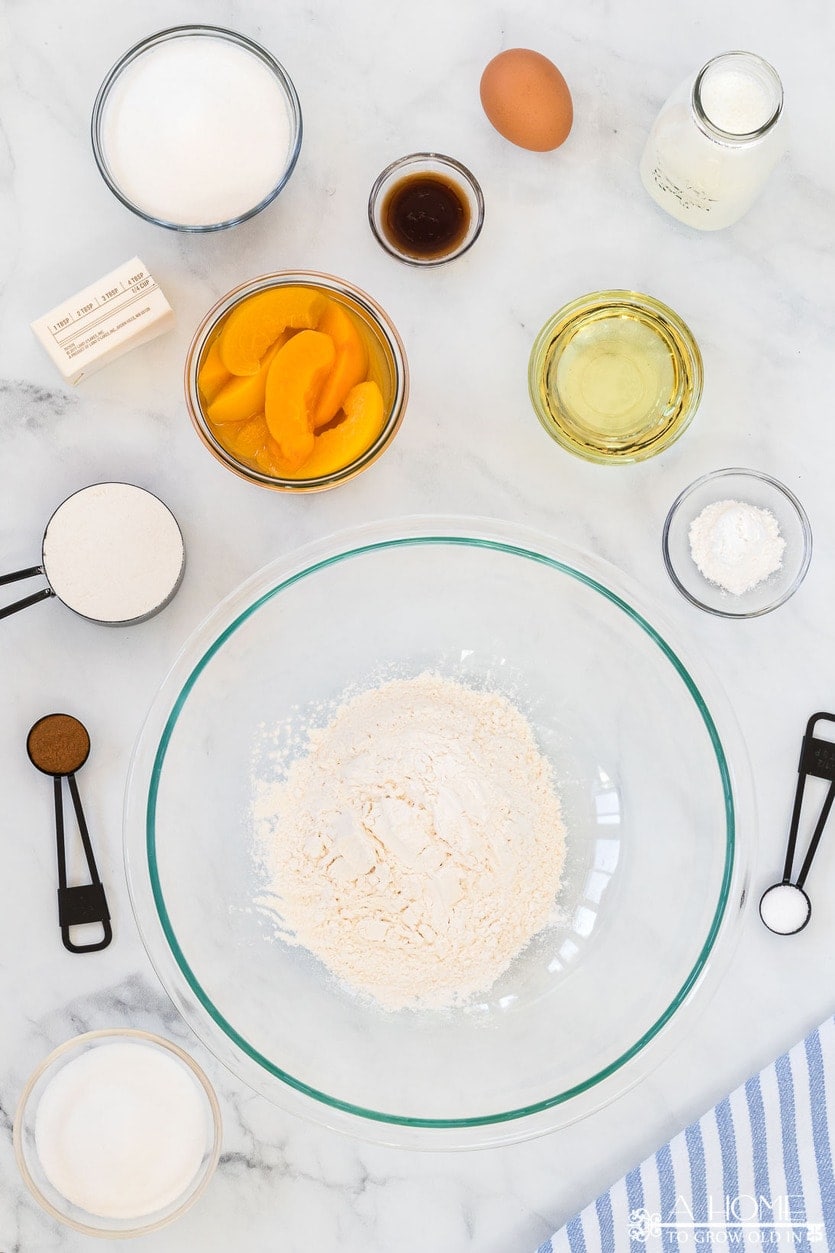 A full description of the amounts of ingredients and specific instructions is located in the recipe card below. You can even print it out and add it to your recipe binder.
Once you've confirmed your email address, you will receive our weekly newsletter full of our latest posts, as well as content that is exclusive for A Home To Grow Old In subscribers. Plus, you'll have access to our Resource Library that is full of FREE printables and SVG cut files.
2. Combine dry ingredients.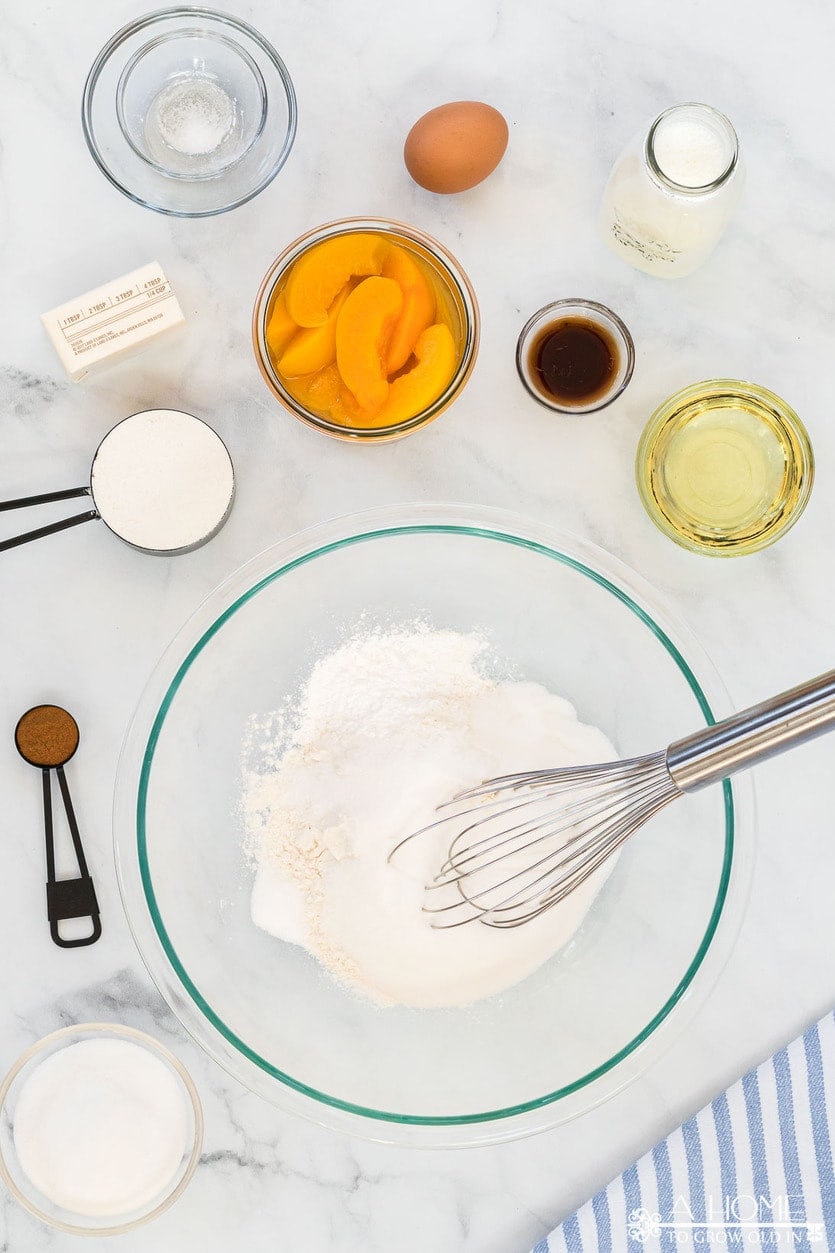 Add the dry ingredients in a mixing bowl and whisk until combined.
3. Add the peaches.
Reserve half a cup of the diced peaches for the topping. Then, toss the rest of the peaches in the dry ingredient mixture.
4. Add liquid ingredients.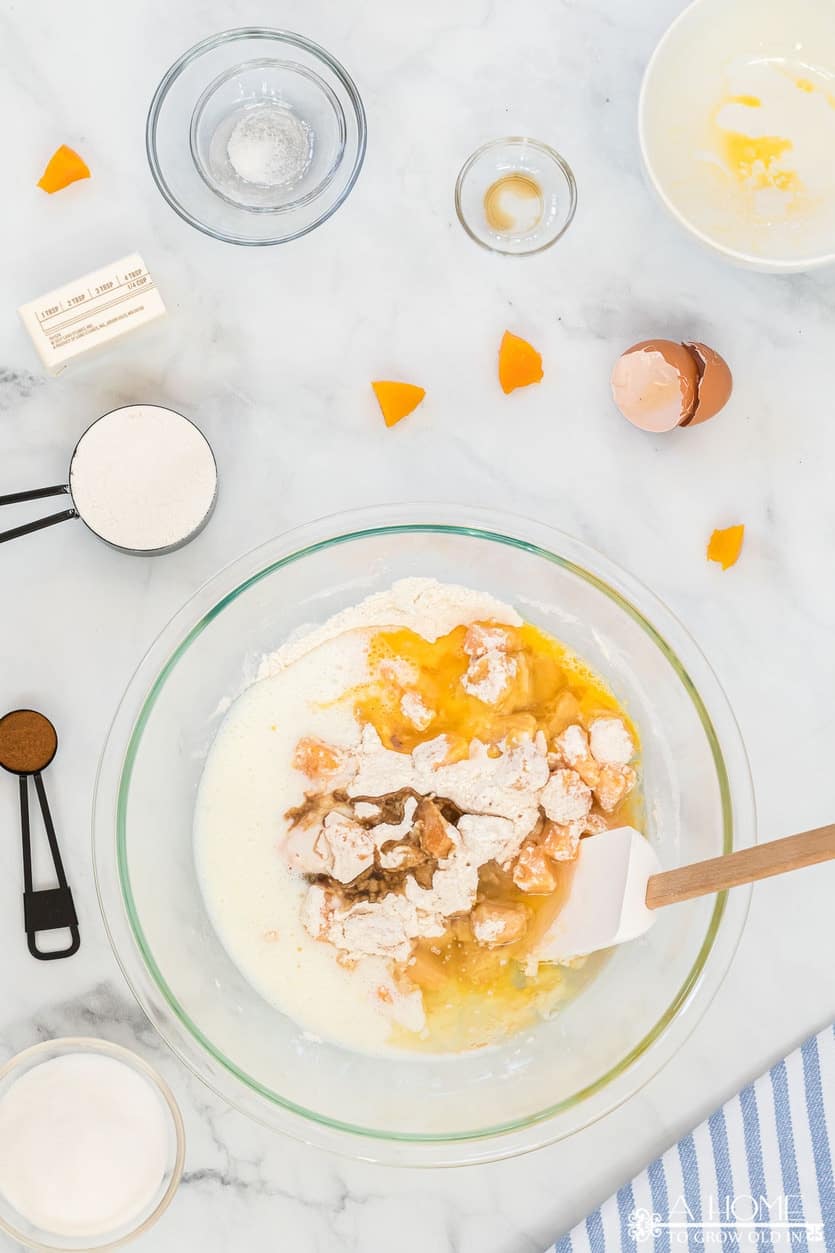 Carefully mix the liquid ingredients into the mixture until combined.
5. Pour into muffin pan.
Pour mixture into muffin pan and top with remaining peaches.
6. Make crumble topping.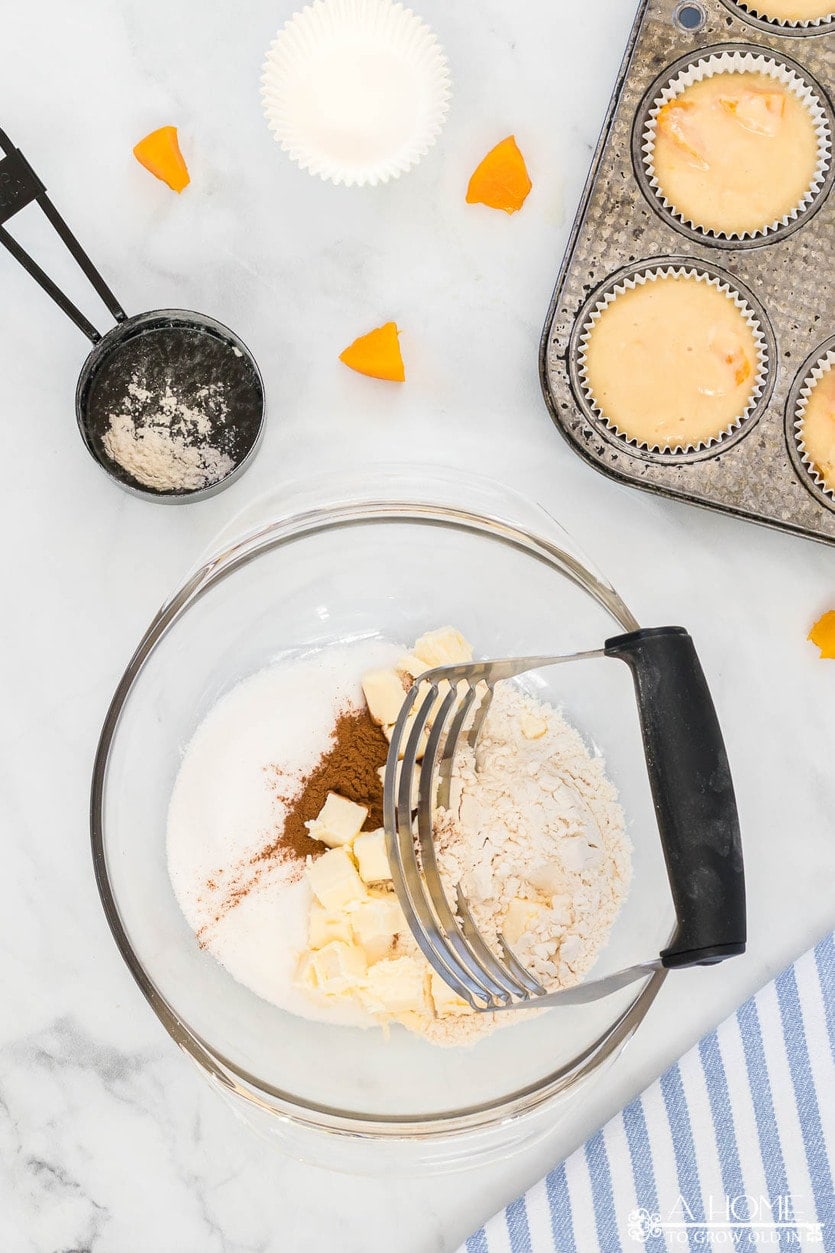 In a separate bowl, combine ingredients for crumble topping.
7. Top muffins with the crumble.
Add that delicious streusel crumble to the top of your peach cobbler muffins.
8. Bake the peach cobbler muffins.
It's now time to bake the muffins until a toothpick comes out clean.
9. Enjoy!
Once the muffins have cooled, you can enjoy them!
What is the best way to store muffins?
Store your peach cobbler muffins in an airtight container or a sealed plastic bag. Make sure they are in a single layer and you can place a paper towel under and on top of them, to help grab any moisture. They will keep on the counter a room temperature for about 3 days. In the refrigerator, they can last about a week. Otherwise, you can freeze them and they should last about 3 months if tightly wrapped.
Peach Cobbler Muffins
Fresh peach cobbler muffins are so sweet and delicious with their crumble topping, making this recipe an easy treat for breakfast or a snack.
Ingredients
For the Muffins
1 1/2 cups flour
3/4 cup sugar
2 teaspoons baking powder
1/2 teaspoon salt
1/3 cup vegetable oil
1 egg, whisked
1 teaspoon vanilla
1/2 cup buttermilk
2 cups fresh or canned peaches, diced
For the topping
1/2 cup flour
1/3 cup sugar
1/4 cup cold butter, cubed
1 teaspoon cinnamon
Instructions
To Make the Muffins
Preheat the oven to 400 degrees F/200 degrees C.
Combine the flour, sugar, baking powder, and salt in a medium-sized mixing bowl.
Toss the diced peaches, reserving about 1/2 cup for the topping, into the flour mixture until the peaches are well coated.
Add the vegetable oil, egg, vanilla, and buttermilk to the flour mixture and mix just until well combined,
Add the batter to a 12 muffin pan.
Top the batter with the remaining peaches and the crumb topping.
Bake for 20-25 minutes or until a toothpick comes out clean.
To Make the Crumb Topping
In a separate mixing bowl, add the remaining flour, sugar, butter, and cinnamon.
Cut in the butter with a fork or pastry blender until the mixture has a sandy texture.
Top the muffins with the crumb mixture.

Nutrition Information
Yield

12
Serving Size

1
Amount Per Serving
Calories

263
Total Fat

11g
Saturated Fat

3g
Trans Fat

0g
Unsaturated Fat

7g
Cholesterol

26mg
Sodium

227mg
Carbohydrates

40g
Fiber

1g
Sugar

23g
Protein

3g
What's Next?
You may also enjoy these sweet recipe ideas on A Home To Grow Old In: