Make a crafty gift for the special dad in your life with this free Father's Day SVG file, 'Keep Calm and Let Dad Fix It'. This design looks especially cute placed onto a sign and hung up in a garage or shed!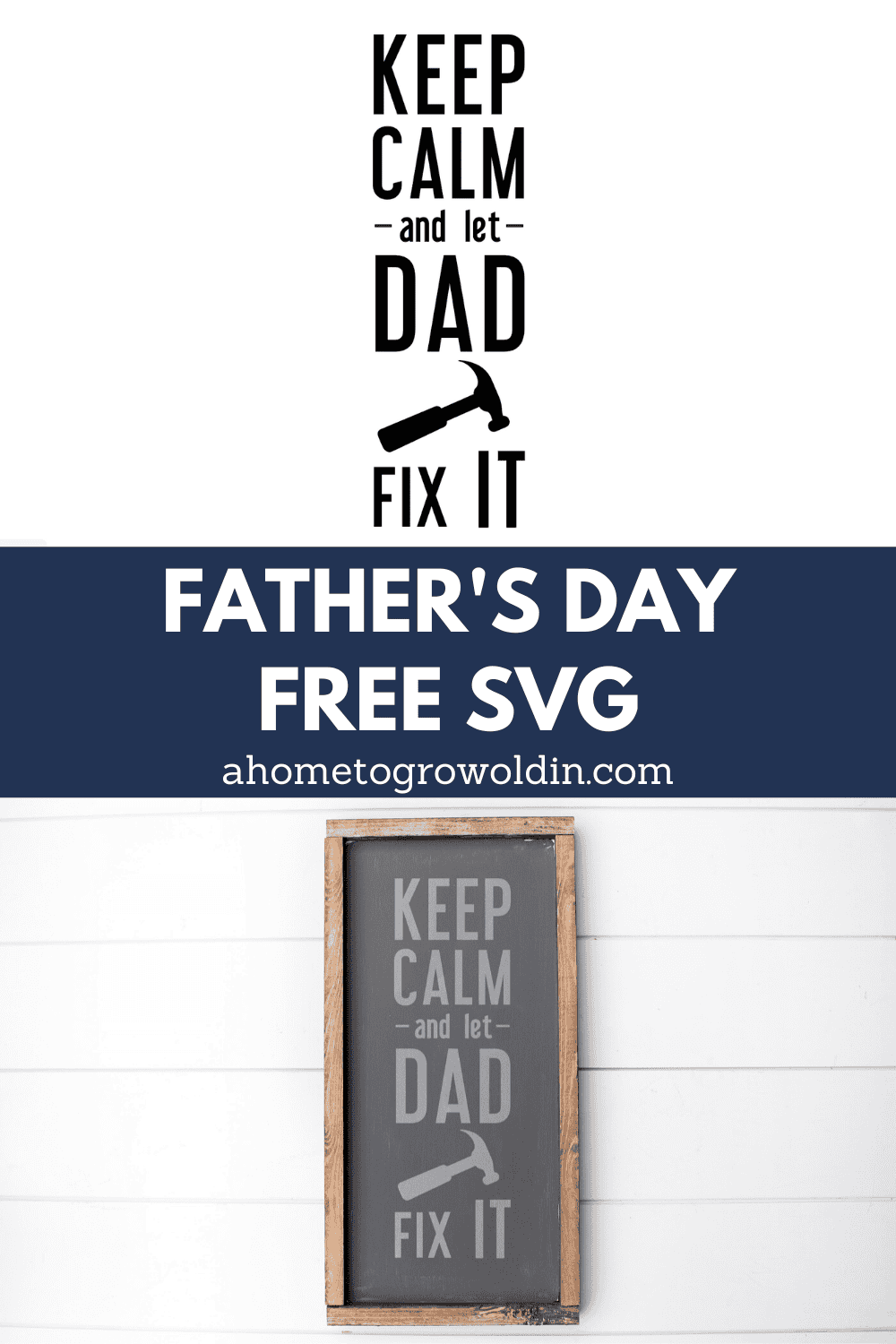 Father's Day is right around the corner and it's time to celebrate that special dad in your life. Whether, it's your dad, step-dad, grandpa, papa, or father of your children, make them feel special with a fun crafty gift. With this free Father's Day SVG file, you can create the perfect gift!
How do you like to spend Father's Day? At my house, we like to give my husband the day off from yard work or other projects around the house. He really enjoys grilling, so you might catch him smoking a delicious piece of meat with a beer in hand. Hopefully, it is a nice sunny day this year and we can all spend quality time outside.
What is the origin of Father's Day?
Father's Day and Mother's Day were first celebrated early in the 20th century. People started celebrating Mother's Day as early as 1908 and soon they followed Father's Day as a complement to the latter. While Father's Day was founded in 1910 and celebrated each year, it surprisingly did not become a national holiday until 1972. Meanwhile, Mother's Day had become a national holiday in 1911. If you are a history buff, you might be interested in learning more about the origins of Father's Day here.
Is Father's Day always on Sunday?
Yes, Father's Day is always celebrated on a Sunday and is not a federal holiday. It is specifically the third Sunday in June. Whereas Mother's Day is celebrated on the second Sunday in May. I always expect Father's Day to be earlier in June, but being the third Sunday means it could fall late in the month. For example, this year it falls on June 21st. I guess it gives me more time to prepare!
This post contains some affiliate links for your convenience (which means if you make a purchase after clicking a link I will earn a small commission but it won't cost you a penny more)! Click here to read our full disclosure policy.
What are good ideas for Father's Day?
When I think of Father's Day I tend to picture a tie. In elementary school, it seemed like every year the teachers would have us make a card to give to our dads that always involved a tie. The image stuck in my mind and that's what I related Father's Day too. Funnily enough my dad very rarely wore a tie. He was a carpenter, so no suit and tie required! However, I gave him many cards with ties on them hahaha!
Now that I am older and craftier, the possibilities are endless for what I can make for Father's Day. This year I took our fun Father's Day SVG file and added it to a beer mug to have my boys gift to my husband. He enjoys a nice glass of beer, so the mug was very fitting for him. I took it up a notch though and used the glass etching technique I did for his Valentine's whiskey glasses. If you are looking for more ideas, Robin has compiled several excellent suggestions for the DIY/handy dad in your life.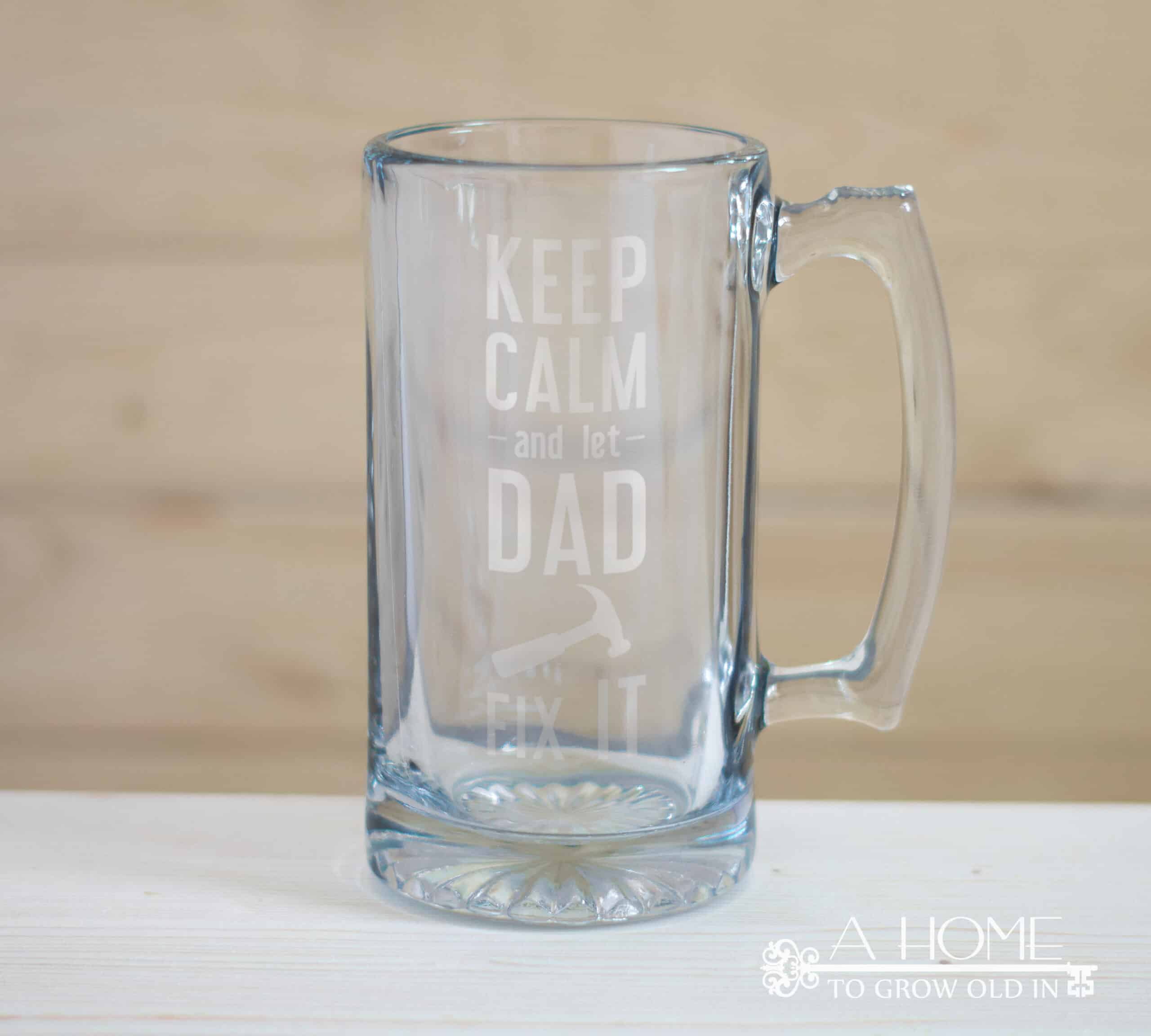 Where can I find this Father's Day SVG File?
Our resource library! It's free for you to use to make your own special Father's Day gift. If you aren't already a subscriber, just fill out the boxes below to gain access to all our awesome freebies and to receive our newsletter.
These Printables and/or SVG designs are exclusive for A Home To Grow Old In subscribers to download for FREE. Just sign-up below and you'll receive an email with the information to access the resource library that contains the SVG.
Once you've confirmed your email address, you'll be enrolled in our weekly newsletter full of our latest posts as well as content that is exclusive for A Home To Grow Old In subscribers. Plus, you'll have access to our Resource Library that is full of free printables and SVG cut files.
Free printables and SVG files from A Home To Grow Old In are for your own PERSONAL USE ONLY.
What can you do with the Father's Day SVG?
Here are some great suggestions for what to add this Father's Day SVG to. It depends on the guy you are making it for, some might like it on a shirt, while others would prefer it on a coffee mug. There's still time to grab an item and get crafty to have it ready for Father's Day!
What's Next?
You may also enjoy these making one of these yummy desserts for Father's Day on A Home To Grow Old In: