Feed your whole family with this Easy Roasted Chicken Recipe cooked on your pellet grill or in your oven. Just add vegetables to this juicy and delicious dish!
The weather is getting warmer and I'm spending more time grilling. Well, actually I have never grilled. What I mean is that I have never used a gas-powered grill, the type most people think of when grilling. I love food cooked on a grill, like this easy roasted chicken, but I have always been intimidated by it.
Then this past September my grilling life changed. My husband and I bought a Traeger pellet grill and I love it. I cannot use a gas grill, yet operate the pellet grill easily. It's basically like an oven, in my mind, so that could be why. The foods we have smoked and cooked on it have been so delicious, which is why I'm sharing my favorite roasted chicken recipe. I cook it frequently on the pellet grill and my family loves it. Although, if you don't have a pellet grill, you can easily use your oven for this recipe!
Are pellet grills better than gas grills?
Well, in my mind yes, only because I know how to operate them. However, across the board, they are very popular and have grown in popularity in recent years. They work like a convection oven and so your food is cooked more evenly. Also, you can easily smoke food on a pellet grill and what beats that nice smoked wood flavor.
Now pellets grills are more money and you won't get those nice sear marks on your meat. However, your meat will cook more evenly and you won't be fending off any grease fires. Plus if you are like me and struggle with a gas grill, then you will love the ease of using a pellet grill. Also, I do think the food tastes better on it.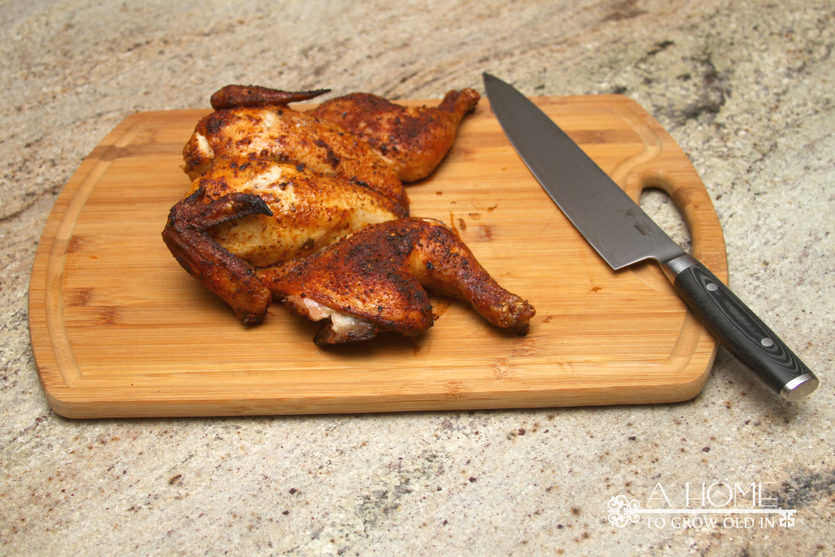 HOW TO MAKE MY EASY ROASTED CHICKEN RECIPE
This recipe makes the whole chicken moist and juicy, which is why it's a family favorite. Just pair it with whatever you want, from vegetables to pasta.
WHAT YOU NEED:
This post contains some affiliate links for your convenience (which means if you make a purchase after clicking a link I will earn a small commission but it won't cost you a penny more)! Click here to read our full disclosure policy.
KITCHEN TOOLS NEEDED:
INGREDIENTS NEEDED:
Whole chicken
Mayo (I use Hellman's real mayo)
Tips for cooking the chicken
You'll love how simple but flavorful this chicken recipe is! We're sharing our best tips for making it, but check the recipe card below for full cooking times and temperatures.
1. Prep chicken.
Prep the raw chicken by removing the giblets and trimming off any excess skin and fat around the cavity of it. Place the chicken breast side down on a piece of parchment paper placed on a baking sheet.
Then, you are going to spatchcock the chicken, meaning cut the spine out. Using kitchen shears cut up the left and right side of the spine. Try to get as close as possible to the spine, so as not to waste any of the meat.
Once you've confirmed your email address, you will receive our weekly newsletter full of our latest posts, as well as content that is exclusive for A Home To Grow Old In subscribers. Plus, you'll have access to our Resource Library that is full of FREE printables and SVG cut files.
2. Coat the whole chicken in mayo.
Flip the chicken over and press it down to try to get it as flat as possible. Put the mayo on it and rub it all over to completely coat the chicken.
3. Cover the chicken in seasoning rub.
You can use any chicken seasoning you want. The Traeger chicken seasoning is great and you are welcome to just use that to keep it simple. Although I tend to mix a couple of seasonings together. One of my favorite places to buy seasonings from is a local company called Saltbox Seasonings. They don't have a website, but they are on Facebook. She actually will deliver to anyone in my area. Maybe you have a cool local seasoning company you want to use.
For this recipe, I combined the Traeger chicken seasoning with the Smoky Honey Chipotle Rub from Saltbox. I have even made my own rubs, like this dry rub for chicken recipe. As always add what flavors work for you and your family. Mix your seasonings together in a little bowl, then generously cover the chicken in it. Patting and rubbing the seasoning into the chicken.
4. Refrigerate the chicken.
It's up to you if you want to do this step, depending on how much time you have. I just feel it allows the rub to really get into the chicken.
5. Preheat pellet grill or oven.
Make sure to preheat your grill or oven, which can take 15-20 minutes.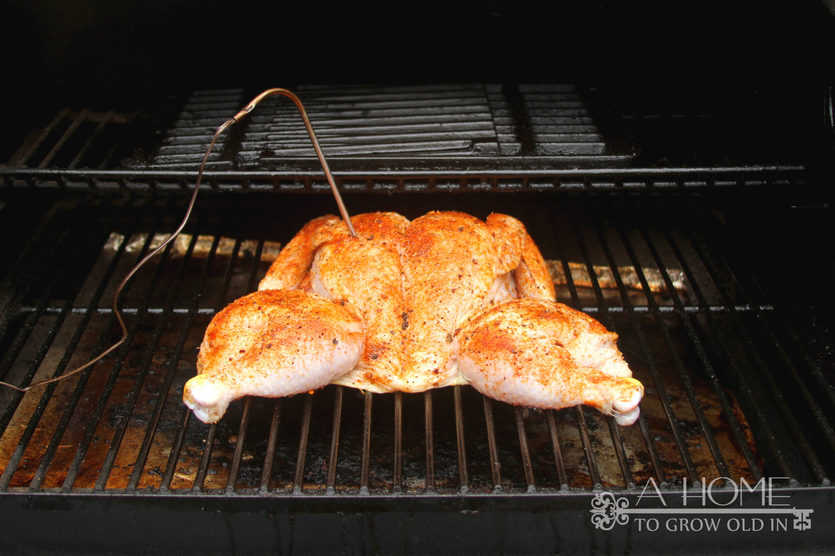 6. Cook chicken.
I place a probe thermometer in the chicken that is actually hooked up to my grill, so I can keep an eye on the temperature. I turn the chicken 2-3 times during the cooking process to help with even heat distribution. Otherwise, you just let it cook until the meat gets to the desired temperature.
7. Let the chicken rest.
I take the chicken off a little before it reaches the recommended temperature for cooked chicken because I let it sit for 15-20 minutes. During this time, the temperature continues to rise and the juices settle back into the chicken. I feel this method creates a more moist and juicy chicken.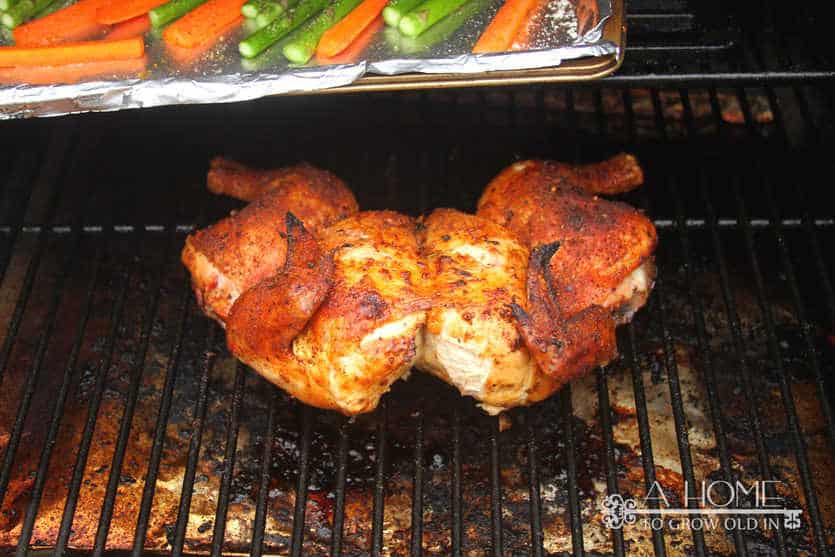 8. Enjoy!
Now you are ready to enjoy your chicken! If you aren't sure the best way to carve a chicken, there are a bunch of videos and articles you can watch to give you an idea. This really is a simple roasted chicken recipe with only a few ingredients.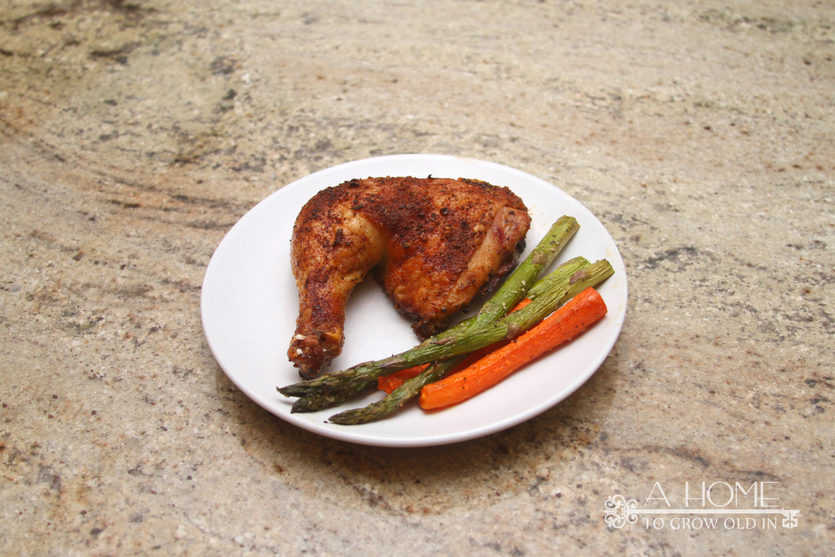 What are delicious side dishes to an easy roasted chicken?
For this particular meal, I roasted asparagus and carrots on the grill alongside the chicken. I coated the vegetables in olive oil and salt and pepper. Then I placed them on a baking sheet covered with aluminum foil. I added them to the grill about 5 minutes before I pulled off the chicken. They took about 30 minutes to cook, so they roasted while my chicken rested.
Other side dishes that go well with roasted chicken:
Macaroni and cheese – this is a favorite among my kids
Pasta salad
Garden salad
Any roasted vegetables you like
Sometimes, I make the roasted chicken in advance, then shred it. I keep it in a container and use it to top a rice and beans dish or in burritos. The options really are endless with chicken!
What is the difference between roasted chicken and baked chicken?
Both methods are similar in that you are cooking the food in a hot dry environment, like an oven. Roasting tends to mean a higher temperature. Where baking means a lower temperature, like 350 degrees. You use the term baking for a cake because it would be silly to say roasting a cake. The term baking is best used for smaller pieces of meat, such as chicken breasts and fish fillets. While roasting is the term used for all the large cuts of meat, such as in this case, a whole chicken. It just comes down to semantics, but both methods result in delicious food.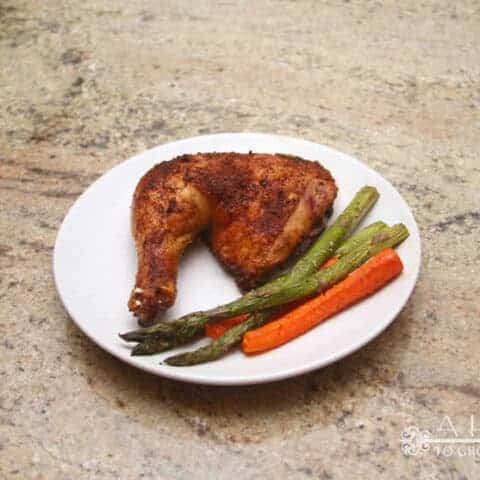 Easy Roasted Chicken Recipe
Prep Time:
1 hour
10 minutes
Additional Time:
15 minutes
Total Time:
2 hours
25 minutes
Feed your whole family with this Easy Roasted Chicken Recipe cooked on your pellet grill or in your oven. Just add vegetables to this juicy and delicious dish!
Ingredients
4 to 4 1/2 pound whole chicken
1 tablespoon of mayo
2 tablespoons of chicken seasoning
Instructions
Prep chicken - trim off excess fat and skin, then cut out the spine.
Coat the whole chicken in mayo.
Cover the chicken in the seasoning rub.
Refrigerate for an hour.
Preheat pellet grill to 375 degrees.
Cook chicken for about an hour or until thermometer says it's at 157-158 degrees.
Let chicken rest for 15-20 minutes.
Serve with a side and enjoy!
Notes
You can use an oven instead of a pellet grill with these same steps.
Nutrition Information
Yield

6
Serving Size

1
Amount Per Serving
Calories

833
Total Fat

48g
Saturated Fat

13g
Trans Fat

0g
Unsaturated Fat

30g
Cholesterol

300mg
Sodium

294mg
Carbohydrates

1g
Fiber

0g
Sugar

0g
Protein

93g
What's Next?
You may also enjoy these savory recipe ideas on A Home To Grow Old In: