It's time to dust off your Cricut or Silhouette cutting machine and start getting crafty! These simple Cricut or Silhouette craft projects are perfect for beginners and use supplies that you may already have at home or come with a starter bundle.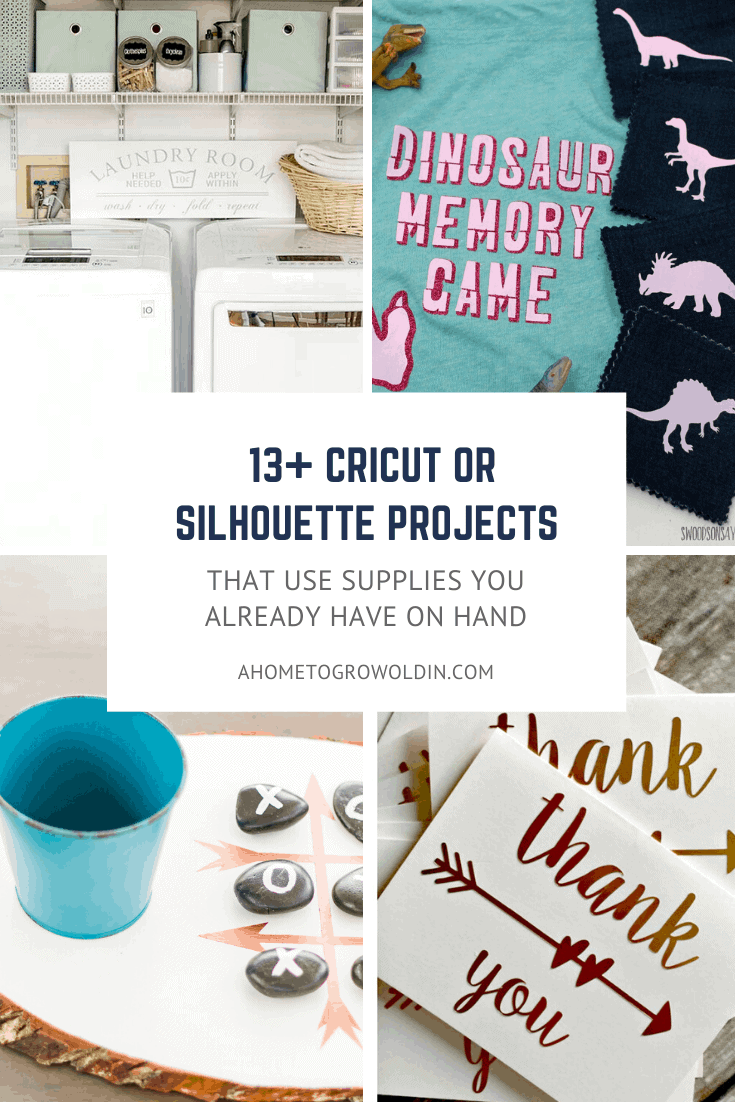 This post contains some affiliate links for your convenience (which means if you make a purchase after clicking a link I will earn a small commission but it won't cost you a penny more)! Click here to read our full disclosure policy.
We are in the midst of unprecedented times with the coronavirus affecting so many people. Schools are out, people are working from home, and many stores are closed.
Somehow, even with my new task of trying to homeschool my kids and simultaneously work from home, I actually have a little extra time on my hands. Have you noticed this, too? It must be that the kids don't have any sports going on, or playdates, or maybe just fewer distractions. But, I've found myself picking up old hobbies that I haven't done in years.
What Cricut and Silhouette Projects Can I Do With Minimal Supplies?
The biggest problem with getting started with my hobbies right now is that it's difficult to buy supplies for a lot of the things I want to do. The craft stores around us are completely closed. (I'm jealous of you folks that still have curbside pickup.) Grocery stores are out of a lot of core ingredients I need for baking. And, my beloved Amazon is taking almost a month to get a lot of items shipped.
So, since Samantha and I love using our Silhouette and Cricut machines (she's a Cricut user and I have a Silhouette), we thought we'd share a lot of great cutting projects that use supplies that you probably already have at home or may have come with a starter bundle. It's time to find some creative ways to fill up your time!
How Do I get Started with my Cricut or Silhouette cutting machine?
Did you get your cutting machine for Christmas or a birthday, and it's sat in the box ever since? I promise you're not alone. We also have the best intentions when it comes to picking up new hobbies, but then life gets in the way. That's one of the hidden blessings during a time like this. We have a little more time on our hands, so it's the perfect time to get started.
If you're using a Cricut, you can find some great beginner tips here, and if you're using a Silhouette, you can check out this great video tutorial. But, no matter what cutting machine you're using, the best way to start learning is to just get it out and start making stuff.
Once you've confirmed your email address, you will receive our weekly newsletter full of our latest posts, as well as content that is exclusive for A Home To Grow Old In subscribers. Plus, you'll have access to our Resource Library that is full of FREE printables and SVG cut files.
Cricut or Silhouette Projects That Use Basic Supplies
Each of these projects uses minimal supplies and is easy enough for even Cricut or Silhouette beginners. Hopefully, it will be easier to obtain crafting supplies in the upcoming weeks and months as we practice social distancing, but until then, these simple Cricut and Silhouette projects are the perfect way to use some of the more common cutting machine supplies that you probably already have on hand.
Cutting Machine Tools and Supplies
Delivery times can be quite long if you're shopping online nowadays, but we've found a few things that as of now are available fairly quickly. Luckily, these are some of the items we use the most and reach for time and time again. If you're just getting started with your cutting machine, or you don't have these supplies or tools yet, you won't regret getting them.
WHAT'S NEXT?
You may also enjoy these other Cricut or Silhouette ideas on A Home To Grow Old In: