Over 50 easy weeknight meals to help make your life less complicated during the workweek. Simple and healthy recipe ideas that are perfect for family dinners.
This post contains some affiliate links for your convenience (which means if you make a purchase after clicking a link I will earn a small commission but it won't cost you a penny more)! Click here to read our full disclosure policy.
We all have busy lives, from work schedules to kids' activity schedules. Anything to make it easier is always greatly appreciated. Here we have compiled over 50 easy and delicious dinners to make your workweeks more manageable. Just looking at them makes my mouth water. Give yourself more time with your family at night and try one of these recipes. If you do, let us know which is your favorite!
8 Categories of Delicious Recipes
With 8 different categories of meals to choose from, there is sure to be something you and your family will love.
Mexican Style Meals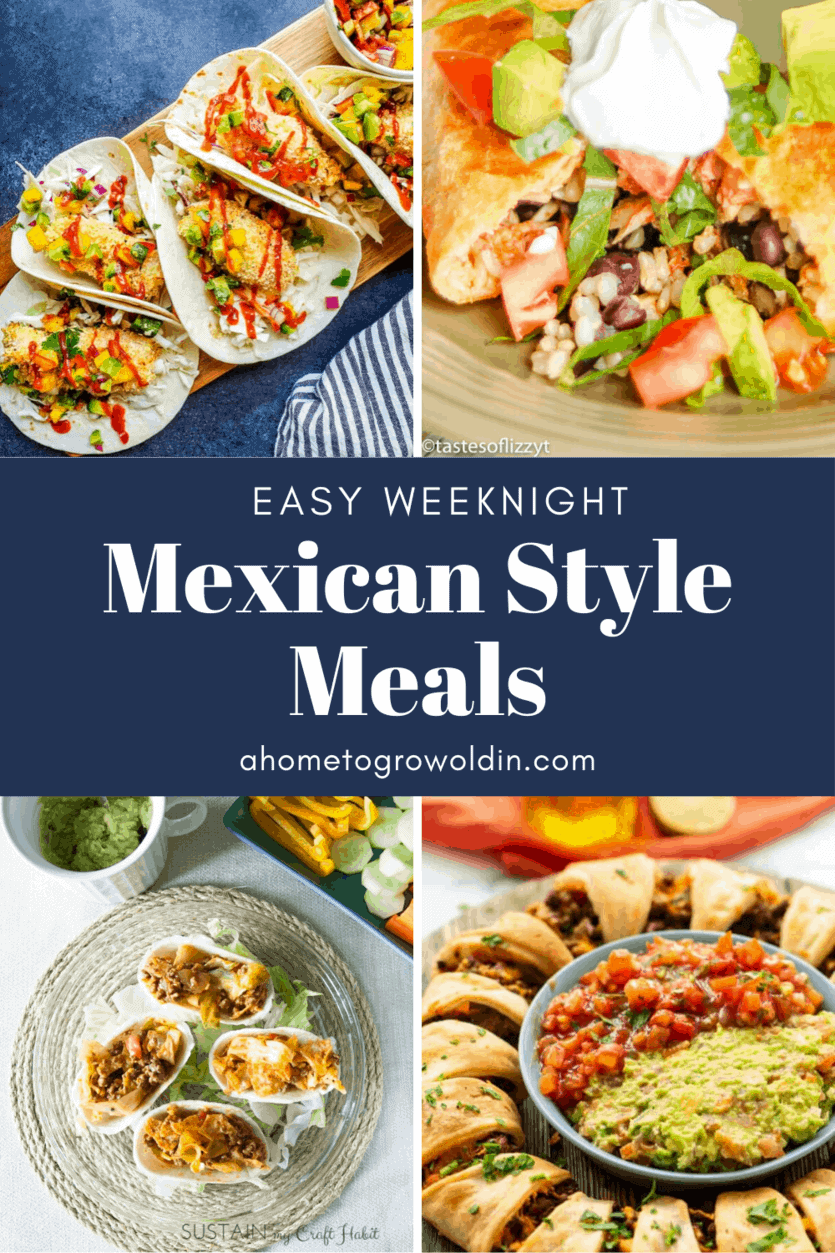 If you are in the mood for some Mexican food but don't want to go to a restaurant, we've got you covered. There is a variety of Mexican style recipes to choose, from tacos and fajitas to fish and vegetarian based dishes. Plus, you can make up a batch of homemade salsa ahead of time, which will pair wonderfully with any of these recipes.
Instant Pot Recipes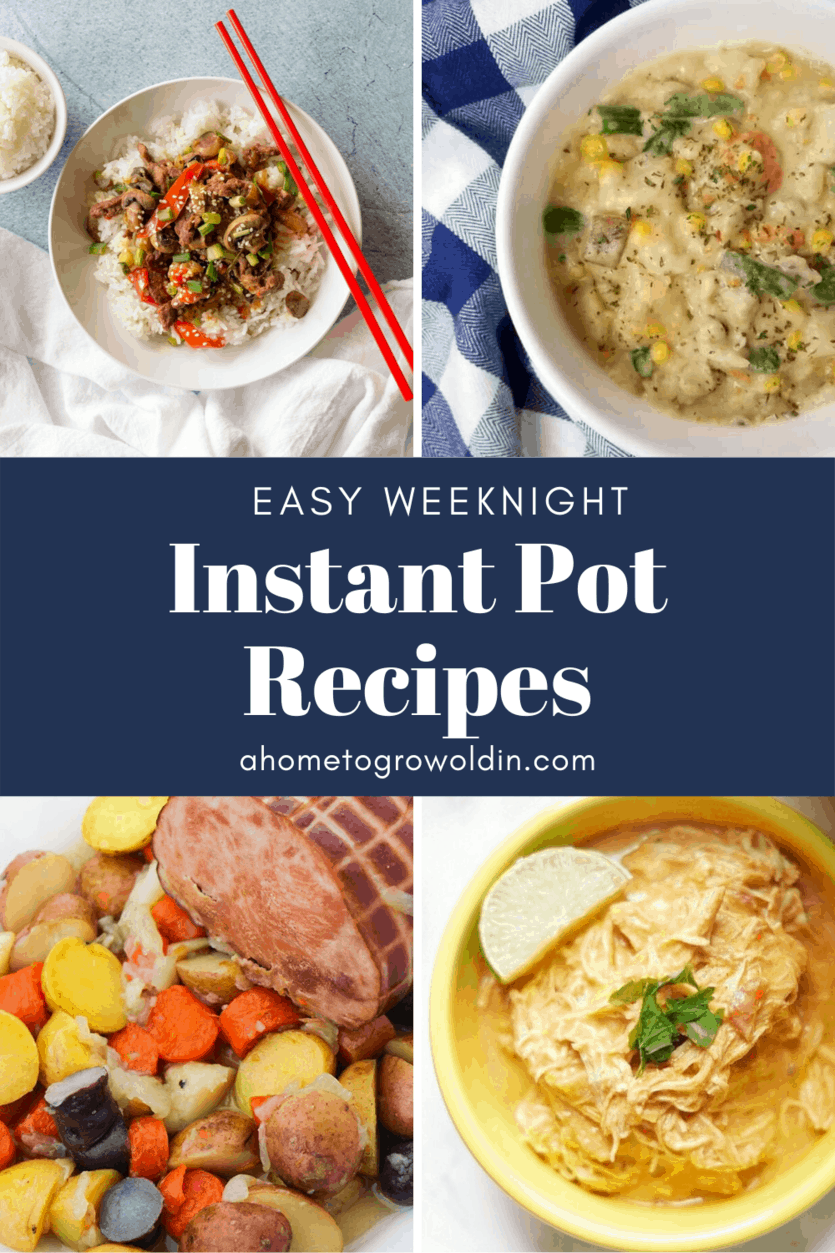 Instant Pots are very popular right now and I feel like I'm always looking for new recipes to try. They make creating quick and healthy meals for the family so simple. I am constantly amazed at what delicious dishes you can make with them.
Easy Weeknight Pasta Meals
Being Italian, I'm partial to anything involving pasta. I could eat it every day and luckily my kids feel the same way. What's great about pasta is that it cooks so quickly and you can add it to almost any dish. If you are boiling up a lot of pasta, then you are going to need a handy spaghetti pot! This one comes with a steamer that I use for mussels or clams. Pasta and seafood, one of my favs! In addition, I always whip up a side salad when I cook a pasta dinner, that way we can get some extra veggies in too.
Once you've confirmed your email address, you will receive our weekly newsletter full of our latest posts, as well as content that is exclusive for A Home To Grow Old In subscribers. Plus, you'll have access to our Resource Library that is full of FREE printables and SVG cut files.
One-Pot Dishes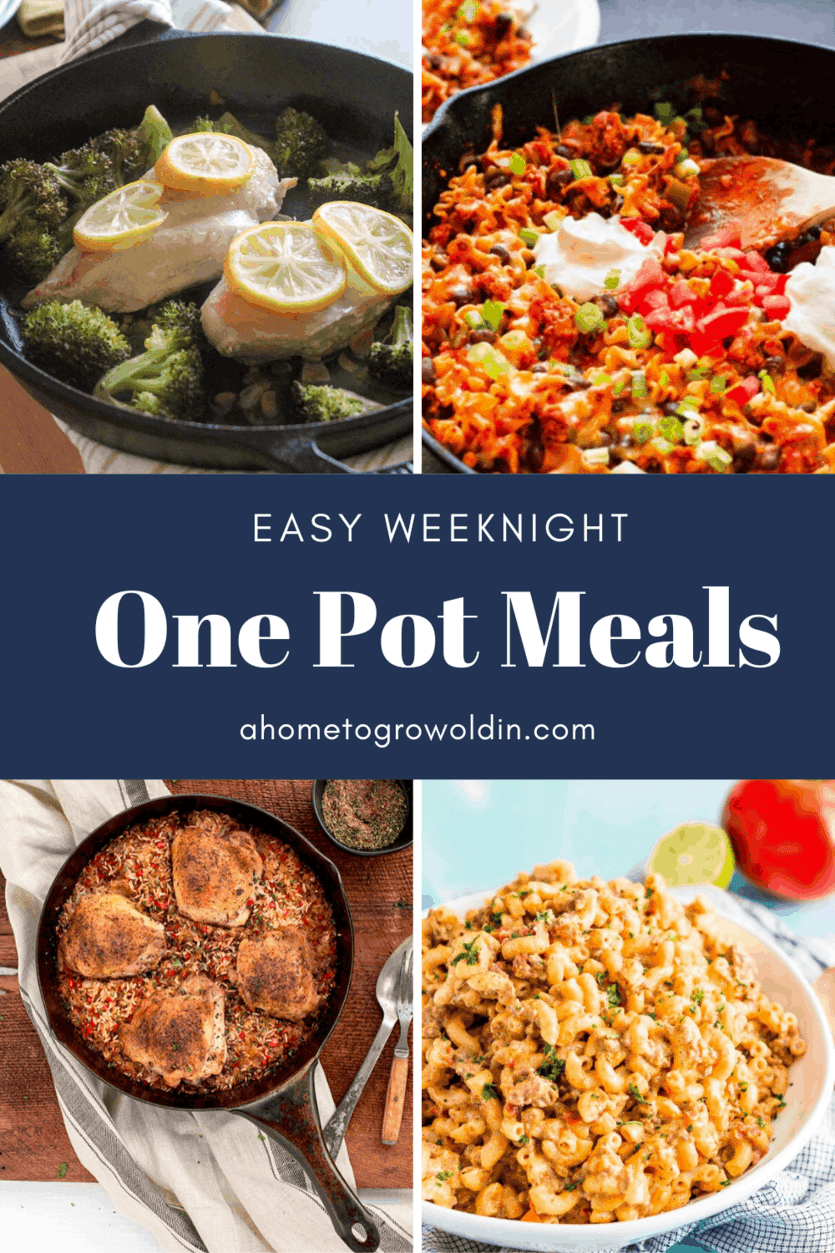 Who doesn't love one-pot dinners?! Less mess for you to clean up! That makes cooking dinner so much simpler for me. And with less time cleaning in the kitchen, I can get more time with my family. Also, I enjoy using my cast iron skillet frequently for one-pot meals. If you like using yours as well, you should take a look at how to season your cast iron cookware. There are some great tips!
Simple and Healthy Chicken Recipes
Chicken is definitely a protein I cook very frequently. It's my family's favorite meat and I find it the easiest to work into a variety of dishes. Chicken is healthy for you and can be cooked in so many different ways, from baked and stuffed to grilled and shredded. You can do almost anything with chicken.
Easy to Make Beef Recipes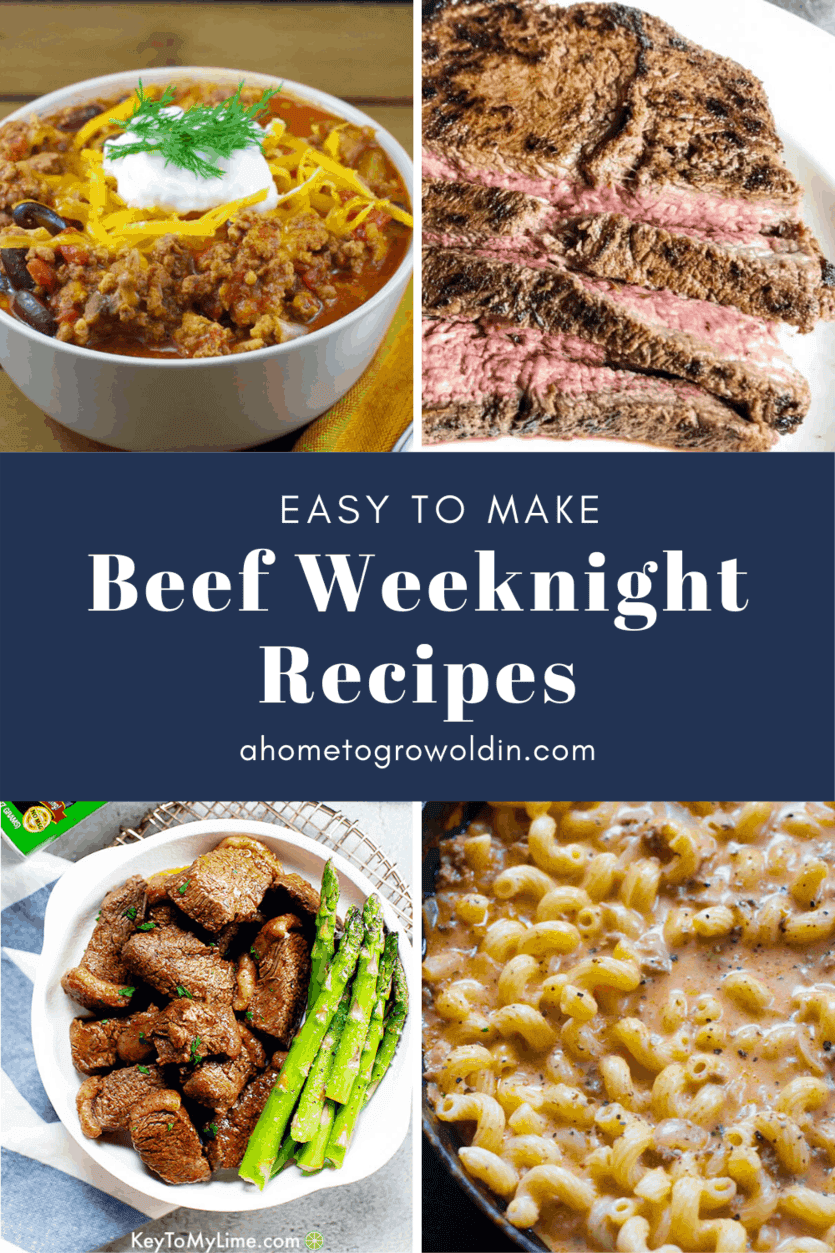 Taco Tuesday is a favorite dinner night at my house. It's so easy to brown up some ground beef and throw together tacos. Are you a hard shell lover or do you prefer soft shell tacos?! Setting aside the ground meat, what about straight-up steak, or wait, even better…. filet mignon. I think I'm drooling over here. I love grilling steaks in the summer. It's such a quick and easy weeknight meal to put together.
Slow Cooker Dinners Make Easy Weeknight Meals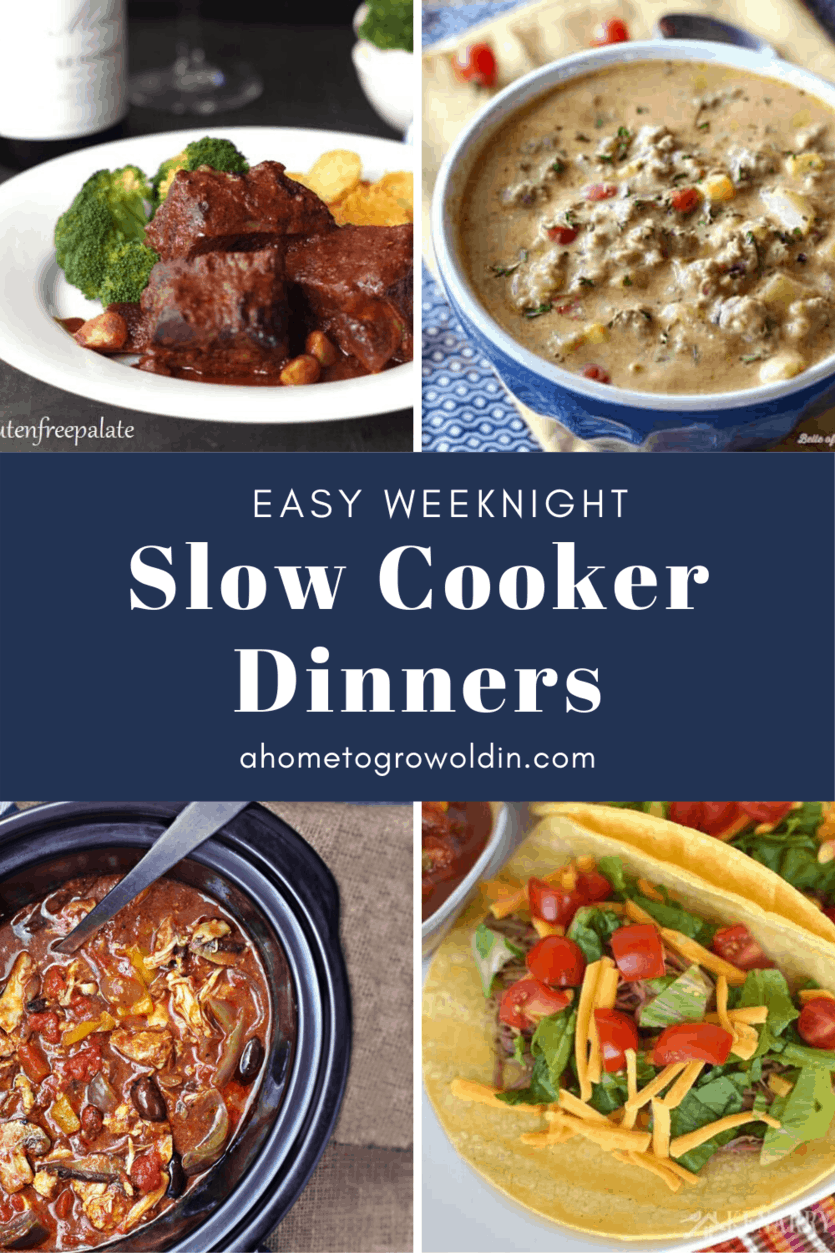 No, slow cooker meals are not going to be the fastest meal you've ever made, but they are probably going to be the easiest and perfect for workweeks. Seriously, throw in a few ingredients, set it, and forget it. You come home from work, dinner is ready and your home smells delicious. Does it get any easier?!
30 Minute or Less Meals Perfect for Easy Weeknight Meals
I love 30 minute meals! I am a total sucker for those cooking shows where they are showing you easy 30 minute meals, like my favorite, Rachael Ray. They always make it look so easy to throw this amazing dinner together, which is also plated beautifully. Here is your own list of flavorful recipes to try out and that will only take 30 minutes or less to make. Let us know what you think!

WHAT'S NEXT?
You may also enjoy these amazing recipe ideas on A Home To Grow Old In: