Whether you're new to cast iron cookware or have been using it for a lifetime you will find the best tips on how to season and clean your cast iron skillet! Learn how to get a nonstick surface that will last for years!
Cooking with cast iron has been a long-time favorite of mine! Being from New Orleans, I grew up around it, and cast iron cooking has a lot of sentimental value. I remember my grandmother using it to make her roux for her amazing brown gravy chicken stew (which is one of my all-time favorite meals). Cooks love it because it has an ultra slick nonstick surface without the chemicals found on a lot of cookware today.
If you've tried cast iron cookware and have been unsuccessful using it, chances are your pan was not seasoned correctly. There are a few tricks to getting started on the right foot and having a properly seasoned pan is the most important thing you can do.
What is Seasoning?
Seasoning is a black coating on cast iron cookware that builds from layers of cooked-on oil that form a nonstick coating for cooking your food. Because the seasoning is formed from food-grade oils, you don't have to worry about the harmful chemicals typically associated with nonstick surfaces. If you use the right oil to coat your pan, it can withstand the high heat needed to sear meat, but it's also versatile enough to be used for everyday cooking.
Do I Need to Season a New Cast Iron Pan?
Yes! Most cast iron pans nowadays come preseasoned, but it's not very effective. When I've talked with friends that have mentioned they have not had success cooking with cast iron cookware, the first thing I ask is if they seasoned it before they started using it, and they unanimously always answer "no".
The seasoning that comes on cast iron cookware definitely helps, but it does not give the pan the nonstick protection it really needs. It really takes no work at all to season it properly, and you will have much better results cooking with it.
HOW TO SEASON A CAST IRON SKILLET
A couple of years ago I got a little sidetracked while cooking dinner on my cast iron skillet, and I ended up leaving a charred mess in my pan. On top of it being incredibly hard to remove the carbonized remains of what was supposed to be our dinner, I removed quite a bit of the seasoning from my skillet. The dull areas in the skillet below are areas where I scrubbed off the seasoning. Once I got it cleaned up, it was time to reapply the seasoning to bring back my non-stick surface.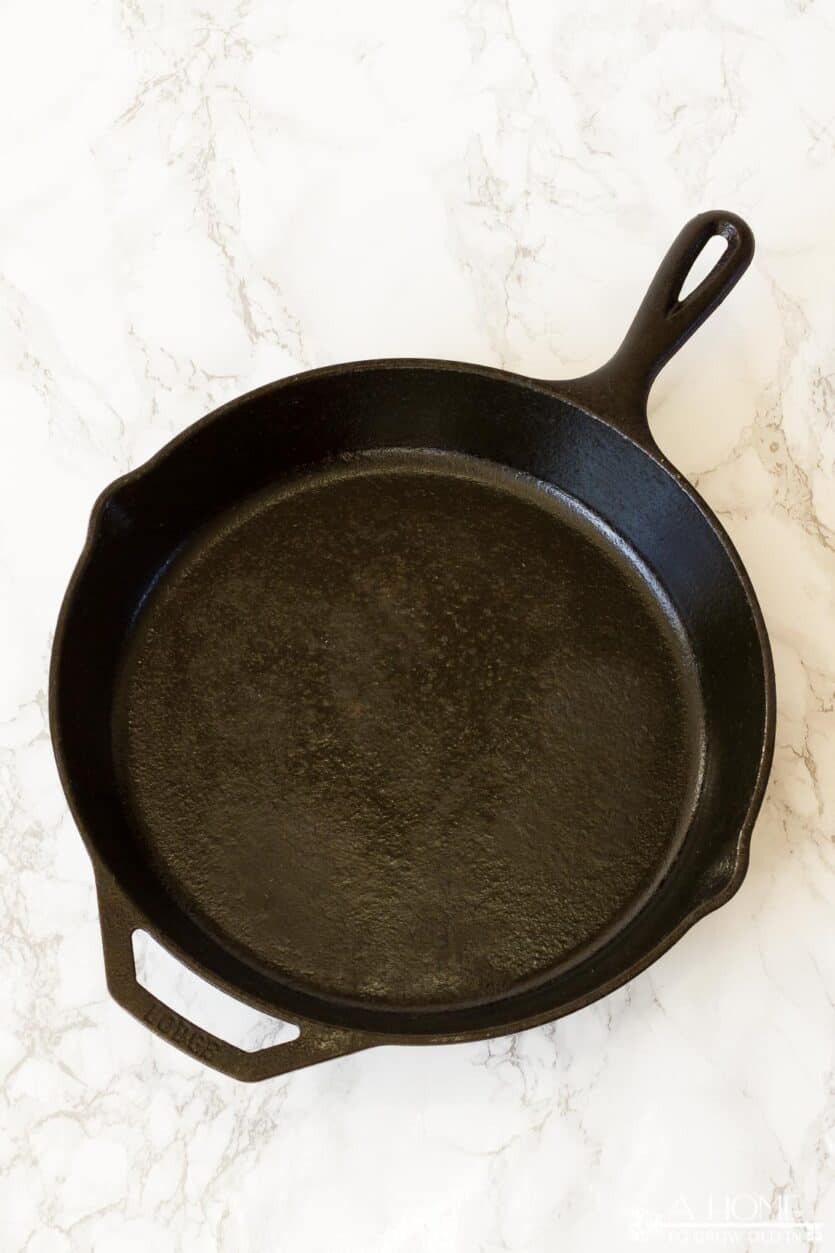 So…how do you season a cast iron frying pan? It's super simple. You'll only spend a few minutes of actual work on it, and you will end up with the perfect pan for cooking all your favorite dishes.
WHAT YOU NEED:
This post contains some affiliate links for your convenience (which means if you make a purchase after clicking a link I will earn a small commission but it won't cost you a penny more)! Click here to read our full disclosure policy.
INSTRUCTIONS:
1. Wash and dry the pan.
This is just about the only time you want to use soap to wash your cast iron skillet. Rinse it with hot water and dry it thoroughly with a towel.
2. Apply the oil to the skillet.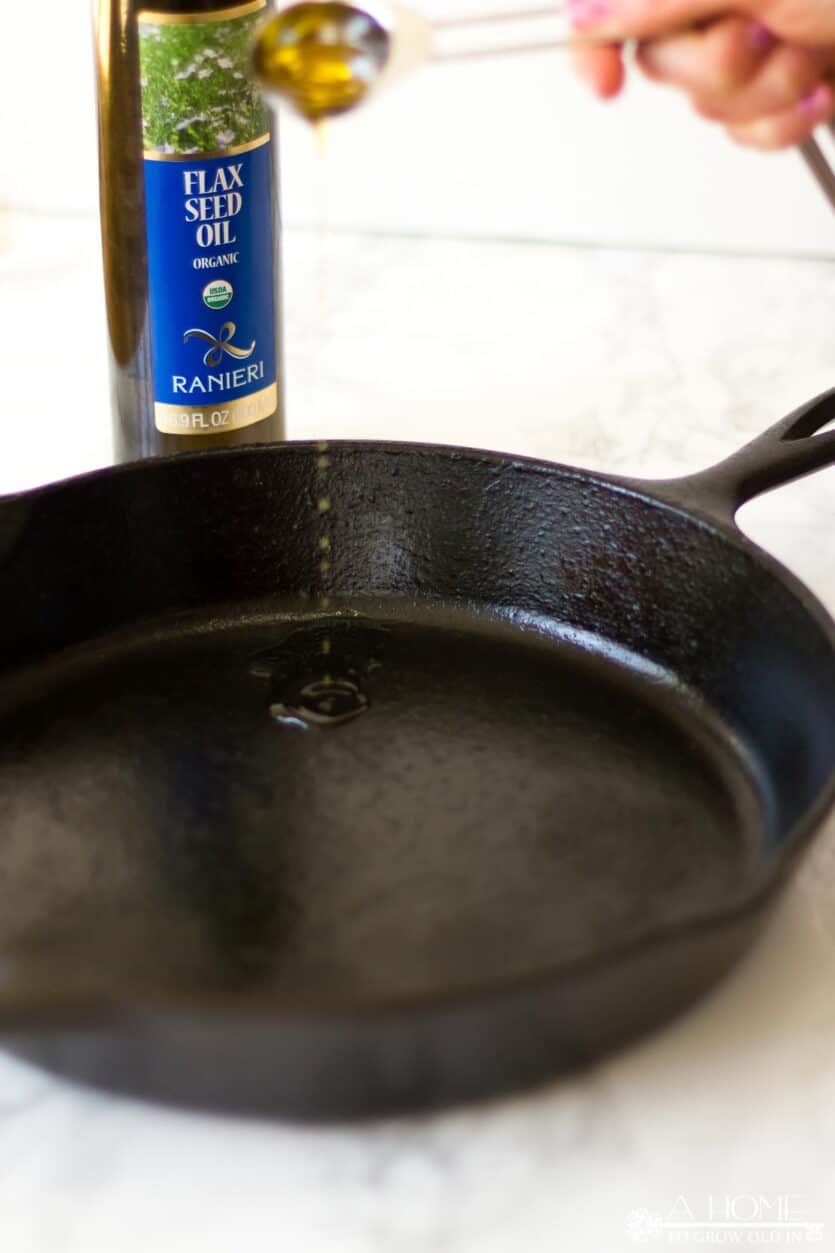 Pour a small amount of oil into the skillet and use a paper towel to spread the oil evenly over the entire surface, including the outside and bottom of the pan. Wipe out as much excess oil as you can. You only need a thin layer of oil to coat the pan. Applying too thick a layer of oil can leave you with a sticky mess.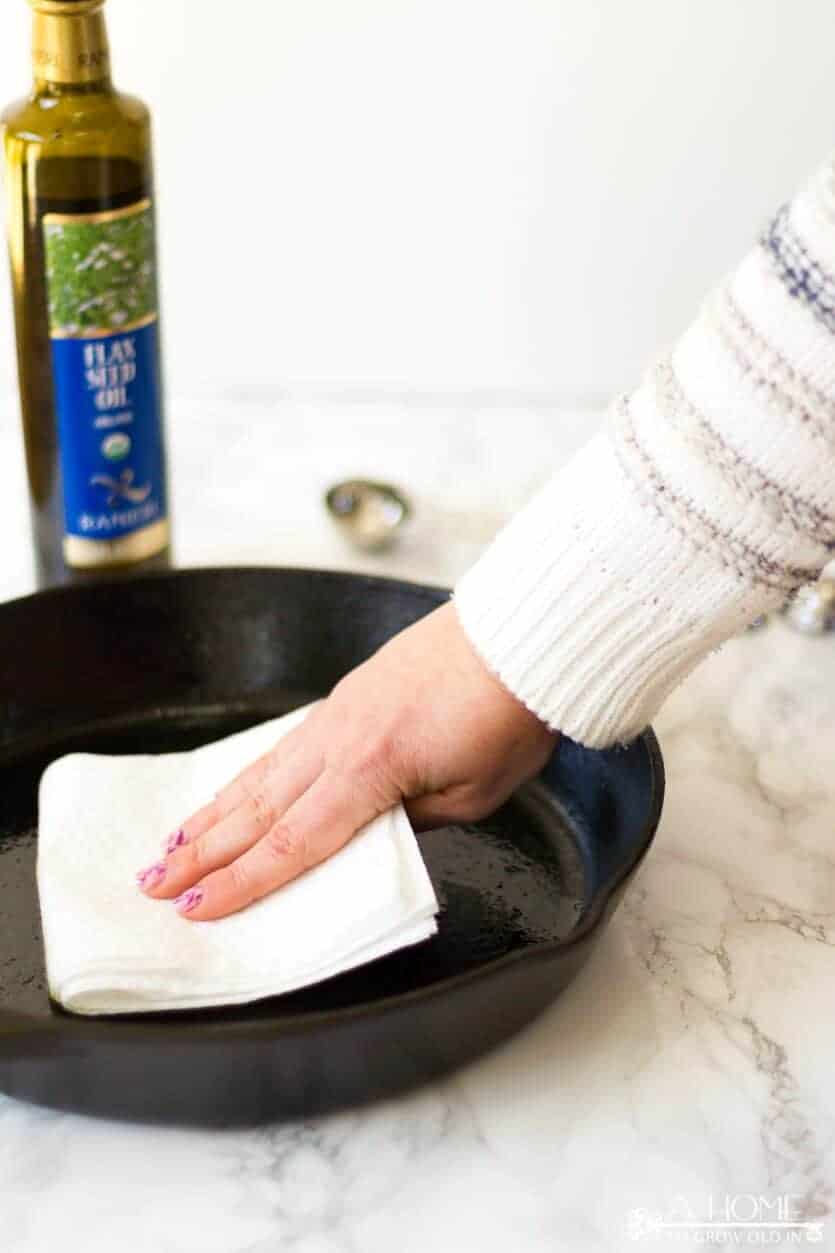 3. Harden the seasoning in the oven.
Line the bottom of your oven with aluminum foil for easy cleanup. Place the cast iron pan in the oven upside down so that any excess oil can run off for 1 hour at 500 degrees F/260 degrees C.
Take the skillet out of the oven and allow it to cool. Repeat the process of coating the skillet with a thin layer of oil and placing it in the oven 3-5 more times until you have a nice even coating on the surface of the pan.
Your cast iron pan is now seasoned and ready to go! You'll love how easy it is to cook with!
Once you've confirmed your email address, you will receive our weekly newsletter full of our latest posts, as well as content that is exclusive for A Home To Grow Old In subscribers. Plus, you'll have access to our Resource Library that is full of FREE printables and SVG cut files.
Now that you know just how easy it is to season your cast iron cookware, let's answer some of the most common questions about using cast iron.
How Do You Clean a Cast Iron Pan?
DO NOT use soap to clean your cast iron skillet! Using dish soap will take off that beautiful seasoning that you worked so hard to create. Instead, just rinse your pan with hot water and a washcloth. You can also try a non-abrasive scrubber specifically used for cast iron skillets.
To dry, place the skillet on the stove on low heat until all water is evaporated. Once the skillet has cooled, you can apply a very thin layer of oil with a paper towel, and store it as normal.
What is the Best Oil to Season a Cast Iron Skillet?
Many experts recommend grapeseed oil and flaxseed oil to season your skillet. I have used flaxseed oil for many years now and have been very happy with it. Above all, you want a fairly unsaturated oil with a high smoke point. Oil will begin to degrade once it reaches it's smoke point, so oils with a low smoke point will not hold up well to high temperature. Even though olive oil is America's favorite cooking oil, it has a low smoke point and is generally not recommended for seasoning cast iron.
How Often Do You Season Cast Iron Pans?
Each time you cook with oil in your cast iron pan you are continuing to build its seasoning. It's not necessary to go through the steps above again unless you believe that you've lost some of your seasoning. Applying a thin coat of oil after every washing, before you store it, is all you need to do.
Do You Need to Strip a Cast Iron Skillet?
For the most part, no, unless you have a snafu as I did. Luckily, I did not have to completely strip my pan. I used some steel wool to scrub it and only removed some of my seasoning.
One of the great things about cast iron cookware is that it can seriously last a lifetime. It's something that can be passed down from generation to generation. You can also find some really great vintage pieces at garage sales. If you do have a piece of cast iron that has seen better days, striping it is always a great option. Check out this article with great step by step instructions on everything you need to know about striping and restoring cast iron cookware.
How to Season a Cast Iron Skillet
Total Time:
3 hours
5 minutes
Whether you're new to cast iron cookware or have been using it for a lifetime you will find the best tips on how to season and clean your cast iron skillet! Learn how to get a nonstick surface that will last for years!
Materials
cast iron skillet
grapeseed or flaxseed oil
paper towels
aluminum foil
Instructions
Wash and dry the pan.
Apply a light coat oil to the skillet.
Harden the seasoning in the oven 3-5 times at 500 degrees F/260 degrees C for 1 hour.
What's Next?
You may also enjoy these kitchen ideas on A Home To Grow Old In: