Cold weather means cozy sweaters and scarves, hot coffee or cocoa, and food that warms you from the inside. Nothing is better on a cold fall or winter day than a big cup of soup! This collection of over 75 delicious soup recipes is everything you need for cold weather comfort food!
Even after 5 years of living in Massachusetts, I'm still getting used to the colder weather. Our days in the fall and winter can be cold, damp, and dreary at times, so I tend to eat foods that warm me up. Soups, chilis, and stews are on the menu weekly this time of year, so I'm always looking for a little variety so that no one gets bored of the same old meals. I came across so many incredible recipes that I put together this collection of over 75 deliciously epic soup recipes.
There are so many recipes here that you are sure to find several that you love no matter what your taste or diet is!
What are the different types of soup recipes?
When I think of soups, I typically am thinking about either broth based or cream based soups. There are so many different variations of both types of soups, though, so we've broken the recipes into 7 categories to make this epic list of soup recipes a little easier to sort through. You can click on the links below to take you to the section you are looking for. Several soups overlap into more than one category, so make sure to take a look through all of them, though.
Vegetarian Soup Recipes
These vegetarian soup recipes are hearty enough to keep your belly warm and full all winter long. There are even plenty of vegan soup options, as well!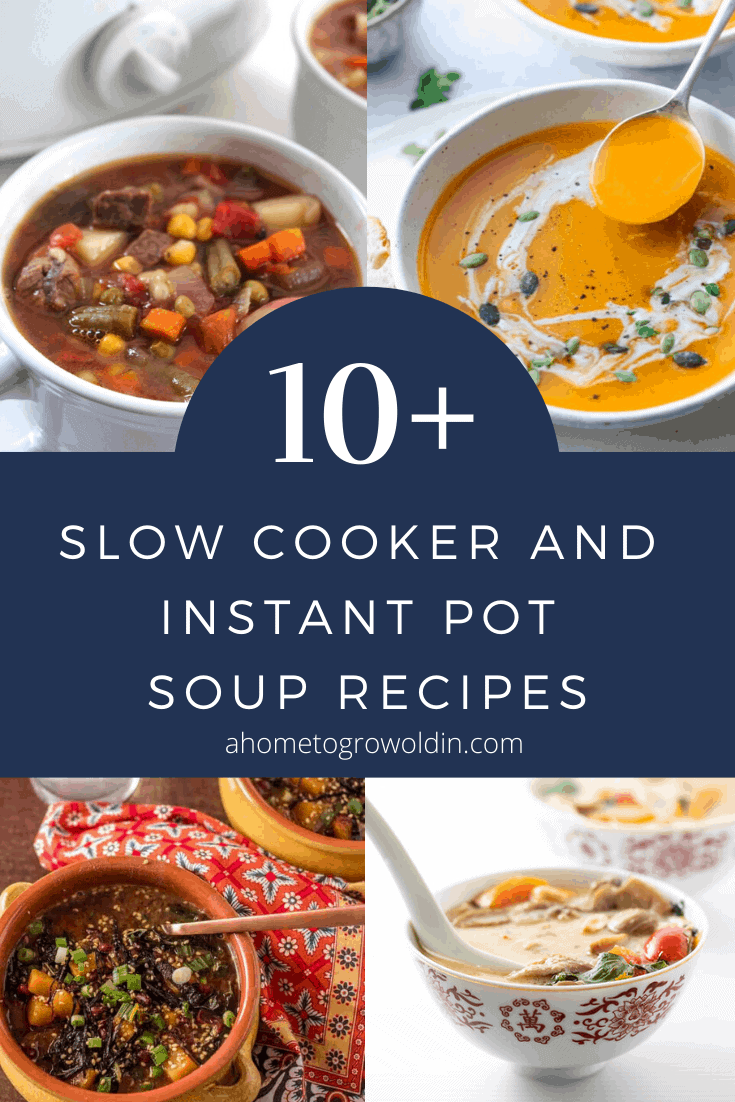 Slow Cooker & Instant Pot Soup Recipes
These top 10 easy slow cooker and Instant Pot soup recipes are perfect to throw in your Crockpots or pressure cookers on a cold winter day when you're short on time. There are even several healthy vegetarian soup recipes.
Healthy Soup Recipes
Whether you're looking for weight loss, clean eating, or some other dietary restriction, you're sure to find a new favorite in these healthy soup recipes. There are even vegetarian, vegan, low carb, slow cooker, and Instant Pot soup recipes!
Once you've confirmed your email address, you will receive our weekly newsletter full of our latest posts, as well as content that is exclusive for A Home To Grow Old In subscribers. Plus, you'll have access to our Resource Library that is full of FREE printables and SVG cut files.
Keto Friendly, Low Carb Soup Recipes
Looking for Keto friendly, low carb soup recipes to fit your ketogenic lifestyle? We've found the best soup recipes using chicken, ground beef, cabbage, and other favorite ingredients that are not only low carb, but delicious. You can even make some of the recipes in the Instant Pot or slow cooker!
Hearty Soup Recipes
There is nothing better on a cold winter day than a nice warm cup of hearty soup! It's comfort food for the soul! Whether you're looking for healthy, vegetarian, chicken, or beef soup recipes, these hearty soup recipes are sure to please.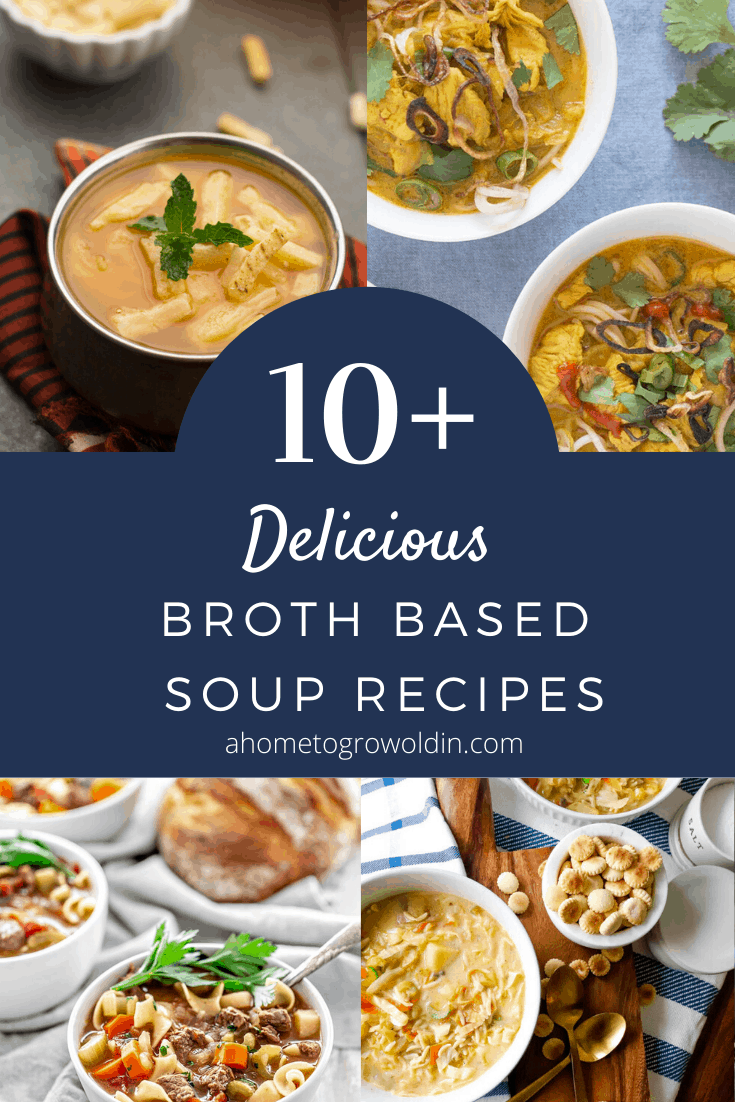 Broth Based Soup Recipes
Fall and winter mean soup season is here. You'll love these healthy broth based soup recipes. Most are dairy free comfort foods that the whole family will enjoy! These are great soup recipes to throw in the Crock Pot so that dinner is ready when you get home!
Creamy Soup Recipes
These easy creamy soup recipes are sure to warm your tummy! You'll find the best chowders and other cream based soups made with chicken, beef, potatoes, or vegetables to curb your comfort food cravings!
This post contains some affiliate links for your convenience (which means if you make a purchase after clicking a link I will earn a small commission but it won't cost you a penny more)! Click here to read our full disclosure policy.
What Kitchen Tools Do You Need To Make Soup?
A medium-sized Dutch oven is my favorite way to cook soup, but so many people love using their Instant Pot. Most soup recipes can easily be converted to Instant Pot recipes, which allows you to get dinner on the table quickly. Since we are in the heart of the soup season, and if you're like me you'll be making it often, here are a few kitchen tools you may want to consider for the next few months of soup making.
Can I freeze soup?
For the most part, yes! It sure is nice to have some premade meals that all you have to do is heat and serve, especially when it's cold and you want to warm up fast.
There are a few things to consider though. Make sure to allow the soup to cool completely before freezing. Also, remember that liquid expands when it freezes, so make sure to leave enough room in your storage container. Lastly, both pasta and cream don't tend to freeze well. An easy workaround is to freeze before adding those ingredients. Simply cook the pasta while you're warming up the soup, and add the cream while it's warming as well.
How Can I Make a Favorite Soup Recipe Healthier?
Broth based soups typically tend to be lower in calories because they have do not have the fat from cream. However, broth and stock tend to be very high in sodium. If you're making a soup that calls for broth or stock, look for a no salt added version, or make your own and leave out the salt. That allows you to have total control over the amount of salt in your soup, and you'll probably end up using far less salt.
If you're making a cream based soup, consider trying half and half. It won't have quite the same creaminess, but it will have much less fat. You can also puree white or navy beans to add to the soup recipe to give it a dairy free creamy consistency. The pureed beans also have the added benefit of adding more fiber to the soup which is really beneficial if you are trying to make your recipe healthier.
What's Next?
You may also enjoy these dinner ideas on A Home To Grow Old In: