This easy Halloween party decoration will be the perfect centerpiece for your table at your next spooky gathering. You won't believe how simple it is to make!
Hello, there! I'm back today with my 7 favorite bloggers to share this easy Halloween party decoration, along with all the major Halloween inspiration that they've come up with! I loved looking at all of their fall home tours, and I can't wait to see what kind of Halloween inspiration they've come up with this time! You can click on the image above, or the links at the end of this post, to head over to their sites.
I've pushed some of my fall decor to the side this week to make some room for one of my favorite holidays! My Halloween decor is much more subdued this year than I've been in the past, but we have 2 October birthdays in our house, so I thought it would be fun to add a little something to our Halloween party decor. If you are looking for inspiration for your Halloween decor, check out this creative skeleton decoration roundup we put together.
This skull centerpiece is so easy, and it's perfect for a Halloween get-together!
This post contains some affiliate links for your convenience. Click here to read my full disclosure policy.
Here's what I used to make this easy Halloween party decoration:
bag of bones (similar, I've also seen them at Michael's and Target recently)
glue gun
headband with a top hat (I purchased mine at Christmas Tree Shops, but I've seen them at Michael's)
paint (Black chalkboard paint is a great option if you want to write on the plaque!)
vinyl letters (if you don't have a Cricut)
When I said this was easy, I meant EASY. Except for painting the sign, it's just hot gluing some bones together! I painted the sign with black acrylic craft paint and applied vinyl letters I cut with my Cricut. If you don't have a Silhouette, I think this would look really cute handpainted on the wooden plaque in a messy, scary handwriting. It would be really easy to do, and it wouldn't matter what your handwriting looked like.
From the bag of bones, I used the 2 arm bones, hands, and the skull. (Is it me, or is it weird to be talking about bones as a DIY project?) To start, I crossed over the arm bones and glued them at the connection. Then, I glued the skull on top of where the arm bones meet.
Once the sign was done drying, I applied the letters I cut from vinyl with my Cricut (or you can use pre-cut letters). I glued it to the arm bones, and then glued the hands to the sign, aligning them with the ends of the arm bones. The last thing I did was to pull the hat off of the headband that it came on, and glue it onto the skull. Here's a look from the side to help you see how everything is stacked up.
Once you're done, you just need to make yourself a festive fall cocktail, and it's party time!
These easy DIY Halloween Candy Bowls are a great way to set out treats with your skull centerpiece, too!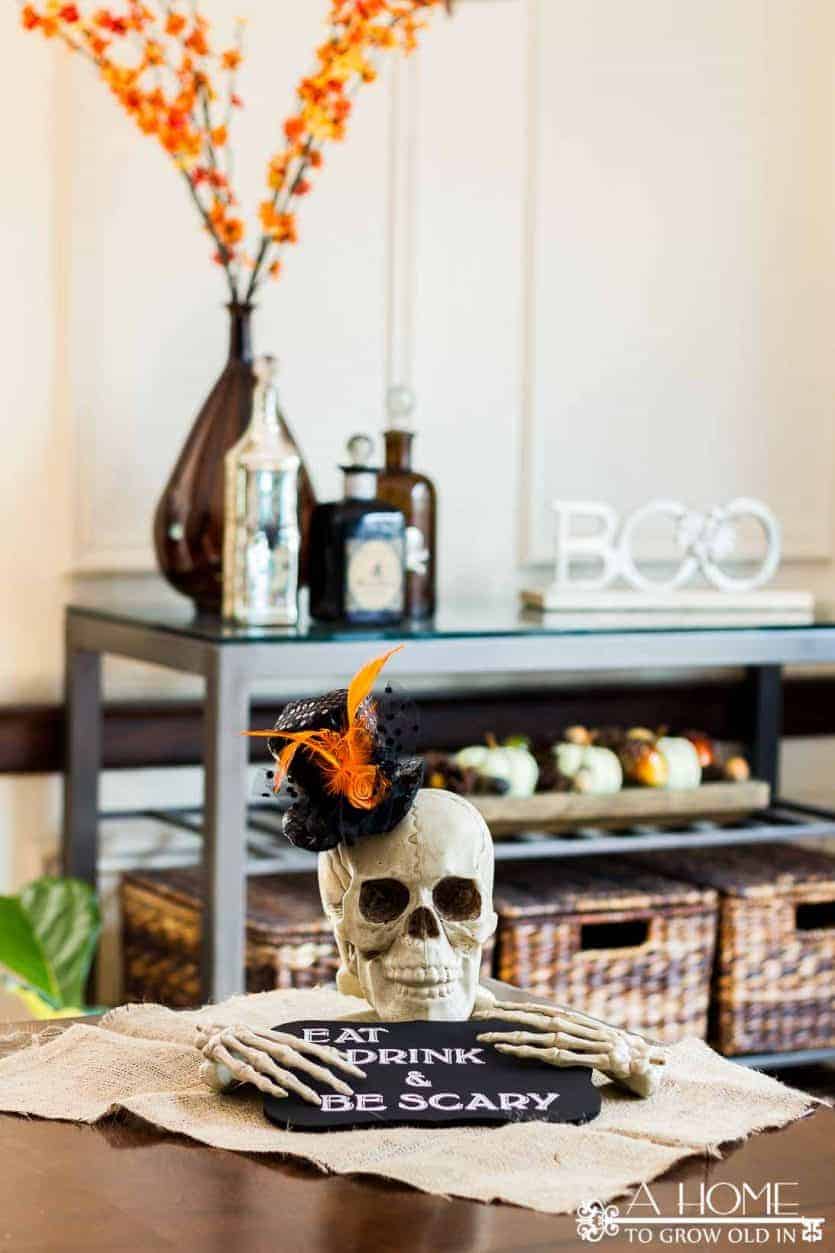 Don't forget to check out the other spooky projects being shared today! You're sure to find lots of Halloween inspiration from this group of ladies.
*Hey Fitzy * Nourish and Nestle * Paint Yourself A Smile*
* Savvy Apron * Sweet Parrish Place * The Aspiring Home * The Red Painted Cottage *
If you have a moment, I'd love for you to pin this for me!