Instead of going to the movie theater, you can create a fun family movie night at home with these free printables. Watching movies at home is not only inexpensive, but a great way to enjoy them with younger children.
Currently, we are all unable to go to a movie theater and are missing out on the experience of watching the latest film on the big screen. However, even when the social distancing restrictions are lifted, family movie night at home is still a fun way to spend time together.
It can be expensive taking a family of 4 or 5 to the movies. Aside from the cost of the tickets, you are most likely going to have to buy popcorn, drinks, and snacks. Nevermind the fact that one child is surely going to need to go to the bathroom right in the middle of the movie.
How do you make a fun movie night at home?
It's so easy to make a family movie night at home and your kids will love it. Using these free printables, you will have it set up in minutes. When my kids were in the other room, I set it up as a surprise and they thought it was so cool. I gave them each some money from their Junior Monopoly board game and told them to head to the "movie theater". I hung up the movie sign for when they entered the kitchen. There they "paid" admission for their tickets. Then in the kitchen, I had concessions on display for them to "buy", which consisted of popcorn and candy. Next stop was the family room, where they sat in luxury on our couch for the movie showing.
In all seriousness, it was a lot of fun setting it up and seeing their surprised faces. It was such a simple thing to do to brighten our circumstances. Prior to all of this, we would usually watch movies at home because it is hard taking all the kids to the movies, especially now with the baby. However, adding this fun twist on it made it more interesting and special.
What movies should we watch?
Well, this depends on your family and what you allow your children to watch. A good wholesome family friendly movie is a great place to start. Something lighthearted and that has aspects appealing to kids and adults alike. We watched Onward and we liked discussing the movie afterward. On another night, we watched Terminator: Dark Fate because the boys had been asking to watch the latest Terminator movie. Now for our family, that is a totally acceptable movie, so use your discretion. There are so many great movies to choose from, so have fun with it!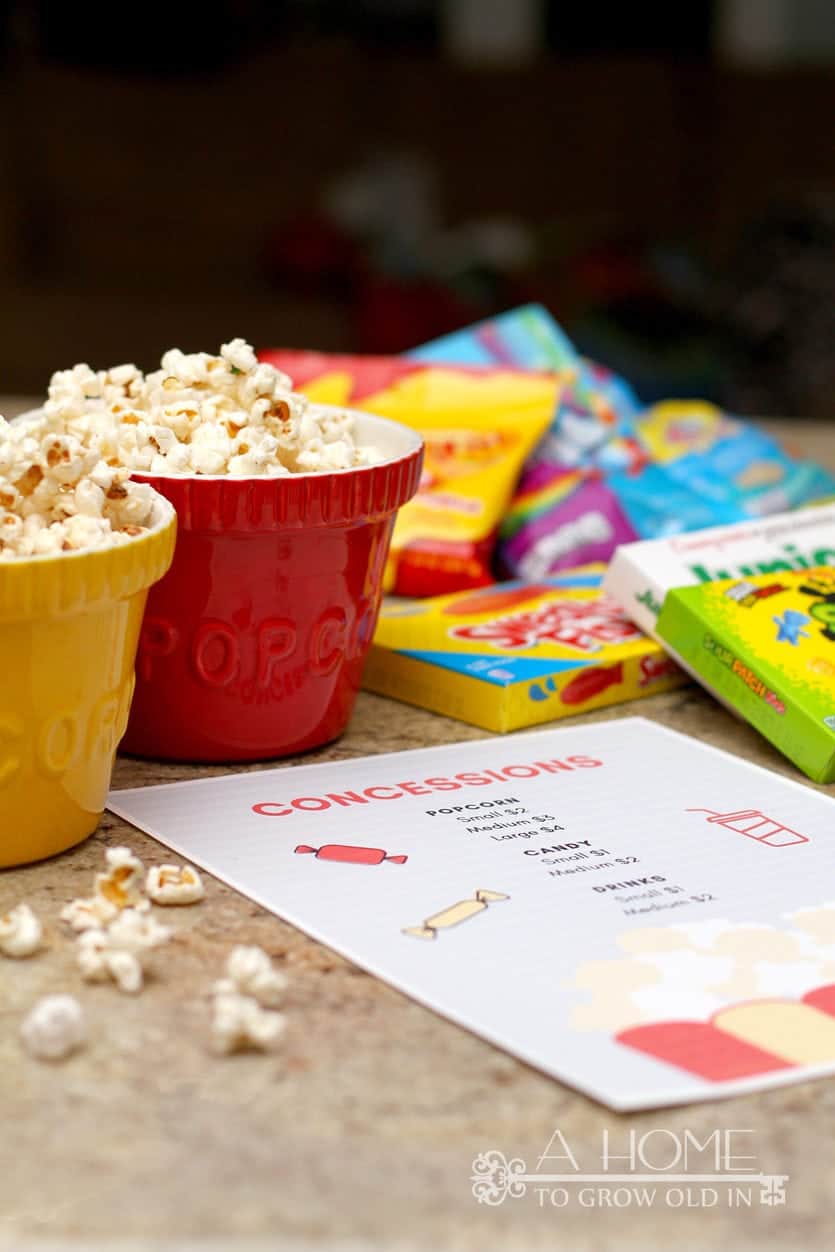 How do I obtain these fun family movie night printables?
We have three awesome printables to help bring to life your home movie experience. There is the movie night sign as your children enter and where they "pay" their admissions. Then there are the cool movie tickets they receive. Last, but not least, is the cute concessions sign, which you can set up on a table with all the snacks. As I mentioned, I used the play money from our Junior Monopoly game. I calculated the cost of a ticket, one popcorn, and two candies. Then that was the amount of money I gave each of them. My boys really liked this and continue to ask to do it once a week.
Just subscribe below and you will get exclusive access to these printables and more.
Once you've confirmed your email address, you will receive our weekly newsletter full of our latest posts, as well as content that is exclusive for A Home To Grow Old In subscribers. Plus, you'll have access to our Resource Library that is full of FREE printables and SVG cut files.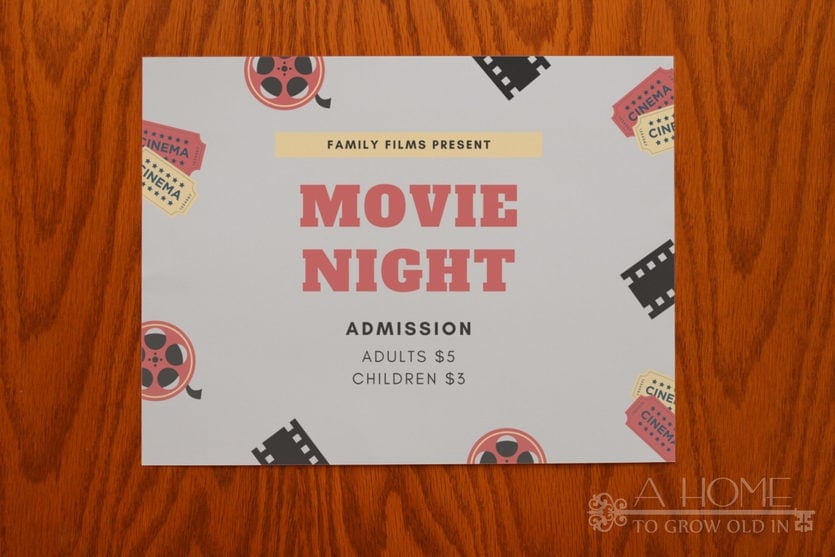 This post contains some affiliate links for your convenience (which means if you make a purchase after clicking a link I will earn a small commission but it won't cost you a penny more)! Click here to read our full disclosure policy.
What are good movie night snacks?
Maybe you are like those luxury movie theaters that will serve you drinks and a meal at your seat. However, if anyone is getting served food and drinks, it should be my husband and I 😉. So maybe you just want to put out a few items to have the kids "buy".
Popcorn – Isn't this a given?! It's the best part of watching a movie. Luckily, my husband always makes popcorn in a pot on the stove. It is so fresh and he seasons it so well. Just delicious! Making stovetop popcorn is easier than you think. Then we put it in fun popcorn bowls. Or, you can make some homemade caramel popcorn.
Chips – Think potato chips with french onion dip. Or nachos with cheese and salsa.
Candy – The variety of candy is endless. I am a personal fan of Junior Mints. My boys love Sour Patch Kids, Skittles, Swedish Fish, Gummy Bears, Starbursts, and Whoppers. Of course, they pick all the candy that sticks in your teeth the best 😂. My husband likes Sno-caps or Reese's Pieces.
Drinks – You need something to wash down all that salty and sweetness. Really our go-to is always water. We actually drink a lot of water in our house. However, I know soda is a popular option too.
What's Next?
You may also enjoy these fun ideas to do as a family on A Home To Grow Old In: