Have you tried the latest coffee sensation yet? This Mocha Dalgona Whipped Coffee recipe is so easy to make and tastes just like a drink from your favorite coffee shop.
Have you heard about the latest coffee sensation during the quarantine? With Starbucks closed everyone is looking for a new way to get their coffee fix, and we've found it in the form of a viral TikTok post.
I put off trying Dalgona coffee for quite some time. You see, I'm not typically into that kind of stuff. I'm not a pumpkin spice latte fan. I don't even add vanilla or other flavors to my coffee. I just like plain coffee with a little half and half and some stevia to sweeten it up a bit. But…I have to say I really like this whipped coffee! It totally took me by surprise as to how much I like.
What does Dalgona coffee taste like?
Surprisingly, it doesn't have a very strong coffee flavor. I say surprisingly, because it actually has a lot of coffee in it. I prefer it over ice, but you could also drink it hot. It's fairly sweet, so be prepared for that. I tried preparing it with both instant coffee and instant espresso, and I really preferred the espresso better. It had a slightly more mellow, less bitter taste to it.
Why is it called Dalgona Coffee?
It's named after a Korean candy. The story is that a South Korean actor named Jung Il-Woo ordered a whipped coffee while filming a show in Macau and thought it tasted just like Dalgona candy and gave the drink it's name.
How do you make mocha dalgona coffee?
This is a really easy drink to make and really doesn't require any unusual kitchen tools that you probably don't already have on hand.
What you need:
This post contains some affiliate links for your convenience (which means if you make a purchase after clicking a link I will earn a small commission but it won't cost you a penny more)! Click here to read our full disclosure policy.
Kitchen tools needed:
Ingredients needed:
Make the whipped coffee topping
Add the instant coffee or espresso, sugar, and warm water to a mixing bowl. Hold off on adding the cocoa powder for now. This recipe can be made with a stand or hand mixer or by hand with a whisk.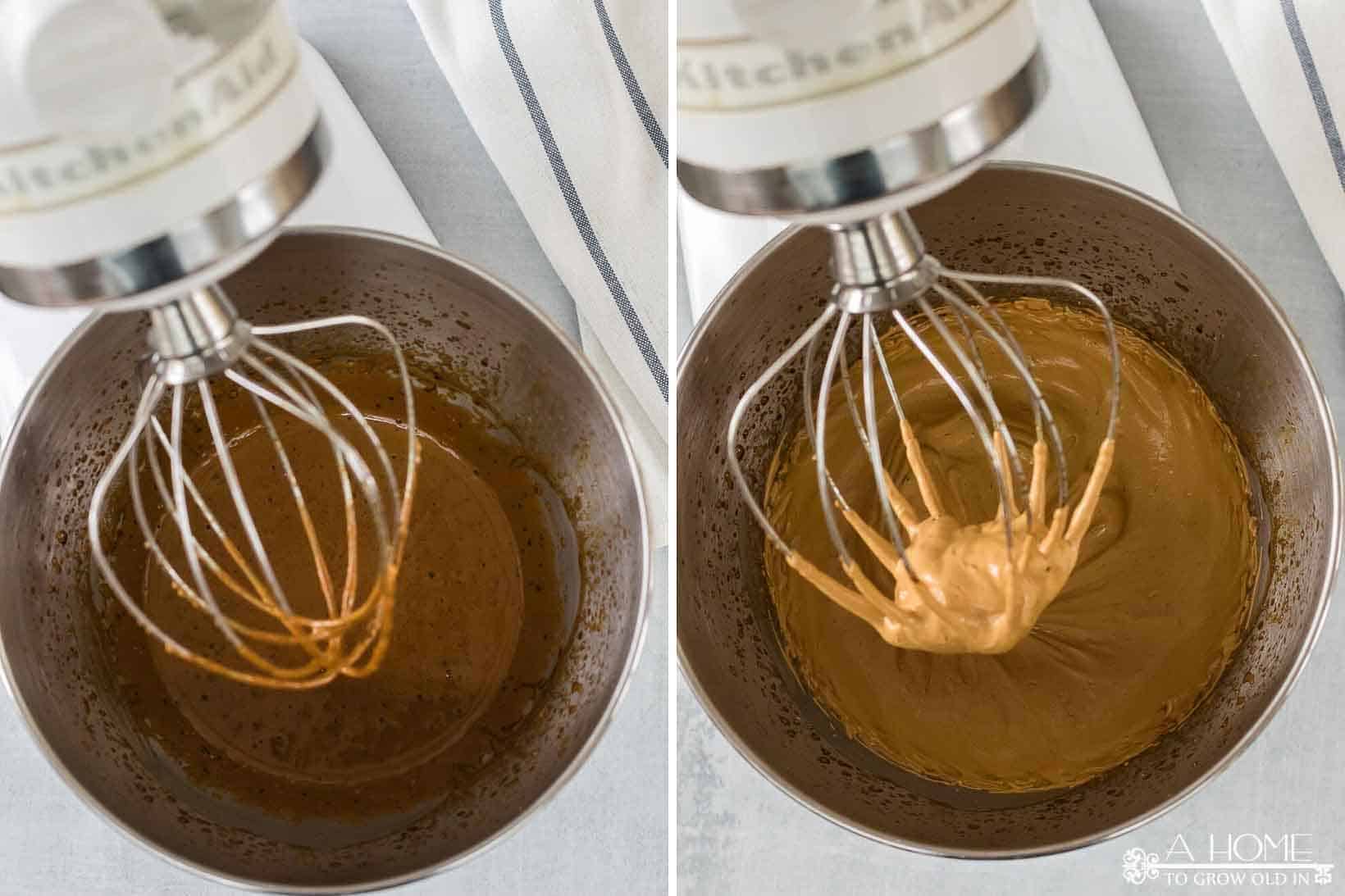 I made it with both a stand and a hand mixer. The stand mixer took about 1-2 minutes to whip up on high speed, and the hand mixer took about 4-5 minutes on high speed. I did not try to whisk it by hand, but I've read it can take over 15 minutes, so be prepared for a workout!
Initially, the mixture will look very dark in color, but within a couple of minutes it will lighten in color quite a bit and have a consistency of whipped cream.
Once the mixture reaches a whipped cream consistency, add in the cocoa powder. If you're using a mixer, beat the mixture on high for about a minute until the cocoa is well mixed. It will change the consistency just a tiny bit but don't worry, it tastes delicious.
Once you've made the whipped topping, fill your cup up about 2/3 of the way full with cold milk (or hot milk if you'd prefer) and ice. Spoon the whipped coffee on top of the milk and serve.
How do you drink mocha dalgona coffee?
Simply stir the whipped topping into the milk and enjoy.
Can you use regular coffee instead of instant?
I have not tried to make it without instant coffee, but I've read that it is possible. Here's a great article explaining how to use it.
How did Dalgona coffee become a trend?
Dalgona coffee became a huge hit after TikTok user @imhannahcho shared the recipe. Because of this, it's sometimes known as the "TikTok coffee". Since then, people have been sharing pictures of their coffee creations across social media everywhere!
Can you store it?
The whipped coffee topping will last a couple of days in an airtight container in the refrigerator. If it's lost some of it's consistency, you can whisk it with the mixer until it firms up again.
Once you've confirmed your email address, you will receive our weekly newsletter full of our latest posts, as well as content that is exclusive for A Home To Grow Old In subscribers. Plus, you'll have access to our Resource Library that is full of FREE printables and SVG cut files.
Mocha Dalgona Whipped Coffee
This Mocha Dalgona Whipped Coffee recipe is so easy to make and tastes just like a drink from your favorite coffee shop.
Ingredients
2 Tablespoons instant coffee or instant espresso
2 Tablespoons sugar
2 Tablespoons water
1 teaspoon cocoa
Milk
Instructions
Add coffee, sugar, and water to a bowl and whisk on high until the mixture has a consistency similar to whipped cream.
Add cocoa to the coffee mixture and whisk until well combined.
Fill a glass 2/3 full with milk and ice. Spoon the mocha coffee topping over the milk.
Stir the topping into the milk and enjoy!
So, have you tried dalgona coffee yet? What do you think of our mocha dalgona coffee version. I think it kind of tastes like a homemade frappuccino! Make sure to let us know what you think of it in the comments.
WHAT'S NEXT?
You may also enjoy these other chocolate ideas on A Home To Grow Old In: