Looking for a fun outdoor game to enjoy this spring or summer? This DIY Outdoor Tic Tac Toe Board Game is easy to make, doesn't require any special tools, and kids will love it!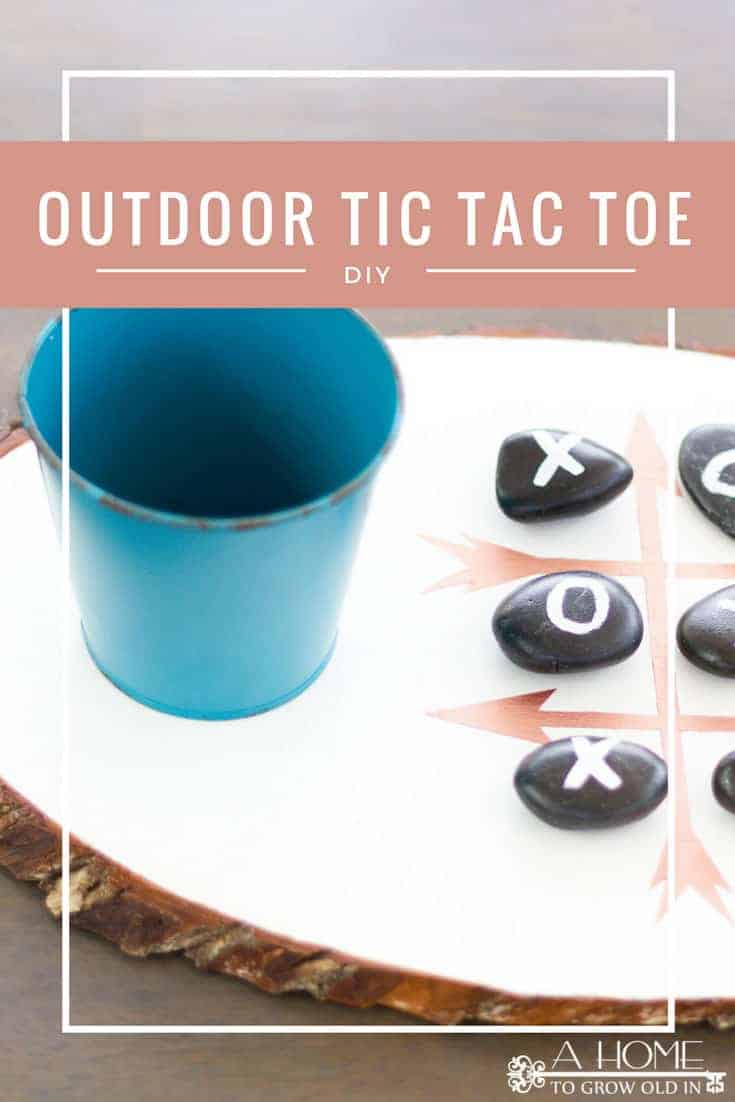 A few years ago, I created an oversized checkerboard with mason jar lid game pieces for my family to play outside, which has become one of the most viewed projects that we've shared here. We love to spend time outside during our beautiful spring and summer days, and although we still love our checkerboard, we wanted to add to our outdoor games. This outdoor tic tac toe board game was the perfect addition. It was so easy to make and my kids love playing it!
How to Make an Outdoor Tic Tac Toe Board Game
This wooden tic tac toe board game was just the game we needed. Whether you use a vinyl cutting machine or not, it is super easy to make and doesn't require any big tools. Even you will enjoy playing this with your kids!
What You Need:
This post contains some affiliate links for your convenience (which means if you make a purchase after clicking a link I will earn a small commission but it won't cost you a penny more)! Click here to read our full disclosure policy.
Tools Needed:
Supplies Needed:
Instructions
1. Paint the wood slice.
Since the wood slice is bare unsealed wood, I would suggest using a primer to help seal it. I did not use any paint other than the primer because I wanted the surface to be white, but you could always use the paint color of your choice over the primer.
2. Cut out the tic tac toe design.
I have a cutting machine, and I absolutely love it, but I know that not everyone has one. I created this tic tac toe board without a cutting machine to show you that it's still easy to do, but feel free to use a cutting machine if you have one.
To cut out the design without a cutting machine, print and cut out an arrow on cardstock to create a template. Place 4 strips of painter's tape on your cutting mat and trace the arrow template onto the tape. Cut the arrows out of the tape using the X-acto knife and a ruler to help create straight lines.
If you're using a Cricut or other cutting machine, you can download the SVG file from our Resource Library. Once the file is downloaded and imported into your cutting software, cut the design onto the stencil vinyl. Weed out the arrows so that you're left with the negative space for your stencil.
These Printables and/or SVG designs are exclusive for A Home To Grow Old In subscribers to download for FREE. Just sign-up below and you'll receive an email with the information to access the resource library that contains the SVG.
Once you've confirmed your email address, you'll be enrolled in our weekly newsletter full of our latest posts as well as content that is exclusive for A Home To Grow Old In subscribers. Plus, you'll have access to our Resource Library that is full of free printables and SVG cut files.
Free printables and SVG files from A Home To Grow Old In are for your own PERSONAL USE ONLY.
3. Transfer your stencils to the wood slice.
If you cut your stencil from painter's tape, arrange the tape in the shape of a tic tac toe board on the wood slice. If you apply a second piece of painter's tape over the stencil before you move it over to the wood slice, it makes it easier to transfer the stencil to the wood. Remove the second piece of tape once you adhere the stencil to the wood. Use the X-acto knife to cut out any intersecting lines from the tic tac toe board.
If you cut your stencil from vinyl, use transfer tape to move the stencil to the wood slice. Once the stencil is placed on the wood, remove the transfer tape.
4. Paint the arrows.
Make sure to press down along the edges of the stencil to prevent the paint from bleeding under the stencil. Apply the paint in your desired color (we used rose gold) and pull off the tape or vinyl while the paint is still wet.
5. Create your game pieces.
Paint 5 river rocks with "x" and 5 rocks with "o" and allow to dry. The smooth surface of the rocks makes it difficult for paint to adhere to, so primer or chalk paint works best. Once the paint has dried, spray the rocks with several coats of polyacrylic.
6. Enjoy your outdoor tic tac toe board game!
You have a little bit of drying time in between steps, but you probably won't have more than an hour of actual work to complete this easy DIY project. It's such a cute way to keep the kids occupied while you enjoy the beautiful weather outdoors. Check out these tic tac toe game tips for simple strategies to make sure you never lose a game again!
WHAT'S NEXT?
You may also enjoy these other DIY ideas on A Home To Grow Old In: