Grilling on a pizza stone in your BBQ is a great way to make a pizza that tastes just like it's out of a brick oven! If you like thin crust pizza, you can't get any thinner than this forgiving dough recipe!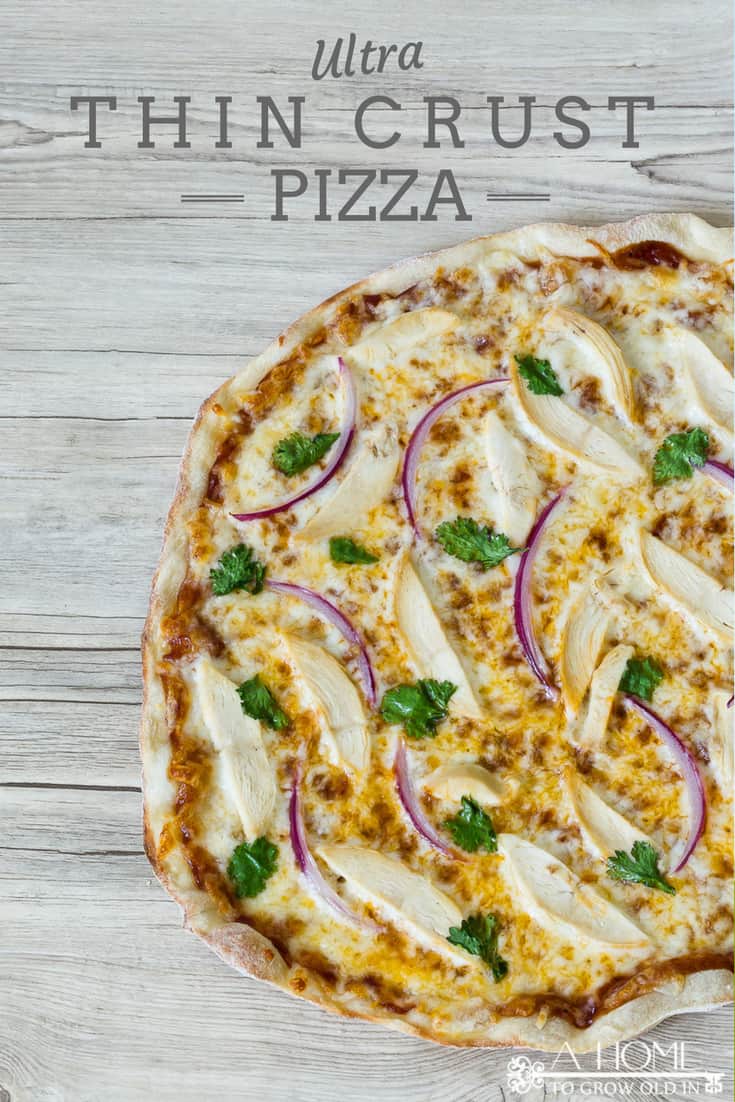 I don't know about you, but I love brick oven pizza! The crispy, almost charred in spots crust is my absolute favorite. When we lived in Dallas there were several restaurants with brick ovens that we loved, but since we've moved we just haven't found a new favorite pizza restaurant. Luckily, it's pretty easy to use your grill to cook your pizza in a similar way, and this ultra thin crust pizza dough recipe is just as good, if not better, than anything you'll get in a restaurant!
This post contains some affiliate links for your convenience. Click here to read my full disclosure policy.
Kitchen Tools Needed for the Ultra Thin Crust Pizza
Ingredients Needed for the Ultra Thin Crust Pizza
There are two things that I do to my dough that help it to roll out into the thinnest crust possible. The first is to make something called a poolish. It's basically a very wet dough that gives your crust a great flavor but also allows the gluten to relax. The other thing is to add a little olive oil to the dough after you knead it. The olive oil breaks the dough down to a mushy mess, but if you continue to knead it, the dough will reform.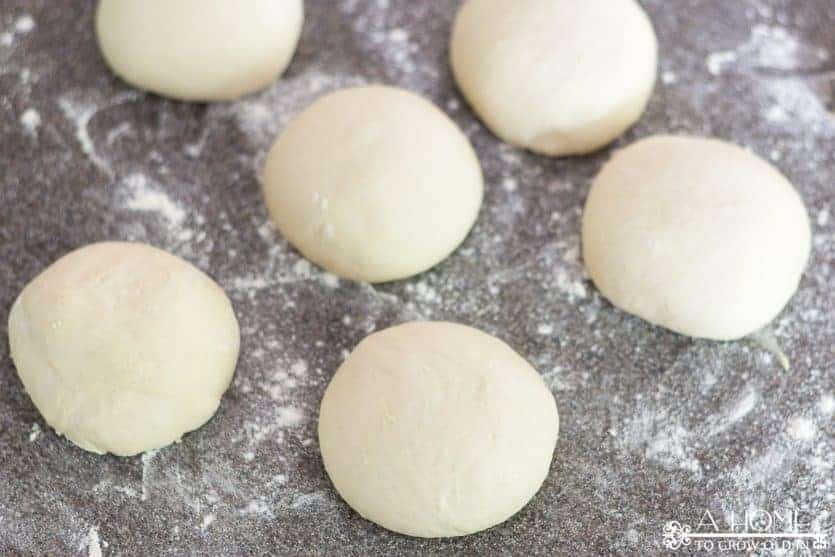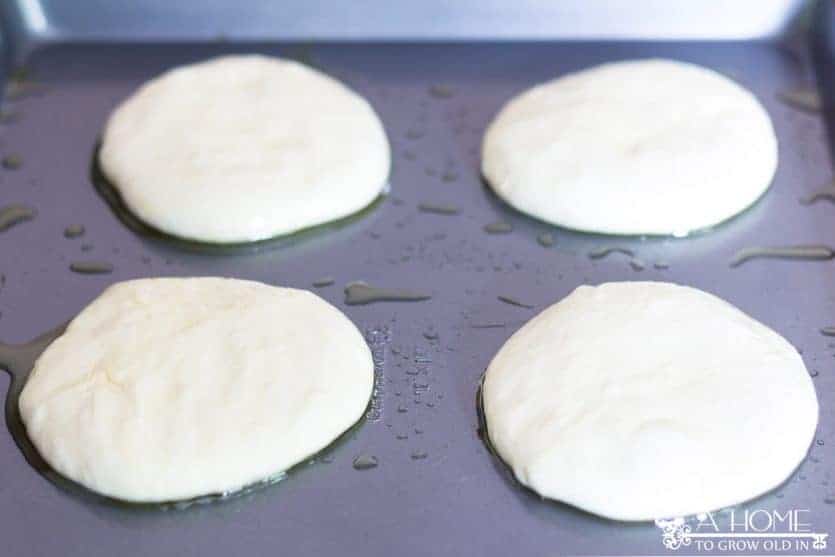 This is a fairly hydrated dough which helps it roll out to make such a thin crust pizza, but it's also very sticky, so make sure to use lots of flour when you roll it out.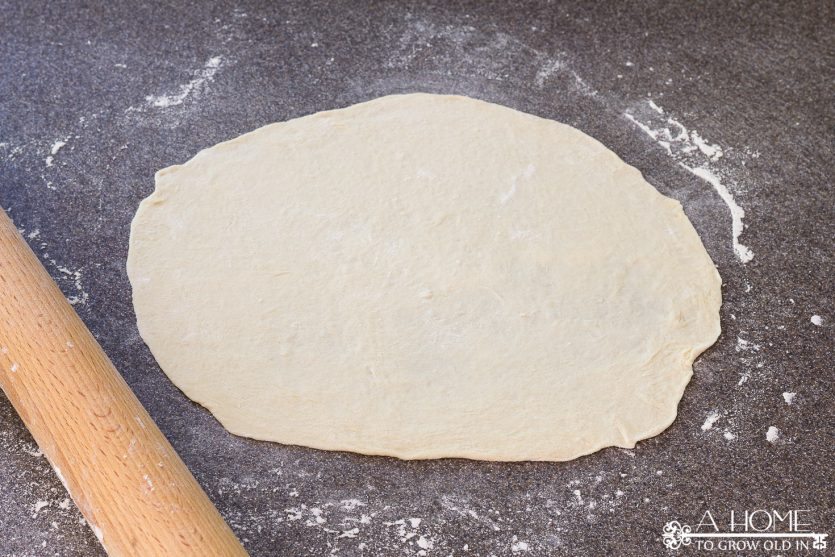 The crust is so thin that it's really difficult to transfer the dough once you add all your toppings. I have this amazing pizza peel that I received as a gift a couple of years ago, and it transfers my dough with toppings to my pizza stone perfectly. If you really love making your own thin crust pizza, you need this pizza peel! Check out how easy it is in the video below!
You could also place your dough on a piece of parchment paper before adding your toppings and cook your pizza on the parchment paper. Just make sure that your paper isn't larger than your pizza stone so that the grill doesn't burn the paper.
One of our favorite pizza creations is sliced rotisserie chicken, red onions, and cilantro over bbq sauce! It's out of this world!
Once you've confirmed your email address, you will receive our weekly newsletter full of our latest posts, as well as content that is exclusive for A Home To Grow Old In subscribers. Plus, you'll have access to our Resource Library that is full of FREE printables and SVG cut files.
One of the reasons I love this thin crust pizza so much is that it's a fairly forgiving recipe. I've kneaded it too much and too little on different occasions, and it's always come out great! If you've never made your own pizza dough before, don't be afraid to try it. It's so good that no one will believe it's homemade.
A few of my friends are also posting some of their favorite grilling or outdoor recipes today. Make sure to check them out!
Nourish and Nestle | The Red Painted Cottage | Savvy Apron
Grilled Ultra Thin Crust Pizza Dough Recipe
Total Time:
2 hours
6 minutes
Grilling on a pizza stone in your BBQ is a great way to make a pizza that tastes just like it's out of a brick oven! If you like thin crust pizza, you can't get any thinner than this forgiving dough recipe!
Ingredients
Poolish
2/3 cup all purpose flour
1/2 cup cold water
1/2 teaspoon instant or rapid rise yeast
Dough
1 1/4 cups flour
1/3 cup cold water
3/4 teaspoon salt
1 tablespoon olive oil plus more to drizzle on dough
Instructions
To Make the Poolish
Whisk by hand 2/3 cup flour, 1/2 cup water, and yeast in a mixer bowl until smooth.
Cover with plastic wrap and allow to rest for 1 hour.
To Make the Dough
After the polish has rested for 1 hour, add 1 1/4 cups of flour, 1/3 cup water, and 3/4 teaspoon salt to the mixer bowl.
Using a dough hook, knead on low speed (3 for a KitchenAid mixer) around 12-15 minutes. When the dough is ready, it should look smooth and while kneading it should not stick to the sides or bottom of the bowl for more than just a second.
Slowly add the olive oil to the dough while it is still kneading. This will cause the dough to temporarily break down. Gradually increase the speed of the mixer to high, but stop kneading as soon as you see the dough come back together.
Cover the bowl with plastic wrap and let it rest for 30 minutes.
Pour the dough onto a smooth, floured surface, and divide the dough into 4 even pieces.
Tuck the sticky, cut ends of the dough underneath to form balls, and then flatten the dough balls with your hands to form thick pancakes. Use flour as necessary to prevent sticking. This is a good time to freeze your dough for later if you wish to do so.
Place the flattened dough pieces onto a cookie sheet and drizzle both sides with olive oil coating each side evenly.
Cover the cookie sheet with plastic wrap and allow to rest at room temperature for 10 minutes. Transfer the cookie sheet to a refrigerator for at least an hour, but the dough will keep for up to 3 days.
Preheat a grill and pizza stone to 500 degrees F/260 degrees C for 45 minutes to 1 hour.
Coat both side of the dough in flour and use fingers to press the dough flat. Then, roll the dough with a rolling pin on a well floured surface until it's about 10 inches wide.
Apply sauce and toppings and transfer to the pizza stone.
Grill for about 5-6 minutes until the edges are browned.
Notes
I use King Arthur brand flour which has more protein than other brands and absorbs more water. If you're using another brand, decrease the amount of water slightly.
The dough rolls out easier if you keep the flattened dough in the fridge for a day before using.
This recipe is a little small for a 6 quart mixer, so I usually double the recipe and freeze half for later. You can freeze the dough for up to 3 months. To thaw, move the frozen dough to the refrigerator over night, drizzle olive oil over both sides, and continue with step 9.

Nutrition Information
Yield

8
Serving Size

1
Amount Per Serving
Calories

381
Total Fat

17g
Saturated Fat

6g
Trans Fat

0g
Unsaturated Fat

9g
Cholesterol

0mg
Sodium

434mg
Carbohydrates

52g
Fiber

2g
Sugar

0g
Protein

5g
If you're looking for other great recipes, check out these posts while you're here: