For a healthy dish with a Mexican flair, try these ground turkey stuffed bell peppers. With the perfect blend of spice, along with rice and beans, this makes a flavorful meal.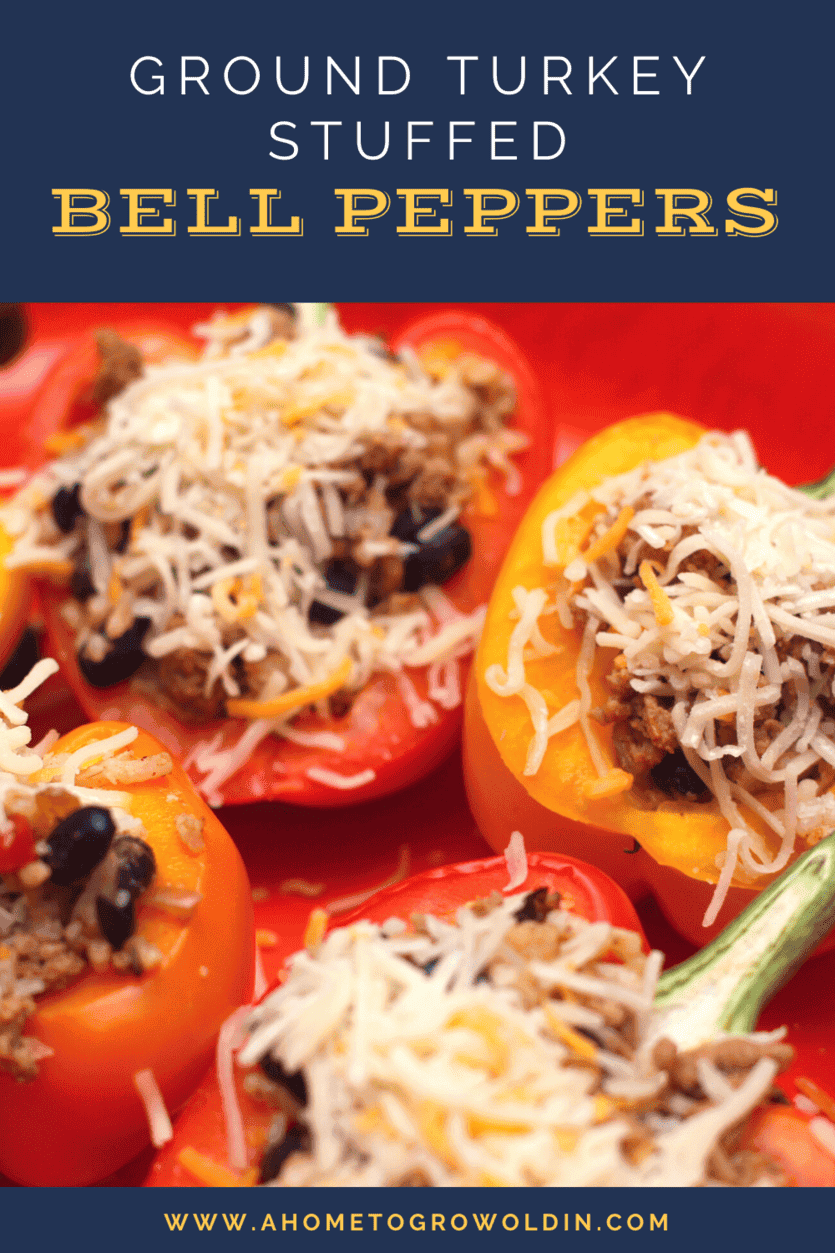 Luckily for me, I have generations of family who have cooked the most delicious Italian dishes for me growing up. It helps to be of that descent and I love them all. The classic Italian stuffed pepper dish is a staple with its meat, rice, and tomato. The bell pepper is the perfect vessel to hold those ingredients, plus you get some extra veggies in your meal.
Typically made with ground beef, they are delicious, but you can make them with any type of protein. My go-to ground meat is turkey, whether I'm making tacos or meatballs. It's healthier and less greasy, and I feel like my stomach thanks me. Therefore, when I was creating these ground turkey stuffed bell peppers, that was the ingredient I used. Even though, I love Italian food all day long, I actually may love Mexican food more! Therefore, I had to add a spicy Mexican twist to this absolutely tasty dish!
Once you've confirmed your email address, you will receive our weekly newsletter full of our latest posts, as well as content that is exclusive for A Home To Grow Old In subscribers. Plus, you'll have access to our Resource Library that is full of FREE printables and SVG cut files.
What are the variations of stuffed bell peppers?
As I mentioned, growing up, I was very familiar with the Italian stuffed bell pepper dish. Yet, now I have changed some ingredients to make a Mexican version. Therefore, you can change any of the ingredients to make the style stuffed pepper you prefer.
Vegetable – Maybe you want to try another stuffed vegetable. Bell peppers are an excellent choice with their firmness. However, zucchini, squash, eggplant, or even a potato could be used.
Meat – Any protein works with this dish, from ground beef and ground chicken to ground sausage.
Starch – There are many options other than rice. You can substitute quinoa, orzo, or even pastina (which is very small pasta). Another option is to skip the starch and just stuff more veggies in its place, such as lentils.
Cheese – The cheese may just be the most important part. As a cheese lover, I could add any variety of cheese to this dish and love it. For this Mexican version, I like a blend of Monterey Jack and cheddar cheese. If they were Italian stuffed peppers, parmesan cheese and mozzarella would be good choices. Use the cheese that works well with your other ingredients.
With all these variations, you can have a dozen different dinner options.
What are some tips to make the best stuffed pepper?
Use bell peppers of similar size – Even though you are halving them, you want similar sized peppers.
Par-bake the bell peppers – This is not a must do, but for me it is. I greatly prefer a tender pepper for this dish, opposed to a crunchy one.
Cut them in half – You can totally stuff whole peppers. However, I prefer cutting them in half because they are easier to eat and serve better.
Stuff evenly – Pretty straightforward, you want the same amount of ingredients in each to cook evenly.
Broil the cheese on top – Once again, not a must, but really, isn't cheese better when it's nice and browned on top.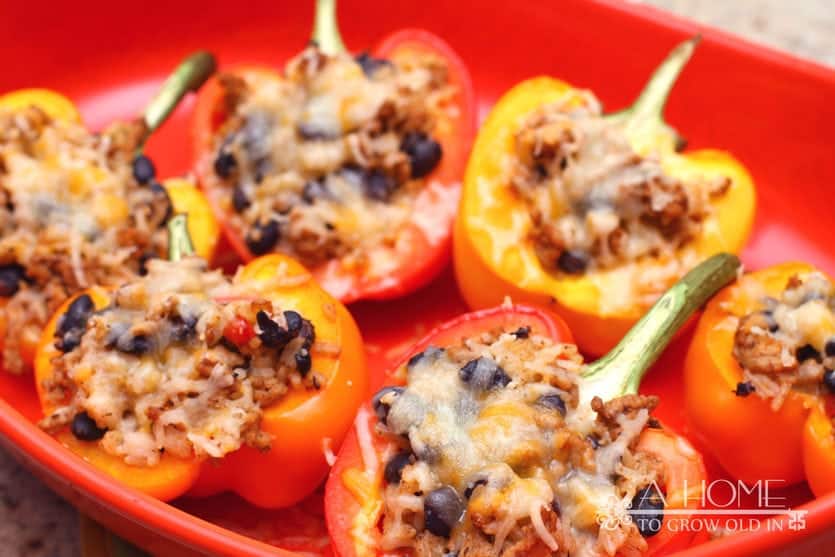 HOW TO MAKE healthy ground turkey stuffed bell peppers
Here is a brief overview of what you need and the steps to make these ground turkey stuffed bell peppers with rice and beans. The complete recipe is at the bottom of the post in the recipe card.
WHAT YOU NEED:
This post contains some affiliate links for your convenience (which means if you make a purchase after clicking a link I will earn a small commission but it won't cost you a penny more)! Click here to read our full disclosure policy.
KITCHEN TOOLS NEEDED:
INGREDIENTS NEEDED:
Rice
Beans
Ground turkey
Bell peppers
Shredded cheese
Chili powder
Paprika
Garlic powder
Onion powder
Oregano
Black pepper
INSTRUCTIONS:
1. Preheat oven.
Get the oven up to temperature to pre-cook the bell peppers before stuffing them.
2. Prepare beans.
Prepare this Mexican black beans recipe. You can do this now or you can make it a day ahead and keep it in the refrigerator until you need it.
3. Cook rice.
Cook the rice according to the package instructions.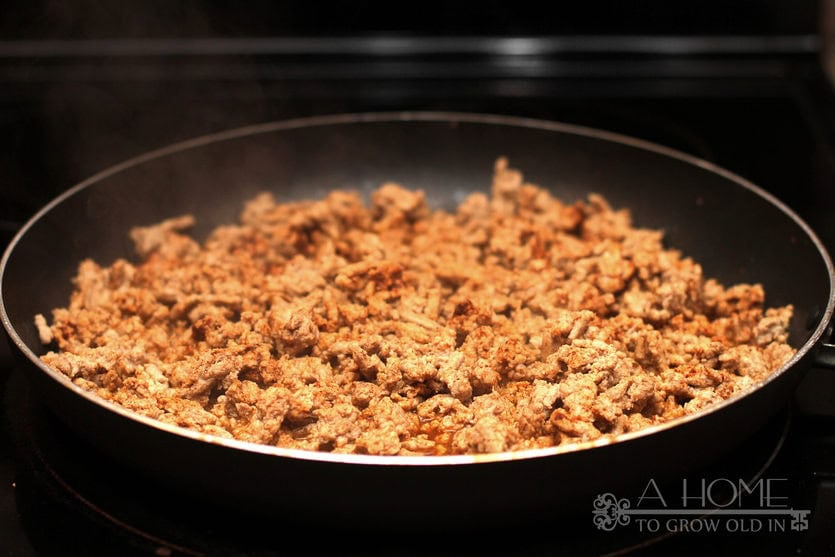 4. Brown the ground turkey.
Brown the ground turkey in a frying pan and add the seasoning mix.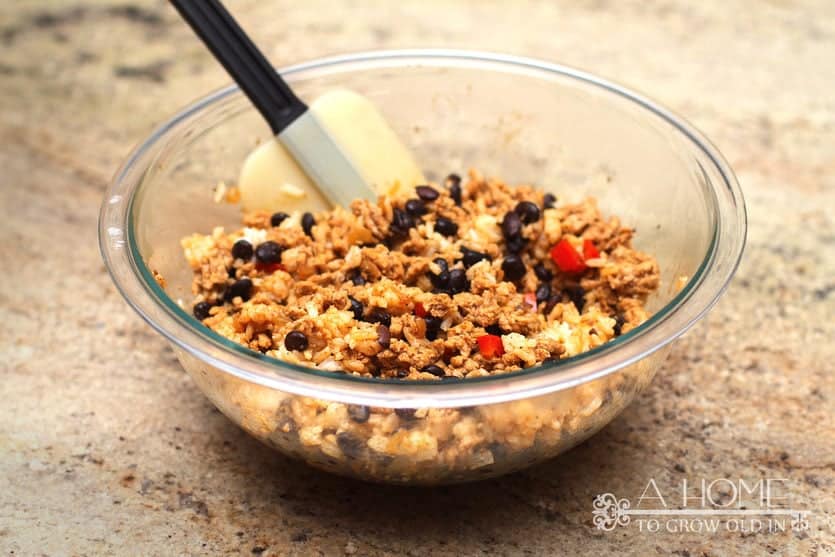 5. Combine ingredients and stuff the bell peppers.
Once everything is cooked, combine the rice, beans, and ground turkey in a mixing bowl. Then use this mixture to stuff the bell peppers. Top each with shredded cheese and bake.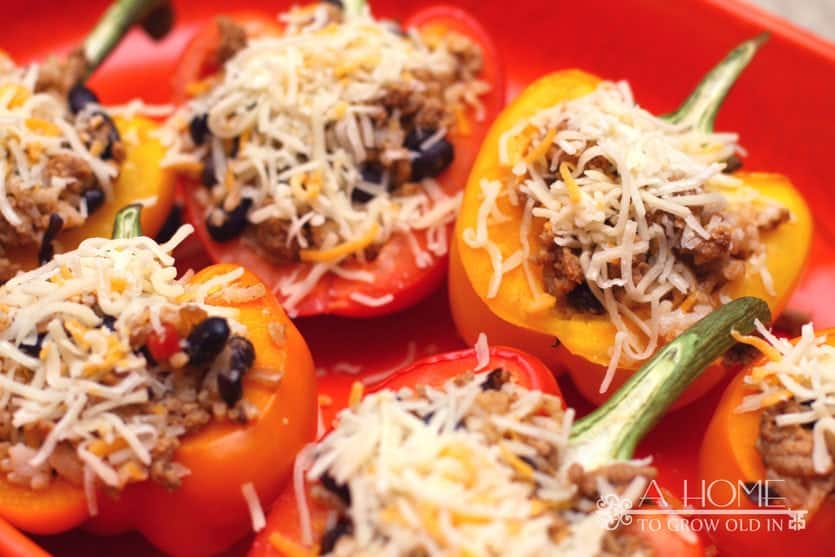 What do you serve with stuffed bell peppers?
Ground turkey stuffed bell peppers with their rice and beans filling are quite the meal in themselves. However, if you are looking for complementary side dishes, I would recommend something light. You can't go wrong with a garden salad. They compliment almost any meal and you are getting more veggies into your diet. Another option would be a delicious soup, such as french onion soup or lentil soup.
Can stuffed bell peppers be made in advance?
You can definitely make stuffed bell peppers in advance. There are a couple of options. If you are preparing for a dinner party, then I would follow all the instructions and stuff the peppers. I would stop short on putting the cheese on top and baking them. Do this one day in advance and keep them in an airtight container in the refrigerator. This way they are ready to go for your party with the least amount of steps remaining.
The other option, is to just make all the filling a day in advance. Depending on how much time you have, this might be the preferred way for a weeknight dinner. Keep the filling in an airtight container in the refrigerator. Then the day of the meal, par-bake the peppers, stuff them, top them with cheese, and bake as directed.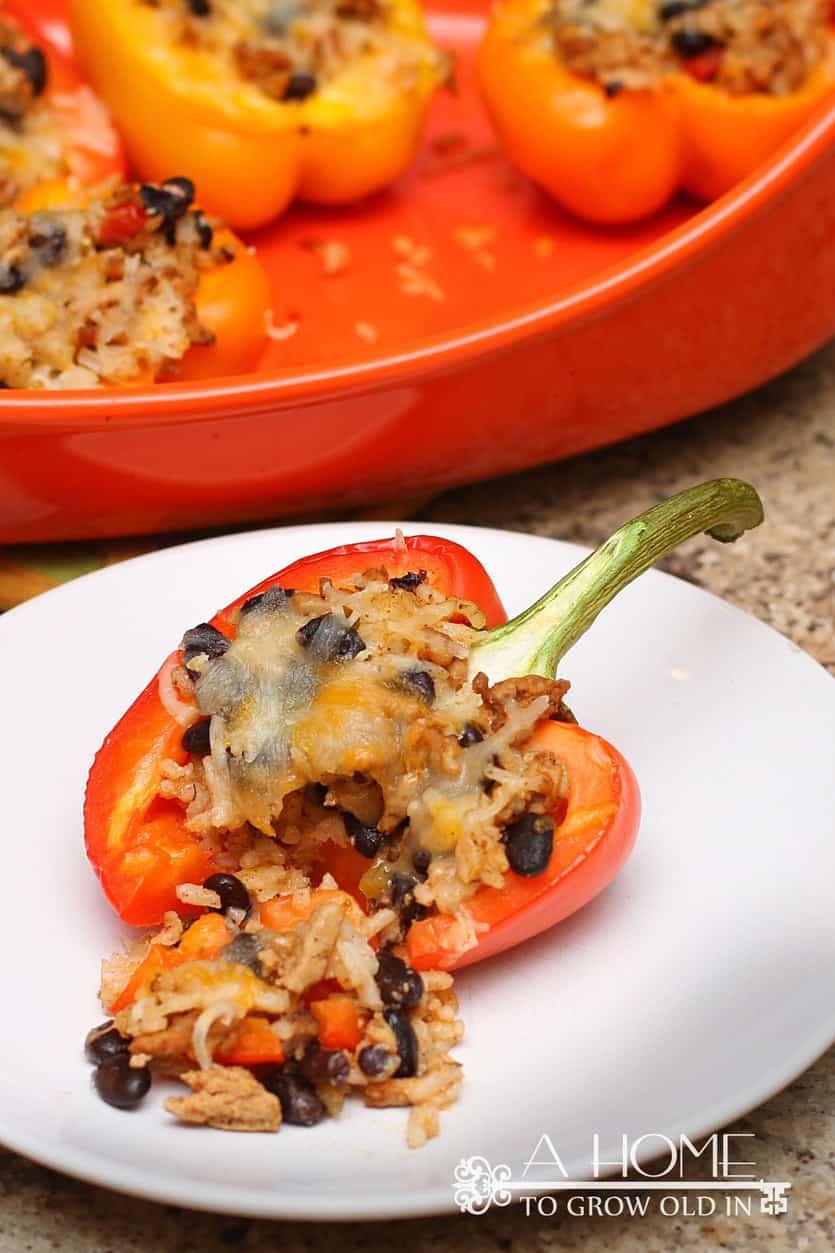 Can you reheat ground turkey stuffed bell peppers?
Yes, they make a great leftover meal and you can even take them to work for lunch the next day. You can heat them in the microwave or oven (I actually use my toaster oven). For the microwave, heat them for about 2 minutes or until they are warm enough. For the oven, heat the stuffed peppers at 350 degrees Fahrenheit for about 15 minutes.
Ground Turkey Stuffed Bell Peppers
Additional Time:
30 minutes
Total Time:
1 hour
25 minutes
For a healthy dish with a Mexican flair, try these ground turkey stuffed bell peppers. With the perfect blend of spice, along with rice and beans, this makes a flavorful meal.
Ingredients
1 cup of cooked rice
2 1/2 cups of black bean recipe
1 pound ground turkey
6 bell peppers
Shredded Mexican cheese blend
Seasoning for ground turkey:
1 tablespoon chili powder
1 teaspoon ground cumin
1/2 teaspoon paprika
1/4 teaspoon garlic powder
1/4 teaspoon onion powder
14/ teaspoon oregano
1 teaspoon salt
1 teaspoon black pepper
Instructions
Preheat oven to 400 degrees Fahrenheit.
Either prepare the black bean recipe now or ahead of time. The recipe link is above in the post. It can be made a day in advance and kept in the refrigerator until needed in this recipe.
Cook rice according to package instructions.
While rice is cooking, cut bell peppers in half. Discard the core and seeds. Place them in a 9x13 baking dish with cut sides facing up. Bake the peppers for about 15 minutes or until they are tender when pierced with a fork.
Heat up frying pan over medium to high heat and brown the ground turkey. When it is almost entirely brown, reduce heat to low and add in the seasoning, plus 1/2 cup water. Allow to simmer for a few more minutes.
Combine the rice, beans, and ground turkey in a bowl. Use this mixture to stuff the bell peppers.
Top each with shredded cheese. Then bake for 10 minutes.
Optional: Broil for 2-3 minutes to brown the cheese.
Notes
Don't skip baking the bell peppers before stuffing them. They taste much better tender, instead of the raw, crunchy taste.
Nutrition Information
Yield

6
Serving Size

1
Amount Per Serving
Calories

388
Total Fat

16g
Saturated Fat

4g
Trans Fat

0g
Unsaturated Fat

9g
Cholesterol

85mg
Sodium

539mg
Carbohydrates

36g
Fiber

10g
Sugar

3g
Protein

29g
What's Next?
You may enjoy completing your dinner with one of these dessert ideas on A Home To Grow Old In: