Get prepared to bring home your furry friend by learning which pet supplies for your new puppy or dog are really essentials.
It's hard to believe, but 9 months ago we brought home a new puppy. Life has been a whirlwind since then between teething, housebreaking, and training, so it seems like it was just yesterday that he came to live with us. But, now that things are starting to settle down, I thought I'd share a puppy or dog essentials that you'll need if you're considering bringing home your own furry friend.
Before you bring home a dog, be prepared.
Bringing home a new dog into your home is a big step! You are adding another member to your family and, much like bringing home a new baby, you'll want to be as prepared as possible. If you are at this step, I am sure that you have taken your time to research and learn all about your new family member and what wondrous fun and, what challenges, they may bring! If you are truly ready, there are things you should have before you bring home a dog.

What supplies should I get for my new puppy or dog?
You'll need to have a few things before you bring home a dog. By this point, you will hopefully know a bit about your new dog and you will be able to go out and get the things he or she will need when they come home. Whether you are getting a young pup or an older dog, make sure to ask questions about their food, their sleep, their play and their social behavior, before you go buying up all the cutest dog things EVER!
This post contains some affiliate links for your convenience (which means if you make a purchase after clicking a link I will earn a small commission but it won't cost you a penny more)! Click here to read our full disclosure policy.
What does he or she eat?
Is it a big dog, that could use a raised food and water dish, or is it a smaller dog that would benefit from a more petite set? Is it a dog that may eat too fast and need to be slowed down or maybe, a lazy grazer that would prefer a self feeding option? These are all things to think about while shopping and of course, knowing their current diet helps a great deal.
Once you've confirmed your email address, you will receive our weekly newsletter full of our latest posts, as well as content that is exclusive for A Home To Grow Old In subscribers. Plus, you'll have access to our Resource Library that is full of FREE printables and SVG cut files.
How do they sleep?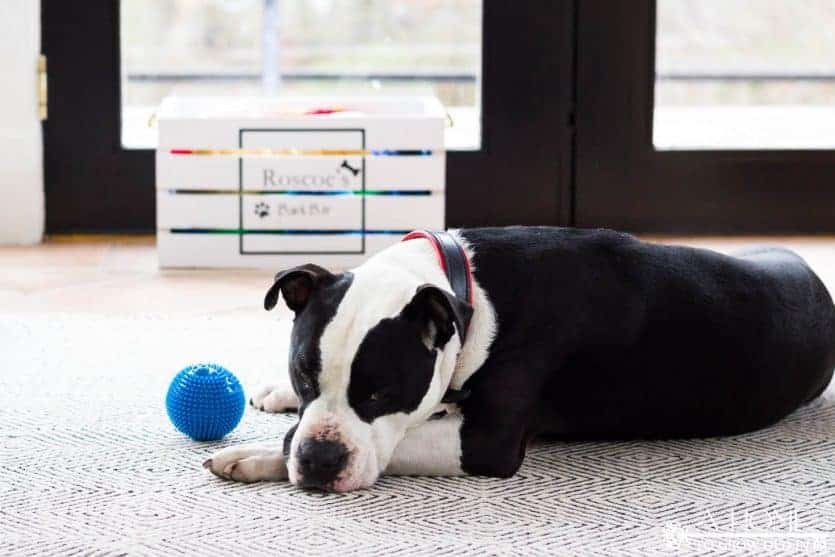 Will your dog be allowed on the furniture with you, or will they need their own dog bed? Again, size can play a big part in the decision when buying their first bed, after that, it is just getting to know them. Big bed, little bed, pillow bed, dome bed, and the list goes on and on. It may also be good to know if they are crate-trained at night, some dogs prefer the security of their crate, if that is how they have been trained.
Playtime!
What is their favorite game? Do they like to play fetch with a regular ball or do they like it when you play tug of war? Are they a chewer or a cuddler? Squeaky toys or natural toys? Which would they choose? What do they play with now? You might want to know this before you bring a dog home, so if you are bringing home an adult dog make sure to ask, but if you're bringing home a puppy, try a variety of toys to find a favorite.
Going outside.
How will you walk it? Will you use a collar or a harness? Would it benefit from a properly used gentle leader or a rope leash? Are they good around other dogs and kids or might a muzzle help them socialize? What about the yard? If you have a fence, you probably aren't worried. However, if you don't have a fence, a tie-out or a wireless fence might be an answer.
Training your puppy or dog.
You're likely to find no shortage of dog training classes in your area, but if you're wanting to get a head start, there are so many great online resources. Teaching your dog the basics will make your life so much easier! Regardless of whether you decide to go with a trainer or by learning through videos, training your dog is such a rewarding and bonding experience with your dog.
These are all puppy and dog essentials that you should have as you bring home a dog, but the #1 thing you should have is love in your heart, because they have it for you in spades!
WHAT'S NEXT?
You may also enjoy these other pet ideas on A Home To Grow Old In: