Learn how to make this DIY square faux wood fall pool noodle wreath with contact paper. You'll love this modern update to a traditional wreath!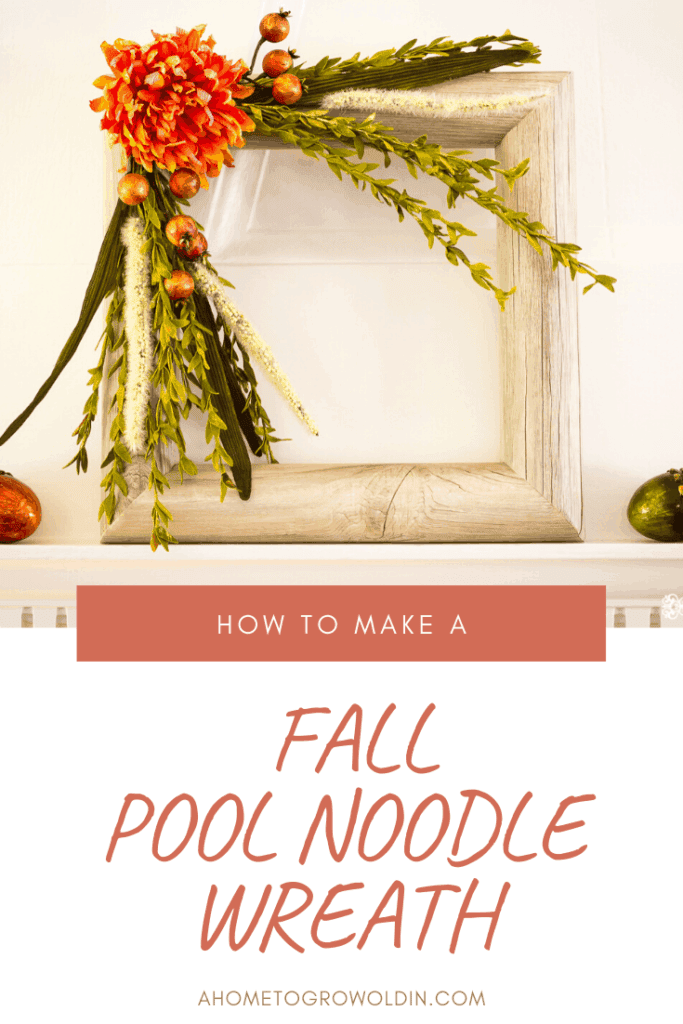 Well, it's official…my kids started school this week, and it is now September, so we should be on our way to the cooler temperatures of fall, right? Maybe? Please tell me it's so, because I'm really ready to do some seasonal decorating. It's been about 5 months since I put away the Easter decorations after all. To get things rolling, I am teaming up with 16 talented bloggers, and we each have come up with a really cool fall wreath to get you inspired.
I decided to try something different, and I put together this square faux wood fall pool noodle wreath that I am loving on top of my fireplace mantle. If you'd like to see the rest of my fall decor, you can check it out here. Want to know a fun thing about this wreath? There's no wood! It's made out of a pool noodle and some faux wood contact paper. There are lots of great pool noodle wreaths out there, and it's for good reason. They are an inexpensive way to make your wreath form. Turning it into a square form took a little thinking through, but I've worked out the kinks, and it should be a piece of cake for you. To help get you into the spirit of fall, diffuse one of your favorite fall essential oil blends and let's get started.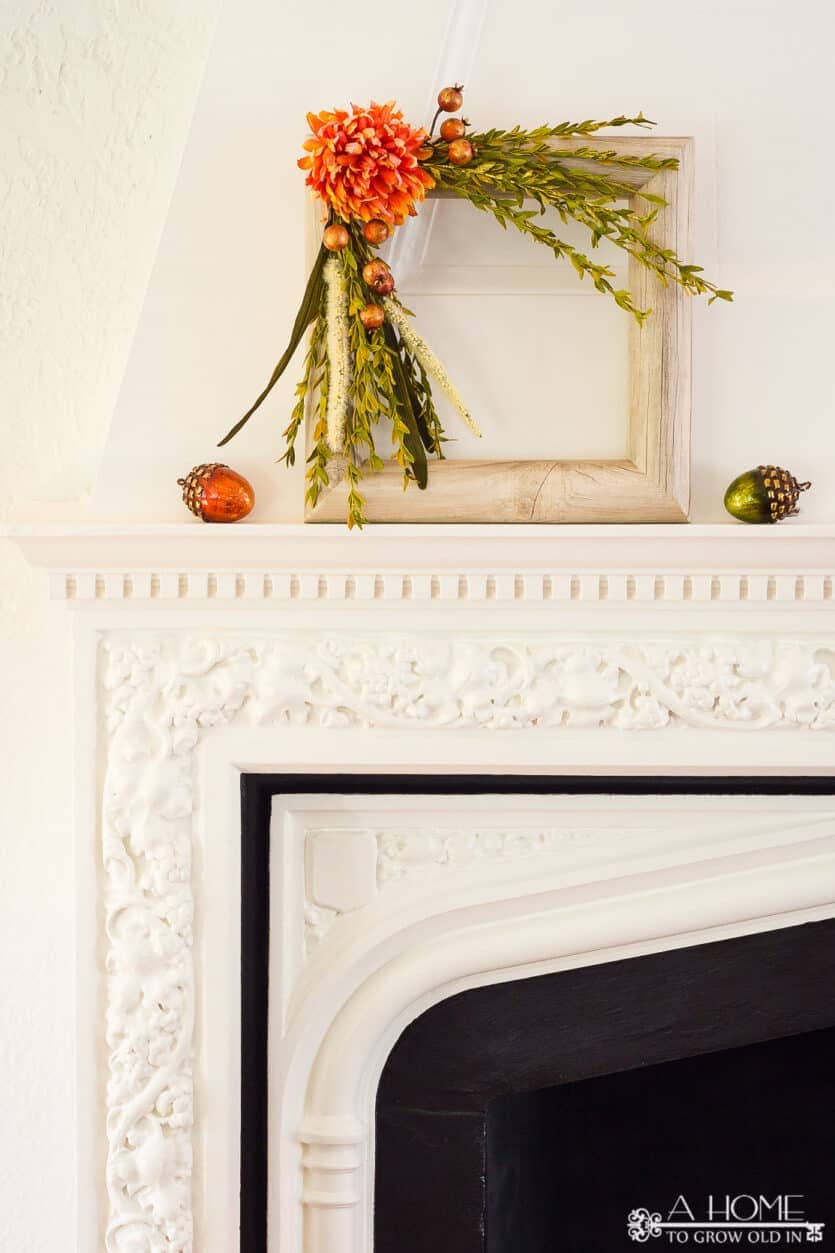 WHAT YOU NEED:
This post contains some affiliate links for your convenience (which means if you make a purchase after clicking a link I will earn a small commission but it won't cost you a penny more)! Click here to read our full disclosure policy.
How to Make a Pool Noodle Wreath:
I started by cutting my noodle into 4 pieces with 45-degree angles at the ends. Because the pool noodle is round, it is very easy for it to roll slightly and your angles will be off. The most important thing is to mark lines on your noodle so you have a reference point to keep your noodle straight.
1. MARK YOUR POOL NOODLE TO KEEP IT STRAIGHT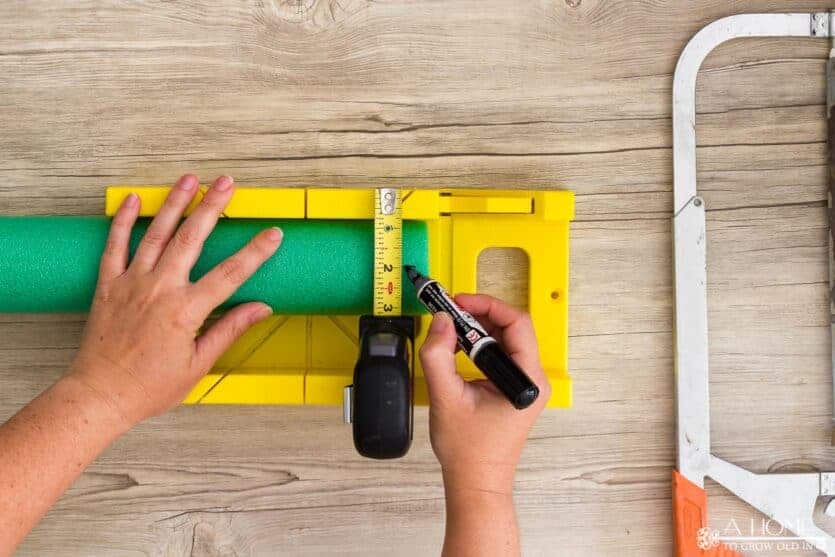 To make my reference lines, I measured 2″ from the side of the miter box and marked lines all the way down the pool noodle.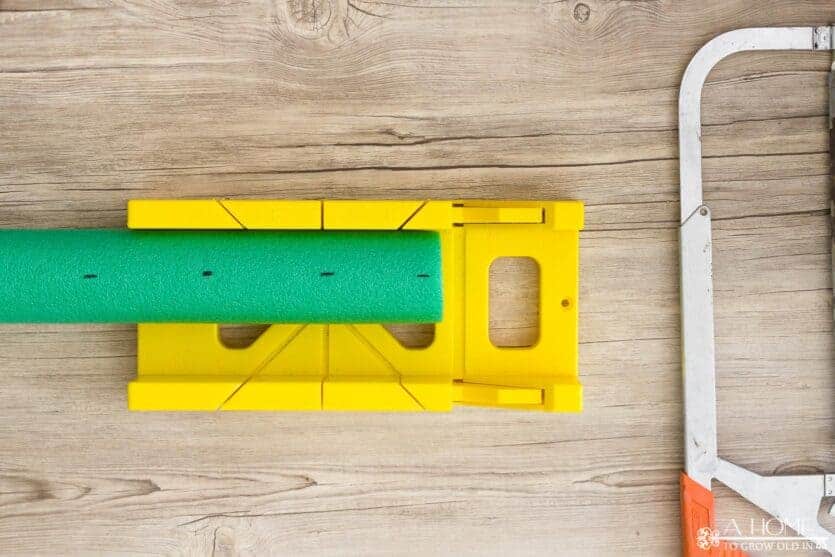 Before you make any cuts, make sure to go back and recheck where your marks are. It's so easy for the noodle to turn and then your cuts will be off. Keeping the noodle from turning is the most important step!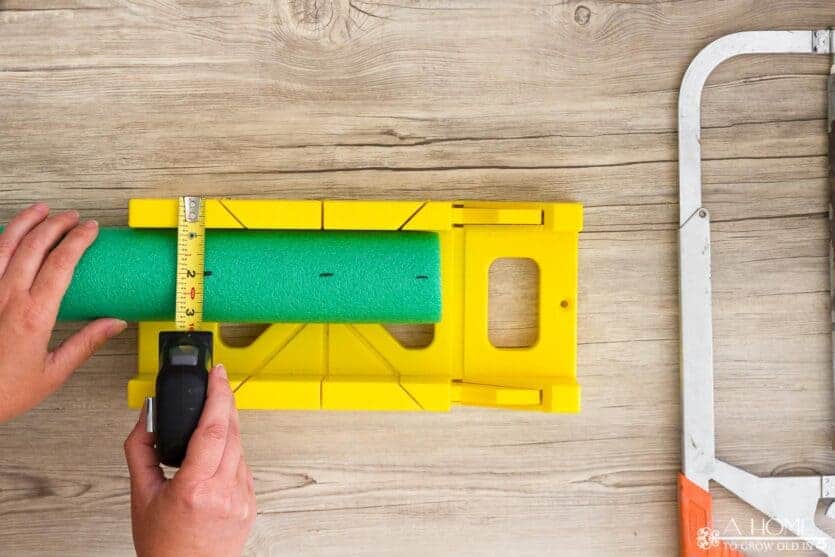 2. CUT THE ENDS OF YOUR POOL NOODLE AT 45 DEGREE ANGLES
Line up your cuts where you want them at the diagonal slits on the miter box, and make your 45-degree cuts. The noodle cuts very easily!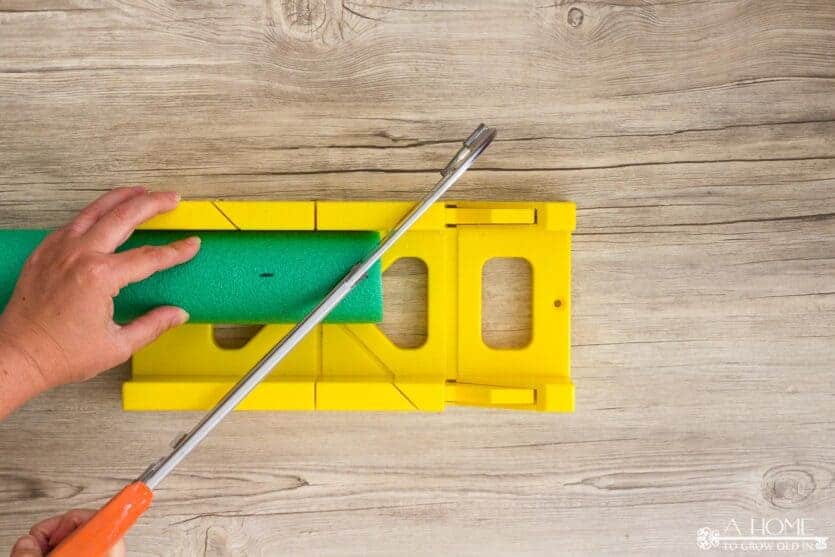 Move your noodle down to the other end of the miter box and make cuts going in the opposite direction.
Each piece of noodle should look like this when you're done cutting it.
EDIT: Thanks to a really great reader question I've added a crude drawing of my pool measurements. I can't remember the exact measurement of the noodle I used but I believe it was around 53-55″. Try marking where your cuts will be on the full pool noodle before actually the making cuts so that you can make any necessary adjustments.
Once you've confirmed your email address, you will receive our weekly newsletter full of our latest posts, as well as content that is exclusive for A Home To Grow Old In subscribers. Plus, you'll have access to our Resource Library that is full of FREE printables and SVG cut files.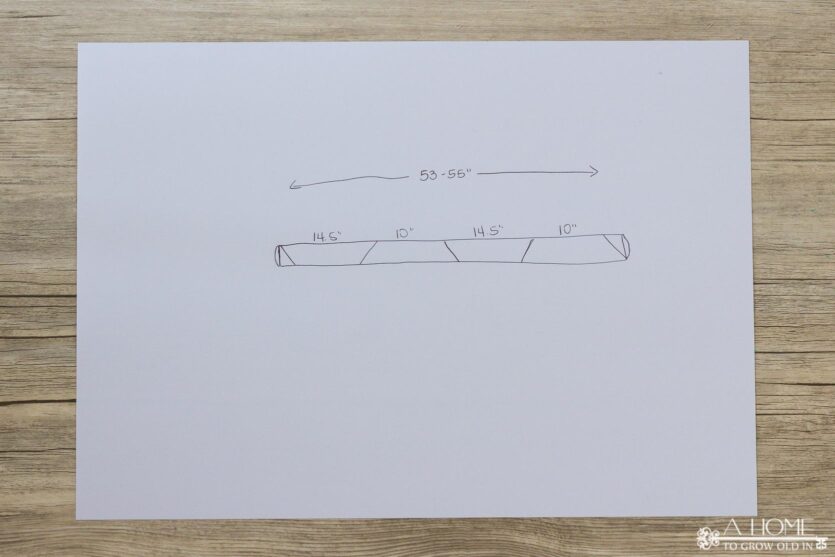 3. WRAP THE POOL NOODLE WITH CONTACT PAPER
Once you've got your 4 pieces, you will wrap them in the contact paper leaving about a .5″ overlap so that the contact paper will stick to itself. I did not think to do this until after I finished my wreath, but I think a little bit of Gorilla Glue on the overlap would be a great idea, especially if you will be using this outside. I cut off excess contact paper from the ends but left the tiniest bit overhanging (you can see it in the picture below). This ensures that no foam is showing when you put your pieces together.
4. GLUE YOUR WREATH TOGETHER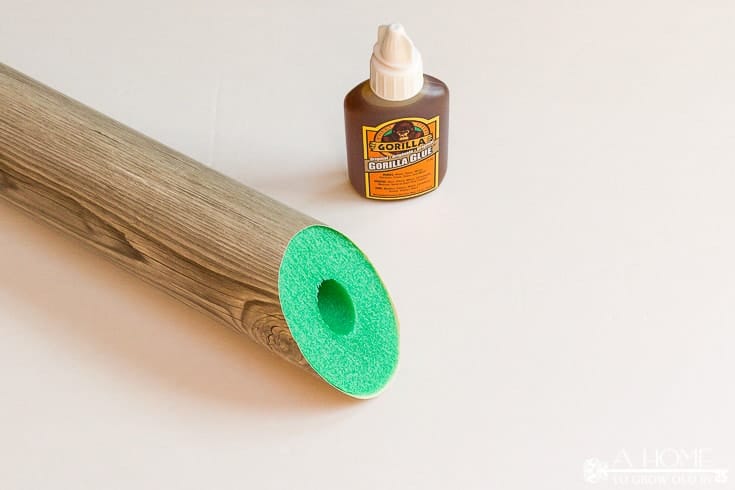 I was worried about what kind of glue would bond foam, but Gorilla Glue lists foam as one of the materials it will work with, and so far, it has held up wonderfully. The instructions say to dampen both of the surfaces that you want to adhere with water and apply a thin layer of glue to one of the surfaces.
Glue the ends of your pool noodle together so they form a 90-degree angle. Use painter's tape to hold the ends together while the glue is drying. Continue gluing each of the ends together until you complete the square. Make sure to wipe off any excess glue when you put your pieces together.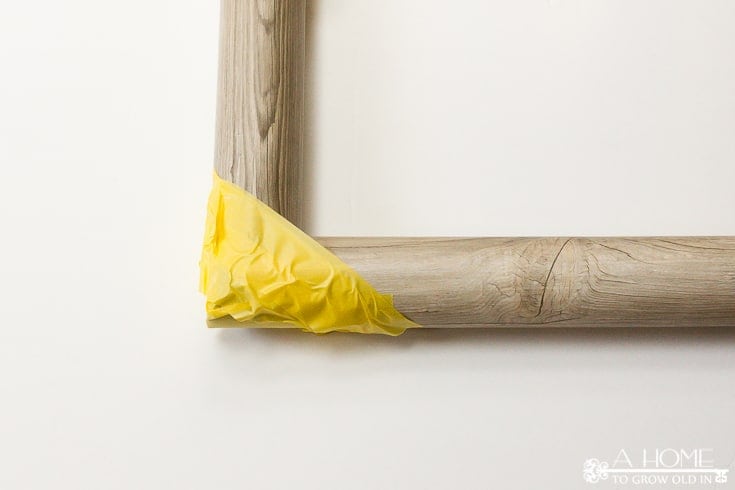 5. DECORATE THE WREATH WITH FLOWERS AND GREENERY
Finishing off the pool noodle wreath, I hot glued flowers and greenery from Michael's. They had this boxwood with a little bit of gold on some of the tips, so I decided to add a little gold Metallic Lustre wax to the berries as well. I also used an orange mum and a few stalks of millet. I wanted to keep it somewhat simple so that you could see the wood.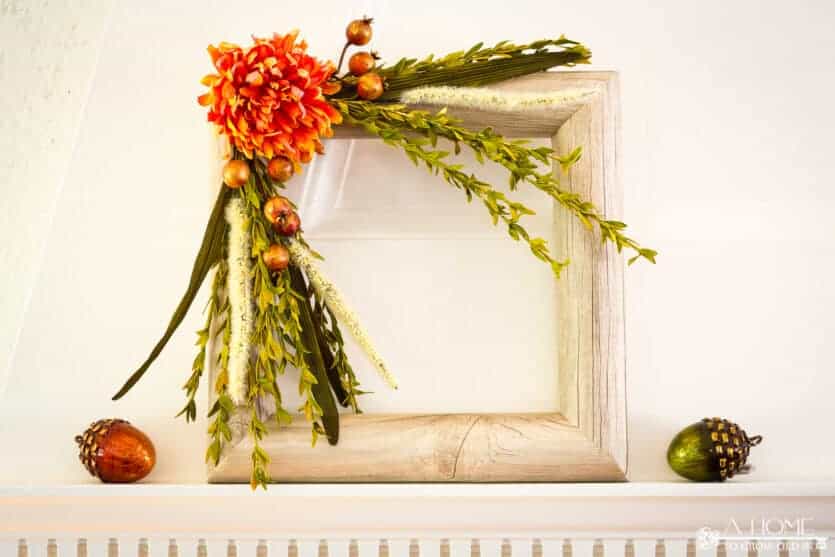 How does the pool noodle wreath hold up?
So, I'm updating this post today a little over 3 years after it originally posted, and I'm happy to say that the pool noodle wreath is holding up great! I still take it out to decorate every fall, and I've had absolutely no issues with it falling apart. People still can't believe it's not real wood until they get close to it and touch it!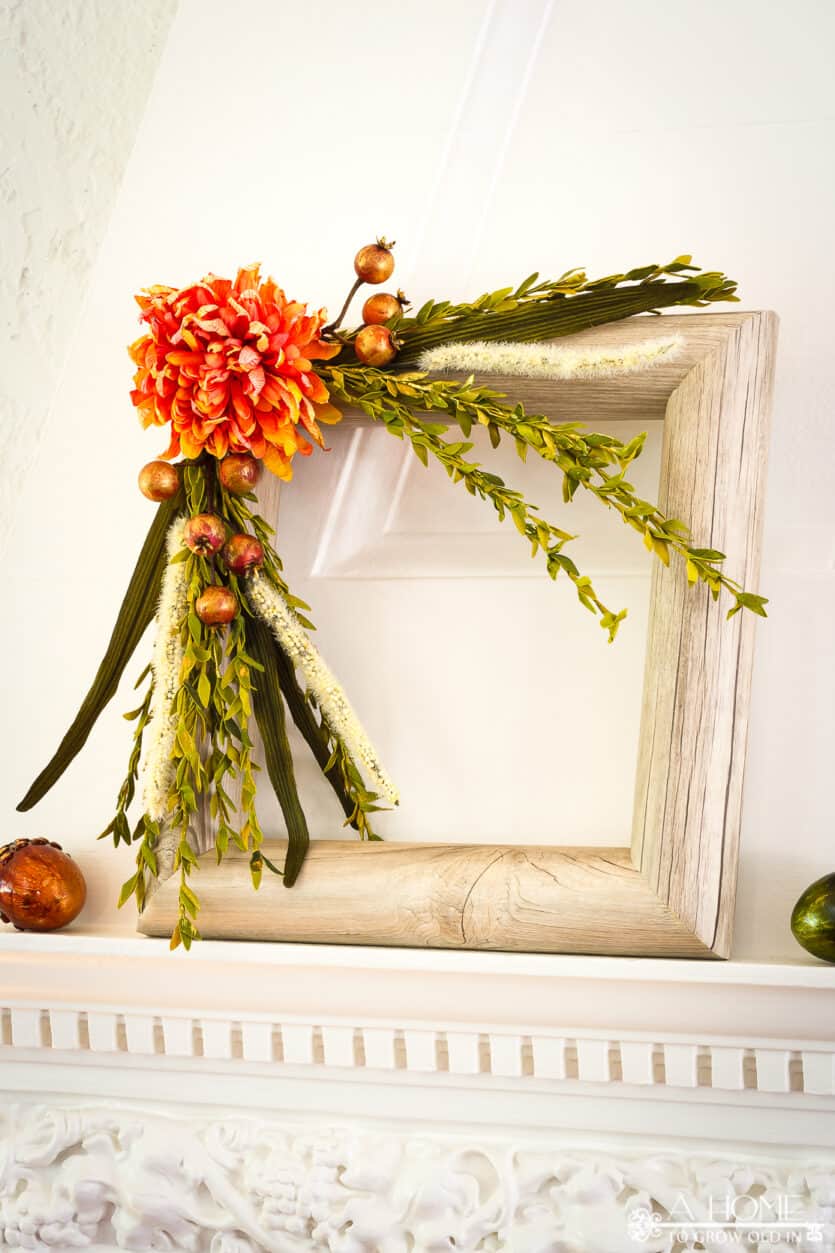 What else can you cover the wreath with?
If you're not a fan of the contact paper, there are so many options you can use to cover the pool noodle with. For most of these options, I would probably wait to cover the pool noodle until after you glue the pieces together.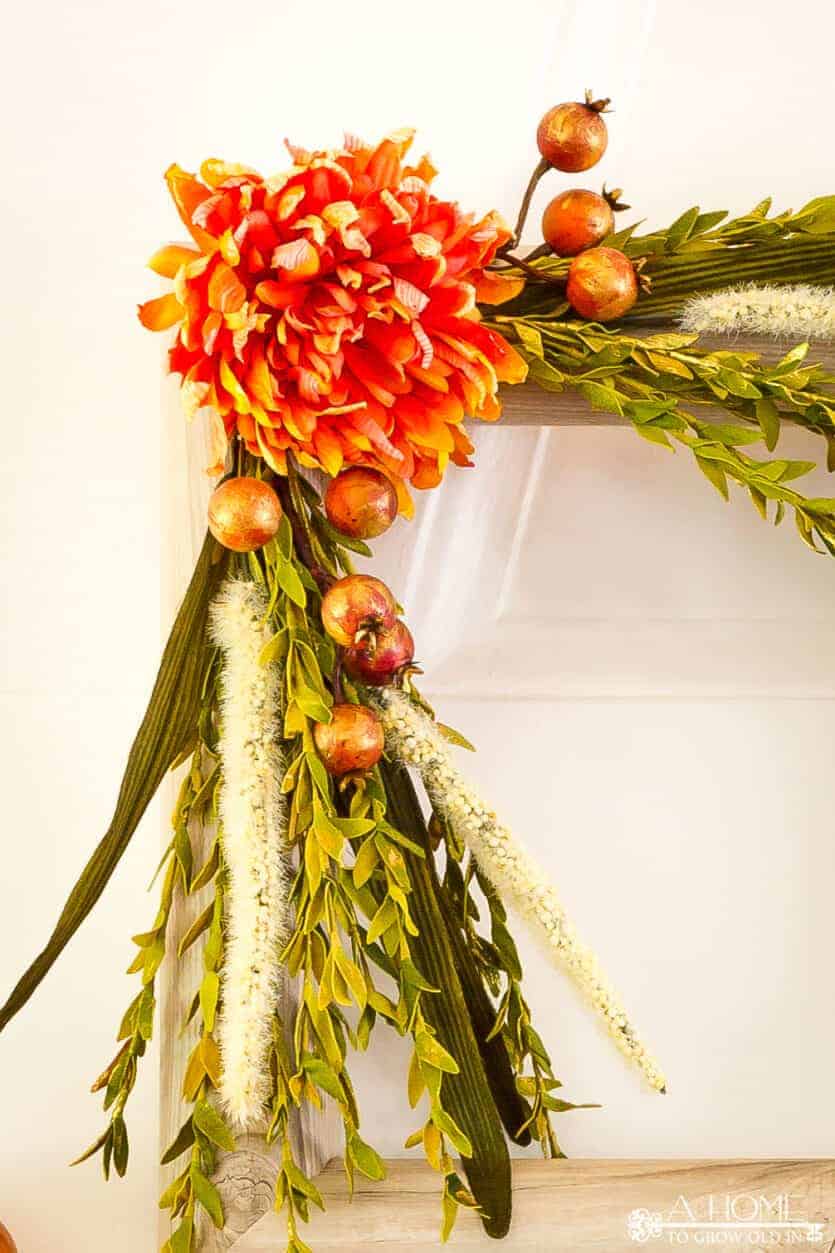 Any other ideas on what you can do with pool noodles?
Pool noodles have gotten really popular to use in many crafts because you can easily pick them up at the dollar store or on clearance at the end of the summer making them very affordable. In addition to the square wreath form, you can make a round wreath by duct taping the ends to form a circle. There are also many options for turning your swimming noodles into games for the kids.
What do you think about this contact paper? I really love it! It's pretty thick, and it has a very realistic texture to it. Did you recognize it in the tutorial photos above where I'm cutting the pool noodle? I covered a foam board with it, so there's a really good chance you'll continue to see it as a photo backdrop.
DIY Square Faux Wood Fall Pool Noodle Wreath
Learn how to make this DIY square faux wood fall wreath with a pool noodle and contact paper. You'll love this modern update to a traditional wreath!
Materials
pool noodle
Original Gorilla Glue
faux wood contact paper
painters tape
flowers or greenery
Tools
miter box and hack saw
scissors
Instructions
Mark your noodle to keep it straight.
Cut the ends of your pool noodle at 45 degree angles.
Wrap the pool noodle with contact paper.
Glue your wreath together.
Decorate with flowers and greenery.
Don't forget to pin this fall pool noodle wreath so you have it later! And, make sure to check out all of the other amazing fall wreaths that are listed below! You can also click on their picture below to get there.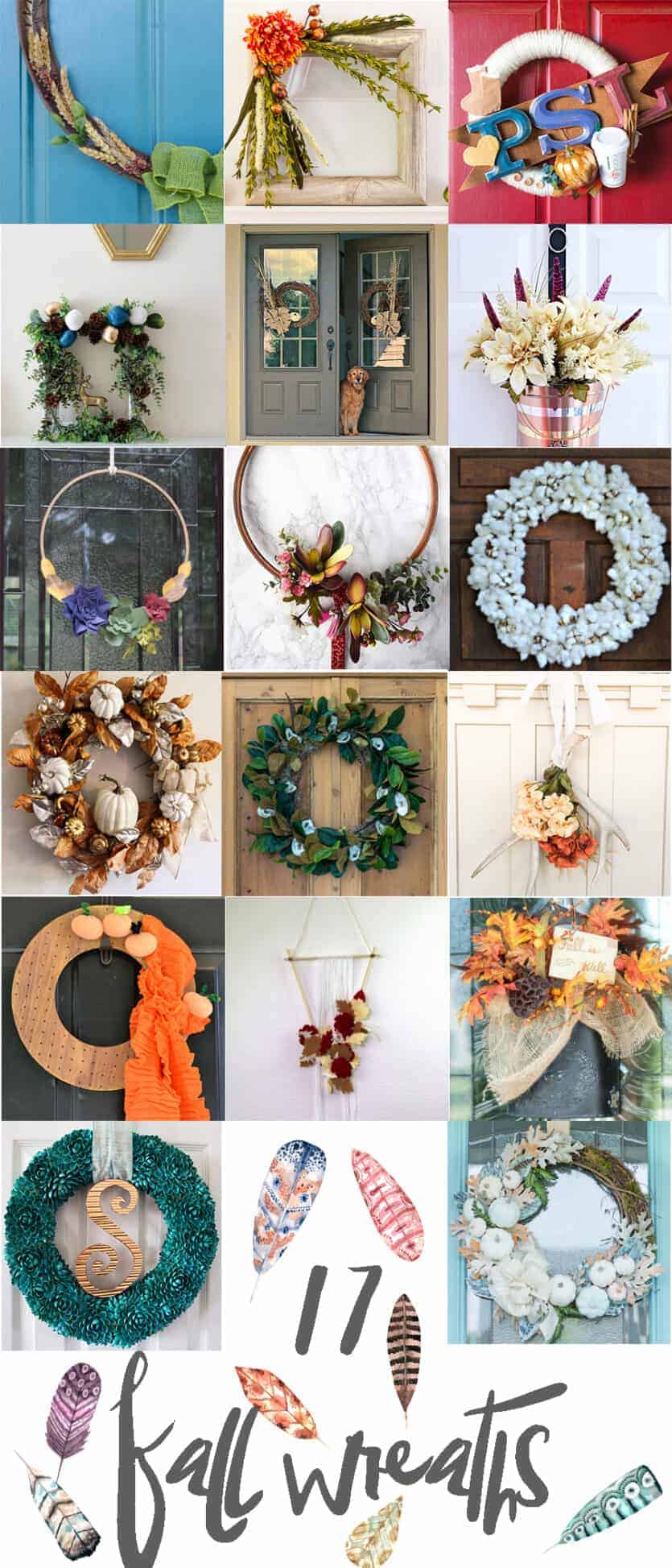 The DIY Mommy // A Home To Grow Old In // Jennifer Priest // Up to Date Interiors // Hey Fitzy // Monica Wants It // Lura Lumsden // PMQ for two // Cottage in the Oaks // Our Crafty Mom // Nourish and Nestle // Twelve on Main // Architecture Of A Mom // AttaGirlSays // KS Craft Shack // Paint Yourself A Smile
What's next?
If you enjoyed this post, check out some of our fall decor ideas on A Home to Grow Old In:
Originally posted September 2016. Updated October 2019.