These Quick and Easy DIY Flannel Fabric Coasters are a 5 minute no sew craft project that is the perfect way to add color to any holiday or seasonal decor.
It is officially fall, and wow, what a first day we had! Typically, we have some gorgeous fall temperatures around here, but on September 23rd of this year, we were going through a heatwave with a high of near 90 degrees. I can't complain too much because I know that many of you have been having even hotter temperatures. That has not stopped me from breaking out the fall decor, though, and I've got a super easy project for you to throw together.
I recently shared this meme on Facebook, and I thought I would share it here as well because it couldn't have been more true on the first day of fall! It's time to forget about these crazy hot temperatures and move on with fall, even if mother nature isn't playing along.
I've shared quite a few super easy DIYs, like this DIY Dog Toy Box or How to Make a Decorative Storage Box, but these flannel coasters have got to be the easiest (and quickest—they only take about 5 minutes to make). They are the exact same process as the No Sew Placemats I made a few years ago.
What I Love About These DIY Flannel Fabric Coasters
I'm a stickler about coasters! I have them everywhere in our home. Watermarks drive me crazy, so I really don't think I have a room in the house without them.
What's great about these fabric coasters is that they are such a quick DIY project! You can literally be done in 5 minutes, and you've got a place for your guests to set their drinks that fits right in with your decor and the season.
HOW TO MAKE THESE QUICK AND EASY DIY FLANNEL FABRIC COASTERS
Learning how to make coasters from fabric couldn't be any faster than this quick no sew method!
WHAT YOU NEED:
This post contains some affiliate links for your convenience (which means if you make a purchase after clicking a link I will earn a small commission but it won't cost you a penny more)! Click here to read our full disclosure policy.
TOOLS AND SUPPLIES NEEDED:
INSTRUCTIONS :
1. Glue the fabric to the felt.
Spray one side of both the felt and the fabric with the spray adhesive. If your fabric has a front and back, you'll want to spray the backside of the fabric.
Sandwich the two pieces together with the adhesive in the middle. Smooth out any wrinkles in the fabric.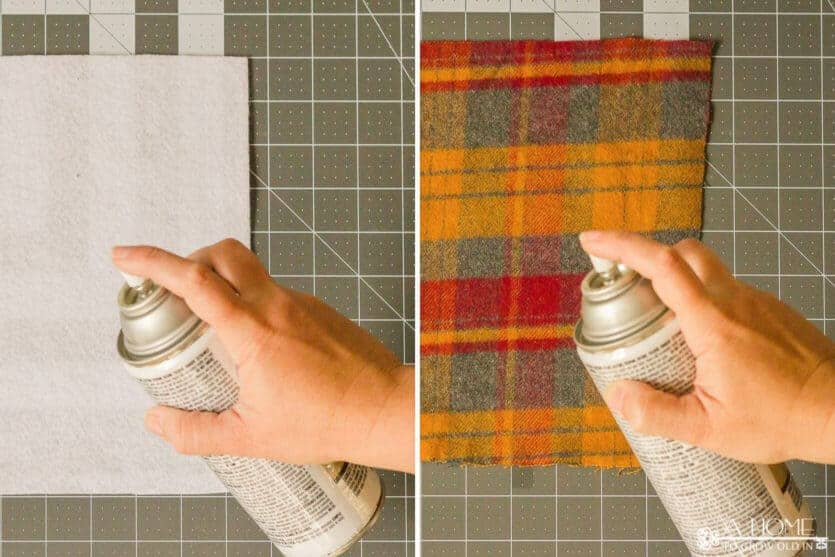 Once you've confirmed your email address, you will receive our weekly newsletter full of our latest posts, as well as content that is exclusive for A Home To Grow Old In subscribers. Plus, you'll have access to our Resource Library that is full of FREE printables and SVG cut files.
2. Trace and cut out your squares
I used another square coaster to trace the shape of my coasters with a marker, but you could also use a 4″ square cut out of cardstock or cardboard. Tracing the coaster on the front of the fabric helps you line up the pattern on the fabric.
Cut the fabric just inside the lines you traced so that they don't show.
That's all there is to these DIY flannel fabric coasters! Seriously, it can't get much easier and they give the room such a cozy look.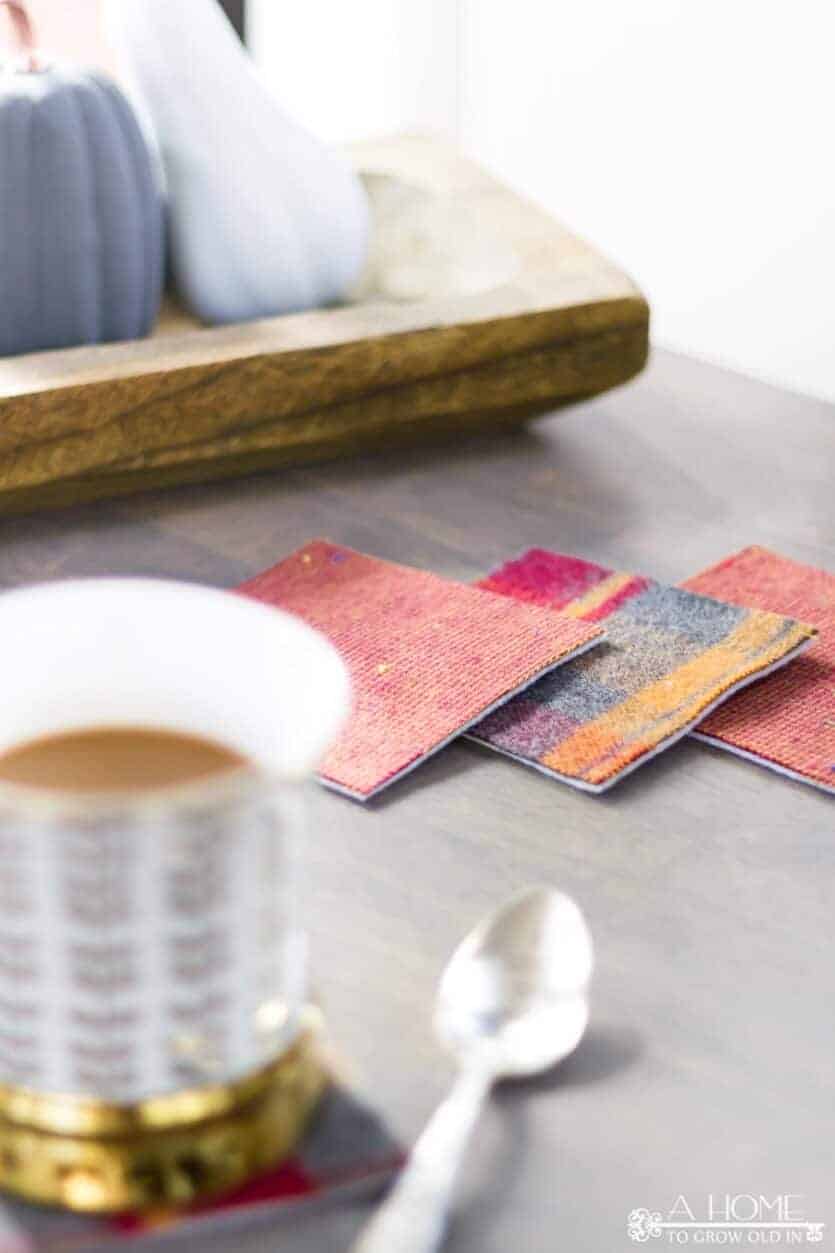 How Do The DIY Flannel Fabric Coasters Hold Up?
So, I actually first made these fabric coasters several years ago from leftover scrap fabric from my no sew flannel placemats, and I can honestly say they hold up very well. The coasters start to lose a little of their stiffness over time, but that really doesn't matter when they are on a flat surface.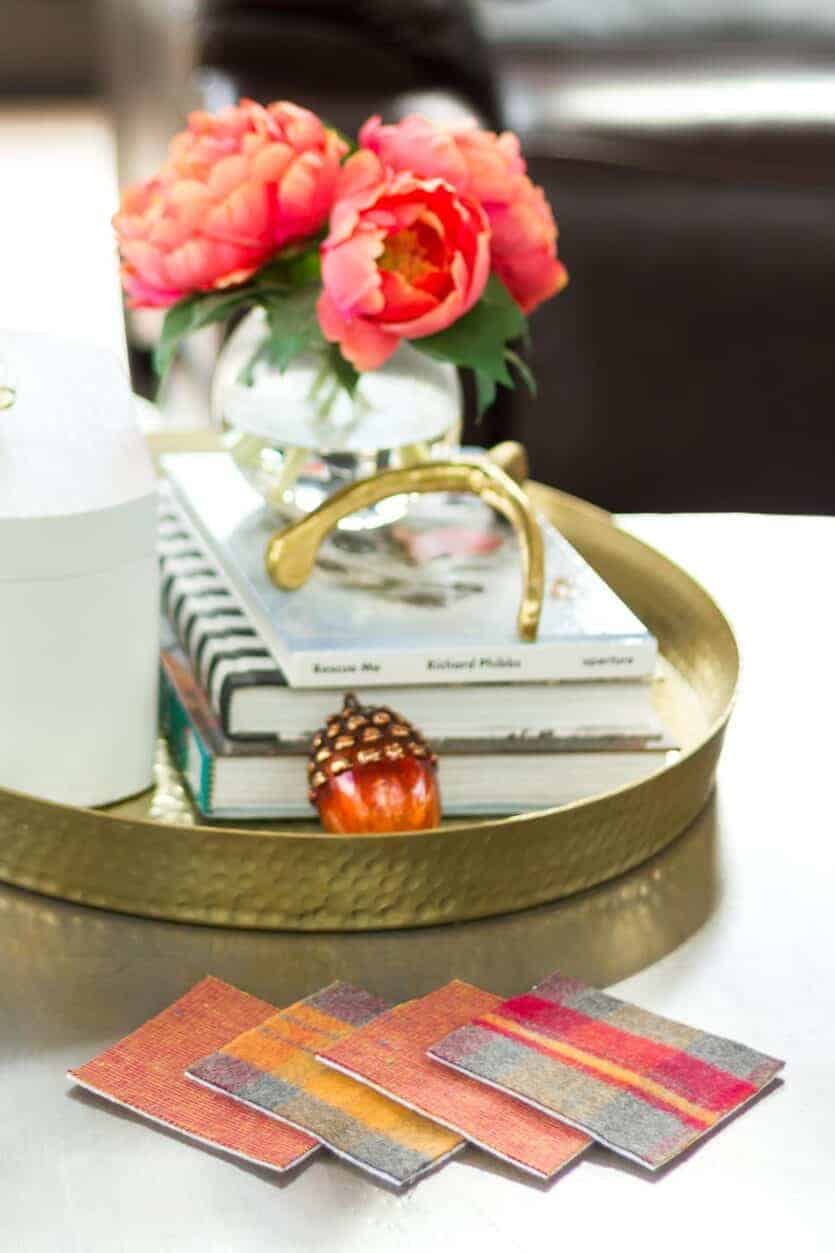 What is the best material for coasters?
Flannel is my favorite to work with because you don't have to worry about the ends fraying. Plus, you can find it in so many colors and styles. It also does a great job of absorbing any moisture from your glasses. I love that you can buy a quarter of a yard for just a few dollars, which makes these coasters very cheap to make. You could also cut up an old flannel shirt which makes it even more budget-friendly. You'll find plenty of flannel shirts at the thrift stores.
Tweeds and some wools would also work well. This fabric glossary does a great job of explaining the different qualities of fabrics to help you decide what to use.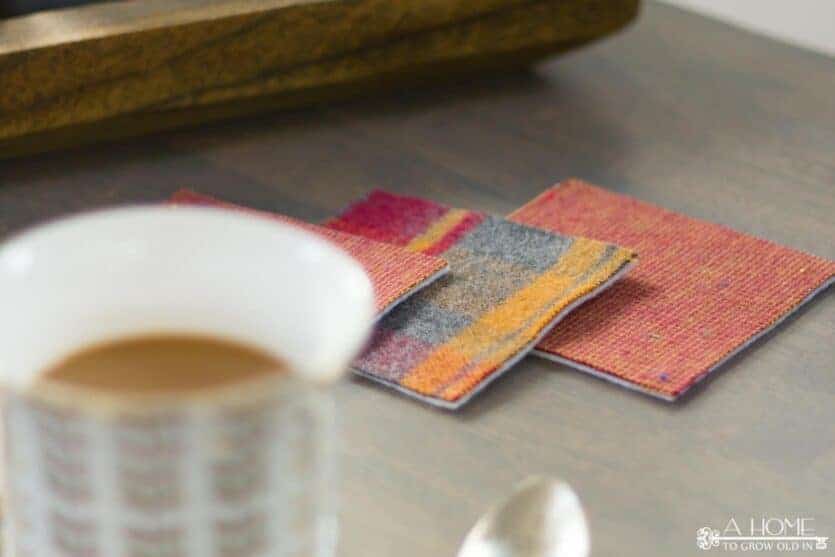 Can You DIY Holiday Coasters For Other Times of the year?
Most definitely! These fabric coasters are so quick to make that you could have a set for every season or holiday. Here are a few fabrics I found that would work for different times of the year:
Looking for More No Sew Projects?
Love crafting but don't own a sewing machine? Even if you do, sometimes it's nice to not have to break it out. There are so many more no sew fabric craft projects out there to keep you busy. Check out these 31 easy DIY projects you won't believe are no sew!
What's Next?
You may also enjoy these easy DIY ideas on A Home To Grow Old In: