Calling all Cricut and Silhouette Cameo users – this is for you! Free patriotic SVG files – show off your pride in the red, white, and blue!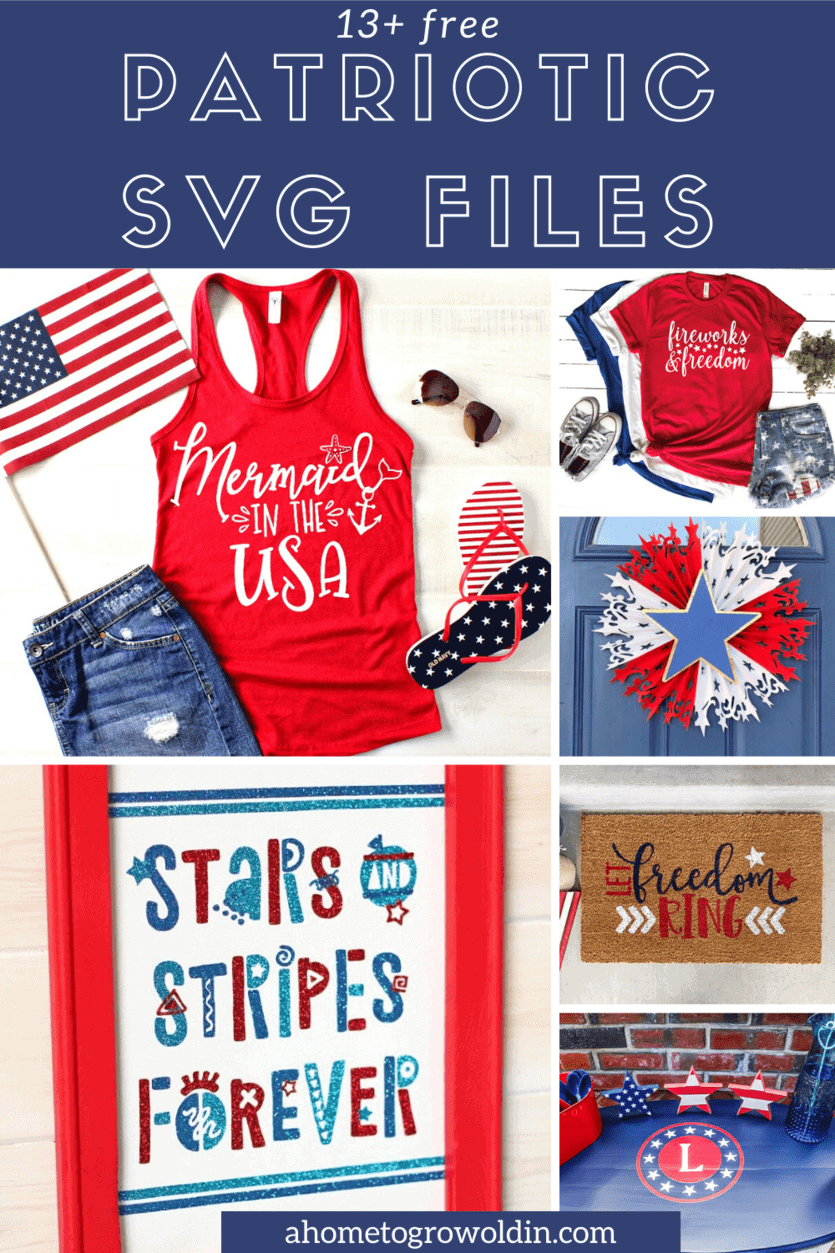 This post contains some affiliate links for your convenience (which means if you make a purchase after clicking a link I will earn a small commission but it won't cost you a penny more)! Click here to read our full disclosure policy.
Crafting is so much fun! I love that I have a chance to create something no one else has. Plus, it gives me a thrill when I see my hard work on display for everyone to see.
It's way more satisfying than just buying something at the store.
Every patriotic holiday that rolls around (4th of July, Memorial Day, President's Day, and more) I get inspired to grab my Cricut and start crafting! If you love Cricut and Silhouette crafts too, then you are going to love what I found!
Free Patriotic SVG Files
I compiled a bunch of my favorite patriotic SVG files – and they are all free! This will save you time creating things in your computer – just download the files, cut, and begin crafting!
This list is full of creative ideas. You'll find outdoor games, t-shirts, wall art, and even a welcome mat. As you browse this list, don't forget to pin the post so you can find it later!
1. DIY Outdoor Tic Tac Toe Game
Make your own DIY outdoor tic tac toe game out of wood and rocks. This might not be exactly patriotic, but I bring out this game every year at my 4th of July BBQs. Plus, you can change the colors of the rocks to make them red, white, and blue!
2. DIY Patriotic Table
I redid an entire table and gave you the cut file so you can do it too. Check out the free stencil and how to make your own patriotic table. It's really easy to customize the file and use your own monogram. I get so many compliments on this table every time I use it.
3. Patriotic T-Shirts
Making your own t-shirts is like the gateway craft for beginning Cricut or Silhouette users. They are so easy to iron on and you can find tons of free SVG files – like this 4th of July shirt. The balloons are playful, this would be the perfect shirt for a kid (or a kid at heart).
4. Stars And Stripes Forever Sign
I love how creative and funky this sign is. It will look good at parties or in your home among the rest of your patriotic decor. The free wall art SVG file is on Where the Smiles Have Been. I imagine this would look really cute in a child's bedroom or a nursery too.
5. America The Beautiful Sign
This sign is classically beautiful. It will fit in any decor scheme – from modern farmhouse to contemporary. Learn how to make this wall art with the free cut files from Leap of Faith Crafting.
The best thing about these SVG files is that you can use them to make whatever you want. I can see using this art on some coasters similar to how we did our Farmhouse coasters, can't you?
These Printables and/or SVG designs are exclusive for A Home To Grow Old In subscribers to download for FREE. Just sign-up below and you'll receive an email with the information to access the resource library that contains the SVG.
Once you've confirmed your email address, you'll be enrolled in our weekly newsletter full of our latest posts as well as content that is exclusive for A Home To Grow Old In subscribers. Plus, you'll have access to our Resource Library that is full of free printables and SVG cut files.
Free printables and SVG files from A Home To Grow Old In are for your own PERSONAL USE ONLY.
6. Let Freedom Ring DIY Doormat
Let the pride in your country shine the moment people arrive at your house. This patriotic doormat craft is so easy and will never go out of style.
The best thing about this welcome mat is that it can be used all year long – it is always appropriate.
7. Fireworks and Freedom Shirt File
This shirt is cute and is so much fun to wear for the entire family. I especially love the stars sprinkled in between the words. This is another free t-shirt cut file that takes no time at all to make.
8. Patriotic Tote Bag
This craft will give you something patriotic to carry your beach or park stuff in. I love making personalized tote bags, and you'll enjoy this free cut file.
What else can you see this file being used as? I can see it making some festive tumblers or even a cute hat.
9. Star Spangled Stud
Looking for something fun to make your kids? This shirt would be so cute on a little toddler, baby, or preschooler. Wouldn't it be the most adorable thing on a onesie?
10. Land of the Free Garden Flag
This patriotic garden flag would look amazing during an outdoor BBQ or party. The beauty is in the simplicity. It looks classic enough that you could leave it out there all year long.
11. Patriotic SVG Files for Cozies
This is a really fun addition to any outdoor party! I love the DIY cozies. These cut files are so whimsical and celebratory, you can't help but smile when you look at them.
The best thing about these cut files is that they are hand-lettered. You really will have something that is one-of-a-kind.
12. Mermaid in the USA
Do you or your kids love to swim so much that you feel like a mermaid? I love this play on words! Making a "Mermaid in the USA" shirt will definitely stand out from the rest of the patriotic t-shirts you see.
13. DIY Paper Rosette
Cricuts can do way more than just print things for t-shirts and cups. Just check out this stunning rosette that you can hang on your front door. the Crafty Blog Stalker has free cut files and a tutorial so you can make and hang up your own.
Holiday Planning With Patriotic SVG Files
Holidays and crafts just go hand in hand. When you start planning your patriotic holiday parties, think about the decorations. Which of the files above could you use to jazz up your room or outdoor area?
It's also a ton of fun to wear creative red, white, and blue clothes to celebrate your love for America. These cut files make some super cute shirts.
Whichever files stood out to you the most, I hope you enjoy the crafting. Whether you use a Cricut or a Silhouette, these SVG files work for both and are so much fun!
More Free SVG Files
I love free SVG files and creating files to give away. Here are some of my favorite cut files that you can download free of charge!