'Hug more trees, clean our seas, and save the bees' is a cute free summer SVG file that you can easily use with your Cricut or Silhouette. Summertime is the perfect time to make a cute new shirt for yourself with this design.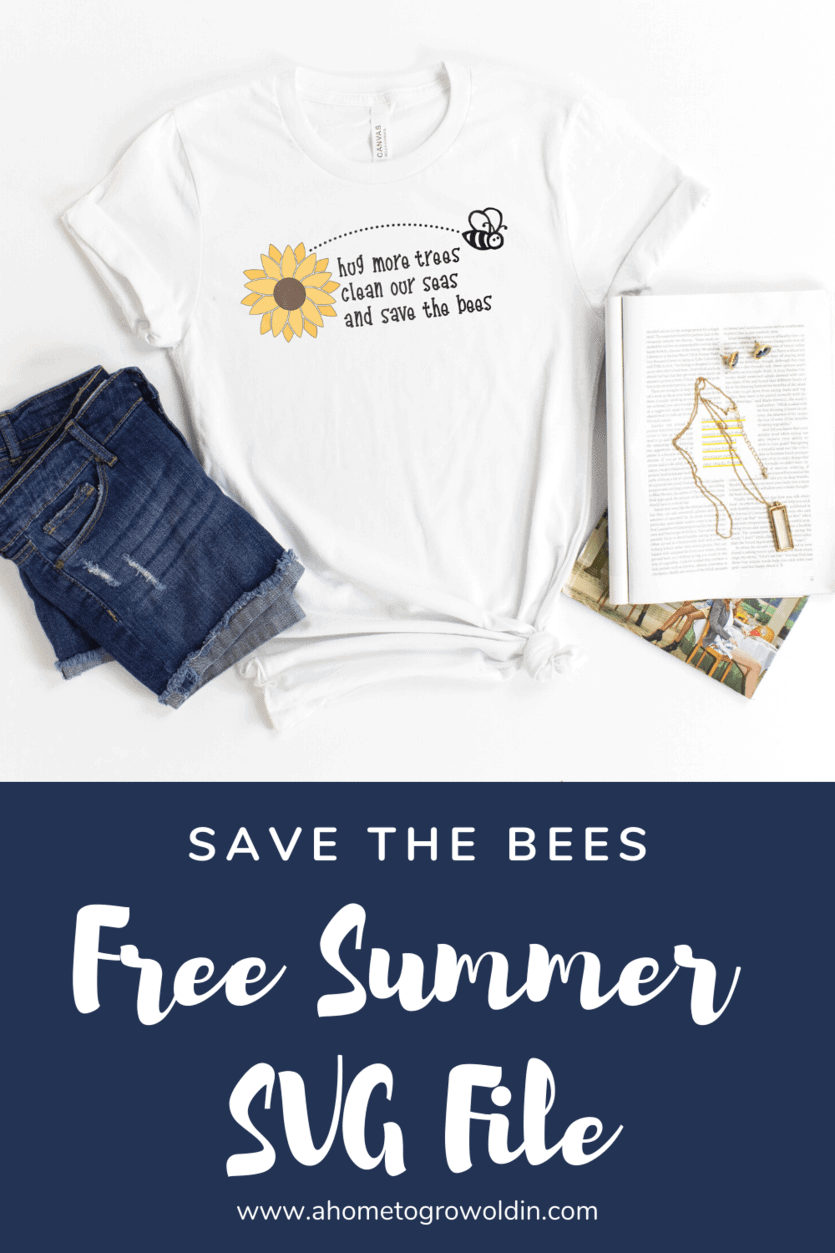 You know I love creating free SVG files for you all! Therefore, I have decided to add a fun summer SVG design to the list. Taking care of the environment is very important to me and summertime seems to put it more at the forefront.
With all the bees out and about, it makes me think about how important they are. I love gardening and bees are so vital to my plants and flowers. Also during the summer, I love spending time at the beach. Hence the reason for the 'clean our seas' phrase. 'Hug more trees, clean our seas, and save the bees' is just a fun design to remind you of the importance of our environment.
Reasons why bees are important
One of my favorite past-times is gardening. I enjoy watering, pruning, and weeding my flower beds. I find it very relaxing and therapeutic. In addition, I find it fun going to the garden nurseries to pick out new flowers and shrubs for the season. While spending time in my garden, I give space to all the important honey bees and other bees doing their job.
Bees are so important to the environment, specifically the honey bees. My uncle has honey beehives, and while we all love the honey they produce, they also play a key role in his vegetable garden. They are the world's dominant pollinator of food crops. Therefore, we all rely on them more then you may realize. Without them, there would be a major food shortage. So save the bees!
How do I obtain this free summer SVG file?
These Printables and/or SVG designs are exclusive for A Home To Grow Old In subscribers to download for FREE. Just sign-up below and you'll receive an email with the information to access the resource library that contains the SVG.
Once you've confirmed your email address, you'll be enrolled in our weekly newsletter full of our latest posts as well as content that is exclusive for A Home To Grow Old In subscribers. Plus, you'll have access to our Resource Library that is full of free printables and SVG cut files.
Free printables and SVG files from A Home To Grow Old In are for your own PERSONAL USE ONLY.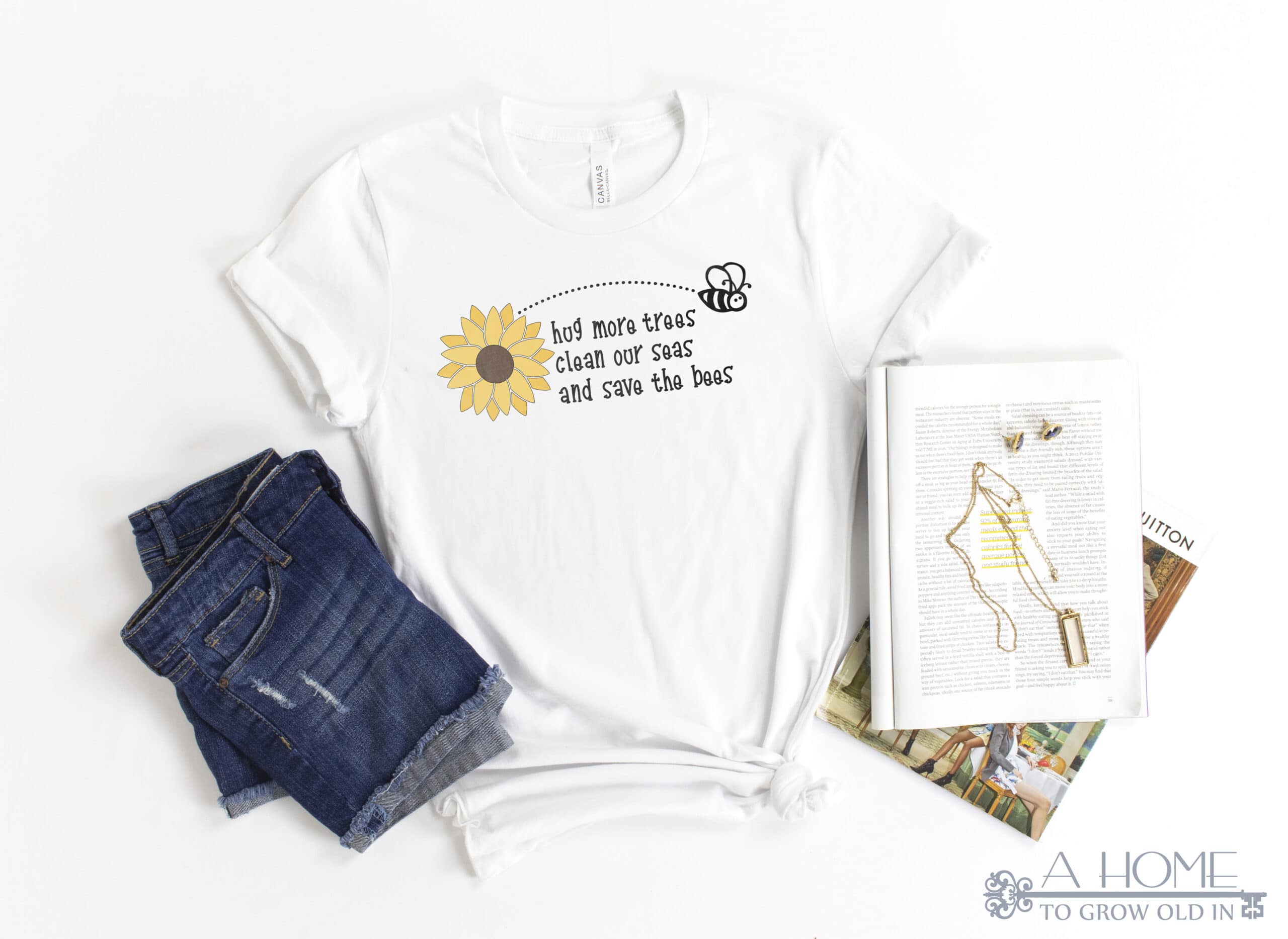 This post contains some affiliate links for your convenience (which means if you make a purchase after clicking a link I will earn a small commission but it won't cost you a penny more)! Click here to read our full disclosure policy.
How do I use this summer SVG design?
If you are new to gathering and using SVG files, no worries! You are going to have a lot of fun making all sorts of new items. What is an SVG? It stands for scalable vector graphics, meaning it is one kind of format graphics can be. It is actually one of the easiest formats to work with. Looking for more information on this topic, get the 101 on SVG files here.
What is so fabulous about SVG files is that they work seamlessly with your vinyl cutting machine, like a Cricut Maker or Silhouette. First, you download it from our resource library. Then, you upload it into Cricut Design Space. There you can change the color, add more graphics, or make any changes. Once you have it sized to the dimensions that work for the item you are putting it on, you are ready to cut it. Cut it out on adhesive vinyl, heat transfer vinyl, or cardstock. Finally, apply it to your item and it's that easy. That's why I love working with these files!
What can I put this summer SVG design on?
You can adhere this design to almost anything. From a wall in your home to your car window, to a shirt or tote bag, the possibilities of design placement are endless.
Please tag us with a picture of how you use this fun summer design! We would love to see it.
What's Next?
You may also enjoy these SVG project ideas on A Home To Grow Old In: