Tired of cheap plastic and fake wood essential oil diffusers? These are the Best Modern and Pretty Essential Oil Diffusers that not only look fabulous with your home decor but also create a great smelling fragrance and soothing environment for your home.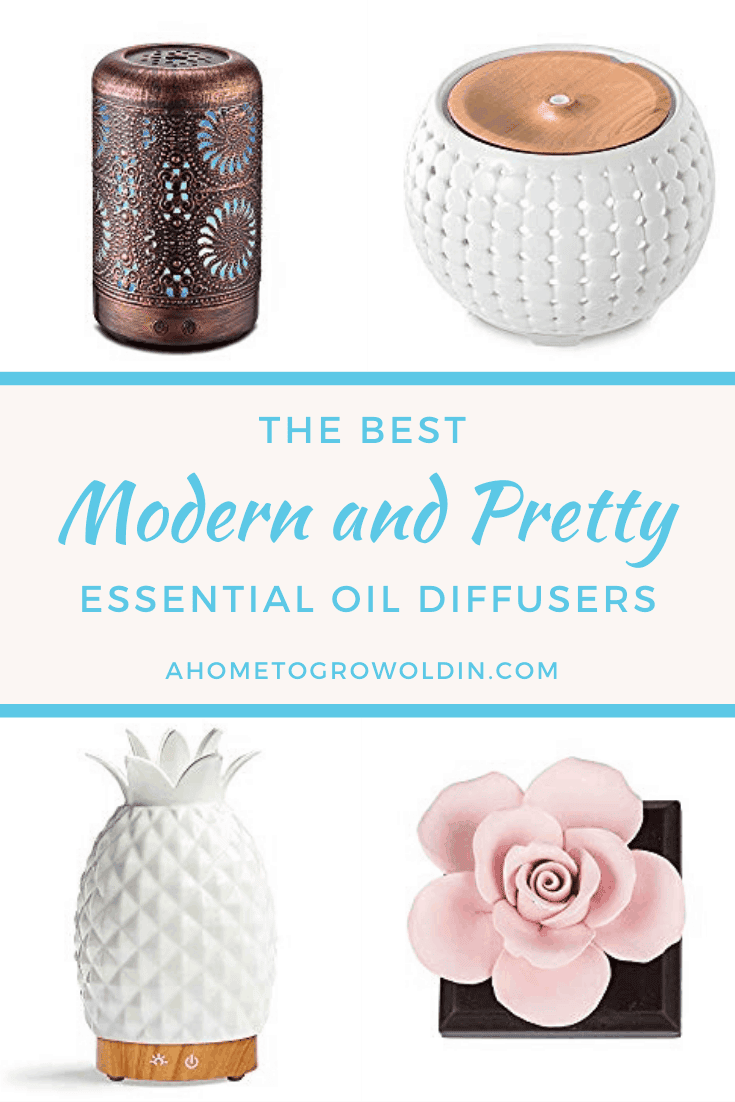 This post contains some affiliate links for your convenience (which means if you make a purchase after clicking a link I will earn a small commission but it won't cost you a penny more)! Click here to read our full disclosure policy.
With so many options out there, it is hard to choose which pretty essential oil diffusers will look best in your home while still providing the functions you desire.
I have been using essential oils for quite some time now. However, there are new products and features I am still discovering from the essential oils themselves to all the modern essential oil diffusers. This is due in part to the increase in popularity of essential oils in recent years. With all these pretty essential oil diffusers on the market, I had to try them out and let you know the ones I like the best.
WHAT IS THE PURPOSE OF AN ESSENTIAL OIL DIFFUSER?
There are many benefits of using essential oil diffusers. As I have discussed before, I began using oil diffusers as a substitute for candles. I prefer to diffuse essential oils because I don't have to worry about an open flame with my children, as well as the smoke and black soot from candles. Oil diffusers create a fine mist in the air that is safe to inhale.
We are big fans of Edens Garden essential oils because they do 3rd party testing to ensure quality, and their prices are extremely reasonable. They also have a special line called OK for Kids so you know that the oils you are diffusing are safe for kids aged 2 and up.
Here are a few reasons you may want to diffuse essential oils.
No matter what emotion or mood you are feeling, there is sure to be a blend of essential oils that will suit it. That is why I love having pretty essential oil diffusers in my home because the fragrance combinations are endless.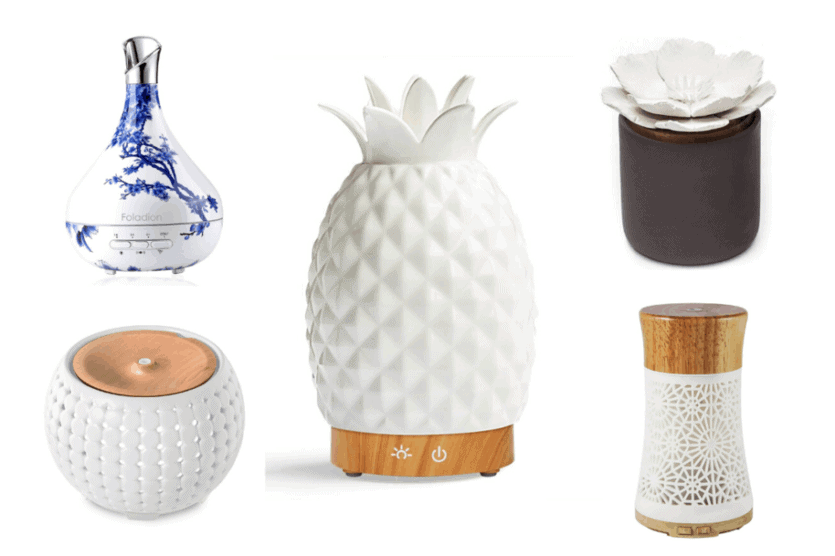 Once you've confirmed your email address, you will receive our weekly newsletter full of our latest posts, as well as content that is exclusive for A Home To Grow Old In subscribers. Plus, you'll have access to our Resource Library that is full of FREE printables and SVG cut files.
HOW DO YOU USE PRETTY ESSENTIAL OIL DIFFUSERS?
Don't feel intimidated by an essential oil diffuser. If you have never used one, they are super easy to operate. While not all oil diffusers are the same, they all have very few steps to follow. Even more so if you opt for a ceramic, non-electric diffuser. Those ceramic diffusers only require you to add drops of oil to them, no water needed. After you find the perfect location for your pretty essential oil diffuser, follow the below steps to start using it right away.
Water – Figuring out how much water to pour into your diffuser reservoir should be easy with the fill line. Most essential oil diffusers come with a fill line and some even come with a small measuring cup. This makes it easy for even your kids to use. Just make sure you fill the reservoir with room temperature water and do not overfill.
Oils – Add your drops of wonderful smelling essential oils! Follow the instructions from your oil diffuser or use my suggestions below on how many drops to add. It really depends on the capacity of your diffuser and the size of the room it is located in. Experiment and see what you prefer. Worst case scenario you dump out the diffuser reservoir and start again.
Turn it on – You are now ready to run your diffuser. Set the timer, the intermittent setting, or just turn it on and let it go until the auto-off setting. Whatever you choose, you are now ready to enjoy the amazing aromas that will be pumping out of it.
Cleaning – Frequent cleanings of your diffuser are important for cleanliness reasons, as well as to make sure it keeps functioning properly. Check the instructions that came with your diffuser. However, if you are looking for easy cleaning tips, then check out these 8 simple steps for cleaning your pretty essential oil diffusers.
WHAT IS THE BEST PRETTY ESSENTIAL OIL DIFFUSER?
There are many factors to consider when choosing the best essential oil diffuser for you. First, there is the coverage area of the diffuser's fine mist and aroma. Second, ease of use is important, especially if this is the first oil diffuser you are purchasing. Third, the value of the essential oil diffuser because a higher cost does not always equal higher quality. Last, but most definitely not least, the style of the diffuser, which is greatly influenced by personal preference.
Ceramic Wick Essential Oil Diffusers
The wick type diffusers don't need any electricity or batteries to use them. They have a very subtle scent and are perfect for small areas or children's rooms.
Small Room Essential Oil Diffusers
Most of the diffusers that are meant for small rooms hold around 100 ml of water. This is perfect for bedrooms and offices. These diffusers can typically run for 3-4 hours continuously, but if the diffuser has an intermittent setting they will probably run for over 6 hours.
Large Room Essential Oil Diffusers
If you have a large room, you will probably want to find an essential oil diffuser that holds 200 ml of water or more. Large room essential oil diffusers are perfect for those that have an open floor plan or a large living room or kitchen area.
HOW MANY DROPS OF ESSENTIAL OILS DO YOU PUT IN AN OIL DIFFUSER?
The number of drops of essential oil that you add to your stylish diffuser will depend on the size of it. A good standard to use is 5 drops of oil per 100ml and you should also take into account the size of the room. My diffusers typically range from 150ml to 200ml, but my rooms are more closed off to each other. If your home floor plan is more of an open concept with no distinct barriers between rooms, then I would recommend purchasing a higher capacity diffuser and using more drops of oils.
Some tips for adding drops to your modern essential oil diffusers are to use the timer and intermittent settings. These features will help with the amount of fragrance released into the room. Also, they will aid with the potency of the smell if too many drops were accidentally added. Another tip is to just experiment with the number of drops you use. With increased use, you will determine how strong you like it to be and what works for your home.
HOW MANY MODERN ESSENTIAL OIL DIFFUSERS DO I NEED?
Is there such a thing as having too many stylish essential oil diffusers in your home? I think not. There are some great valued oil diffusers out there, so they won't break the bank. Also, I enjoy having one in most rooms. When I used to burn candles, I had one in almost every room as well, so pretty essential oil diffusers are great substitutes for that.
Bedrooms – As I said above, diffusing a relaxing soothing blend at nighttime works wonders for us. Therefore having oil diffusers in our bedrooms is a must.
Living room – When I have guests over, I like diffusing a pleasant oil blend that we can all enjoy. For example, during a holiday party, I will choose one of these wonderful blends to have my house smelling like the holiday season.
Kitchen – Many yummy aromas come from this area of the house when I am cooking. However, sometimes, like the day after my husband has made some bacon, there can be a lingering not so pleasant smell. That is when I use my pretty essential oil diffusers to pump delicious scents back into the air.
Bathrooms – Do I need to say much here? I think we can all agree that this would be an excellent place to have one. A nice ceramic diffuser would be the recommended choice. With its porous, unglazed material, it will absorb the essential oils and fill a room that is about 100 to 500 square feet with a pleasant aroma.
You can place a diffuser almost anywhere in your home. The only place it is not recommended is in a window or near any strong sunlight.
CAN I LEAVE AN OIL DIFFUSER ON OVERNIGHT?
Yes! Among all the amazing features of these oil diffusers is a safety feature. When the diffuser runs out of water, it will automatically shut off. Otherwise, if you have a diffuser that has a timer, then you can use that feature to auto shut off at a certain point in the middle of the night.
No more running out of the house and wondering if you left your diffuser on. I love the auto-off feature because I am always forgetting about my diffuser being on. This is just another added benefit to no longer using candles. You don't want to run out of the house with candles still lit! However, with a diffuser, it is much safer to do so.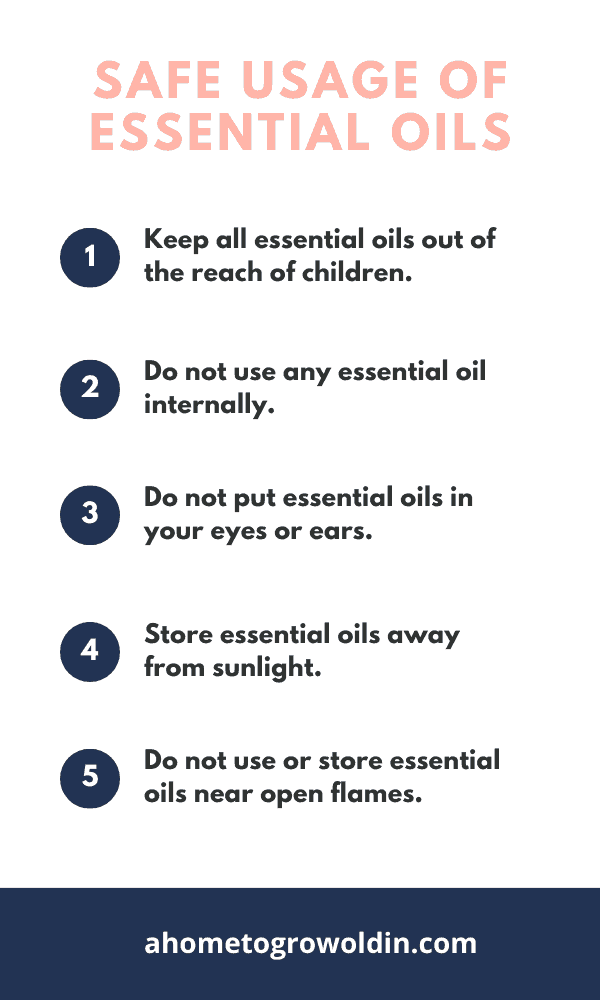 What's Next?
You may also enjoy these home decor ideas on A Home To Grow Old In: